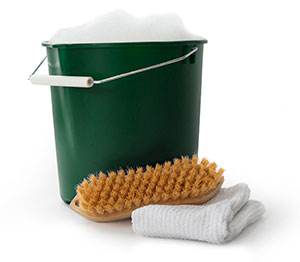 Simple, low-maintenance = more time to relax
Cleaning Trex® Outdoor Furniture™is as easy as filling a bucket with soap
and warm water.
no painting, staining or sealing required

not prone to crack, chip, peel, splinter, or absorb moisture

resists weather, food stains, insects, corrosive substances, salt spray, and other environmental stresses

cleans easily with soap, water and a soft bristle brush
For additional cleaning power, a 1/3 bleach and 2/3 water solution can be used on the product without affecting the color.
Another popular method of cleaning is to use a high pressure power wash (not to exceed 1,500 psi, which is the equivalent of a car wash). Because the surface of the lumber does have a subtle texture, you may need to use a soft bristle brush to effectively clean the creases.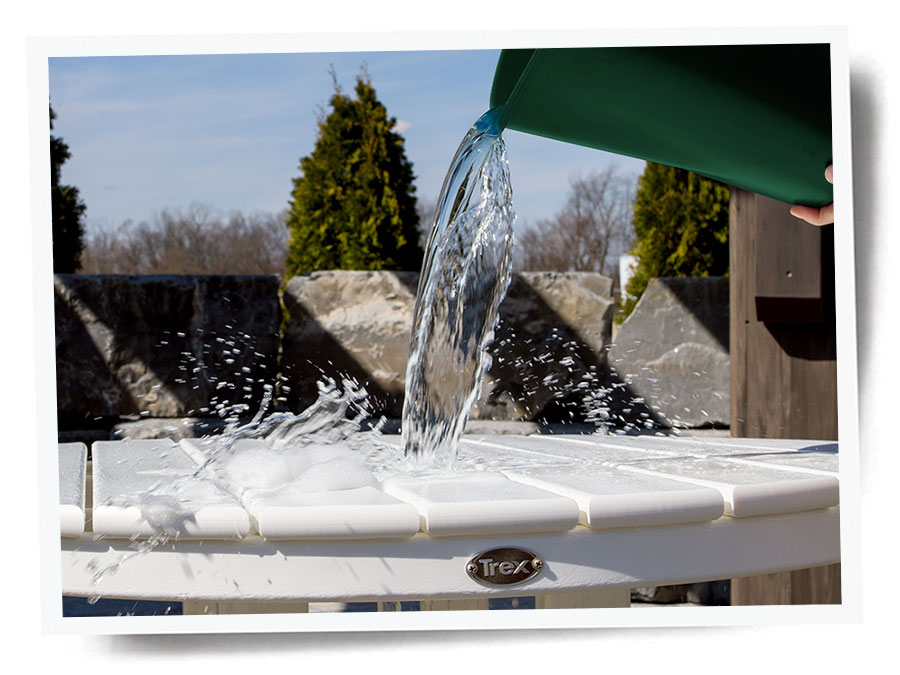 All hardware is 18-8 stainless steel
The hardware used in the assembly and construction of our furniture have an AlloChrome 3200+™ finish with a cosmetic coating. Although the quality of the hardware has a high level of corrosive resistance, it can show some sign of corrosion in salt air environments. A practical solution to these signs of corrosion is to wash the product with soap and water, using a soft bristle brush to scrub the corroding areas of the hardware. The hardware can also be protected by using color-appropriate appliance touch up paint (available at local hardware stores).
Sunbrella® Care & Cleaning
One of the best ways to keep Sunbrella fabrics looking good and to delay deep or vigorous cleaning is to properly maintain the fabrics. This can be accomplished by simply brushing off dirt before it becomes embedded in the fabrics, wiping up spills as soon as they occur or spot cleaning soon after stains occur. For stubborn stains see Sunbrella's Stain Chart...