Benches, Swings & Gliders
Create a relaxing setting where you can share a few moments with someone special in comfortable solitude on a Trex® Outdoor Furniture™ bench, swing, or glider. Our deck benches, swings, and gliders are beautifully constructed using the highest quality HDPE lumber allowing you to turn your outdoor space into a relaxing retreat that you can rely on season after season.
Why Trex Outdoor Furniture?
The outdoor benches, swings, and gliders that we construct are incredibly durable and versatile, which means that you can use these pieces in any way you see fit for your outdoor space. Our outdoor benches can transform a normal front porch into a stylish social setting for you and your family. Our outdoor deck swings and gliders combine great style with the rhythmic back-and-forth motion that everyone desires, turning any garden into a nature-inspired escape and any patio into a welcoming refuge.
Each piece of all-weather Trex Outdoor Furniture is constructed from genuine POLYWOOD® lumber, a blend of recycled landfill-bound and ocean-bound HDPE plastic, as well as other materials that are designed to withstand outdoor environments. We wanted these pieces to be visually appealing as well as physically satisfying so we took inspiration from Adirondack chairs, rocking chairs, and traditional benches and combined the best attributes of all three furniture types to create benches, swings, and gliders that are both fashionable and functional.
Outdoor Bench, Swing & Glider FAQs
What are Trex's outdoor benches, swings, and gliders made from?
We construct our outdoor rocking chairs from genuine POLYWOOD lumber, a durable material that's made using recycled ocean-bound and landfill-bound HDPE plastics.
Can Trex Outdoor Furniture rocking chairs be left outside during the winter?
Our outdoor benches, swings, and gliders are constructed from durable HDPE lumber that's made using recycled ocean-bound and landfill-bound plastics.
How should I clean my outdoor bench, glider, or swing?
To clean your outdoor furniture, all you need is a bucket of soapy water and a soft-bristle brush. Scrub all of the surfaces of your furniture, rinse with clean water, and then let it air dry. It's as simple as that.
Can I leave my bench, glider, or swing outside all year long?
Yes! Our furniture is meant to live outdoors. The material that's used to create it is resistant to harsh weather, environmental stressors, fading, stains, mold, and mildew.
What is the weight capacity for Trex's benches, gliders, and swings?
Each of our benches, swings, and gliders has been tested to ASTM standards and has been rated for commercial use at up to 400 pounds per seat
How can I style outdoor benches, swings, and gliders?
The answer to this question depends on your design preferences and available space around your home. If you have a small front porch, place a single bench or glider on it and pair a coordinating side table with
it so you can have a relaxing sitting area where you can enjoy your morning coffee. If you have a spacious covered patio, hang one or two of our swings in it so your guests can sit and swing in complete comfort.
... Read More
Outdoor Bench, Swing, and Glider Features

Weatherproof
Unlike outdoor benches, swings, and gliders made from a different material that will become damaged by harsh weather, Trex Outdoor Furniture pieces can easily handle all types of environmental stressors.

Low Maintenance
There's no need to worry about maintaining our deck benches, swings, and gliders. The genuine POLYWOOD lumber used in their construction is easy to clean and never needs to be stained, waterproofed, or painted.

Made In the USA
All Trex Outdoor Furniture products are proudly manufactured in the USA.

20-Year Warranty
You can count on the genuine POLYWOOD lumber that we use to construct our outdoor benches, swings, and gliders to always be backed by a 20-year warranty.
Outdoor Benches, Swings & Gliders Colors
Our outdoor benches, swings, and gliders are available in a variety of beautiful, long-lasting colors. We mix UV resistant color pigments into the genuine POLYWOOD lumber during its creation process so the color is present throughout each piece of lumber. From the earthy green shade of Rainforest Canopy to the wood-like warmth of Tree House, you have many options to choose from to coordinate with the unique style of your outdoor space.
Types of Deck Benches, Swings & Gliders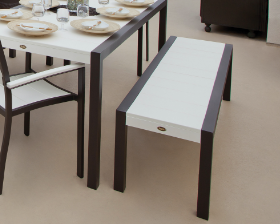 Modern Benches, Swings & Gliders
For those whose tastes lean toward the contemporary, we offer a variety of modern outdoor benches and modern outdoor swings and gliders that will meet your style needs. Beautiful minimalism-inspired designs with clean, straight lines make our modern outdoor furniture attractive additions to any outdoor space.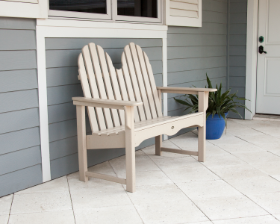 Adirondack Benches, Swings & Gliders
You can expect incredible comfort and unmatched style with an outdoor Adirondack bench or glider. With a charming and rustic aesthetic that pays homage to the original Adirondack chair that was designed in 1904 and contoured construction to elevate your comfort level, our Adirondack benches and gliders would be welcome additions to any porch, patio, or deck.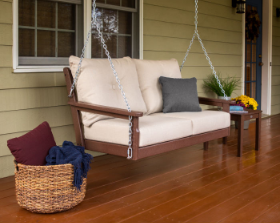 Bench, Swing, & Glider Cushions
Your comfort is our top priority, which is why we offer weather-resistant outdoor cushions that coordinate perfectly with our outdoor benches, swings, and gliders. Our outdoor bench cushions and outdoor swing cushions are covered in soft, outdoor performance fabric that is available in a variety of colors that will please even the most discerning patron.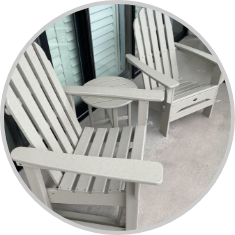 "I just finished putting together the chair and it works great. Quality is top shelf and looks like never needs to be replaced."
How to Enjoy Your Benches, Swings & Gliders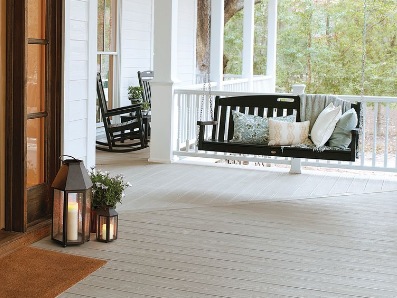 Reading a Book
Get lost in your favorite page-turner while you relax on the comfortable Yacht Club Swing.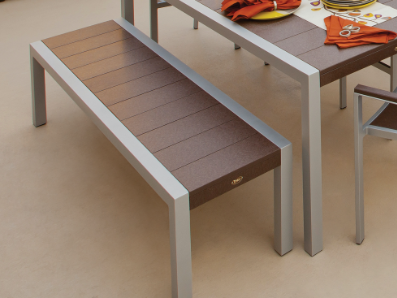 Morning Coffee
Welcome the new day with a cup of hot coffee and a quiet moment on the Surf City 68" Bench.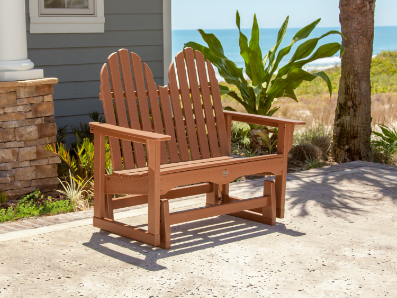 Playing with Grandkids
Rock your grandbabies to sleep on the Cape Cod Adirondack 48" Glider or read your older grandkids their favorite stories on a comfortable outdoor bench.
Furniture Reviews
We love a good review! Check out what other customers are saying below: