Do you dream of hosting backyard barbecues, casual cocktail evenings, and pool parties all summer long? In your mind, should every upcoming birthday bash, retirement party, or weekend hangout take place on your sprawling deck optimized for fun in the sun? Without the proper setup, your deck could become a bare, neglected space primarily used to get from the house to the backyard.
In order to cultivate a space for entertaining, socializing, and hosting guests you need to properly furnish and decorate your deck. But have no fear — follow this step-by-step guide and you'll be able to put together a last-minute al fresco dinner or an elaborate tea party with no problems.
---
Structures
A common problem with decks in full sun exposure is overheating. Your Sunday cookout can start to lag if your kids are sweating and agitated waiting for your famous burgers. If you plan on hosting many outdoor events and your deck doesn't have natural coverage from trees or nearby buildings, a shade structure is essential.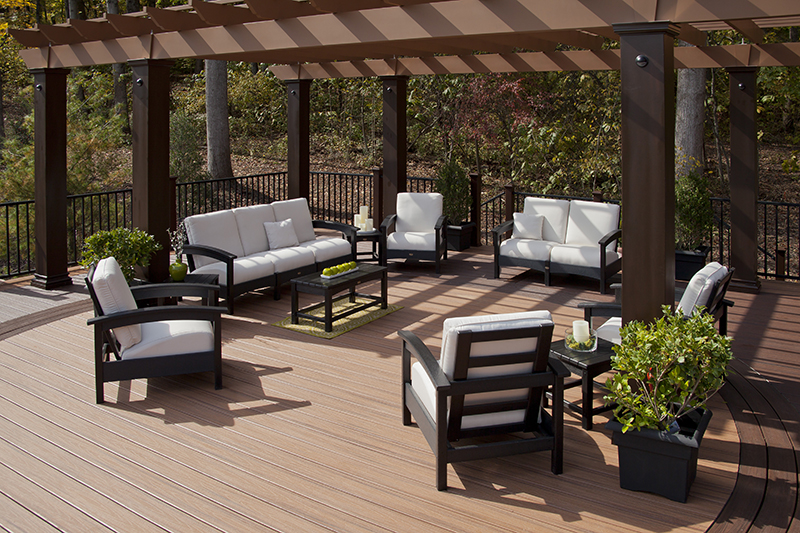 For large party decks a pergola is a smart investment. A pergola is an outdoor structure consisting of sturdy vertical posts that support an overhead open-lattice crossbeam grid to create partial shade. Pergolas are beneficial in more than one way:
The overhead beam structure of a pergola provides shade for a welcome reprieve from the sun. Arrange a rocking chair set or a dining area underneath a pergola without the need for an umbrella.
Pergolas are extremely customizable so you can match your decking or opt for a vibrant hue to make a statement. With a Trex® Pergola™ kit you can choose between a wide variety of sizes, shapes, and styles for a modern pergola with clean lines or a rustic, curved pergola that emulates stained wood.
Pergolas provide functionality for entertainment so you can accessorize and add necessary elements like speaker systems to play your favorite tunes. Add a ceiling fan for circulation, or adorn your pergola with hanging curtains for optional privacy.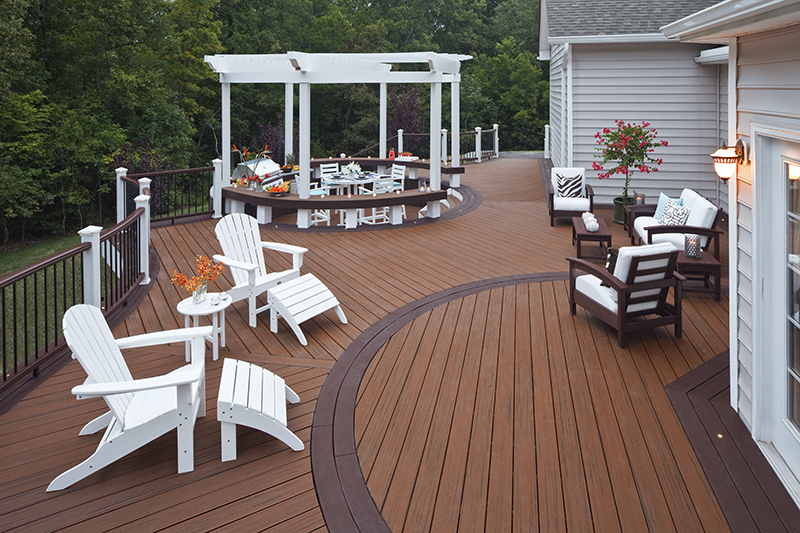 Learn more about how pergolas can revamp your deck. If you don't have the budget for a pergola, you can still find creative ways to add structure to your space. Do you have a second-story deck or balcony? Congratulations! You can furnish the area underneath your deck as a leisurely nap spot, a mini container garden, or a secluded breakfast nook.
To provide shade for certain areas along your deck you can always install standing umbrellas around your deck. Erecting a lattice wall and snaking vines and plants throughout can also add shading, especially if you angle your wall to be perpendicular to the setting sun.
---
Outdoor Furniture
After adding a structure to your deck, it's time to furnish it with your guests in mind. Depending on your region, your deck furniture will have to weather rain, snow, salty sea air, or beating sun throughout the year without degrading, fading, or cracking.
To create an entertainment zone that will last a lifetime, choose furniture pieces constructed with durable, weather-resistant materials like POLYWOOD® HDPE lumber. Items like our sofas are outfitted with quick-drying performance fabric cushions that repel moisture and resist bacteria buildup.
---
Party Deck Layout
How do you select deck furniture specifically for hosting large gatherings? Easy! When considering your deck, leave plenty of centrally-located space for mingling, dancing, or swapping stories by candlelight. Seat 40 people or more by spreading out deep seating sets and benches along the perimeter of your deck, either flush to the wall or integrated into the design. A few seating sets can be situated in the corner for guests to take a break and relax.
Need a centerpiece to structure your gatherings? Try an outdoor fireplace on your deck to keep the conversation flowing late into the night. Just take proper precautions to buy a fire pit table that is safe to use atop your decking.
You can also furnish your deck for food-centric occasions or to add a fun pop of color. Check out the rest of our deck design ideas so you can choose deck furniture united by a central theme.
Your deck furniture should align with your personality. Every space is unique, and your deck furnishings should complement the existing aesthetic of your home. Find your deck furniture style so you feel confident in your selection.
---
Plantscaping
Elevate your entertainment deck with an infusion of green. Plantlife adds organic charm and practical privacy to your outdoor space, so your guests are relaxed and out of view from nosy neighbors.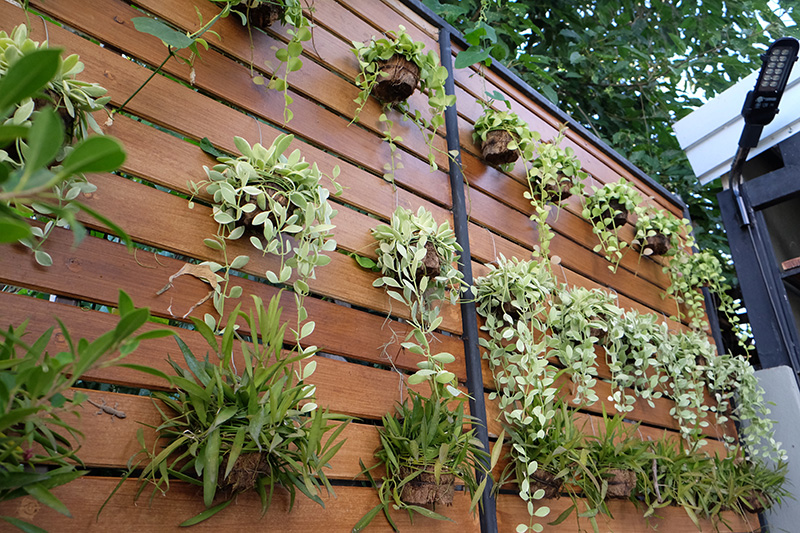 Looking for a splash of plantscaping that is versatile, striking, and low-maintenance? On a deck it's wise to opt for container gardens. Simply plant a few of your favorite annuals like hibiscus and lantana for vivid color and easy-care blooms. Zinnias and verbena look terrific in railing planters, and they attract butterflies to liven up your hangout spot.
If you want to seclude your deck or at least prevent cars from the street from seeing in, a simple row of tall planters with trees or shrubs will do the trick. Evergreens like cypress, arborvitae, and juniper can be planted along the exterior of your deck for effective privacy planting. Lattice walls also allow you to showcase your green thumb with plenty of options for vines, crawlers, or vertical planters.
You always want to prioritize gatherings and party planning, so to add entertainment-ready plantscaping that won't eat up your valuable free time consider going with succulents that offer interesting color combinations and textures without the constant watering. Some possibilities for your deck include echeverias and sempervivums.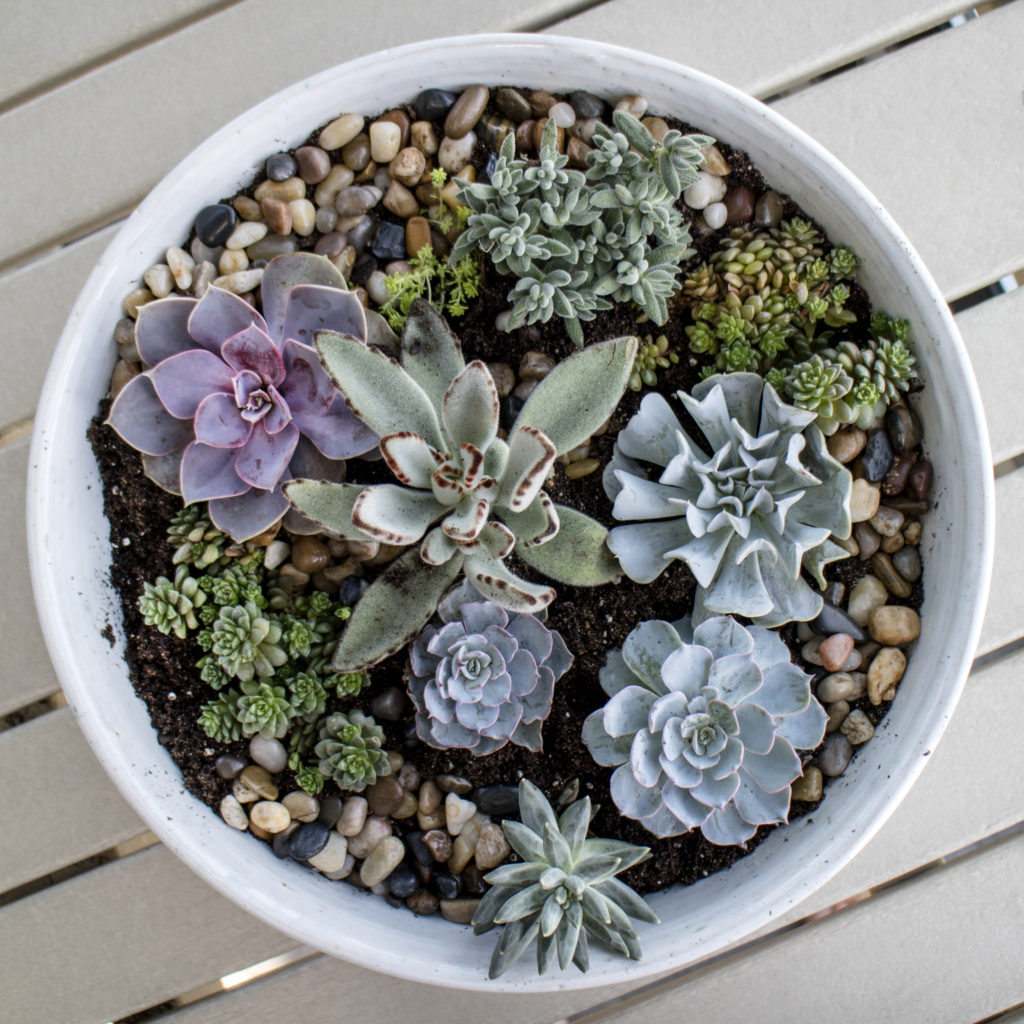 When choosing plantscaping for a high-traffic deck you don't want to go with anything that will wilt and dampen the mood, which is why it's essential to choose your plants based on your region. To learn more about decorating with plants, read our blog on plantscaping your deck.
---
Accent Ideas
Now that you've set the stage for a memorable cookout or swanky cocktail party, complete the effect with decorations and accent pieces to tie everything together. Here are a few outdoor deck decorating ideas to curate a cohesive space.
Outdoor Rugs
Large outdoor rugs section off space, which will prove useful if you've furnished one area for dining, another for relaxing, and another for standing and chatting. Don't shy away from using bright patterns and colors, but measure out 18 inches of space on every side of your rug so you have ample space to move around.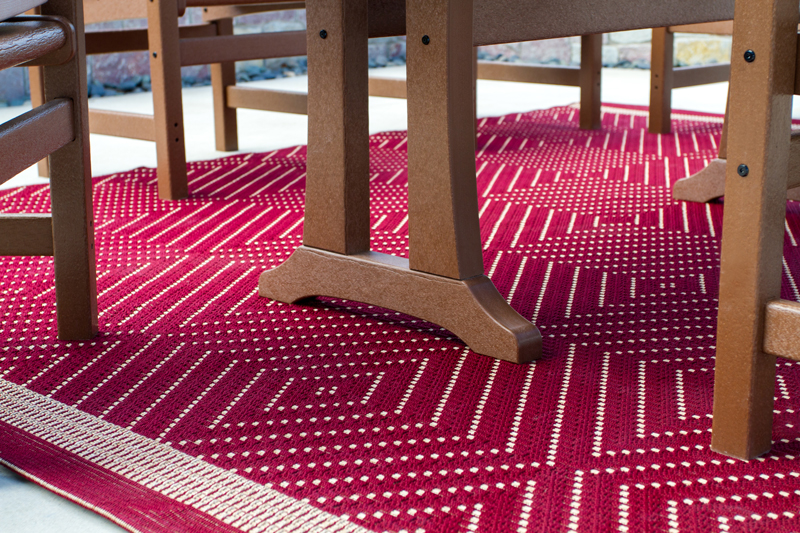 Lighting
Incorporate lighting in your entertainment area to keep the festivities rolling long after sundown. Lanterns and string lights can fit a farmhouse theme, while homeowners who invested in a pergola could easily add a sophisticated touch to their deck with a hanging chandelier. Stair lights protect your guests from taking a tumble when walking down to the yard.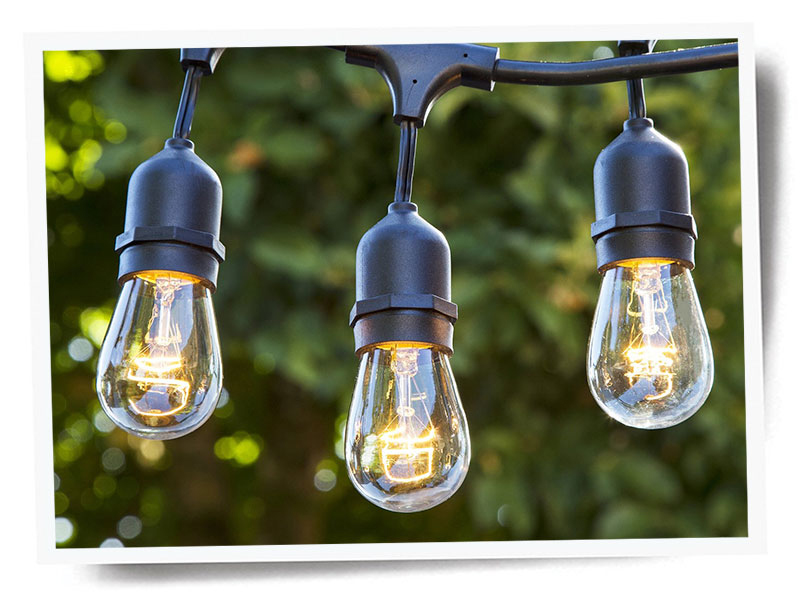 Throw Pillows
Throw pillows are a functional and foolproof way of adding layers and accent colors without taking up precious floor space. Choose coordinating outdoor throw pillows and cushions to make any seating group look more cozy and inviting.
Is your deck looking sparse? A water feature like a bubbling fountain adds a soothing soundscape to your deck and serves as a terrific focal point and conversation starter. Fountains and sculptures can also disguise awkward corners.
---
Conclusion
Becoming the outdoor host with the most isn't an elusive dream. By following these steps, you can transform any deck into party central. If your deck has seen better days, just restore your deck to give it a whole new look with stylish, recycled Trex® Outdoor Furniture™ sets.