Originally Published on February 10, 2020. Last Updated on July 28, 2020.
You've started construction on your dream deck. You've budgeted, consulted a contractor, decided on materials, and are counting down the days until your first celebratory cookout. As you begin mulling over the furnishings of your deck, you may become frazzled trying to decide on a layout and what furniture to buy.
You should have a strong idea of what will fit on your deck and where it will go before you decide on a particular style for your deck furniture. In order to help you make the most of your deck and put your own personal stamp on it we've rounded up some dependable deck layouts that you can tweak to your heart's content.
When the Pinterest boards have overwhelmed you with possibilities return to these classic layouts to ensure your deck accomplishes exactly what you want it to.
---
Best Deck Layouts
WAIT! Before you scroll down and compare our deck layout ideas, you should note that no two decks are interchangeable. There are many factors you should consider to limit your options and hone in on the right layout for your unique deck.
How large is your deck?
Spatial limitations are the most obvious restriction when considering furniture layouts. Don't try to cram a full dining set and an outdoor living room into a deck that cannot fit more than a few pieces of furniture. Fully measure your space before you begin to choose a realistic layout. Small decks often feature outdoor furniture along the edges and railings, with an open space in the middle.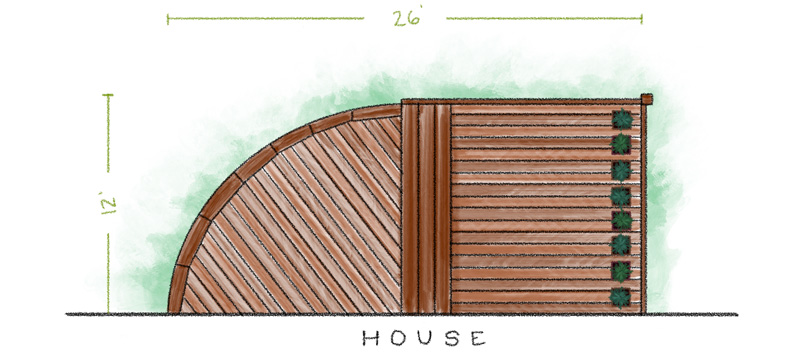 How many entrances and exits are on your deck? Where do they lead?
The answers to these questions will affect the amount of space you will need for walkways and where you should arrange your deck furniture. If you want a space for outdoor dining and the entryway to your deck opens into the kitchen, it makes the most sense to place dining furniture near the entryway. The amount of walkways and staircases leading to your yard, and the direction they lead, will also affect foot traffic and the best location for your signature furniture pieces.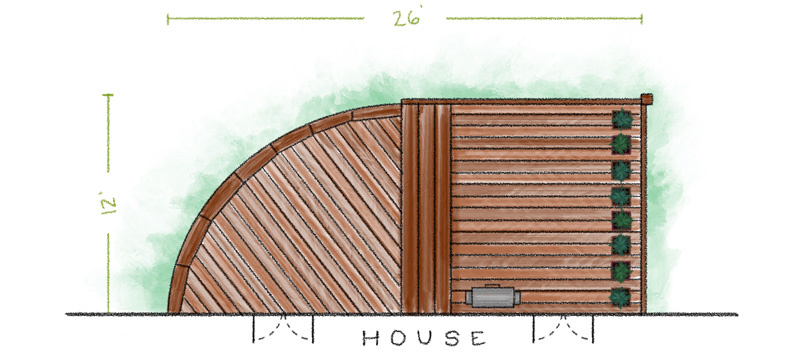 What is the primary purpose of your deck?
You don't want to overcrowd a deck with too much furniture. Before you begin considering layouts ask yourself: what is the main use I envision for my deck? Answers could be dining, entertaining, relaxing, sunbathing, birdwatching — it's your deck! Keep the deck's purpose in mind and prioritize the inclusion of furniture that will allow you to use your deck how you like.
---
Large Layout: Family Barbecue
Choose a dining set that reflects the size of your family and the anticipated size of your gatherings. Huge family affairs require traditional 9-piece dining sets, while smaller decks and families should opt for a 5-piece bistro set. Situate this set near the kitchen or within range of the grill so you don't have to transport your food long distances.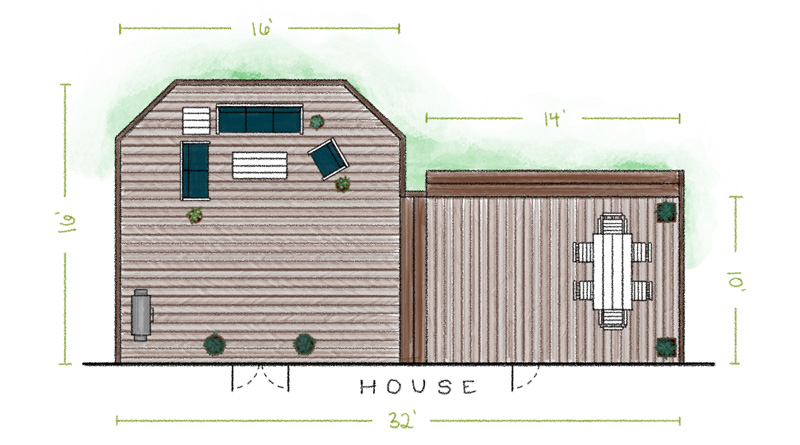 If you have room also include a small counter along the deck wall near your dining set where you can serve food, snacks, and drinks.

On the other side of the deck add a separate space for relaxing and sitting — something as simple as a settee, rocking chair, and a coffee table is all you need to create a contrasting space. Place the settee against the barrier of the deck and arrange the rocker perpendicular to create a small square area.
---
Large Layout: Beautiful Vista
Maybe your deck overlooks a rushing river, or a stunning ocean, or a picturesque view of snow-peaked mountains. Whatever your vista may be, arrange your outdoor furniture in a way to keep focus on your view without obstructing any eyelines.
Begin by placing the largest piece of furniture, either a swing, bench, or deep seating sofa, against the longest wall of your deck that faces the view in question. Include a coffee table and a side table. Depending on the size of your deck, add two comfortable chairs diagonally in front of the sofa, one on either side, or place the two chairs along the other deck wall that faces the view, with a single side table between them.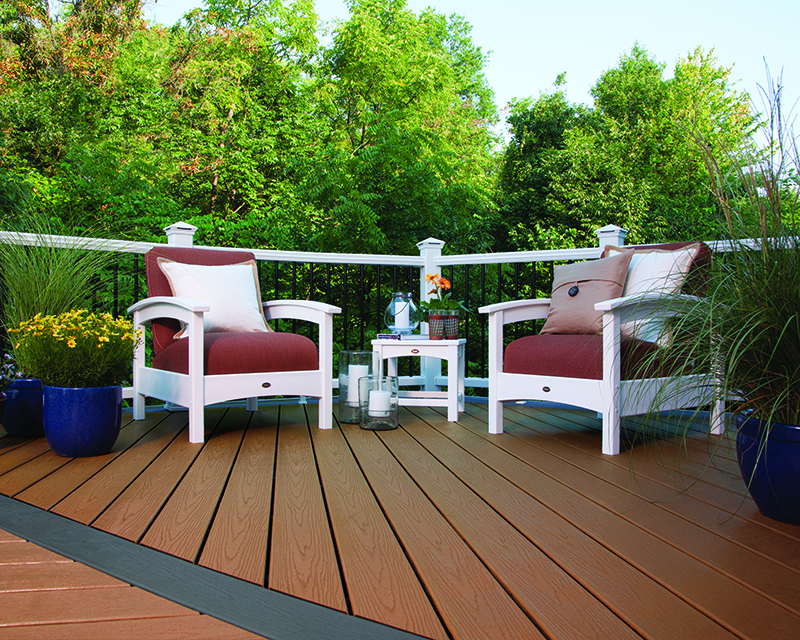 If you are a sunbathing addict substitute the two chairs for a pair of chaise lounges. Spring for a chaise set to include a side table for your mimosa, magazine, and sunglasses.
Keep generous pathways between areas, as least 48" wide. Avoid large structural elements like lighting or heat lamps in an area that will obstruct someone's vantage point. If it doesn't clash with your existing outdoor design and architectural elements consider glass deck railing for an immersive view.
---
Small Layout: Corner Retreat
Smaller side decks should stick to one cluster of furniture in order to maximize space. If you envision your deck as a private retreat after a long day of work or morning of gardening, arrange two seating options in an L-shape with a coffee table or conversation table in the middle.
The seating you choose will vary based on your preferences: you can't go wrong with a supportive and plush deep seating sofa, but an option like a glider is perfect for escaping into a book or rocking your infant to sleep. For the smaller furniture piece go with either a deep seating chair or a rocker. Don't choose two seating options that rock or glide — at least one should be stationary.
Place your furniture in a corner of the deck and allow plenty of walking space near the entrances and exists.

Fill out your deck with a vertical wall garden, planters, or a screen to provide some privacy and give you a real sense of being alone in nature.
---
Small Layout: Casual Hangout
Looking to facilitate a space for conversation? Arrange seating in a circle so anyone can hop into the group or pop out for a drink refill at any time. Adirondack chairs infuse any deck with a casual comfort that encourages laughs, good times, and catch-up sessions that last into the night.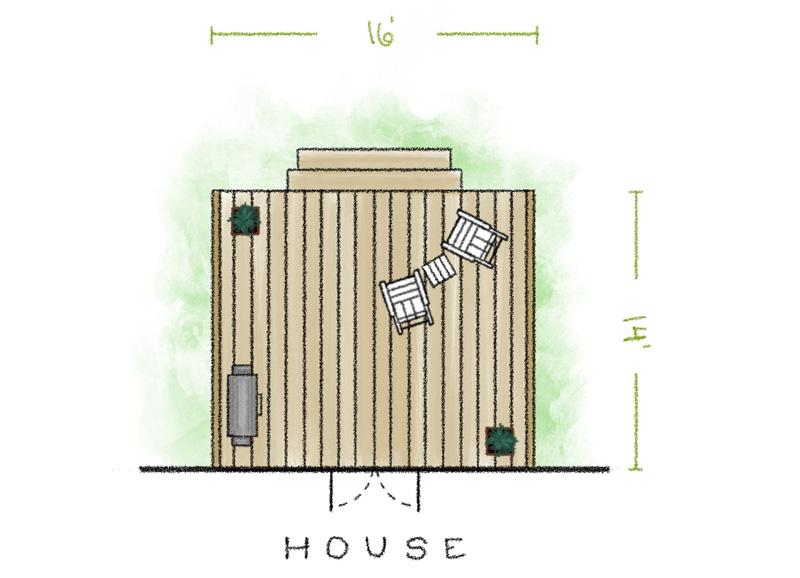 When arranging your deck, draw a sketch and mark off the areas of the deck meant for pathways. Place the conversation table in the middle of the remaining space and arrange chairs accordingly. 5-piece and 6-piece Adirondack conversation groups are a great place to start for inspiration.
---
Any-size Layout: Cocktail Party
Plan on hosting cocktail parties or evening tango get-togethers? To fit a crowd keep the middle of your deck wide open. Sprinkle a few seating options like benches or sofas around the edges of your deck, along long walls. Place a few bar tables along walls near entryways and exits so guests have a place to set their drink or appetizer when they're inevitably drawn to the dance floor.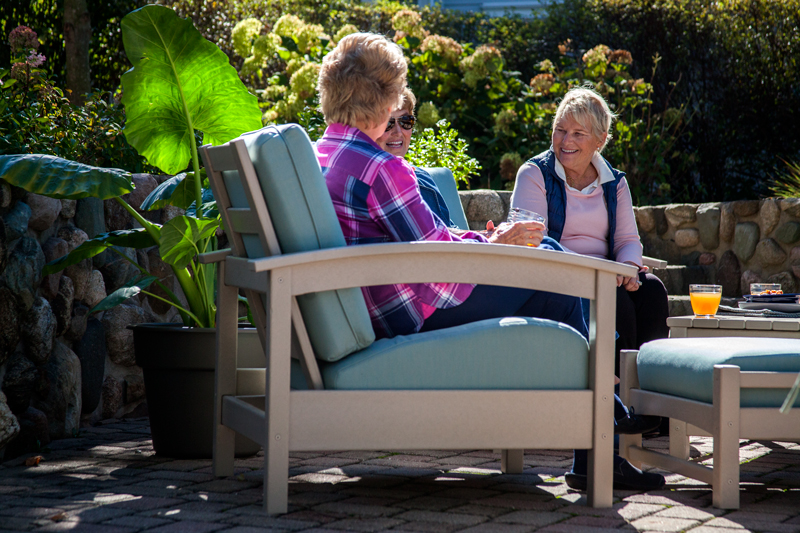 Try to vary your furniture — if you draw your deck arrangement on paper and trace your finger around the perimeter of your deck you should see a small seating group, a bar table or counter, some blank space, and then a repetition of this pattern two or three times.
---
Conclusion
Once you've chosen a deck layout for your space furnish it with durable, all-weather outdoor furniture designed to last a generation. How did you ultimately arrange your deck furniture? Let us know in the comments!