Originally Published on January 29, 2020. Last Updated on July 28, 2020.
No two decks are the same, and the ideal arrangement and style of furniture on your neighbor's deck may overcrowd or clash with yours. Before you make decisions about color schemes, contemporary or classic designs, and outdoor furniture materials, you first need to understand your workable space.
The most crucial measurement you need to plan your deck furniture purchase is the square footage of your deck. You'll furnish a simple 10' by 10' deck outside of your bedroom completely different than a 400 square-foot party deck. Read on to determine how much furniture your deck needs based on its size.
---
Guidelines for Building a Deck
Are you building a deck? When determining the size, keep these guidelines in mind:
In general, your deck should be wider than it is deep and run along the length of your house.
It's vital to build a deck that's proportional to your home. A deck larger than your house will dominate the space, and a deck measuring a fraction of the area of your home will seem insubstantial.
Decks are an extension of your home – have goals in mind before you start building to dictate the size. Do you want the ultimate grilling and outdoor dining oasis, or are you looking for something simple where you can kick back with a good book and a drink?
If you're planning on building a massive deck, consider a multi-level design for added dimension and for a logical way to break up areas for different uses.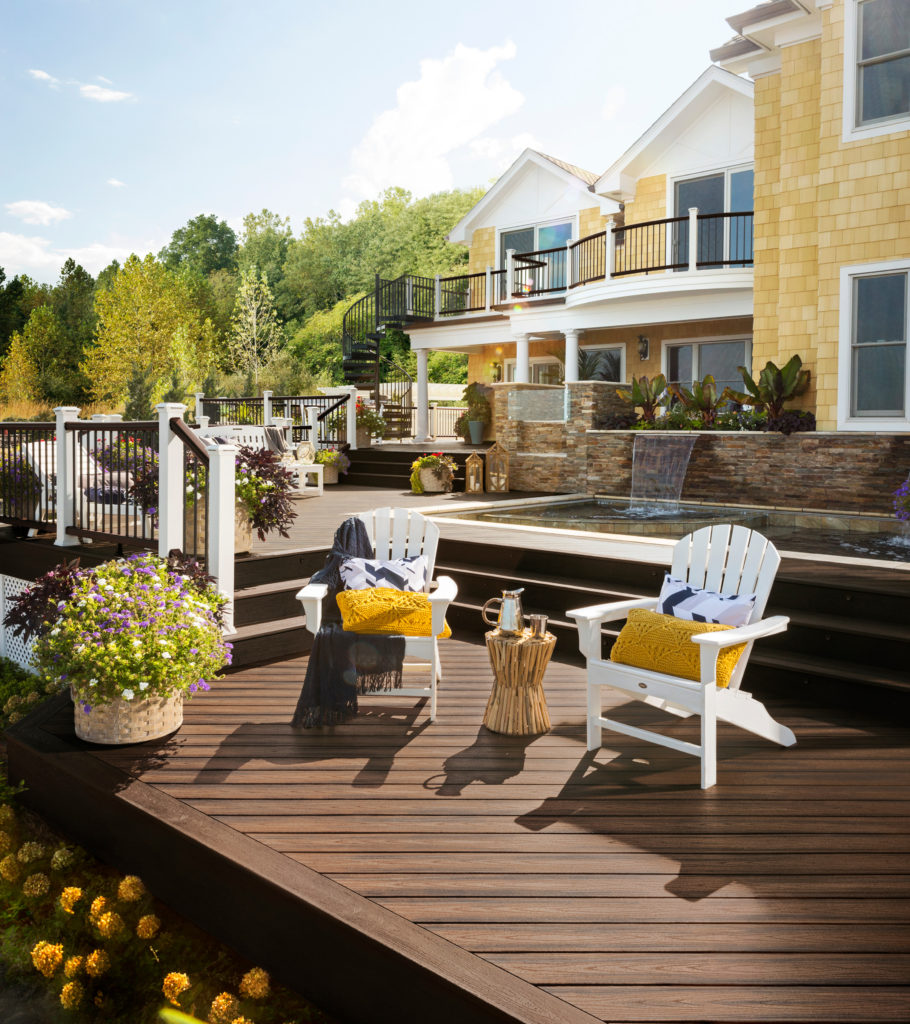 ---
Common Deck Sizes
How spacious are most decks? Do homeowners tend to invest in larger units, or keep it small and secluded? Here are the most common sizes of home decks: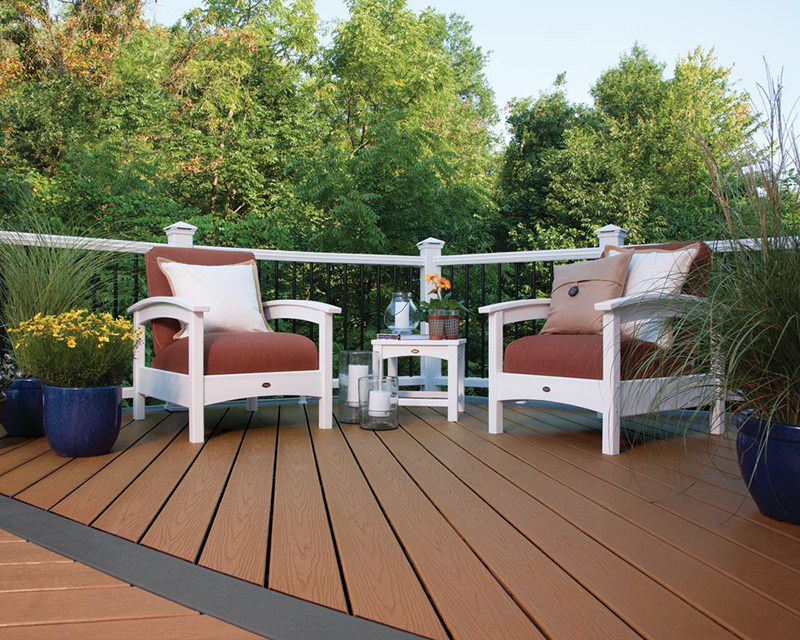 Urban Oasis — A deck measuring 12' by 12' is the standard size for many apartments and city homes. This amount of space is more than enough to fit a modest furniture set and still decorate with greenery and standing lights.
Two-Zone Retreat — Once your deck measures at least 12' by 16', you can separate the spaces into two distinct usable areas, in opposite corners. You can find this medium-sized deck on rustic getaways and neighborhood townhouses alike.
Life of the Party — Once your deck exceeds 12' by 20', you have a versatile deck with a myriad of furniture possibilities. Larger homes often have a deck this size to host events and spread out. With more space comes an increased need to plan to optimize your options carefully.
---
Maximizing Your Usable Areas
A helpful way to provide structure to your deck furniture needs is to calculate how many usable areas exist on the deck. To determine this, first, you'll want to measure your deck and sketch it on graph paper so you can visually brainstorm.

In general, a small-to-medium cluster of deck furniture will take up between 100 to 150 square feet of space. Also, you'll want to leave four to five feet of space between usable areas, so your deck isn't crowded. Including walkways in your sketch will protect you from a headache later.
So, a deck measuring 300 square feet would comfortably fit at least two usable areas that you can furnish for different purposes. Once you know how many usable areas are at your disposal, it's time to narrow down your furniture selections.
If You Have 1 Usable Area
With smaller spaces, stick to a central set with up to three pieces. Do you envision a deck for dining? Include a bar set with two chairs, so you have a cozy spot to enjoy breakfast or share a mimosa. You may instead want a haven to unwind and relax – two deep seating chairs and a coffee table provide a comfy timeout while keeping your floorplan manageable.

If You Have 2 Usable Areas
When you can comfortably fit furniture into two usable areas, try to decide on two distinct functions. Pair a dining set for dinner with two chaise lounges in the second area for a deck where you can catch up with family or doze off and soak up some sun. Try to keep your choices practical and include as much seating as you can without crowding. A deep-seating sofa or a bench will add functionality without dwarfing your deck.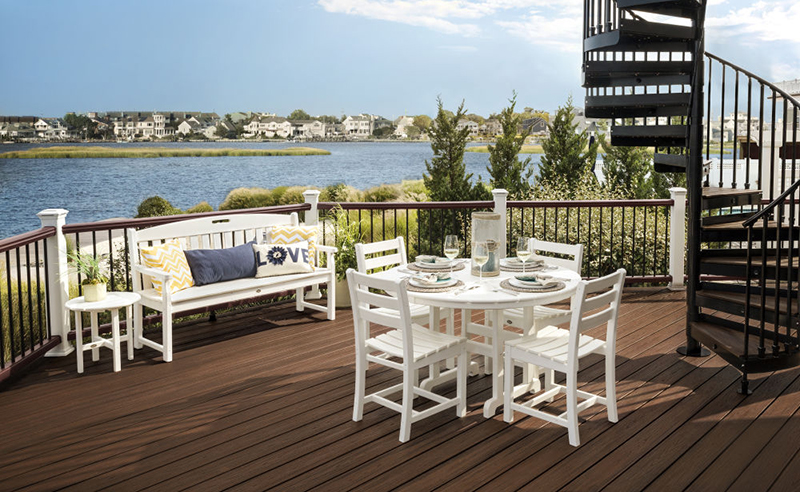 If You Have 3 Usable Areas
With three usable areas, you can fully commit to the furniture you want without compromising. Does your deck flank your front door? Maybe one area contains a swing, another includes a rocking chair set, and your largest area boasts a dining set that can accommodate eight for a weekend barbecue. When you have leeway in a larger space, consult our deck design ideas for curated solutions.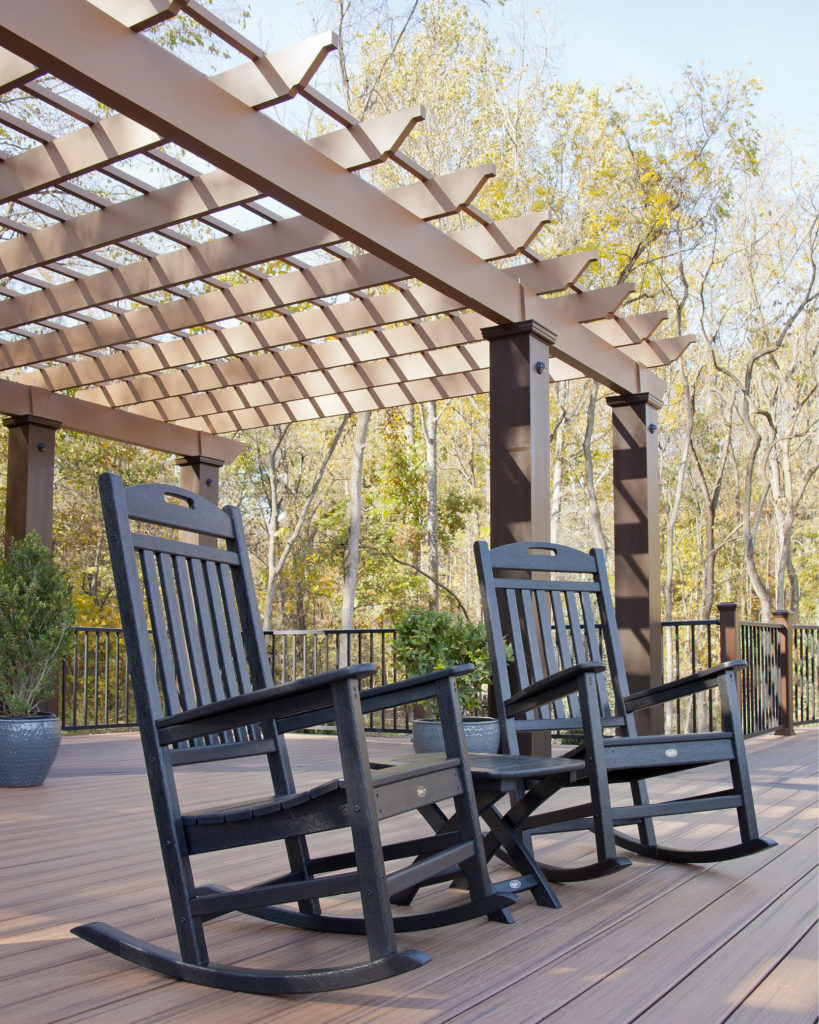 ---
Budget and Style Considerations
Even if you have a breathtaking wraparound deck with three usable areas, sometimes your budget won't allow for a full furniture set in every area. When considering what usable areas you will furnish, you can make adjustments based on your overall project budget:
Instead of furnishing the central or middle usable area, choose a weather-resistant outdoor rug to open up your deck and create a space for congregating, dancing, and foot traffic.
If you are ordering a handful of deck furniture pieces, bring your decor to life by adding some colorful decorative cushions and throw pillows. These low-cost accessories breathe life into your space while delivering practical cushioning.
Rustic cabins and coastal designs allow for more furniture pieces, while modern minimalist aesthetics should be sparsely furnished with plenty of open space.
---
Conclusion
Even once you have your deck measured, deciding on the ideal furniture set to fill your space and match your tastes can prove challenging. When in doubt, it's best to leave it up to the experts. We developed our deck furniture quiz so every homeowner can furnish their deck with confidence. Answer a few simple questions, and we'll match you with three distinct furniture set options to make your deck feel like home.