Originally Published on April 19, 2019. Last Updated on June 22, 2021.
Any backyard space is suitable for a lively entertaining area, fine outdoor dining, or a mixture of fun and fashionable decorative elements. Decks for small yards aren't limited by their size — you simply have to be more selective with your vision and choose one to two functions for your deck. Follow our guide and bring your outdoor space to life with our backyard deck ideas.
---
Measure the Space You Have
Maybe your deck isn't as small as you imagine. Before you start planning your backyard deck ideas you should measure the square footage of your deck and complete a drawing to scale to help you select furniture and decorations. Measuring your deck should only take a few minutes:
The tools you need:
measuring tape

graph paper

ruler

pencil



Measure all of the boundaries of your deck

and draw them to scale on your graph paper.

Round to the nearest inch

. If your deck has a unique shape without 90-degree angles, use a carpenter's square to get a more accurate representation on your graph paper.



Measure the length of doors and entryways

. Include these measurements on your graph paper. Use the measurement of the length of your door to

draw a quarter-circle with dashed lines to indicate where the door opens

. This will help you plan the space with enough room to walk around furniture pieces without being blocked by an open door.



Measure the length and width of any permanent fixtures

like a grill or archways and include them in your drawing.



Measure the length and width of open spaces

and

measure the diameter of your circular spaces

so you can purchase furniture with confidence.
---
Deck Furniture for Smaller Spaces
If you decide on one main purpose for your small deck you can easily fit the necessary furniture pieces in your space without enough room to walk around. Depending on what you like to do outdoors there are several main pieces you should prioritize:
Dining
A cozy breakfast nook is the perfect use of deck space that's smaller than your kitchen. Depending on your existing outdoor decor you can go with a romantic yet contemporary Surf City Bar Set for two or provide seating for your entire family with a Yacht Club Highback 5-Piece Dining Set.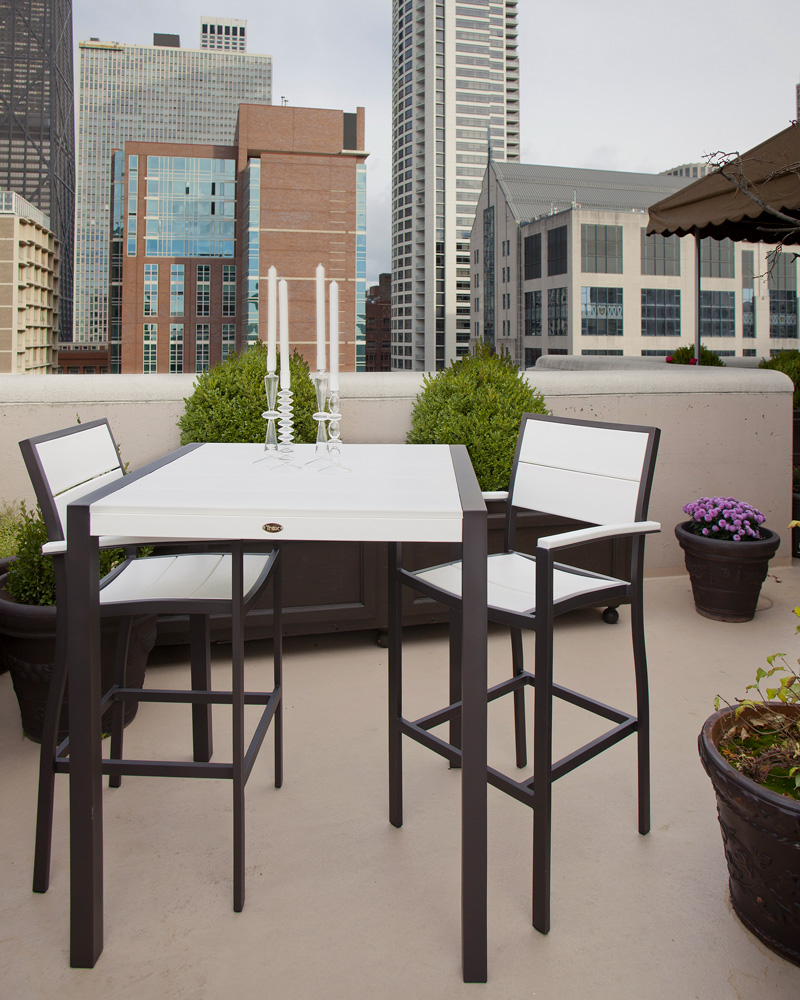 Chatting
Escape from the hustle and bustle and relax into plush, comfortable deep seating chairs to catch up with an old friend or chat about the latest episode of your favorite show with your hubby. The all-weather performance fabric and HDPE lumber of our deep seating sets repel water and weather extreme conditions so they can remain outside year-round.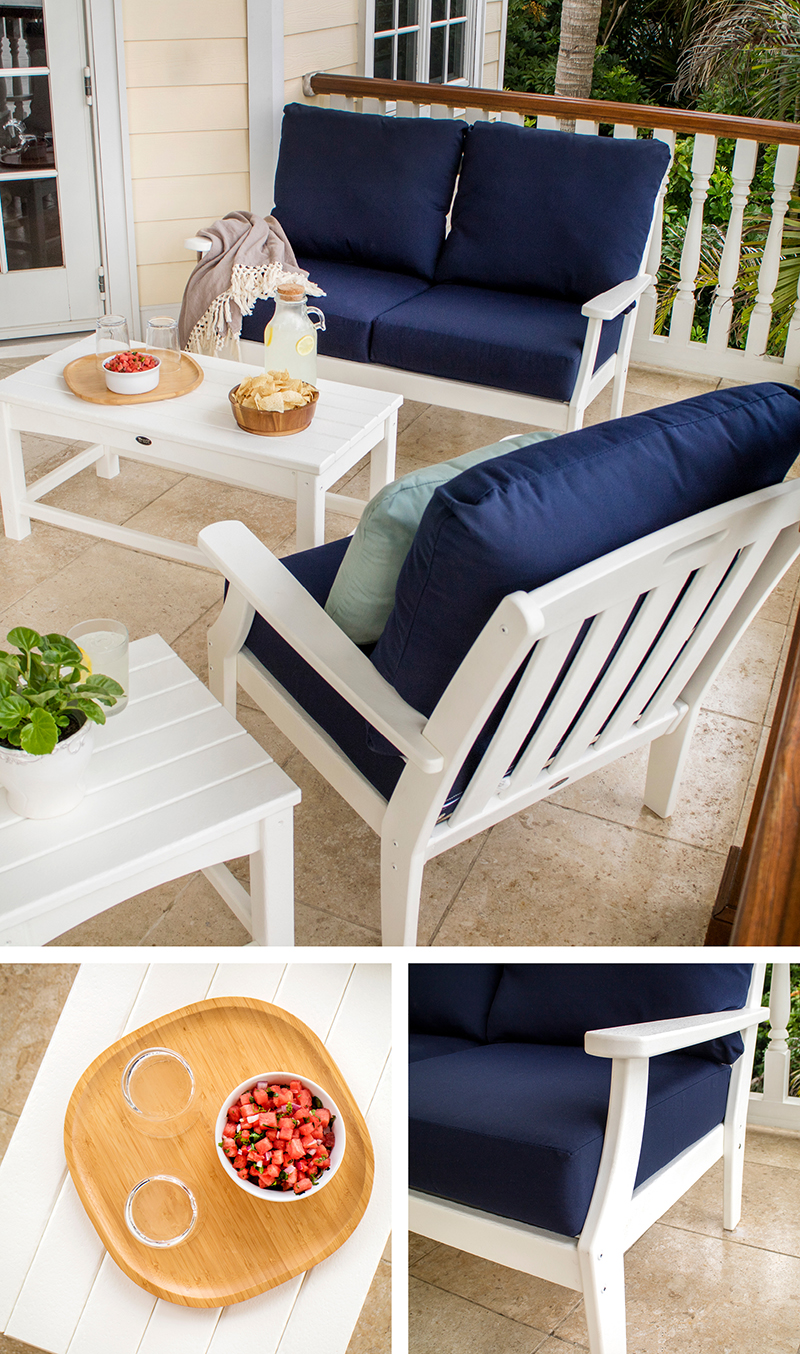 Sunbathing
As long as your deck isn't overshadowed by a tree canopy or a roof you can fashion the ultimate sunbathing spot. Simply position two chaises and a side table between them to rest your suntan lotion, a glass of lemonade, and latest paperback. This setup is perfect for irregularly shaped spaces or decks located immediately outside a side door.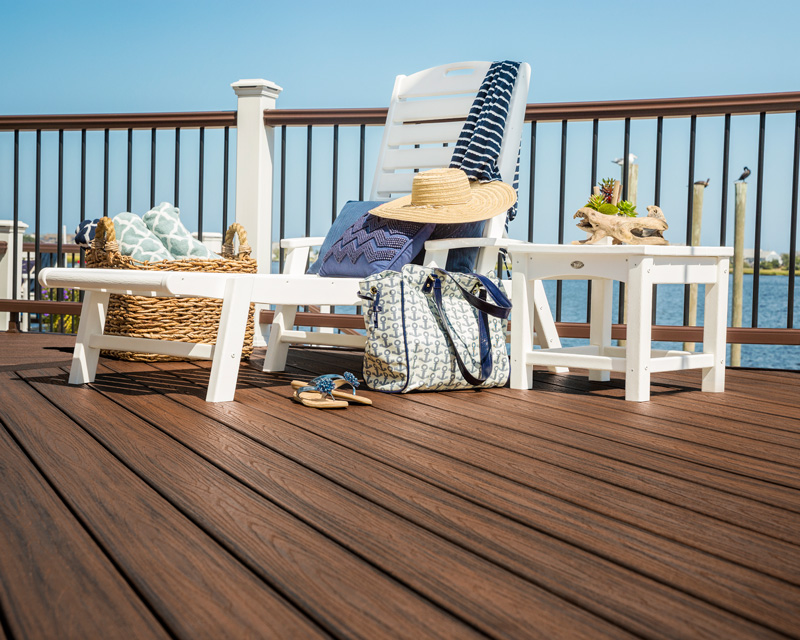 Entertaining
Gather friends around a central place by investing in a sturdy Shellback Adirondack Conversation Group. Pair your built-to-last deck furniture with composite Trex® decking for a weather-resistant hangout spot where you can host game nights or tell ghost stories by moonlight for years to come.
Allow the shape of your smaller deck to inform your decision as well. Certain shapes are better suited to specific functions. Rectangles lend themselves to larger dining sets; while squares can host seating areas like a deep seating set; circles are versatile but should include a central piece like a bar table or a fire pit table.
---
Color Palette Schemes
When deciding on the color palette and style of your outdoor deck and accompanying furniture you have two distinct options: go for colors, materials, and patterns that are in sync with your home and landscape, or pick a purposefully contrasting color palette to draw focus and create design complexity.
However, a word of caution: for smaller decks, contrasting and vivid colors should only be used if there are other areas of your outdoor space that do the same. If you have a homogenous outdoor decor and a small patch of bright colors and modern designs the design will seem to clash instead of creating a lovely contrast.

Deck furniture from Trex® Outdoor Furniture™ is available in a wide variety of color palettes so you can complement or juxtapose your walls and other outdoor elements. Choose between neutral hues, Earth tones, and vibrant colors to lean in either direction with confidence.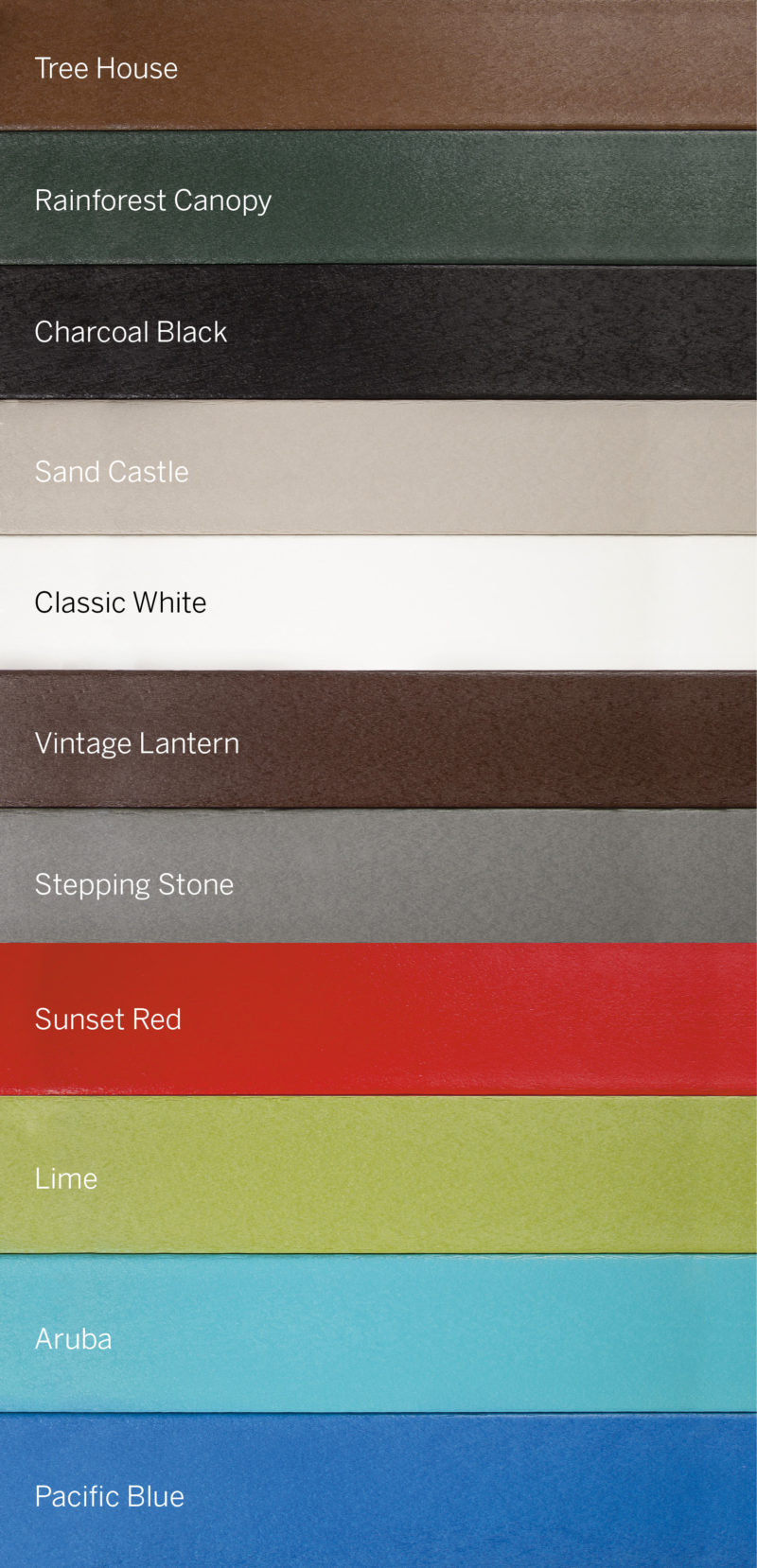 ---
Deck Decorations
Smaller decks allow you to present a unified design that can be taken in with a single glance. Outdoor decorations and accessories can transform your space while also making it more functional. Use any of these decorations as part of your deck ideas for small yards.
String lights
Keep your small deck boho-chic by installing a few strands of string lights along your outer fence or the wall of your home. Illuminate pathways and create a fun visual contrast with the other elements of your deck.
Hammocks
Key pieces can infuse personality into any deck. Whether your deck is perfectly situated under a tree or you have to suspend it yourself, a hammock creates a leisure zone you can populate with deep seating chairs or a glider for an inviting spot to nestle away whenever you need a break.

Greenery
Connect your deck to the yard or provide a splash of color with a potted plant or a well-placed shrub. With flowers and landscaping, you have endless possibilities. A couple of planters filled with manicured plant life will make a statement no matter the size of your deck.
---
If you undertake a massive remodeling project or decide to upgrade to a larger deck, read our Deck Design Ideas guide for further tips and layouts for spacious decks. Once you decide on a central function for your smaller deck, browse our furniture collection blogs to learn how to plan the perfect dining space or lean into a particular collection of our weather-resistant and comfortable outdoor furniture.
Blog Post Updated June 22, 2021