The slowly crumbling deck that came with your new home remains neglected, only populated with an aging plastic chair and a mismatched end table. Whether you keep it at the bottom of your to-do list or simply don't know where to begin with your deck restoration, Trex® Outdoor Furniture™ has you covered. To fully utilize your outdoor spaces, you just need some inspiration.
Here are our top backyard deck ideas, and the furniture you need to bring your new outdoor deck design to life. Read on for styling and design tips to put the finishing touches on your new space once you lay the foundation with outdoor furniture.
---
Deck Ideas: Outdoor Living Room
Cover deck spaces with shade structures or with a balcony or roof to create the sensation of being both inside and outside simultaneously. A covered deck space is ideal for an outdoor living room filled with plush, comfy seating and plenty of coffee tables and end tables to keep your drinks, snacks, and favorite magazines to flip through on a sunny day.

Restoring your deck space into an outdoor living room is simple if you order a complete set from our Rockport collection, a selection of deep seating outdoor living room furniture pieces with thick, generous cushions, and sturdy HDPE lumber frames.

Chat the night away with friends or sip steaming mugs of hot cocoa with your kids seated in a Rockport Club 6-Piece Deep Seating Conversation Set. The all-weather performance cushions dry quickly, so there's no need to cover your new outdoor living room area when it rains. Even when on your own the supportive sofas and chairs are great for reading, catching up on some work, or dozing off for a tranquil nap.
---
Deck Ideas: Casual Dining
When food is your passion there are few backyard deck ideas better than creating a casual dining space where you can relish your latest dinner experiment under a canopy of trees and sunlight. Outdoor dining sets provide the best setting for late morning brunches, barbecue feasts with the family, or even game nights when you need a sprawling space for your latest tabletop adventure.
When you're restoring your deck with dining in mind turn to dining sets from our Cape Cod Collection. The coastal design elements bring a bit of New England flair to your deck. The classic slatted design is not only contoured for your comfort, but it also creates simple, clean lines to blend sophistication with practicality.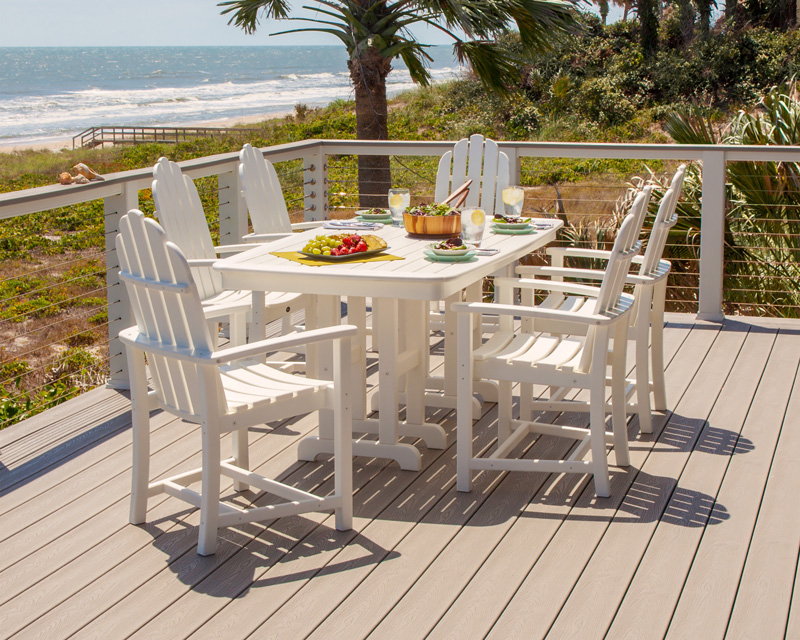 Consider how many people you anticipate dining outside, and how often. Regular al fresco family dinners deserve the spacious Cape Cod 7-Piece Dining Set to maximize table space and provide ample seating for everyone. Retirees looking for a cozy, romantic dining set that they can enjoy sunrise breakfasts on should consider an option like the Yacht Club 5-Piece Farmhouse Arm Chair Bar Set.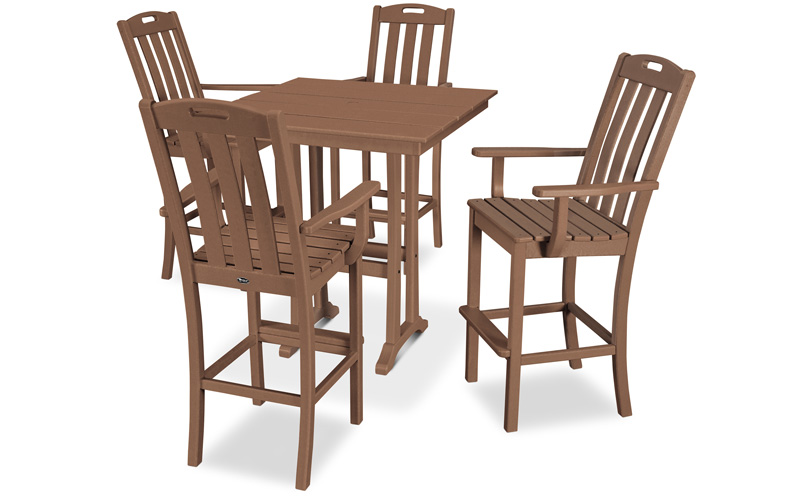 ---
Deck Ideas: Entertainment Central
If you dream of being the host with most, complete your deck restoration with the intent of making a space for parties and entertaining. One benefit of this choice is the simplicity — parties thrive when there are wide open spaces, so your main goal will be to add a few seating elements along the edges of your party space for guests to sit when they're not mingling. Scatter a few benches and deep seating sofas on the sides of your deck and by the entryways to keep your entertainment area contained.

What to serve as the centerpiece? Don't overthink it — place a few bar tables in the central space for people to set their drinks down during a conversation. A large carpet or rug can signal a dance floor if you plan on blasting tunes. Check out our tips for deck fabrics further down.
Decks designed to entertain can keep the party going even into chilly Autumn nights. We provide a full breakdown of how to outfit your deck for an all-out evening bash. These are just some of the ideas for furnishing your deck — for more themes and ideas read our latest deck design ideas.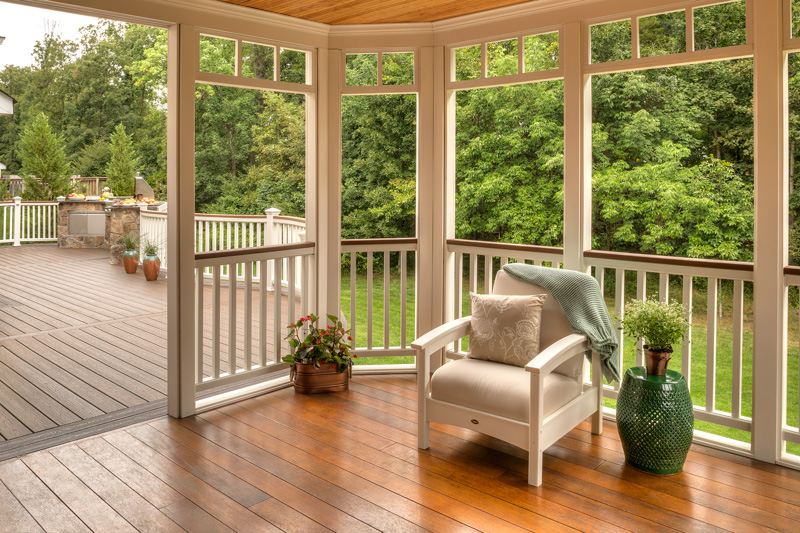 ---
Deck Styling Tricks
Sometimes it's not the function of your deck where you run into trouble — it's in transforming it into a stylish space that you can proudly show off to guests and family. To liven up your outdoor deck design for a new look try these deck styling tricks.
Use Plants
Bring your neglected deck to life by simply adding some durable, stylish planters filled with greenery. Choose contrasting colors and a variety of regional plant species to add dimension and levels to your deck style. Plants can line the borders for a natural wall, or you can space out planters by seating areas and empty spaces for a cohesive immersion in nature.
Add Color
Brown is fine, but contrast is better. The sign of a well-executed deck is the design details, and few elements are as fundamental to that design as color. Choose vibrant colors for your deck furniture and paint your decking to complete the effect — pink on white or teal on black will render your once lifeless deck into a work of art. Pile on cushions, throw pillows, and add weatherproof art pieces like sculptures to further explore the possibilities of color in your deck restore.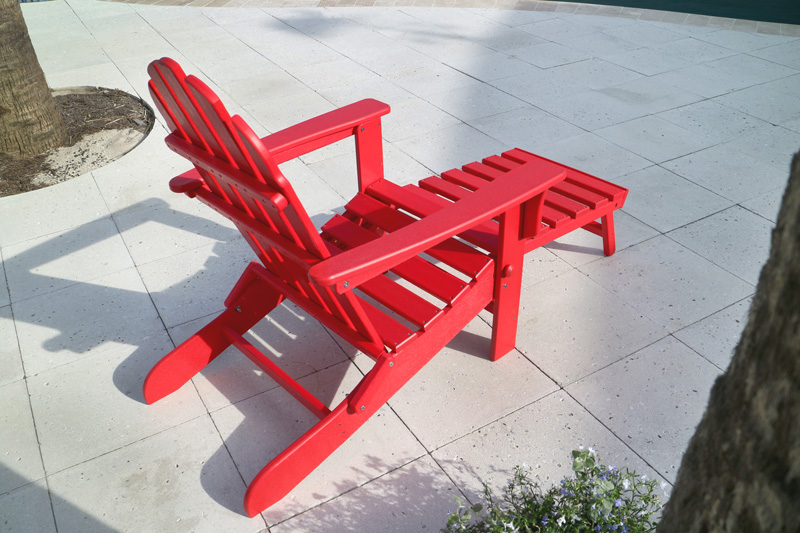 Include Fabrics
Rugs and carpets not only provide structure, creating visual zones for areas like outdoor dining or relaxing in deep seating furniture — fabrics add tone and texture to your deck design, complementing the colors of your decking and furniture pieces to craft a fully realized outdoor look. Read our guide to furnishing a deck in extreme climates to learn what fabrics will best repel the effects of rain and cold temperatures.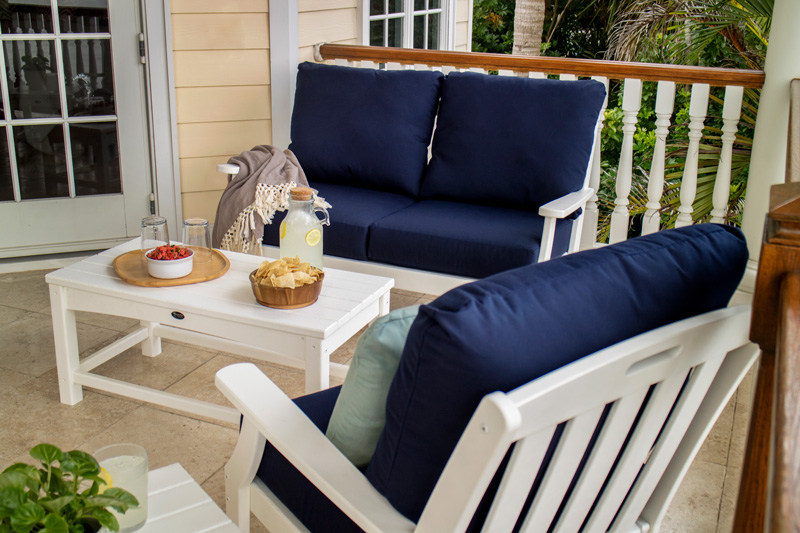 ---
Once you've decided on the best function for your deck you may run into trouble deciding on the exact chaise lounge or dining set for your outdoor space. After all, there are hundreds of unique, weatherproof options at Trex® Outdoor Furniture™. Learn how to purchase patio furniture you love on the first try so your deck is a true pleasure for years to come.
Blog Post Updated June 16, 2021