You're stretched out in a hammock or along a cushioned chaise lounge enjoying a breezy summer afternoon on your deck. After half-an-hour, however, you flip over in frustration as your skin reddens and you start sweating more than you anticipated. You thought furnishing a cozy retreat on your deck was a smart idea, but you're beginning to understand your biggest mistake: you didn't incorporate any shade, and now you're sizzling.
Many decks, patios, and porches that receive direct, unfiltered sunlight are often neglected in the sweltering summer months. Summer is supposed to be the season of escape, of hanging about the pool and serving another round of burgers fresh from the grill. But to provide decent shade and boost the functionality of your outdoor space, we offer a simple solution: build a pergola to revamp your deck.
---
Why Get a Pergola for Your Deck?
Pergolas are among the most popular deck trends of the last few years. In fact, we previously recommended pergolas as a great option for providing natural shade to your outdoor dining spaces on the deck or patio.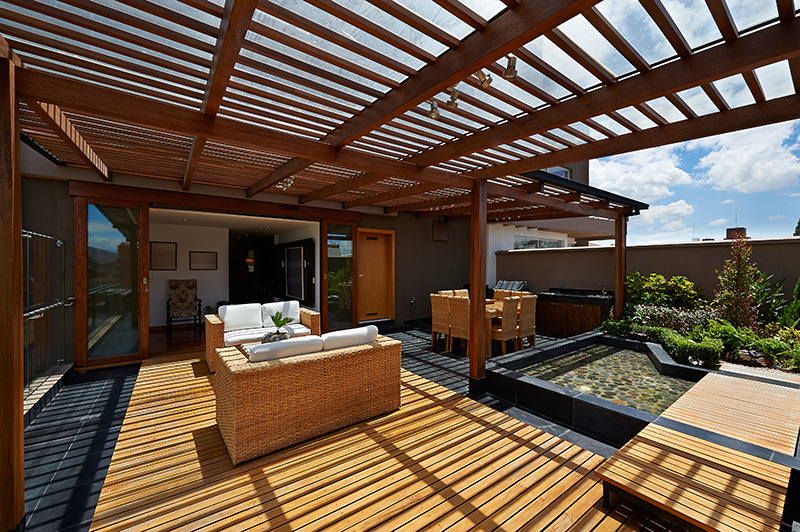 A pergola is an outdoor structure that is erected over a seating, entertaining, or dining area. In some forms of architecture, pergolas are long and narrow to extend overtop an outdoor path or walkway. A pergola consists of sturdy vertical pillars or posts that support an overhead open-lattice crossbeam grid to create partial shade. Some pergolas can be covered to fully shade the area below. Pergolas can extend from the wall of your house or can be freestanding anywhere along your deck or in your yard.
Pergolas provide several practical and aesthetic benefits:
● Pergolas add needed shade to a deck or patio, allowing you to stay comfy for hours even during an extended sunny afternoon. Protect your outdoor living furniture from inclement weather and transform the deck outside your back door into an extension of your other living and dining areas.
● Pergolas are extremely customizable. You can build your own pergola, work with a landscaping professional, or order a pre-designed kit from a trusted manufacturer. There are hundreds of unique styles, color options, and materials to choose from, from cedar wood to vinyl to fiberglass.
● Pergolas give you more options for entertaining. If you love hosting big parties and get-togethers, pergolas grant you the structure you need to extend your party space by adding functionality to your deck. Quick examples — you can hang chandeliers, fairy lights, a speaker system, or fabric from your pergola to create a wholly original space. We'll cover some of our favorite functional pergola ideas later in the article.
---
Adding a Pergola to Your Existing Deck
Building your own pergola on your deck? We admire your tenacity! As you enter the planning stages of adding a pergola to your existing deck, stick to these guidelines: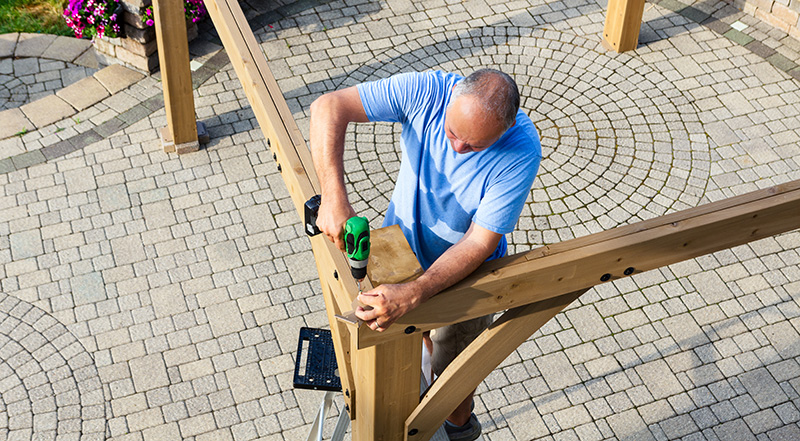 ● The number one priority with a pergola is structural security. To ensure safety, invest in durable materials that provide a durable base. When building a pergola atop your deck you will need high-quality hardware, including post bases that are designed to be seen, timber bolts to connect wood to wood for your top frame, and post-to-beam support, preferably that's been hot-dipped galvanized.
● Before you begin building your pergola, check with your local building department to see if your project requires any permits.
● Keep your pergola safe by avoiding materials that will make the structure top-heavy. When in doubt, go with fabric panels or light wood lattice. If you're not convinced your pergola is sturdy, veer on the side of caution and add railings in between the posts.
● There's no need to build your own — with a Trex® Pergola™ kit you benefit from the incredible strength delivered by the all-aluminum design and stainless steel hardware. Choose between a wide variety of custom sizes, shapes, and styles for almost unlimited design options. You can even add a manually retractable fabric canopy system for maximum shade coverage.
---
Planning a Deck, Pergola, and Furniture Together
Choosing furniture and planning the details of pergola decks is less complicated when you know from day one that you will center your space around a pergola. Decks are often unshielded from the sun, but when selecting outdoor furniture for decks with pergolas you can craft spaces intended for prolonged use. Here are a few furniture themes that work well with pergola decks: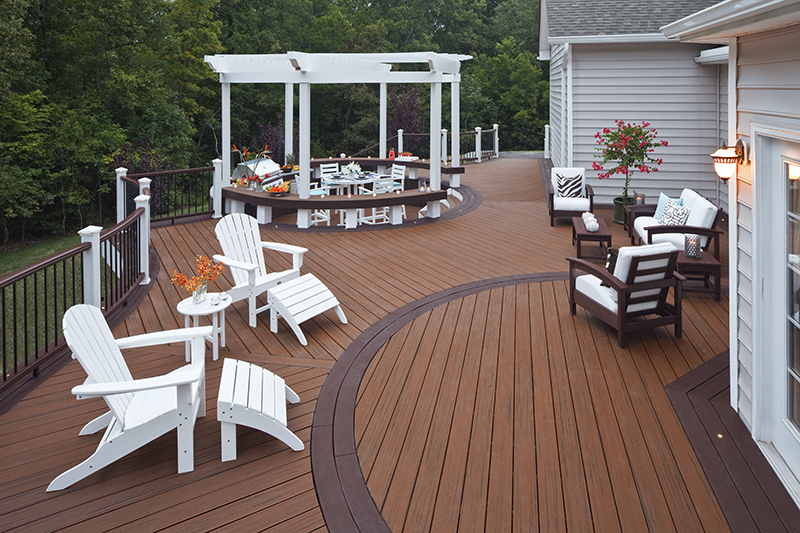 ● With shelter from the elements and optional lighting, a pergola deck is the ultimate location for your outdoor dining space. Make it the go-to location for large gatherings by situating a large dining set for eight people or more directly underneath the center of the pergola. Measure out your space and double-check that there is enough room to comfortably walk between the posts and the dining set while carrying platters and plates of food.
● An effective design choice is to erect an open-air pergola complete with lighting and a sound system for parties. For this arrangement, position a few bar tables inside the pergola for guests to set their drinks or snacks while mingling, and add a few benches or sofas along the border of the pergola when anyone wants to spend a few minutes off of their feet.
● With a connected pergola you can easily furnish an outdoor living room intended for nighttime movie screenings or game night with the kiddos. Deep seating sets with a variety of seating options and an extra coffee table for activities should all comfortably fit under the span of your pergola.
● A poolside pergola provides a needed break from the sun for enthusiastic swimmers and loungers. Just add a small dining set with a few chairs to enjoy snacks or hang dripping towels, and a couple of chaise lounges and an accompanying side table for those who prefer to stretch out and catch a few rays.
---
Functional Pergola Ideas
A pergola is the ideal structure for outdoor relaxation and for entertaining. Want to make the most of your brand new pergola? Here are our favorite fashionable and practical pergola deck ideas: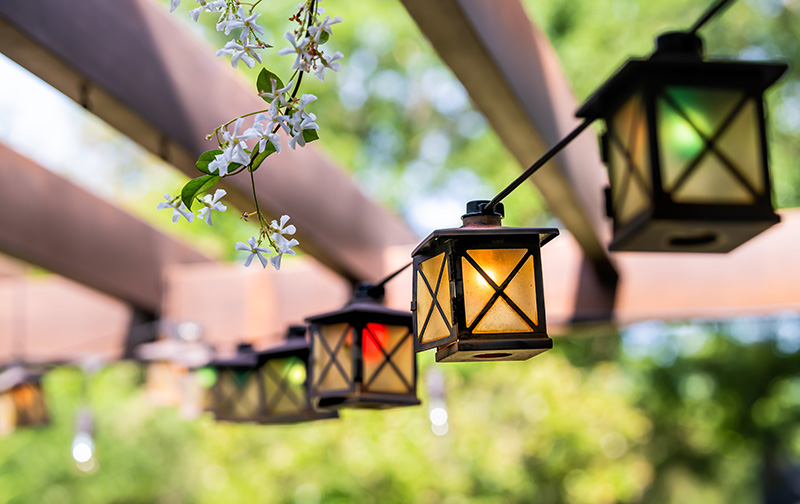 ● Add suspended or hanging lighting to provide illumination and ambiance for any outdoor event. Terrific options include candle chandeliers, Edison bulbs, paper lanterns, and simple string lights. You can rely on electric options or suspend natural lighting via candles or solar lights for a minimal look.
● Make the space under your pergola suitable for hotter, drier climates with a few easy additions. An add-on that is becoming increasingly popular in the Southwest is a ceiling fan suspended from the grid of sturdy pergolas. The breeze immediately makes staying outside a more tantalizing proposition during hot summer days.
● Install hanging curtains to the side of your pergola or invest in a fabric shade canopy atop your pergola for the option to block out the sun entirely when you like. When the temperature and sun exposure varies drastically during the day you'll love this convenience, and the privacy it brings.
● The overhead grid of a pergola and the optional lattice walls are perfect venues for vertical planters, hanging plants, and vines to grow unencumbered. A lush, green pergola effortlessly adds life and personality to any open deck area.
---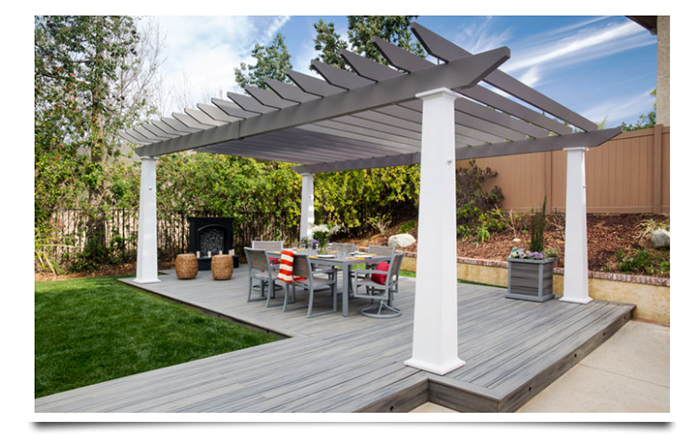 With a pergola you can completely revamp your deck with bold design choices and a helpful structure to maximize shade and entertainment possibilities. Are you planning to build your own pergola, or add one to your deck with the help of a professional? Learn how restoring your old deck with a new look can make a big impact on your home's resale value.