Originally Published on August 20, 2019. Last Updated on July 28, 2020.
The grill is fired up. You take the plastic cover off of the pool, and turn on a radio station that makes your children groan. After a quick music adjustment, your backyard has transformed into party central. This summer is going to be something special.

Hosting the ultimate summer bash twelve weekends in a row is not a tall order if you have plenty of entertainment space on your deck. In order to take advantage of every square foot, let's cover the best furniture choices and tips for those who want to invite the entire neighborhood over whenever they can.

Here are our top deck entertaining ideas:
---
Furniture Ideas for Entertaining
Ask yourself: what types of soirees do you envision on your deck? Evening festivities with an older demographic will require different deck furniture than weekend pool parties full of your third-grader's best friends.

First, a basic principle: separate your deck into distinct areas. If your deck is large enough, designate two spaces for entertaining and two spaces for outdoor dining. To get your brainstorming kick-started, let's cover a few furniture sets you can choose based on your space.
Summer Kickback
The fundamental setup for deck entertainment is a deep seating set to mimic the comfort and ease of your own living room. A standard deep seating set will include a sofa, settee, a chair, a coffee table, and a few side tables that you can rearrange according to your layout. Squeeze the furniture together for an intimate feel, or spread everything out for a relaxed atmosphere.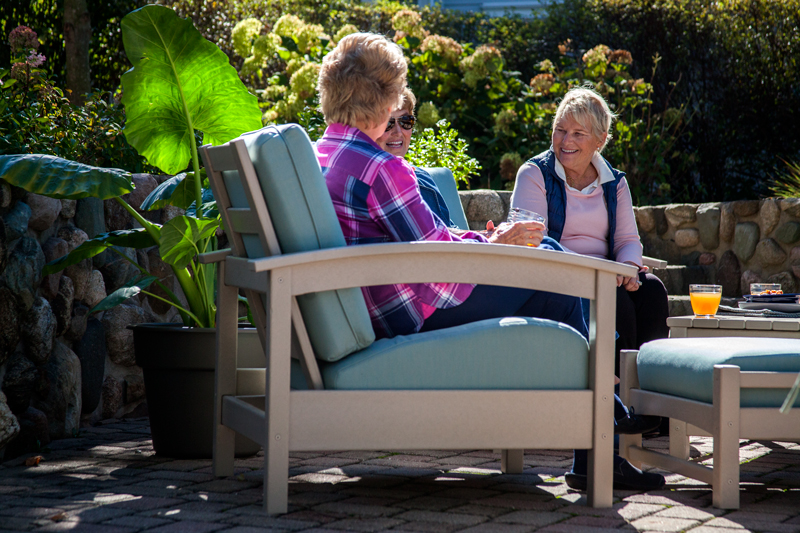 Conversation Corner
Inviting some friends over to share a few beers, or spending the evening inventing ghost stories with the kids as you enjoy the warm summer nights? An Adirondack conversation group in the corner of your deck is all you need for casual hangouts and new memories with the family.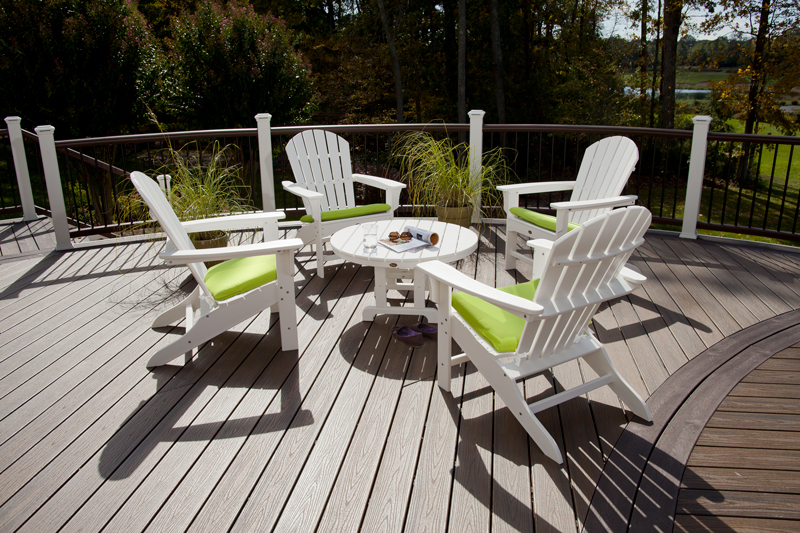 Party Central
If your ideal deck party is a nightlong affair meant encourage revelry, mingling, and good times until the wee hours of morning you should keep guests on their feet for maximum interaction. To create a "party" entertainment area establish an open space, possibly with a large outdoor rug. Surround the mingling area with a few sturdy benches along the barriers of the deck where party-goers can chat and enjoy their drink periodically. Make your seating extra-comfortable with cushions designed specifically for our outdoor benches and gliders.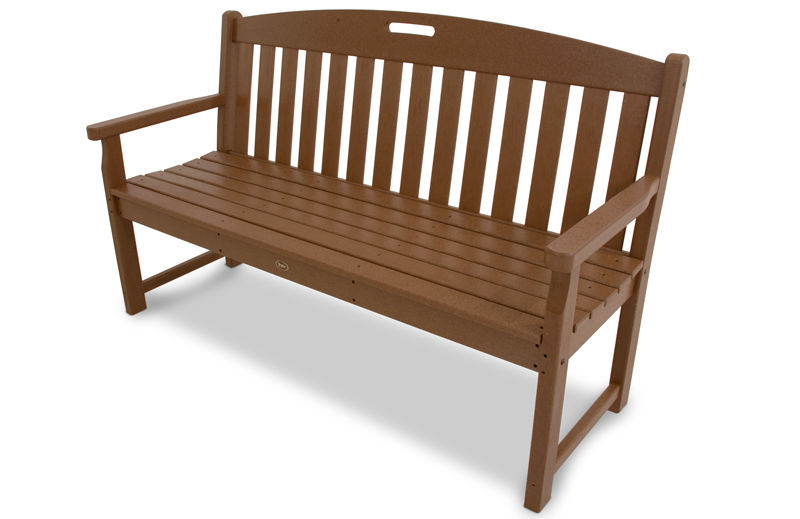 ---
Furniture Ideas for Outdoor Dining
Once you settle on your entertainment areas it's time to set the stage for regular feasts of barbecue, lobster rolls, fruit salads, and everything in between. Your choice of dining set will largely depend on your deck style and the amount of seating you need. Here are some dining ideas to get you started.
Family Barbecues
When you dream of having the extended family over on Memorial Day, July 4th, Labor Day, and every Sunday on the calendar, you need a large-scale dining set where the kids and adults can all crowd around and binge on the spoils of your grill. A side chair dining set will fit eight people, and the removal of the armrests allows for spreading out or scooting together depending on the size of the shindig (and the amount of food you're serving).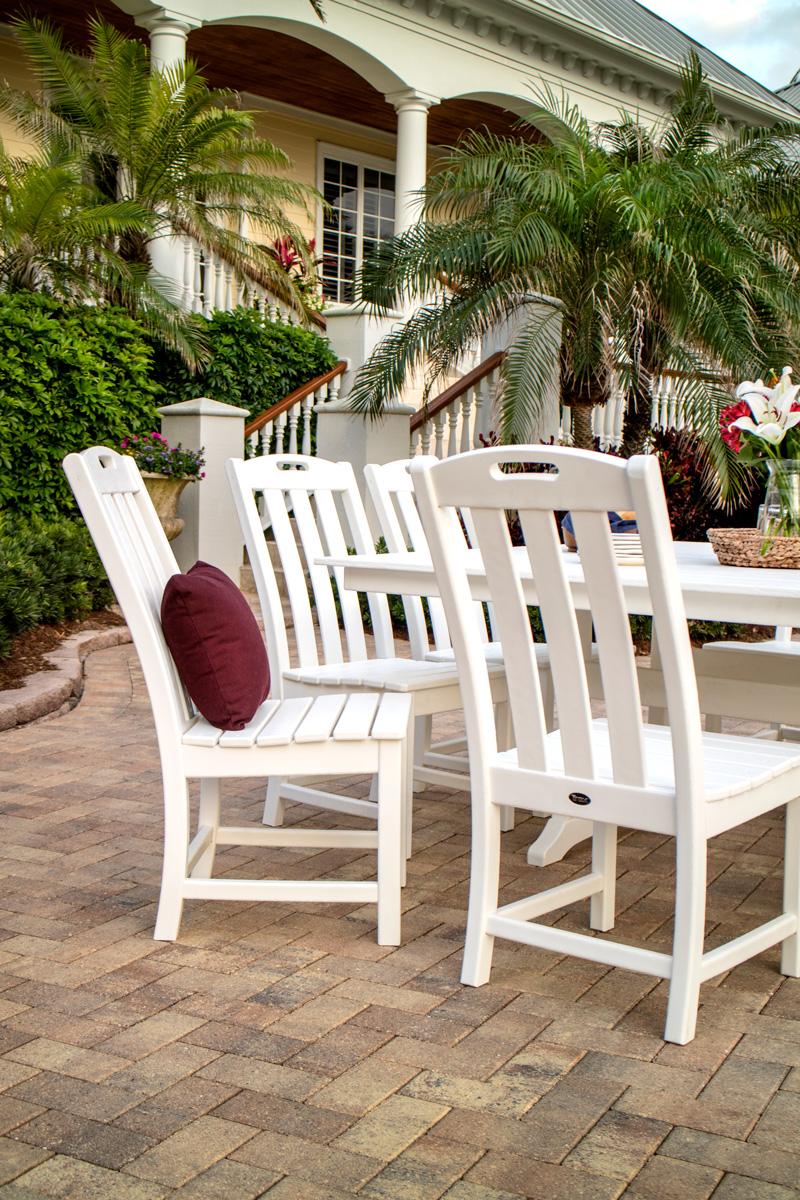 Afternoon Cocktails
Swap the latest work triumphs or dish on the latest season of your favorite show while sipping a martini when you gather everyone around a bar set. A 5-piece bar set fits four people and features ample table room for snacks, drinks, and the occasional game of poker.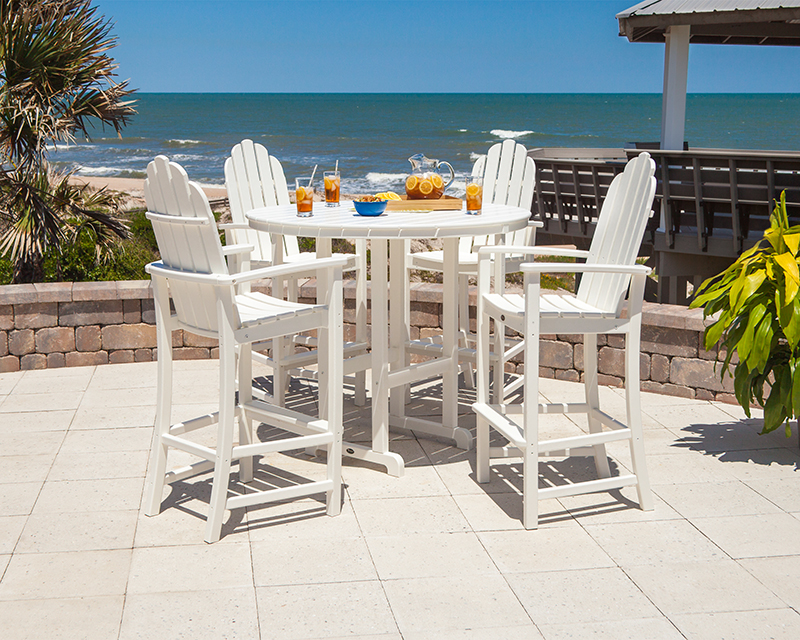 Poolside Lunch
Find an acceptable middle ground between a bar set and a large dining set with a modern Surf City dining set that fits four. This sleek deck furniture is great for enjoying a sandwich or taking a break from pool party antics, and its HDPE lumber slats and aluminum frame deliver ergonomic support so those taking a time-out can truly relax.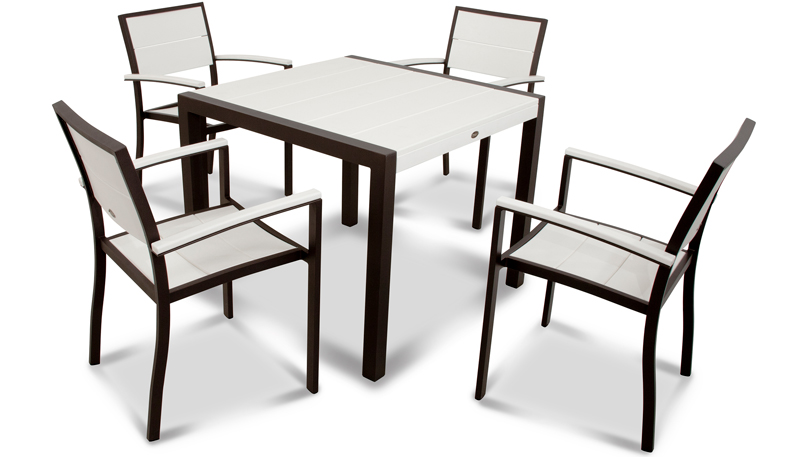 ---
Maximizing the Fun on Your Deck
The two basic ingredients of a summer deck party are in place: durable outdoor furniture with plenty of seating, and multiple seating areas to entertain large groups of people.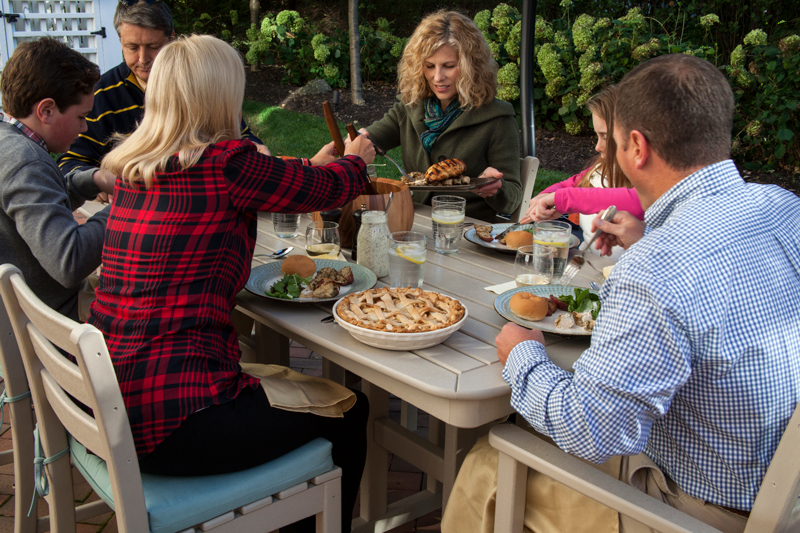 Now that you have a strong foundation for pool parties, barbecues, and game nights, outfit your deck within these guidelines to let the good times roll every day of the summer.
Add Tabletop Space: When you host large get-togethers you'll need more than a dining table and a coffee table across the deck to serve your assortment of appetizers, main courses, desserts, and drinks. Once your main furniture sets are established try to add a couple of

counters

or

bar tables

along the sides of your deck so you have a go-to spot to serve refreshments, set up a snack bar, or simply keep the sunscreen visible so your kids remember to reapply every hour.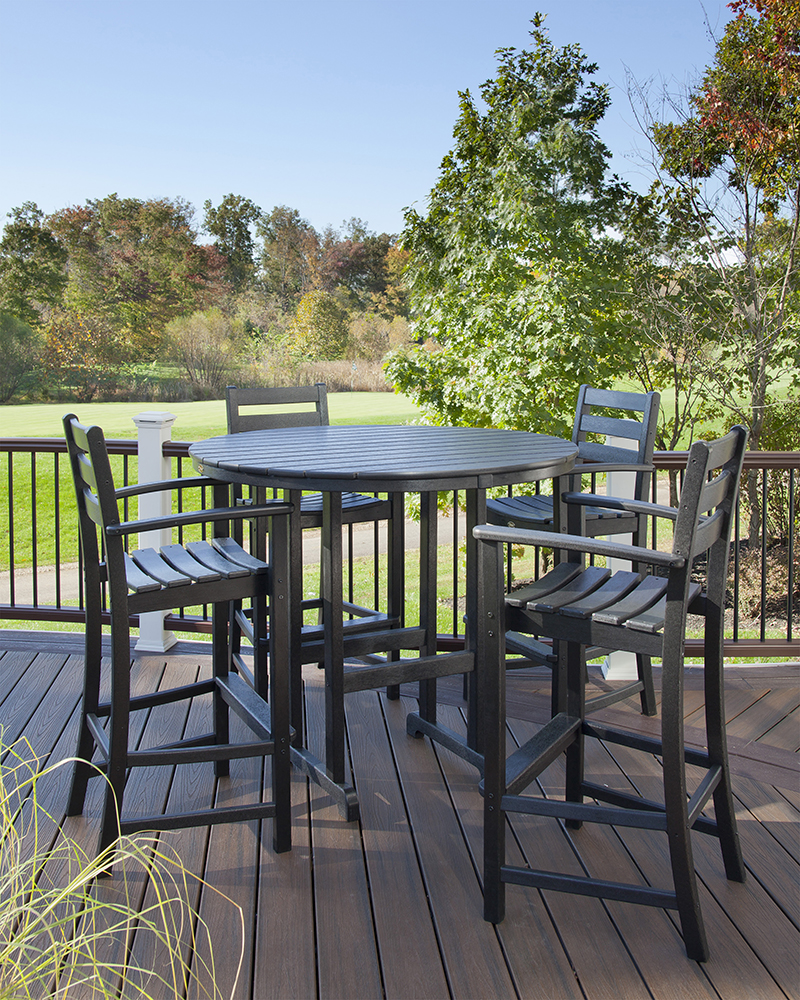 Choose Waterproof Furniture and Cushions: You've spent too much time planning your ultimate summer deck to let a sudden rainstorm to spoil your fun. Choosing deck furniture from Trex® Outdoor Furniture™ will allow you to head inside without scurrying to cover up your dining table or deep seating sofa with tarps — our all-weather furniture won't rot, fade, or degrade due to rain or weather exposure. Don't forget to grab the fresh plate of grilled chicken, though!
Waterproof furniture is also a must if your deck is the primary entertainment area next to a pool. Cannonballs and water gun fights won't cause an issue, and your kids can plop down for a fresh cheeseburger sopping wet from the pool without damaging your dining furniture. Hot summer days and pool parties go hand in hand, so prepare your deck with quick-drying, water-repellant Sunbrella® cushions.

Pro tip: Reduce the amount of slips and falls with slip-resistant composite decking and a once-a-year application of anti-slip coating.

Provide Some Shade
If structural elements or natural greenery don't provide any shade to your deck, take care to create your own zones that are protected from the beating sun. Add a few standing umbrellas by your dining set or bar set to shield diners and give them a break from their tan. You can also build dynamic partial-shade structures like pergolas on one end of your deck. The shade will allow people to congregate wherever they're comfortable in all types of weather.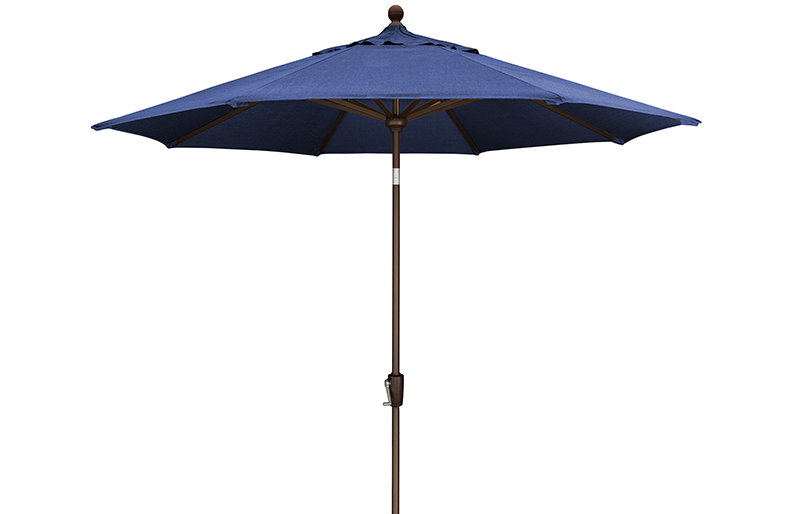 ---
Style and Decoration Tips for Your Deck
Put the finishing touches on your deck to set the tone of your gathering and wow the neighbors peeking over the backyard fence. With a few final additions you can decorate without taking up too much potential party space:
You'll spend as much time as you can outdoors this summer — why not infuse your deck with life by adding some

planters

in the corners? To really add a splash of green without eating up floor space you can construct a

vertical wall garden

to cover a privacy wall on the side of your deck, or have plants and ivy snake their way up the exterior walls of your home for a dynamic view.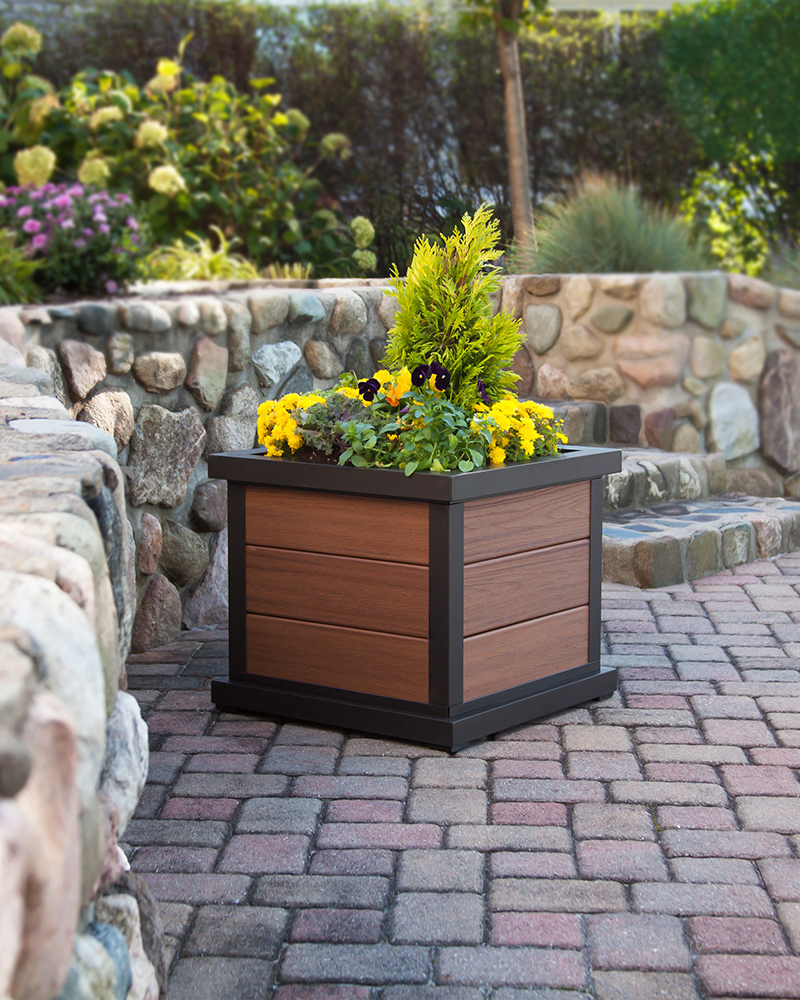 Coordinate

throw pillows

and

large outdoor rugs

to play with color and to clarify your spaces. If both of your entertainment areas feature patterned rugs, they will be visually distinct from your dining areas. This approach naturally creates different zones along your deck.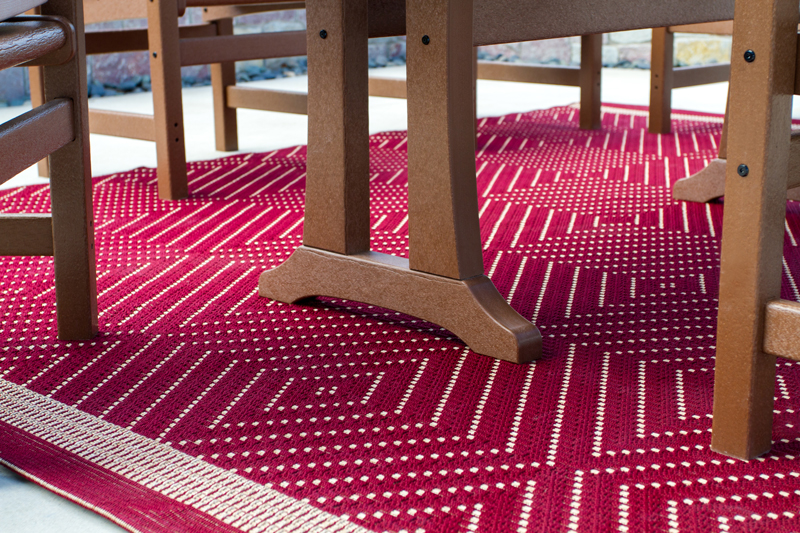 We understand that choosing the style and color scheme of your deck furniture is another challenge completely once you decide to furnish it. Read our blog on finding your deck furniture style to learn what style best suits your geographical area and your specific vision.
---
Conclusion
In order to facilitate season-long fun in the sun all you need are a few dining and entertaining areas spread across your deck. Take care to choose the deck furniture and layout that will best serve your family — after all, no two parties are the same!
Have a blast this summer entertaining friends, family, and neighbors on your deck. What furniture sets and styles did you ultimately choose? Share your story in the comments!