Originally Published on January 22, 2020. Last Updated on July 28, 2020.
A stunning outdoor deck is the focal point of any hallmark home. You've spent countless weekends constructing your dream deck, hoping to create a place where you and your family can gather together and recap after a busy week. It's a beautiful outdoor space that feels like home. Now that you've laid the foundation of your retreat, it's time to transform your deck into a true outdoor living room.
There's a lot to think about when creating an outdoor living room. Luckily with this guide, we'll help you create a comfortable outdoor living space you'll never want to leave.
---
Furniture Pieces for an Outdoor Living Room
The furniture you choose to adorn your outdoor living room depends on how you plan to spend your time on the deck. Do you plan on intimate gatherings with your closest friends, or do you plan to host festive summertime celebrations? You'll want to make sure you have enough space to accommodate family, neighbors, and guests.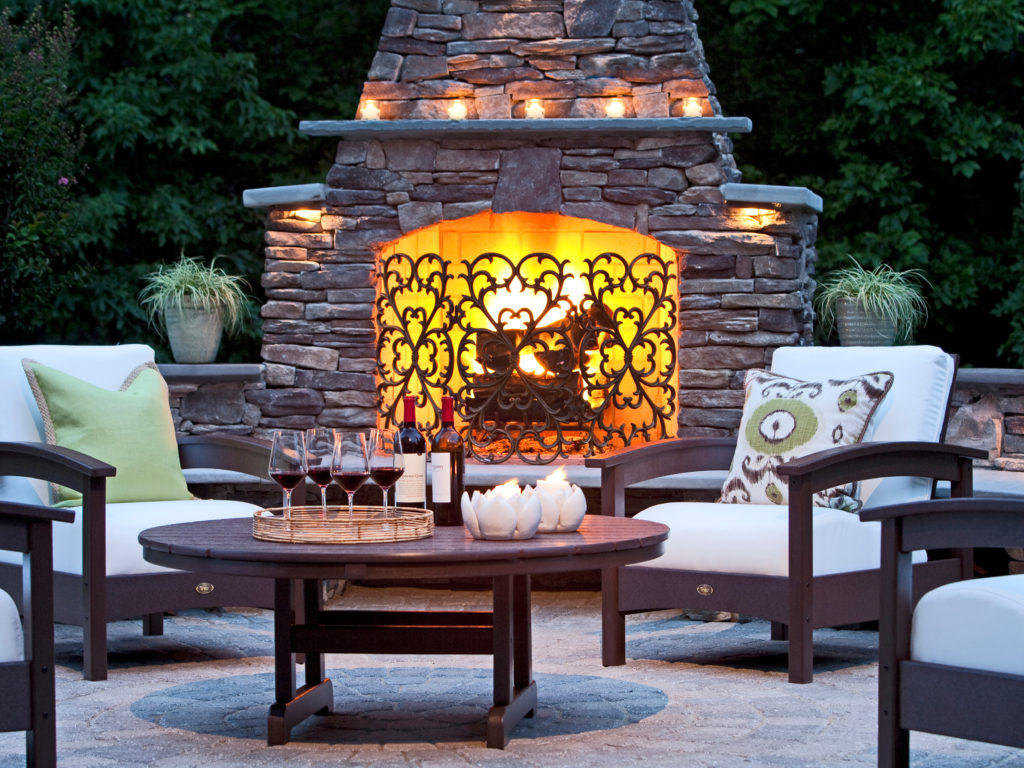 Fire Table or Fireplace
Ideal for those breezy late-summer evenings, a stylish fire table or built-in fireplace makes an excellent focal point of your outdoor living room. While you and your friends exchange stories, you can keep a close eye on your kids as they roast marshmallows over the flame. If you choose a fire table, invest in one that's equipped with an adjustable automatic flame so you can warm up as the weather cools down. With a warm fire, you can enjoy your deck all year long.
Deep Seating Set
If you plan on hosting stylish summer socials on your deck, a deep seating set will complete your entertaining space. A plush outdoor sofa paired with matching armchairs and a conversation table will make a significant impact on the overall ambiance of your space. You'll have plenty of space to spread out as well as a convenient place to set a charcuterie board and pitcher of ice-cold lemonade for your guests. Deep seating sets are easily paired with other seating arrangements to accommodate large families or extravagant parties.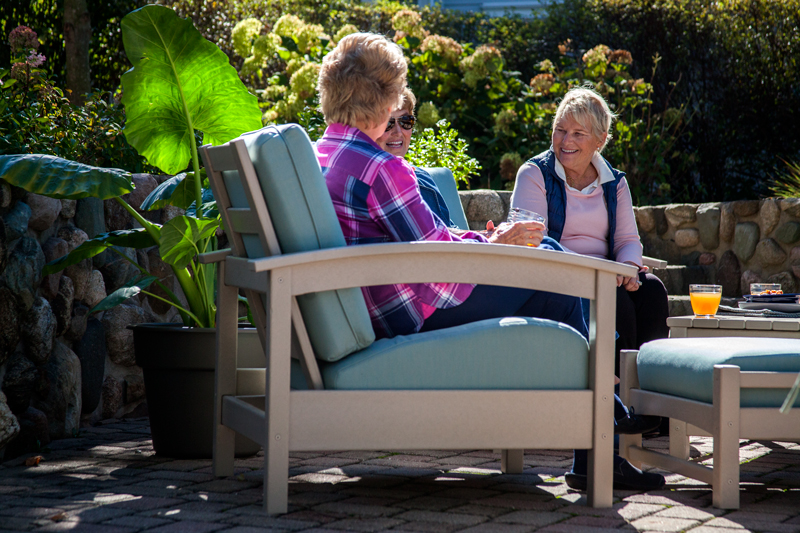 Chaise Lounges
Sink into a cushion-topped chaise lounge and let your mind drift away from the privacy of your deck. Chaise lounges, paired with side tables, seamlessly blend into any open-air living space and will be the setting for many relaxing summer evenings. A row of chaise lounges will enhance any deck with resort-like comfort.
---
Style Options
Coastal
Coastal style is notably known for casually elegant décor decked out in shades of bright white and alluring blue, symbolic of the sugar-white sands and sparkling ocean. A white deep-seating sofa topped with light blue cushions will set the scene for serene evenings spent watching the waves crash ashore from your deck.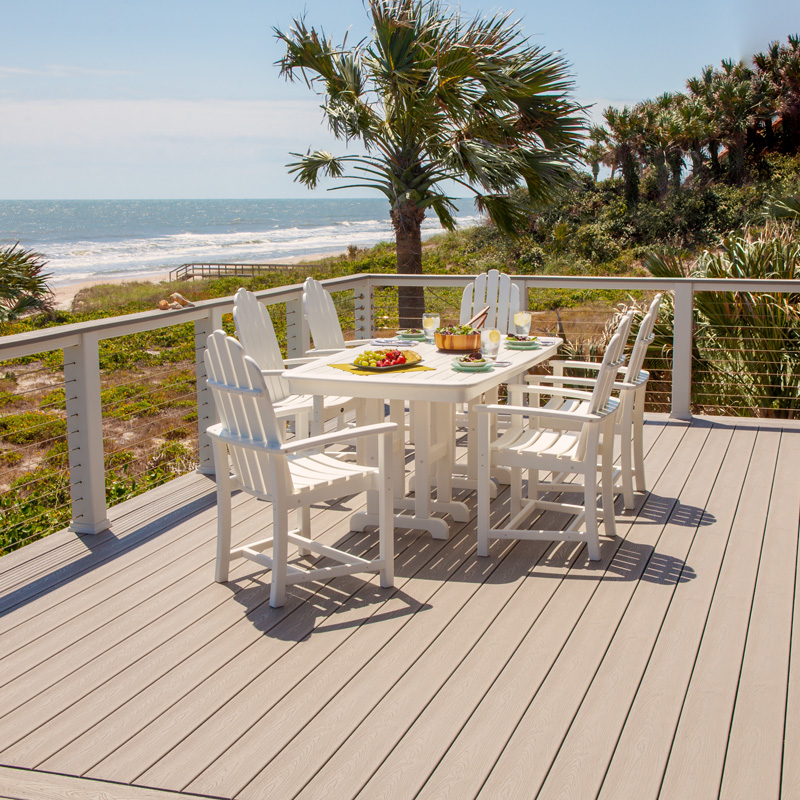 Modern
Clean, sleek lines and neutral color schemes are the perfect combination when styling a contemporary space. Crisp, structured, and refined furniture pieces provide eye-catching contrast against the organic growth of the greenery in your backyard.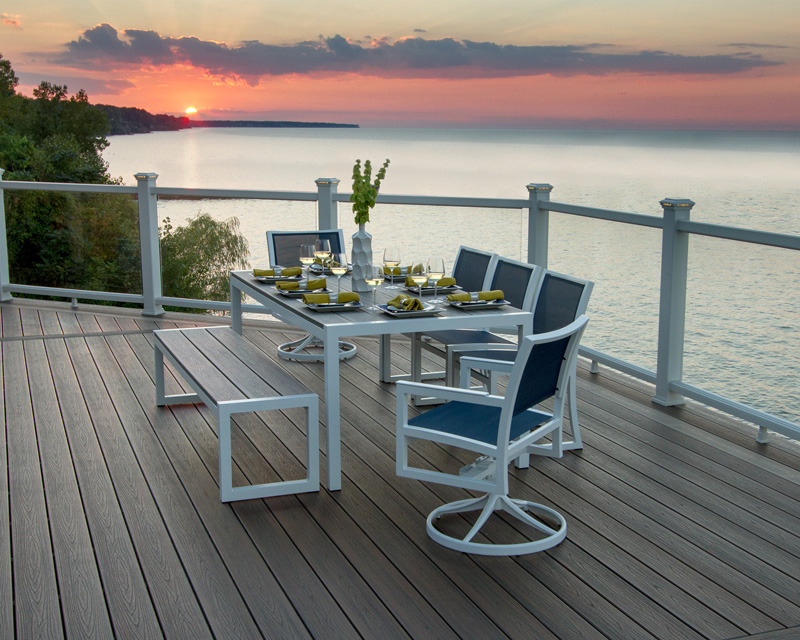 Casual
If you've imagined sleepy summer afternoons spent lounging on your deck, opt for casual deck furniture. Look for low-sitting pieces with curved backs and contoured seats to add a sense of laid-back luxury. With casual décor, the idea is to create an environment that is inviting for family members and guests alike.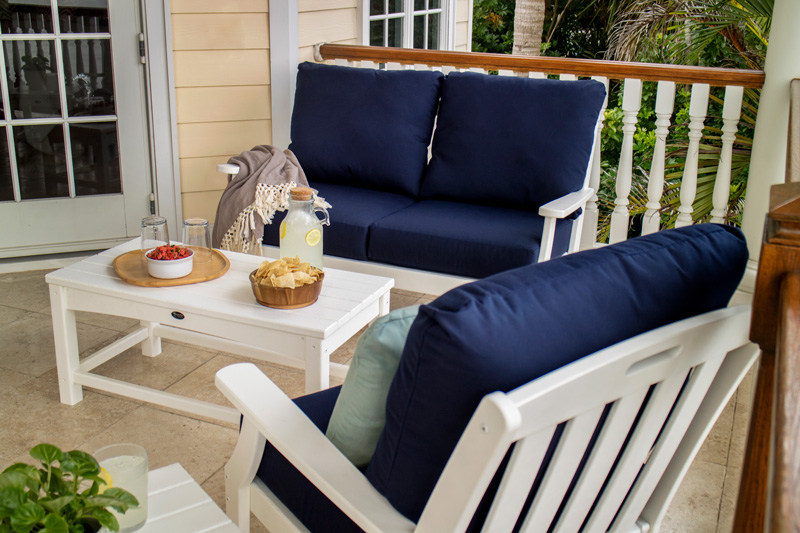 ---
Accessory Pieces
Often, the smallest details make the largest impact. From all-weather pillows to a deck friendly garden, choose a few decorative accents to add some personality on your patio.
Outdoor Cushions – Top your furniture with a few weather-resistant cushions made with high-performance fabric to turn your deck into the ultimate outdoor oasis. Nestle up on the sofa and spend countless hours chatting with your loved ones.
Greenery – Flourish your patio with a little flora and fauna. There is a variety of ways you can integrate greenery into your deck's design. Fill a large ceramic bowl with a colorful array of succulents for a tabletop garden or add a planter full of flowing vines to enhance the tropical allure of your outdoor living area.
End Tables – A set of end tables integrated into your design will refine the style of your outdoor living room. Ideal for entertainers, end tables blend into the overall aesthetic of the deck while providing a spot for guests to rest their cocktail or coffee.
Outdoor Rug – If your alfresco living area doubles as an open-air dining space and family room, consider using outdoor rugs to divide the deck into defined "rooms." A rug will not only identify distinct areas on your deck, but it will also give your living space the comfy touch it needs. With a rug at the center of your outdoor living area, guests can unwind and relax for hours.
Umbrellas – Another method for sectioning your deck into sperate "rooms" is by using umbrellas. Whether you're at the dining table or the outdoor lounge, an umbrella hovering above will keep you cool during sunny summer days. Give your deck a stylish splash of color by choosing an umbrella that contrasts with your outdoor furniture.
---
Ideas for Entertaining on Your Deck
From large socials to intimate gatherings, the entertaining possibilities are endless with a well-designed patio. Before you purchase outdoor furniture for the deck, determine how you will entertain in this space.
Family Game Night
Gather your loved ones for a night full of fun and games underneath a starlit sky. A set of Adirondack chairs surrounding a full conversation table is the ideal setup if your family is up for a board game marathon. A strand of string lights hanging above your outdoor living room will illuminate the playing board so you can make a strategic move with ease.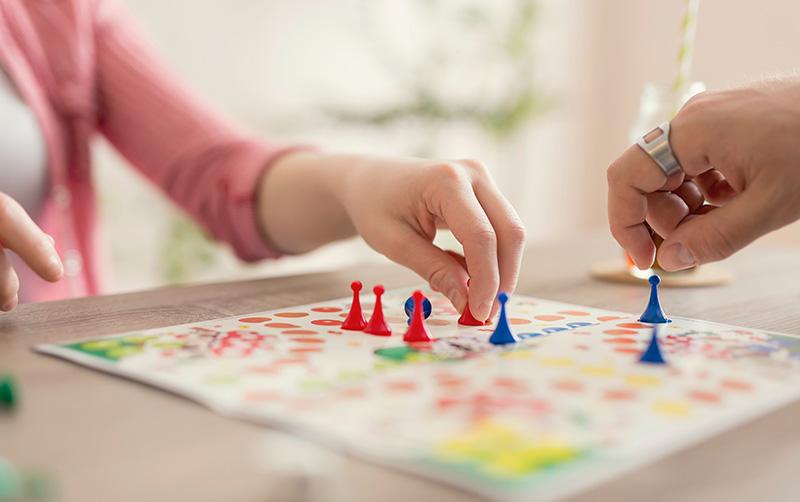 Cocktail Parties
Set a few tealights aglow and turn on your favorite easy-listening playlist to spark the ambiance. To create a stylish lounge, arrange a set of outdoor sofas in one corner of the deck. In an adjacent corner, place a bar set or two topped with champagne flutes and refreshments.
---
Conclusion
Once you've determined how you will spend time on your deck as well as your preferred style, start looking for furniture pieces for your needs. More importantly, you'll want to make sure to invest in high-quality furniture that can resist harsh environmental factors without cracking, chipping, or fading from sun exposure.
Still not sure how to transform your deck into an outdoor living area? Review our buyer's guides to find the perfect fit for your space.