An outdoor table from Trex® Outdoor Furniture™ will easily enhance your outdoor experience whether you're looking for a large dining-height deck table, a cozy bar-height patio table, or a spacious coffee table. We offer outdoor tables in a variety of sizes, heights, shapes, and colors so you're sure to find a table that will meet your design needs.
Why Trex Outdoor Furniture?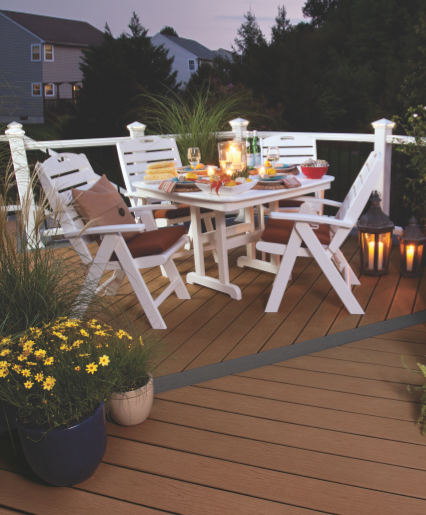 You're looking for a table where you can gather with family and friends and enjoy lunch on warm, sunny days and cocktails on balmy summer nights. This outdoor table needs to be special — the right combination of durability and style — and not just any table will do. So you've turned to Trex Outdoor Furniture to meet your needs. You know you can trust us to provide you with high-quality outdoor deck tables that will stand the test of time and fit your unique design vision for your outdoor space.
Our outdoor tables are constructed of genuine POLYWOOD® lumber, which is made of recycled ocean-bound and land-fill-bound HDPE plastic. HDPE (high-density polyethylene) is an extremely durable plastic that is the perfect material for outdoor furniture as it is weather-resistant and low-maintenance. What better way to keep our planet healthy than by transforming single-use plastic into attractive outdoor furniture that will beautify your outdoor space year after year?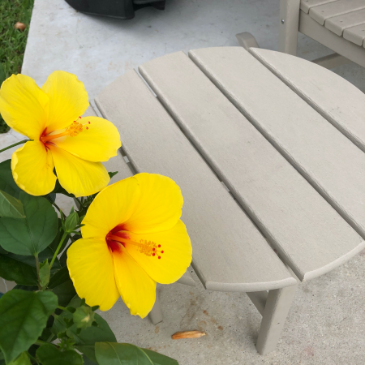 "Added the Cape Cod side table to other Trex furniture around salt water pool and they were happy to join our little family.....no more rust, corrosion around SW pool!"
Features of Trex Outdoor Furniture Deck Tables

Weatherproof
All of the materials that we use to construct our outdoor deck tables can handle harsh weather and environmental stressors such as strong winds, blizzards, humidity, salt spray, desert heat, and more.

Low Maintenance
You can spend more time enjoying your outdoor table and less time on upkeep because you'll never need to paint, stain, or waterproof it.

Made In the USA
All Trex Outdoor Furniture products are made in the USA at our Syracuse, Indiana and Roxboro, North Carolina facilities.

20-Year Warranty
We're confident in the construction and durability of our outdoor tables, which is why we have a 20-year warranty on any table we offer that's constructed from genuine POLYWOOD lumber.
Outdoor Tables by Shape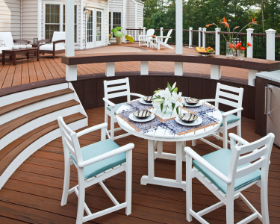 Round Patio Table
A round outdoor table brings a softer look to an outdoor dining space. The rounded edges of the tabletop allow for easier flow around the table when your guests are moving to and from their seats. If you have a smaller outdoor area, a round table, such as the Monterey Bay Round 48" Dining Table, will take up very little space while still providing ample room for meals and board games.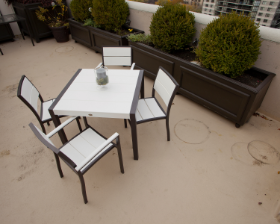 Square Outdoor Table
Square patio tables are well-suited for large and small outdoor dining spaces. If you do not have that many guests to seat, a square outdoor table will provide an intimate setting that will make everyone feel comfortable. The Surf City 36" Dining Table is one of our square table options that would suit a cozy outdoor space quite nicely.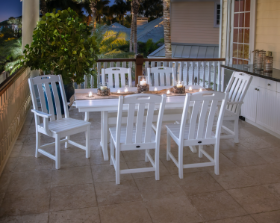 Outdoor Rectangular Table
Large outdoor dining areas are perfect for entertaining, so you should have a rectangular outdoor patio table that can fill the space and accommodate multiple people. You'll need plenty of table space for food and drinks and ample legroom beneath your outdoor rectangular table so everyone can sit comfortably. The Farmhouse Trestle 37" x 72" Dining Table fits the bill perfectly and can meet all of your entertainment needs.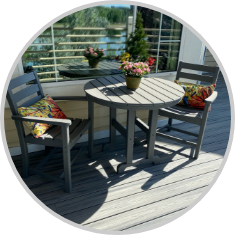 "This table comes in different sizes but the smaller size is perfect for our deck. Easy to assemble and takes all weather conditions. Very sturdy and durable"
Popular Types of Outdoor Tables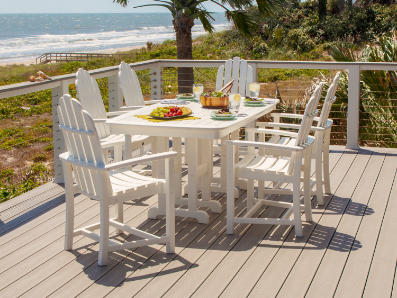 Dining-Height Tables
Outdoor dining tables are the most readily available as they are easily accessible for children and those who are wheelchair-bound. It's easy to add extra seats around an outdoor deck dining table as they tend to be larger.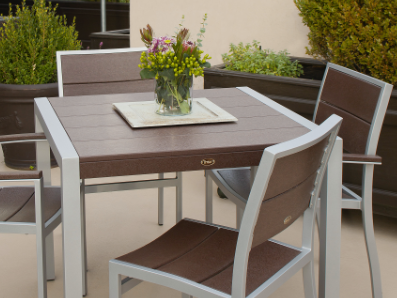 Counter-Height Tables
A counter-height outdoor table is great for more cozy outdoor spaces as they take up less room than dining-height tables. Taller people will find this type of table more appealing as they will have more legroom beneath.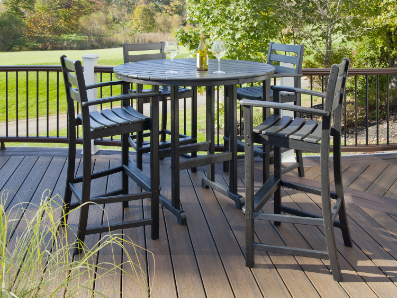 Bar-Height Table
The tallest of the table options, outdoor bar-height tables are excellent for small spaces as they don't take up too much space. If you're hosting a party, patio bar tables are perfect for guests because they can stand and have a place to set their cocktails and hors d'oeuvres.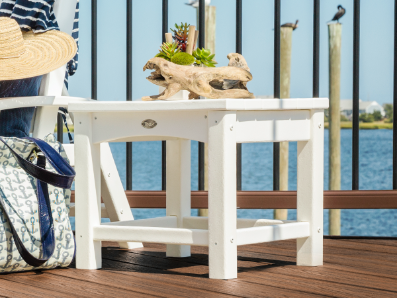 Side Tables
An outdoor side table or end table is an ideal companion for our Adirondack, deep seating, rocking chair, and chaise lounge offerings. Place one of these durable side tables between two Adirondacks, or an end table at one side of a modular deep seating sectional for a perfect spot to rest drinks, snacks, or a vase of fresh flowers..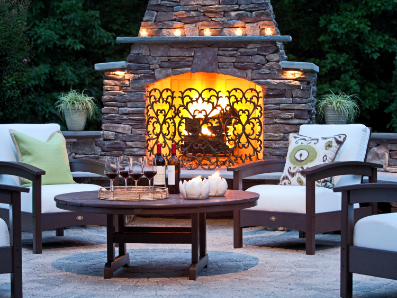 Conversation Tables
For larger spaces that hold multiple seating options, an outdoor conversation table will serve you best. These tables are typically round or square and offer more space for drinks, appetizers, and well-chosen decorations; and they're lower to the ground, making them the perfect height to pair with our Adirondack chairs and deep seating pieces.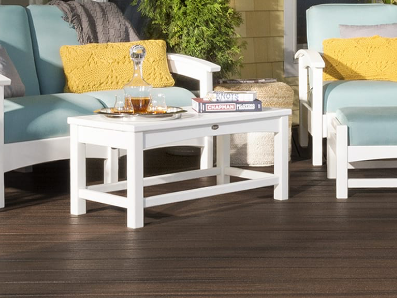 Coffee Tables
Like conversation tables, outdoor coffee tables are low to the ground and offer ample tabletop space for food. These tables are usually rectangular and pair best with our benches, gliders, swings, and deep seating options
Outdoor Deck Table Colors
Our outdoor tables are available in a variety of attractive colors so you can choose a hue that fits with the theme of your outdoor space. The HDPE lumber that's used in the construction of our outdoor furniture has different color options that complement each other from a side table that's an inviting Aruba blue to a counter table that's a warm Tree House brown.
How to Enjoy Your Outdoor Tables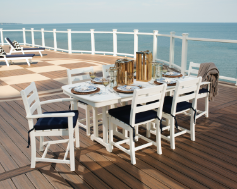 Family Dinners
Gather the family around a spacious Trex Outdoor Furniture dining table and let the memory-making commence.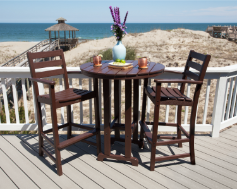 Cocktails with Friends
Cocktail time around one of our all-weather bar-height tables will have you and your closest friends bonding in comfort and style.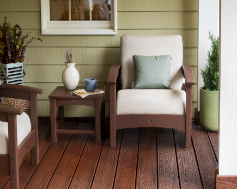 Morning Coffee
Watch the sunrise in your outdoor space from the comfort of an Adirondack chair with a cup of hot coffee close by on a durable conversation table.
Outdoor Table Reviews
We love a good review! Check out what other customers are saying below: