Originally Published on April 1, 2016. Last Updated on June 4, 2021.
Remember when, as a kid, you couldn't wait to grow up and do exciting adult things like staying up late, watching what you want on TV, and eating whatever you want without anyone there to tell you what to do?
At age five, or 10, or 15, growing up seemed like such a grand adventure, a milestone we all reached toward. It was hard being a kid, after all. And then you grew up… and longed for your childhood.
As a newly minted adult, you spent a lot less time lounging in a hip New York coffee house with your quirky cast of friends (a la "Friends") and more time slogging through the days, paying bills, worrying about a dishwasher leak, and moving haystacks of laundry from room to room… all while being fueled by enormous amounts of coffee.
We at Trex® Outdoor Furniture™ remember what it was like to be children. We didn't envision spending all our time cleaning house either. And we actually designed all of our outdoor furniture to minimize the mundane task of cleaning.
When your Trex® Outdoor Furniture™ does need cleaning, we keep it simple.
Here's what you'll need:
Water

Soft-bristle brush

Soap
That's it. Well … and maybe a little bleach.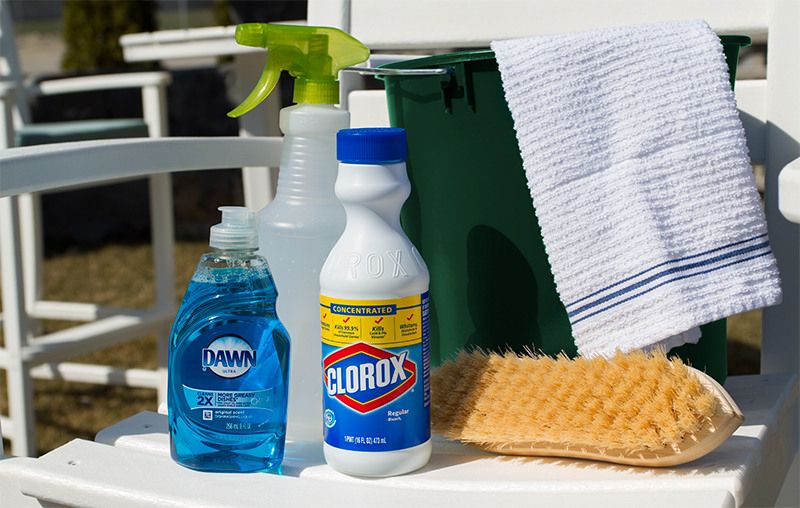 And here are our quick steps to keeping your patio furniture in tiptop condition:
The Basic Cleaning
Use a soap and water mixture (Dawn or other dish soap is fine).

Loosen any dirt and debris that may catch in surface grooves with a soft-bristle brush.

Rinse clean.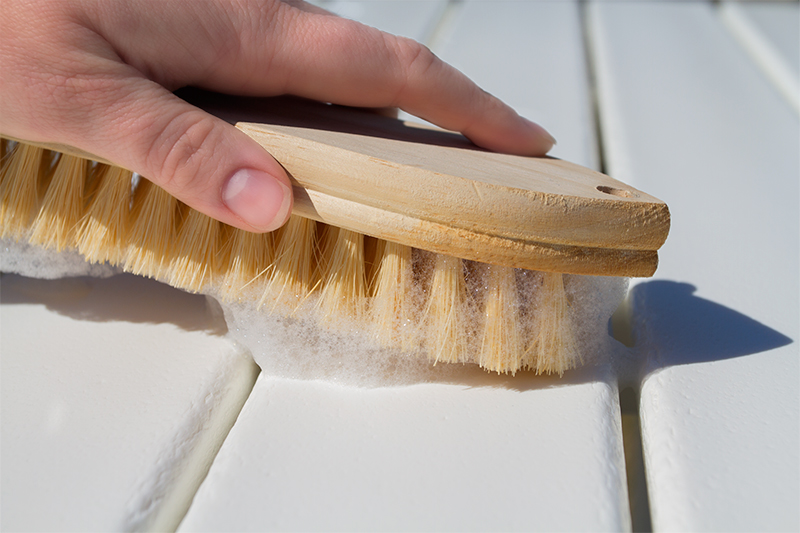 The "Oh No, I Should Probably Clean My Furniture at Some Point" Cleaning
Mix a solution of 1/3 bleach and 2/3 water, using a soft-bristle brush as necessary. (You can also use a commercial anti-fungal product for mildew and mold, but the bleach solution will also work).

Let the solution sit for a few minutes.

Rinse clean.
The Deep Cleaning
Think of this cleaning like a dental checkup. Once every so often, it's nice to have someone else really get in there and polish your teeth till they look brand-new.
Use a pressure washer, making sure pressure doesn't exceed 1,500 psi.

Loosen any debris in grooves with a soft-bristle brush where necessary.
The Cushion or Upholstery Spot Cleaning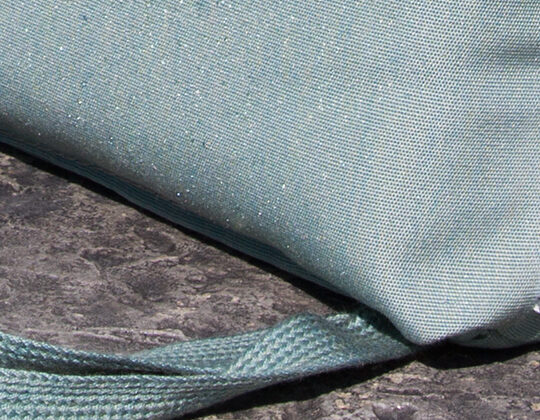 All-weather performance fabric covers all Trex® Outdoor Furniture™ cushions. Apply similar cleaning principles as the furniture.
For new spills or stains:

Blot with a clean, dry cloth.

Spray on a mild solution of dish soap and water, and rinse thoroughly.

Air dry.
For grease stains:

apply a natural absorbent like cornstarch, allow to sit and absorb the stain. Remove cornstarch once grease has been removed, then follow the steps above, if needed.
The Cushion Deep Cleaning
Although the fabric has moisture-wicking properties, it is possible that debris left on cushions exposed to damp or wet conditions can foster mold or mildew growth. To remove, prepare a solution of one cup of bleach and 1/4 cup of mild soap per gallon of water.
Put the solution on the surface, allowing it to sit for 15 minutes before cleaning with a soft-bristle brush or sponge. Then rinse well and allow to air dry, propping cushions on their sides for a quicker dry time.
You may not get to sit around acting out your '90s sitcom fantasies, but at the very least, while you're busy mopping your kitchen floors, taking the dog for a walk, or washing mountains of laundry, you won't have to worry about your outdoor furniture.
Blog Post Updated June 4, 2021