Originally Published on November 1, 2018. Last Updated on June 22, 2021.
The constant ding of electronic notifications, the ever-demanding toil of housework, and the frantic juggling act necessary to complete our long list of tasks throughout the day. Sometimes it's all too much and we need to take a step back from the chaos of modern life and just unwind.
When you want to relax, slow down, and revel in the soothing comforts of nature, you need an outdoor space in your yard or patio where you can recharge and center yourself. Creating the perfect outdoor space may seem like a huge project, but it's really a simple, straightforward process. Just follow this quick guide to incorporate these five must-have elements into your outdoor space:
---
1: The Space
Of course, your first priority is to choose the outdoor area that will serve as your haven for maximum relaxation. There are obvious contenders: your front porch, your second-floor balcony, your back patio, the area underneath the tree canopy in your garden. However, if you don't have a separate spot in your backyard set aside for comfortable outdoor furniture, don't panic. You can carve out a retreat anywhere!
Installing a cozy swing next to your side garden can be the ideal place to sip some tea, read a book, or bird watch. A reliable spot of shade in your yard can prove the best location for a matching pair of Adirondack chairs and a side table for drinks. Setting out rocking chairs on a small balcony makes for a perfect place to people watch. Use your imagination and work with the space you have to create something wholly your own.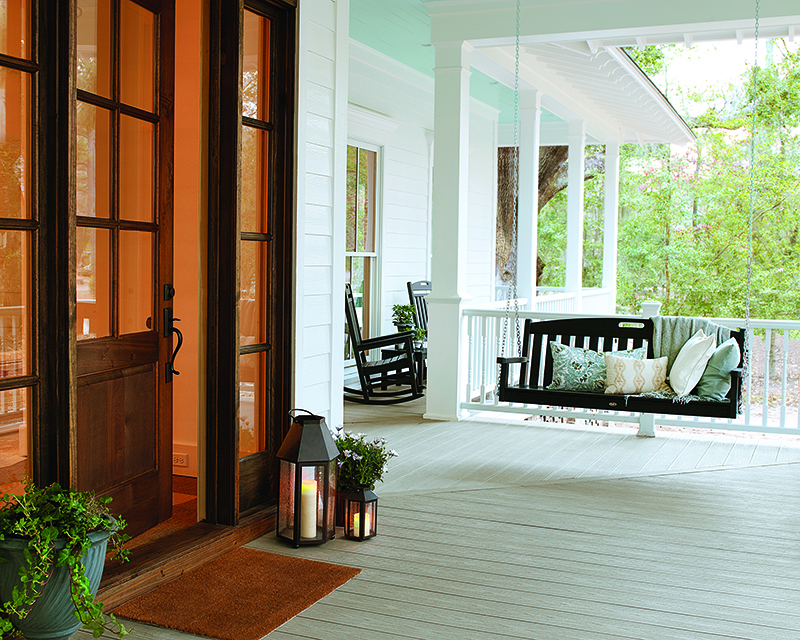 Once you select your space, give it a thorough cleaning before you move any heavy items in, like furniture, statues, tables, or potted plants. Maintenance is always more manageable when you begin with a clean space.
---
2
: Privacy
Nothing will destroy your serenity faster than your next-door neighbor staring at you slack-jawed from their kitchen window. Creating your own retreat is all about escaping uninterrupted. Enclosed or semi-enclosed outdoor spaces tend to be cozier and more relaxing — especially if your neighbors are close by.
Your screened-in porch or open deck may have structures installed to section off your outdoor space, but if you've set up shop in an exposed space you can surround it with tall plants and shrubs to create a wall barrier.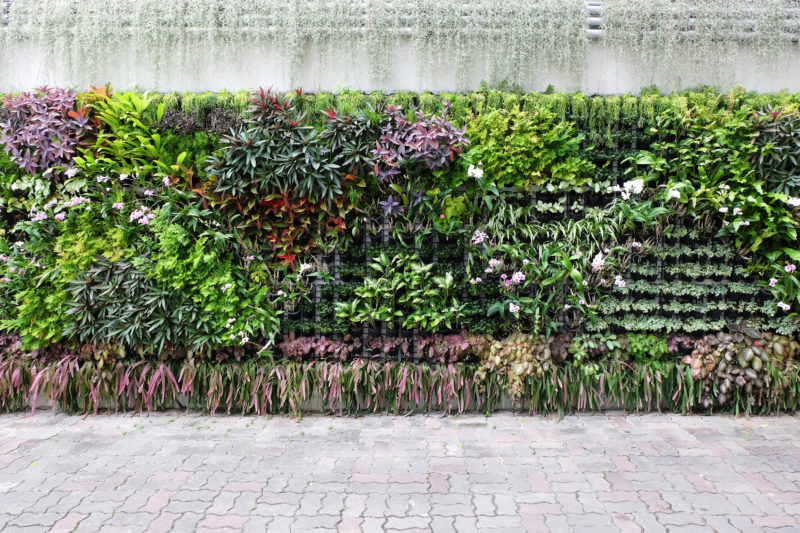 Plants aren't a bad idea even if you have walls or trees sectioning you off, as greenery adds an inviting softness to any area. Look for fast-growing plants that will create a natural privacy screen. Evergreens, like juniper, cypress, and holly are excellent choices. Each of those plants can grow between five to 10 feet tall. If you don't have green space and still want to add some privacy shrubs, incorporate planters into the area. 
A free-standing canopy or a pergola is a great way to add shade from the noonday sun. As a bonus, you can add outdoor curtains to maintain your privacy. Head to the local hardware store to find curtain hooks and rods that will help keep you closed off from onlookers.
---
3: Furniture
Once you've laid the groundwork with space and privacy, it's time to fill your designated area with durable and comfortable weather-resistant furniture. What you ultimately choose should align with your preferred use of the space.
If you are creating your retreat along your front porch you can't go wrong with a set of rocking chairs. Our low-maintenance rockers provide hours of comfort with contoured seats, perfect for reading or catching up with a friend.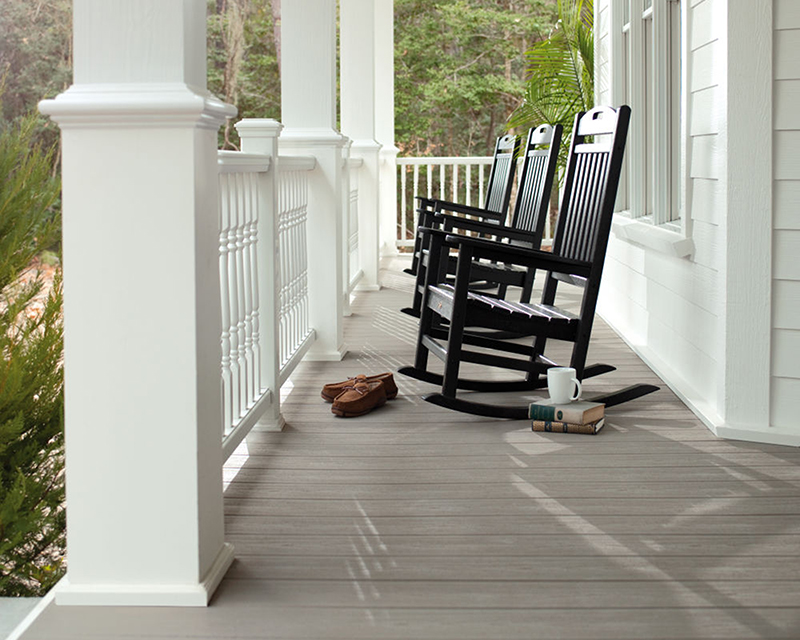 If you intend to warm up next to roaring fire making s'mores, we insist you consider the noble Adirondack chair. This classic staple offers angled seating that never goes out of style. Our Adirondack chairs are the top choice for casual comfort… and they're very durable. The HDPE recycled lumber is resistant to food and beverage stains, so you won't even have to worry about spilling that glass of Malbec. Bright, vivid color options are great for a lighthearted, convivial outdoor entertaining space.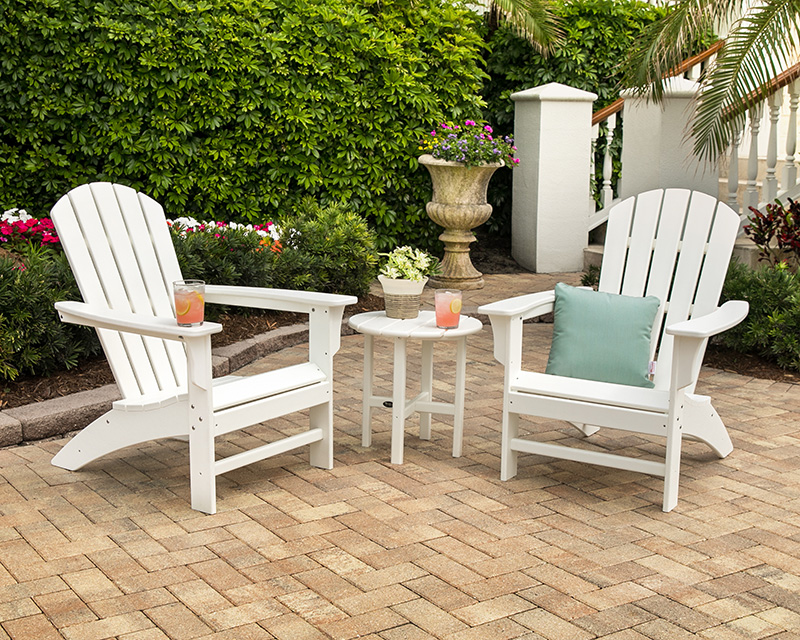 Enjoy playing the consummate host with an outdoor space to wine and dine. Traditional dining sets and bar-height tables allow for a midday feast or an evening cocktail.
Have you ever experienced the absolute peace of gently gliding back and forth in a garden? If not we highly recommend installing a glider amid your sprawling flowers and shrubs. Create a shaded canopy above your glider or bench, and spend your afternoons telling stories to the grandkids or cozying up with your significant other.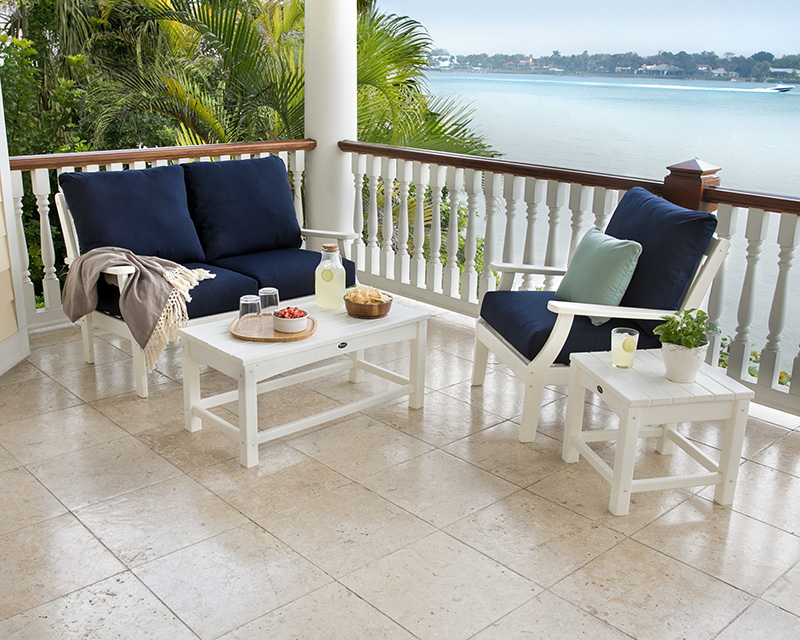 If you enjoy having friends over for hours of free-flowing gab, you can't pass up a deep-seating outdoor set with matching chairs and sofas. Stay comfy late into the night, opening another bottle of wine and letting the good times roll. The cushions covered in all-weather performance fabric dry quickly in case it begins to rain and you have to rush indoors.
---
4: Lighting

Adding outdoor string lights to your space is an excellent way to create a relaxed environment in the evening. On a practical level, lighting is necessary if you want to read, eat, or hold a conversation outside at night, so incorporating some light can only benefit your cozy escape. String lights are readily available online or at your nearest megastore, and because of their popularity are generally affordable.
Candles in lanterns or hurricane glass are also a great touch to incorporate some ambiance into your space. Depending on your geographical area, bugs may pose a particular threat during muggy summers. Citronella-scented bug candles add a pleasant aroma to your area, add lighting, and ward off those pesky mosquitoes and flies. To add some festive flair to our outdoor barbecue this summer, add tiki torches around the perimeter of your space.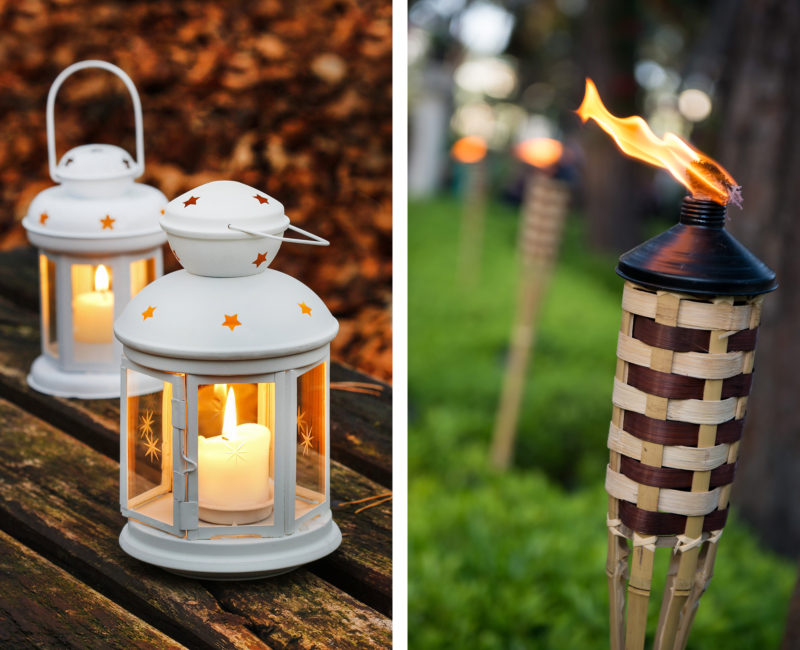 Incorporating lamps is one of our favorite ways to strategically light up any outdoor living space. Illuminate dark corners of your outdoor patio by setting a lamp on a side table. 
---
5: Added Comfort

On nice days you'll want to be outside enjoying the fresh air. Bolster the comfort of your outdoor furniture with some added accessories designed so you (or your guests) can linger longer. Our durable cushions come crafted with all-weather performance fabric, which withstands all of nature's elements — snow, rain, and pollen. Our cushion selection includes an array of fabrics so you can find the exact match for your outdoor furniture. These weatherproof cushions also stand up to stains, making them a perfect family-friendly choice, especially with the sticky hands of younger children. 
Another way to incorporate plush comfort is to keep outdoor blankets and pillows within arm's reach of your idyllic retreat. In case of inclement weather, it's smart to store these in a waterproof container underneath or near your outdoor furniture.
Add some shade to your outdoor space while protecting it from rain and snow. Our simple 9' Tilt Market Umbrella & Base is available in a variety of attractive color options. Add the umbrella and base above a dining table, or arrange it in the middle of grouped seating. 
An indoor-outdoor rug is another one of those creature comforts that helps up the cozy factor in your outdoor space. Look for an option with a pattern that compliments your furniture cushions and other outdoor accessories. Like the cushions and HDPE furnishings, outdoor rugs require little maintenance when it comes to cleaning and care. 
Now it's time to step outside, survey your space, and start making some choices to finally have that peaceful outdoor space you've always dreamed about. Once you put the finishing touches on your space, you can slip out of the house whenever you like to reconnect with the outdoors. Just remember to occasionally clean your furniture to keep it looking like new!
Blog Post Updated June 22, 2021