Rocking chairs have been the preferred method of watching a sunset or soaking in the world outside your front door for nearly three centuries. Rocking chairs were initially used primarily in gardens, and resembled simple dining chairs with sloped rockers attached to their feet.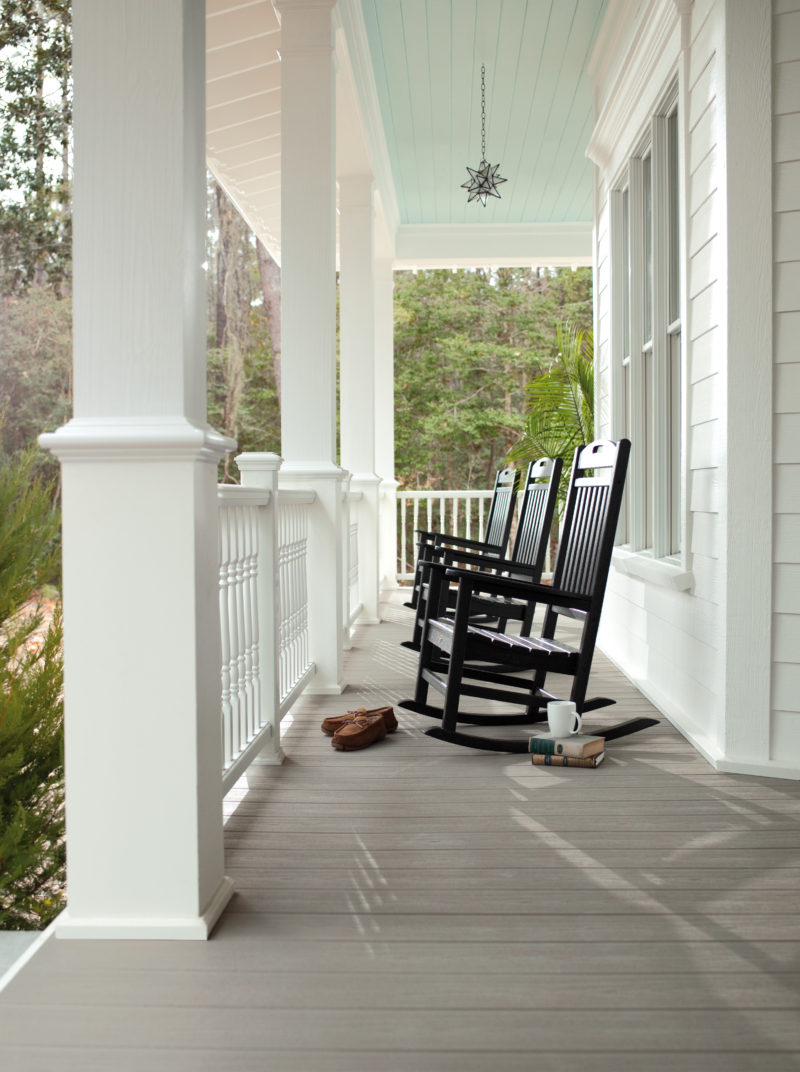 We've come a long way in furniture design over the course of 300 years, and now there are a dizzying variety of styles, materials, and colors to choose from. Each individual rocking chair is designed for specific environments and uses, making the shopping process potentially confusing or frustrating. Luckily, we've collected our considerable knowledge about this classic outdoor furniture item in one place so you can buy a rocking chair with confidence.  
---
Step 1: Material Types for Rocking Chairs
In today's market, rocking chairs are constructed with a few different materials: softwoods, hardwoods, teak, wicker, plastic, and HDPE lumber. Ask yourself the following questions to make the best selection:
How comfortable is the material?

How does the material stand up to outdoor weather conditions?

How long does the material last, and how much value does it provide?

How does the material look, and how does the design complement your space?

How often do you need to clean the material?
Softwoods

Softwoods like pine are popular choices for making rocking chairs, as the material is abundant and relatively inexpensive.
Softwood is easily dented or scratched and is not very durable, leading to a worsened appearance quickly.

Softwood must be varnished if placed outside and will degrade quickly in the elements regardless.

Softwood is a less expensive material.
Hardwoods

Hardwoods like oak are longer-lasting than softwoods but must be regularly maintained.
Hardwoods are resilient, meaning it is hard to scratch or dent hardwood rocking chairs.

Hardwood must be stained or varnished if used outdoors and must be revarnished to maintain quality.

Hardwood is a moderately expensive material.
Wicker
Wicker was more popular when rocking chairs were first invented, but some brands still sell classic wicker designs.
Wicker is not intended for outdoor use, and can be damaged and weather very quickly when exposed to the elements.

Wicker is lightweight, making it easy to transport but vulnerable to wind gusts.

Wicker is hard to clean.

Wicker is one of the more affordable materials.
Teak
Teak is a more durable wood option for rocking chairs, especially compared to pine, oak, or wicker.
Teak is extremely resilient and can stay outside year-round because it produces its own oil.

Teak is only available in one "color," teak.

Teak must be rubbed down frequently to avoid the "silver patina" discoloration.

Teak is one of the priciest options.
HDPE Lumber

High-density polyethylene (HDPE) is a synthetic resin used to construct weather-resistant, high-quality furniture. The luxury and long-lasting nature of the material makes it a more expensive option.
HDPE lumber is completely resistant to wind, water, and rust, and able to be left outside all year.

HDPE lumber is a breeze to maintain with warm water and mild soap.

HDPE lumber is available in many colors.

HDPE lumber is luxurious and designed for maximum comfort.

HDPE lumber is manufactured to last for decades and the steeper price reflects this.
At Trex® Outdoor Furniture™, we manufacture all of our rocking chairs with HDPE lumber. We love that this material is completely recyclable, weather-resistant, and lasts a lifetime. Consider your budget and how long you plan to own your rocking chair before choosing a material.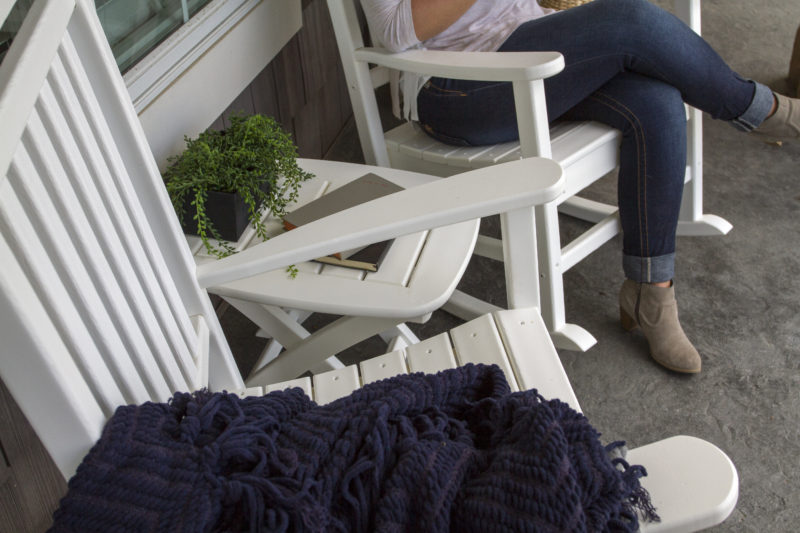 ---
Step 2: Styles of Rocking Chairs
Rocking chair designs have remained fundamentally straightforward for centuries, but many updates and modern twists on the classic construction have allowed for greater comfort, support, and durability over time. At Trex® Outdoor Furniture™, we have perfected the traditional rocker and altered the core design to create a contemporary dining-style rocker and an Adirondack chair rocker. Based on your style preferences, budget, and outdoor space choose between the following: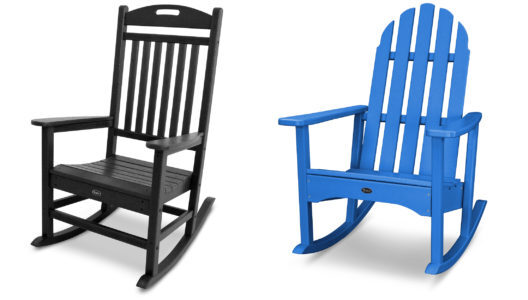 While teak and wicker rocking chairs will have limited color options, with plastic or HDPE lumber chairs you can choose several different hues, from natural tones to bright, vivid colors.

Trex® Outdoor Furniture™ proudly offers rocking chairs in seven traditional earth tones and all-new vibrant color options you can customize to match the other design elements on your deck, patio, or porch.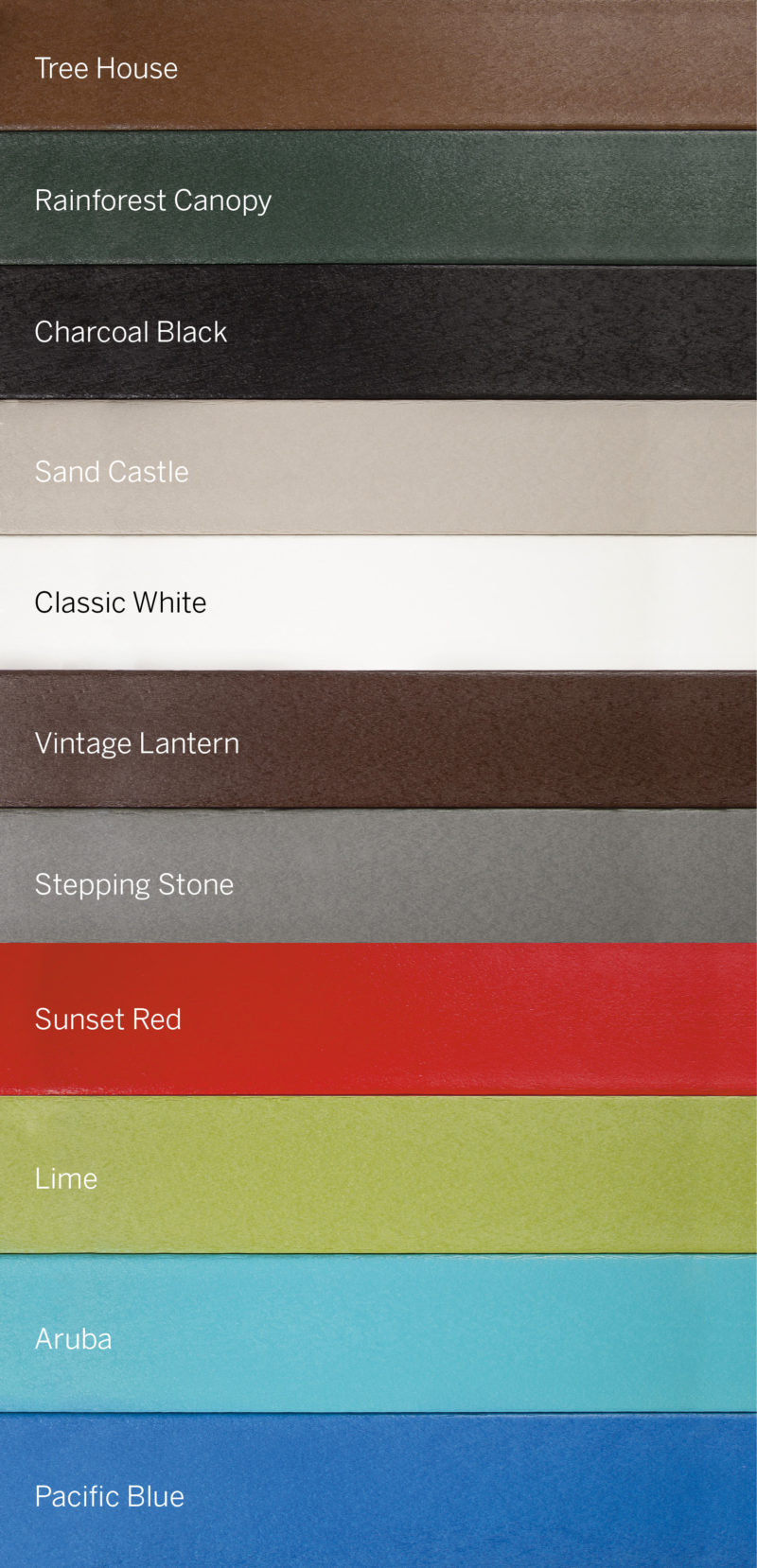 ---
Step 3: Consider the Height and Size of the Rockers

While many rocking chairs are about the same dimensions you should measure the amount of space you have to work with and decide how heavy your chairs can be before you select a material and a style of rocking chair.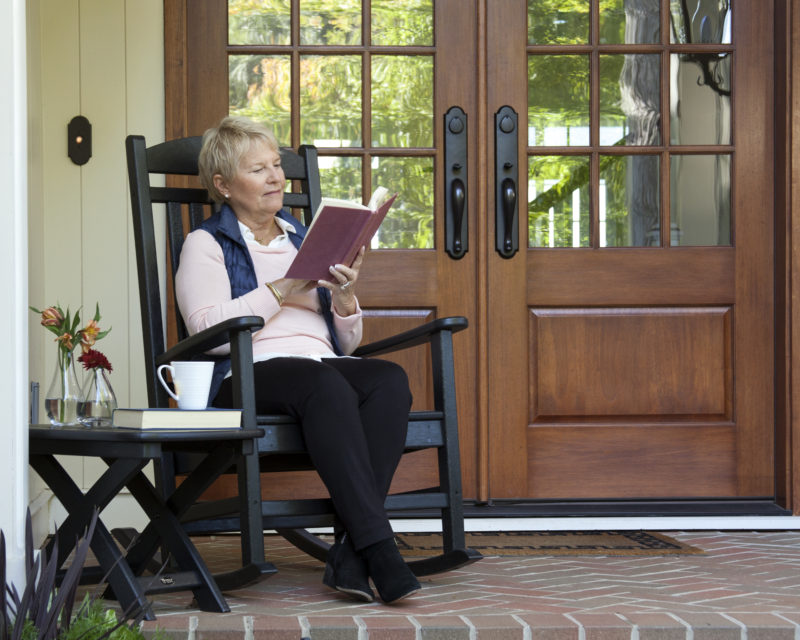 Depending on the style, rocking chairs will stand between 37 to 45 inches tall, 26 to 30 inches wide, and 32 to 37 inches deep. Rocking chair weights can vary widely between 15 and 45 pounds depending on the material.
You also want to think about the seat height — shorter people may want a shorter seat height to comfortably get in and out of the rocker. At Trex® Outdoor Furniture™, our seat heights range between 16.5 inches and 18 inches. The overall height for our chairs ranges from 34 inches to 42.5 inches, but this won't affect your experience like seat height will.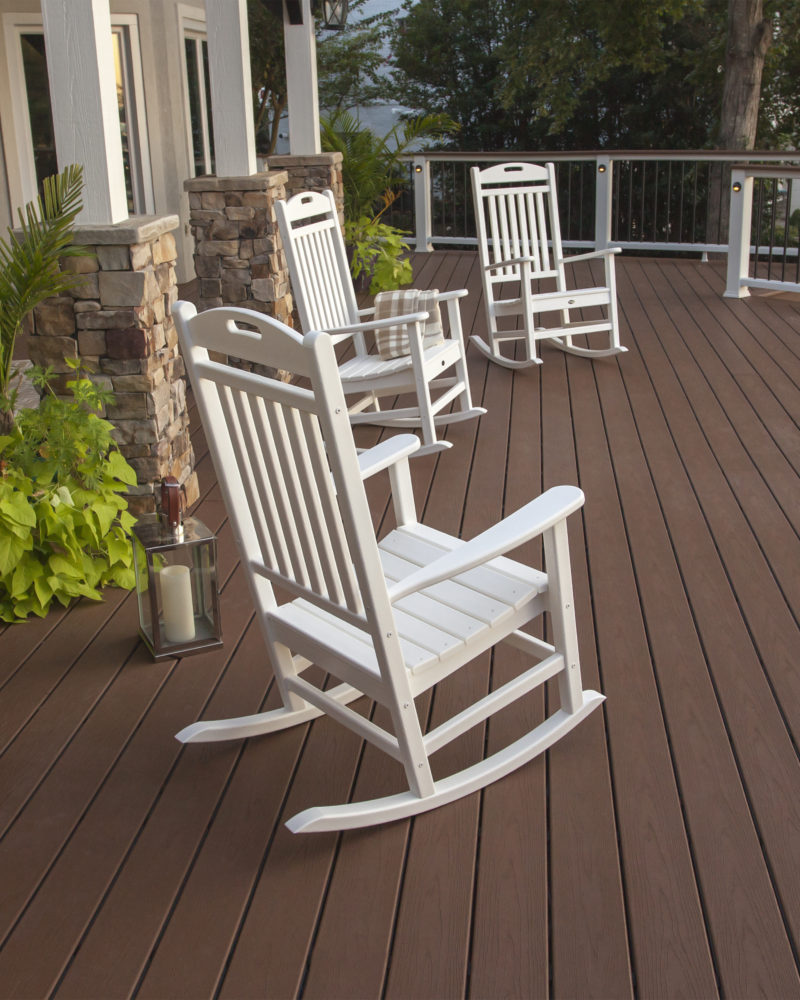 When arranging your rocking chairs in any outdoor space leave at least two to three feet between each rocking chair. Account for additional space behind and in front of each rocking chair so you can rock forwards and backwards without colliding into walls or furniture. A deck or porch measuring 10 feet square can fit three or four rocking chairs.
---
Step 4: Accessories to Complete the Space
Your rocking chair will provide hours of extended comfort if you include some extra padding. Invest in a rocker seat cushion to drift off in premium comfort. All-weather performance fabric retains color and withstands elements like wind and rain so you can leave your cushions affixed to your rocker all year regardless of the weather.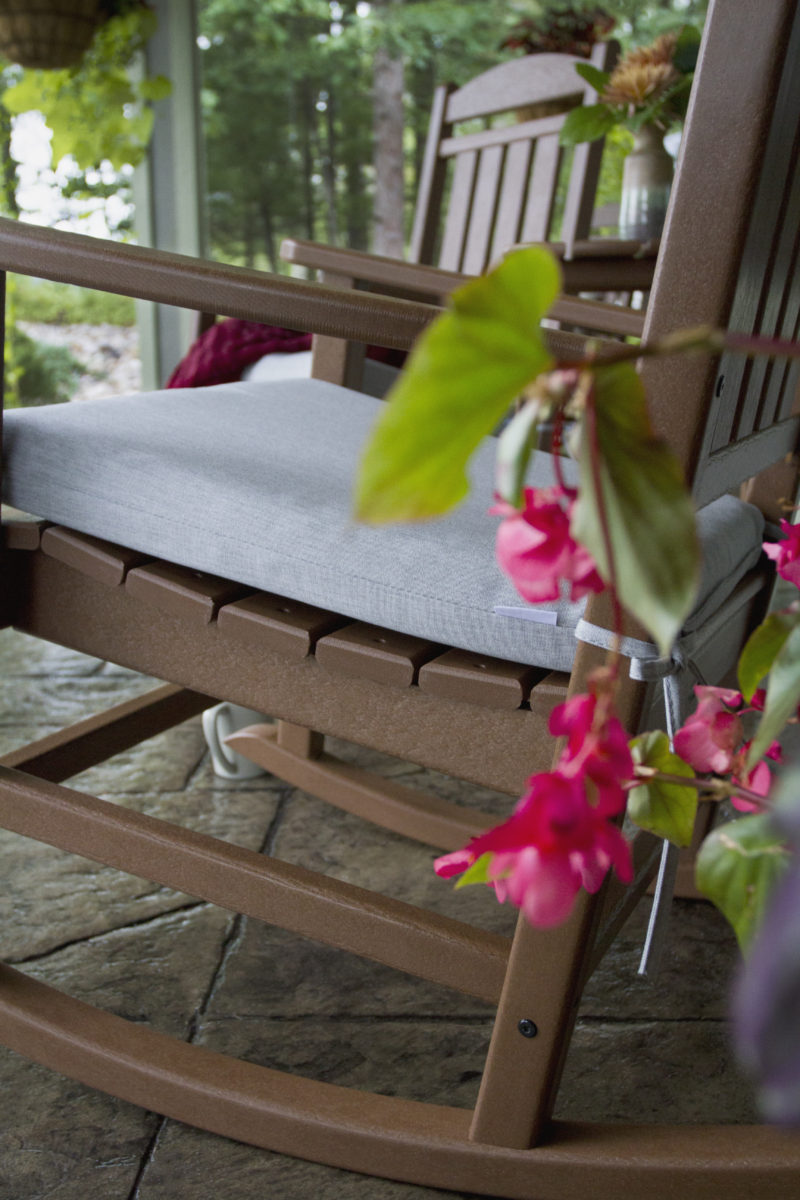 If you place your rockers in an outdoor space without a roof you can install a Tilt Market Umbrella right beside it to give your rocker a relaxing amount of shade throughout the day. Choose between a variety of canopy colors for the perfect finishing touch to your rocking chair area.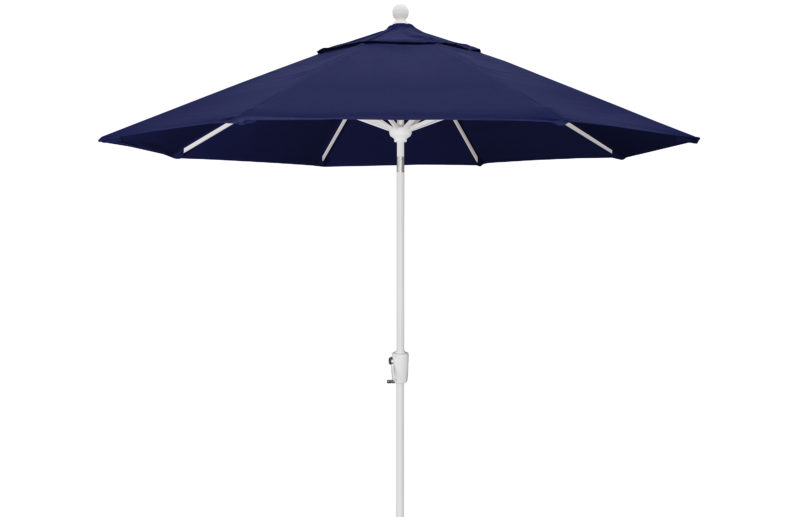 Shopping for outdoor furniture can leave you feeling overwhelmed, but by following this guide you can select the right rocking chair to match your style, suit your preferences, and fit your budget. Shop today to find a high-quality, low-maintenance rocking chair constructed from HDPE lumber that will last a lifetime in your home.
Blog Post Updated June 23, 2021