Does your deck look a little empty? Are you beginning to regret that unobstructed view directly into the kitchen of your overly-friendly neighbors? Whether you're looking to revitalize your deck design or simply add a little privacy, infusing your deck with life will do the trick.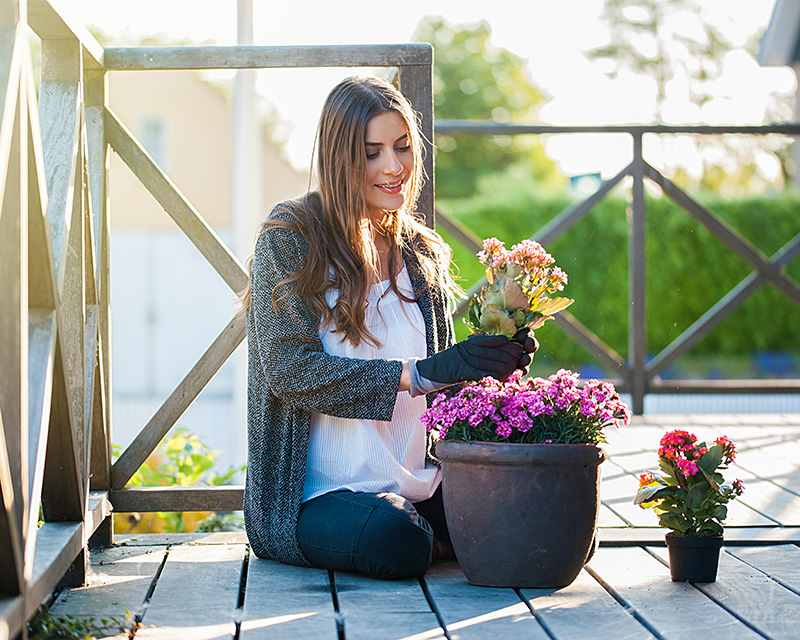 Plantscaping a deck may seem like a challenge, but we're here to take the guesswork out of the yard work. Without soil to deal with your options are seemingly few, but when it comes to container gardening and privacy walls you still have hundreds of options to sort through!
Add a splash of green or completely redo your deck with these easy-to-execute plantscaping ideas.
---
Best Types of Plants for Decks
When plantscaping your deck you are only limited by your imagination. Sprawling container gardens, enormous palm leaves, intricate vines running through lattice walls — your deck can become a sanctuary of green where you can retreat and enjoy a quiet moment or a cup of tea.
The following types of plants add vibrancy to your deck and won't require overwhelming maintenance to thrive.
---
Potted Plants for Decks
To take full advantage of the space you have on your deck, it's time to get into container gardening in a deep way. Potted plants are versatile, low-maintenance, and can function as a decorative element. In fact, you can mix and match various plant types and colors with varying materials, designs, and colors of containers to create dimension, add flavor to your deck, or signal a truly Bohemian style.
What types of plants look great on your deck in a container? Choose easy-care annuals with large, arresting blooms so you can maximize the space. Great examples include hibiscus, lantana, and scaevola.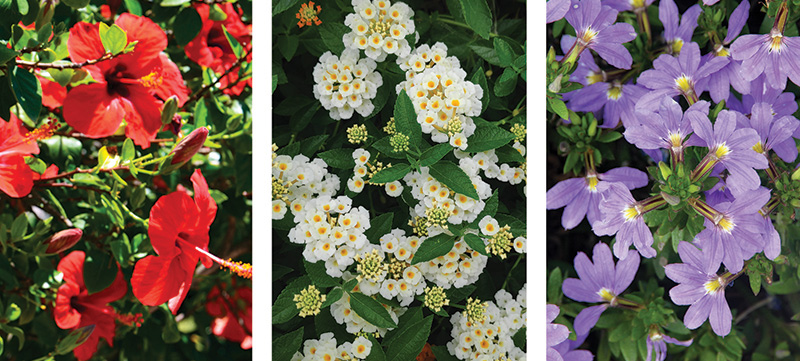 You can take advantage of railing planters along the borders of your deck to attract butterflies! Plant favorites like zinnias, verbena, and butterfly bush to lure gorgeous butterflies to your deck all day long.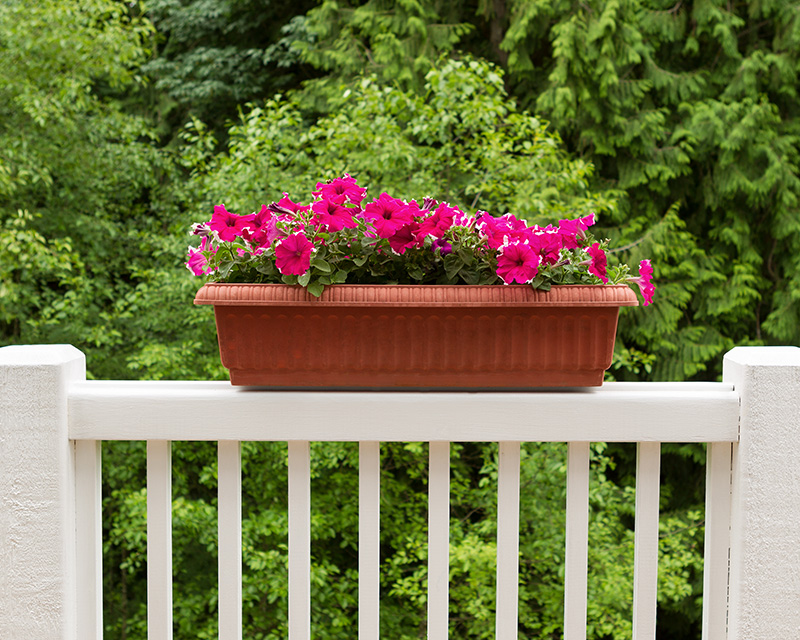 Pair these brightly-colored potted plants with greener options like shrubs or grasses to create focal points while filling out large corners or areas without furniture. Container gardens with at least three containers will spice up any space, but try to avoid a lone container. Those plants will look lonely!
---
Privacy Plants for Decks
Shield your deck from prying eyes without investing in a structure by giving life to one of your own! Trees and shrubs in planters along the sides of your deck are a convenient way of secluding the space. Transform an open deck into a relaxation haven while adding visual flair and stylish outdoor decor.
Evergreen trees like cypress, juniper, and arborvitae can be potted or planted just on the edge of your deck. You can also install a lattice wall and fill it with vertical planters or vines if you seek true seclusion.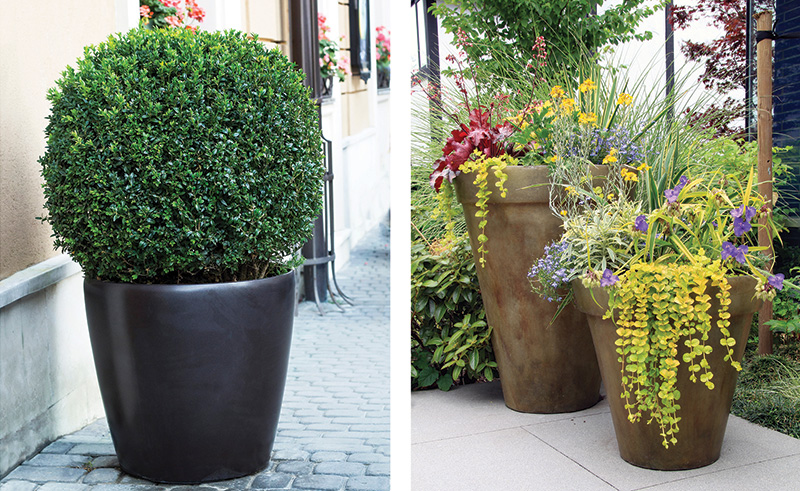 When shopping, consider options like large palm fronds and tall grasses that can give your deck a distinct theme in addition to valuable privacy. Hanging plants and vines from an entryway or structure is yet another method of blocking the view beyond your deck. Get creative!
---
Low-Maintenance Plants for Decks
Give yourself more time to stretch out on a deep seating sofa or unwind on your deck swing by cutting down your weekly watering schedule. Choose cactus plants and succulents that offer interesting color combinations and textures and attract very few pests.
Succulents work great as potted plants and can be situated next to planted grasses or vertical flowers to create a rich variety of plant life in just a few feet of space. Don't know where to start when shopping for succulents? Try sempervirens, sedums, and echeverias.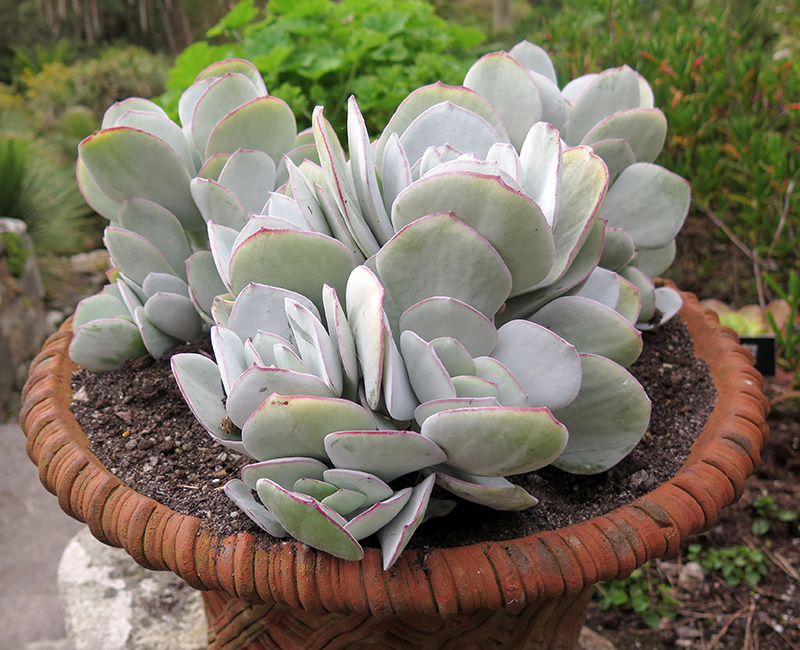 You can plant larger cacti along the borders of your deck to create points of interest, contrast with container plants within your deck, and add a touch of privacy.
---
Choosing Plants by Region
Plants that will bloom on a backyard deck during a Pennsylvania winter have little in common with plants suited for an Arizona summer. The climate of your community is the most important factor to consider when choosing your deck plantscaping.
First, look up your plant hardiness zone on this map. Depending on where you live, here are the best plants for decks:
Zones 1 – 3: Variegated red twig dogwood, bergenia, hosta, and some dianthus.
Zones 4 – 6: Golden Sword yucca, heucheras, Blue Star juniper, and aster.
Zones 7 – 9: Green Mountain boxwood, Japanese pieris, Fuldaglut sedum, and abutilon.
Zones 10 – 12: Bush Tenacity kangaroo paw, ruffled echeveria, Lavender Swirl® trailing lantana, and Santa Barbara Mexican bush sage.
The hardiness of every plant depends on the variety and other factors like sun exposure and humidity, so do your research before committing to specific plants.
---
Plantscaping for Style
Ensure your deck plantscaping is an extension of your home's unique style by following these guidelines in the planning process:
Stick to a Color Theme
Try to limit your color palette to two or three hues that complement the design of your house. Go bold with yellows, reds, and oranges by choosing plants like orange marigolds, sunflowers, and red verbena, or go for a subtle blue and grey color scheme with white bacopa and blue salvia.
Consider Creative Containers
Maybe you prefer green succulents, or have few plants to choose between based on your climate. That's totally fine! You can still make any container garden a colorful work of art by mixing and matching vivid containers in vibrant colors. Stick to the same principle: try to limit your color palette to two or three colors (other than green — that one is a gimme).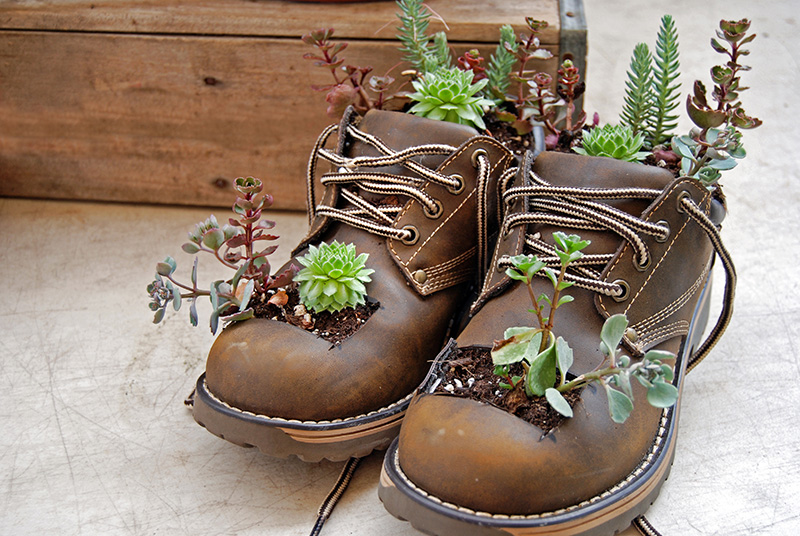 Draw Focus
Utilize your deck plants to make the maximum impact. Draw focus to certain focal points around your yard by aligning your plants to move the eye in that direction. Or cover awkward corners and dark spots by adding a burst of green. By using deck plants you can reorient any deck to your liking.
---
Plant-Friendly Deck Furniture
Deck plantscaping is meant to accentuate what you already have. Lay a solid foundation with fade-resistant, all-weather deck furniture that can withstand regular exposure to water, soil, grime, and the other elements that come with a green deck.
Any deck exposed to the unpredictable forces of nature should be equipped with deck furniture designed to repel water, moisture, dirt, and grime to retain its color, shape, and support for years without cracking, rotting, peeling, or chipping.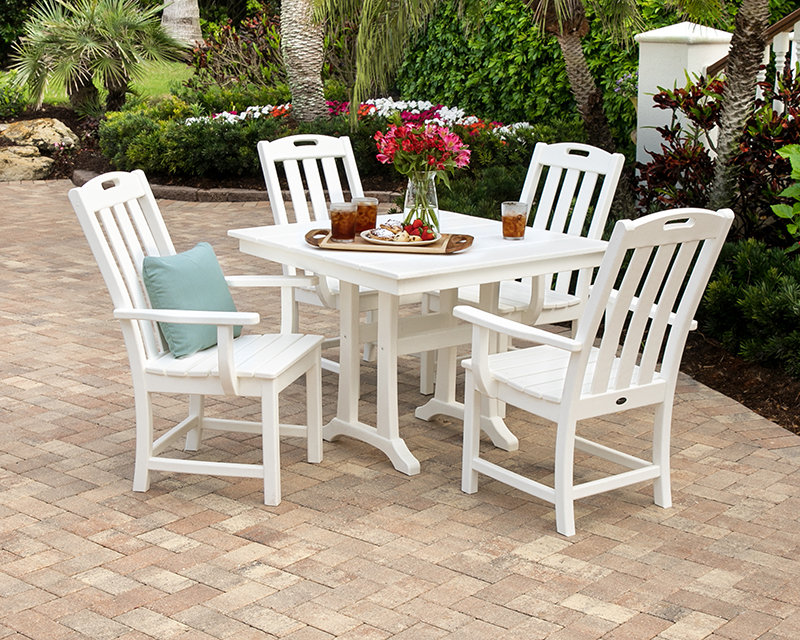 The combination of our durable, weather-resistant POLYWOOD® lumber and our all-weather, performance-fabric cushions make Trex™ Outdoor Furniture® chairs, deep seating pieces, and dining furniture impervious to rainstorms, salty sea air, and the dirt that comes with gardening. When planning your plant-centric patio, choose furniture sets that will give you peace of mind and support your dream of a plant-filled deck.
---
Conclusion
By following these guidelines you can fill your deck with life and add another dimension to your deck layout and style. Immersed in the natural beauty of plants, vines, trees, and shrubs you'll unlock a serene side of your deck you never even imagined.
Maybe adding plant life is just step one. Are you about to completely overhaul your neglected deck? Read our guide on restoring an old deck to settle on a brand new look.