Originally Published on April 13, 2023. Last Updated on April 25, 2023.
If you're planning to redesign your deck or build a brand new addition to your home, you're no doubt on the hunt for inspiration. Take a look at these 14 beautiful backyard deck ideas, and let them guide your creativity.
---
1. Rugged Yet Refined Deck
Find peak outdoor inspiration in this 2023 HGTV® Dream Home. A massive deck spans the length of the entire house—perfect for taking in the breathtaking views of the Rocky Mountains. Designer Brian Patrick Flynn filled the sprawling space with clean-lined furniture that meshed with the earthy color palette seen in the decking, siding, and railings.
2. Pretty Prefab Deck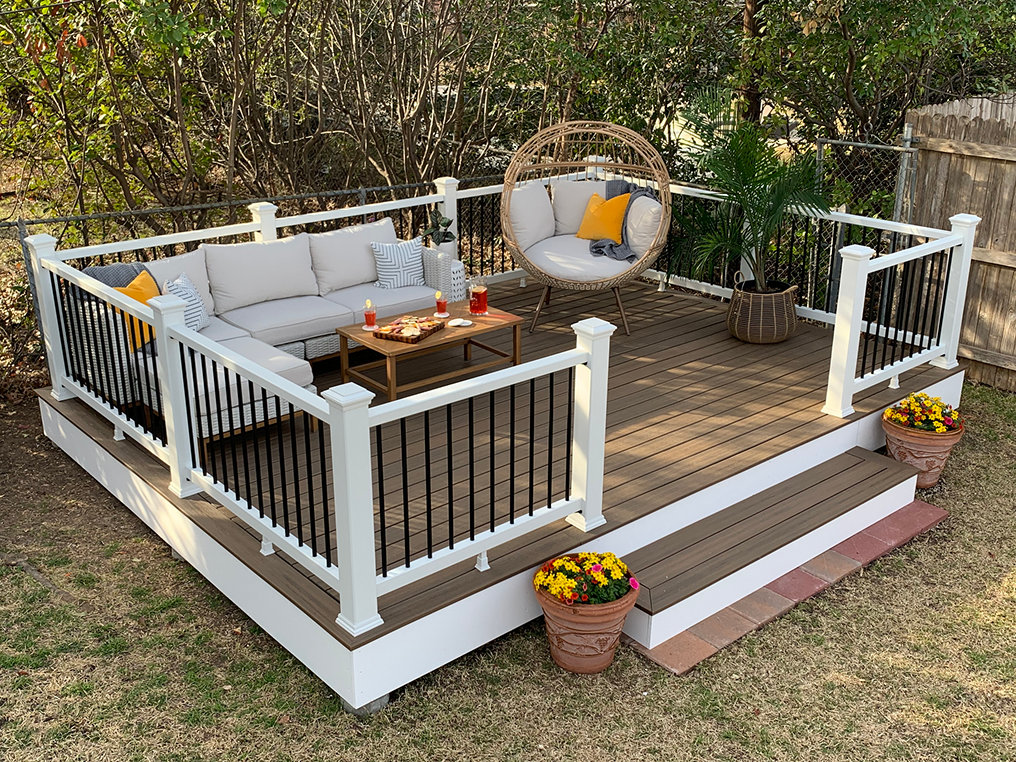 If you're searching for platform deck ideas, consider this backyard addition. With warm-toned decking cozied in cheerful white railings and floor beams, this detached deck inspires small-space charm. A wicker egg chair and sectional topped with matching white cushions further brighten the space, with a few throw pillows popped in for added comfort and color. (Bonus: You'd never know it, but this deck was built from a DIY kit.)
3. Light and Dark Deck Design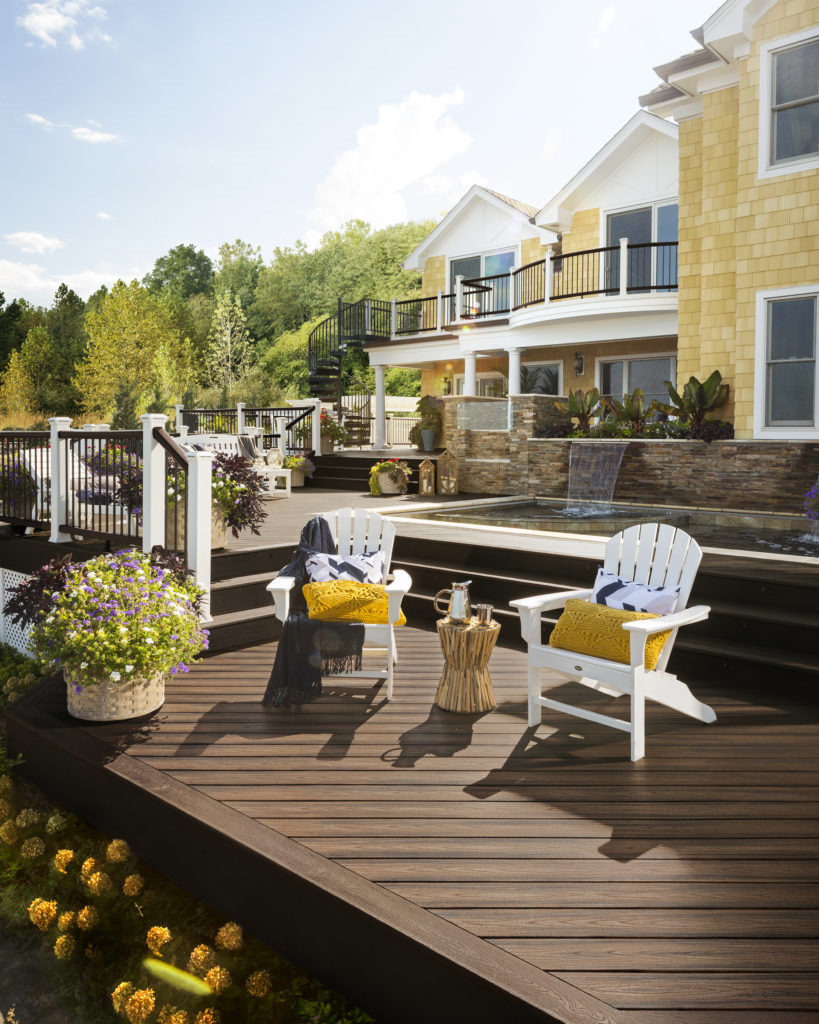 This eye-catching back deck features a striking aesthetic with the contrasting color palette. Earth-toned decking and stonework is offset by the home's sunny yellow siding and the bright whites of the trim and Yacht Club furniture.
4. Wraparound Deck with Panoramic Views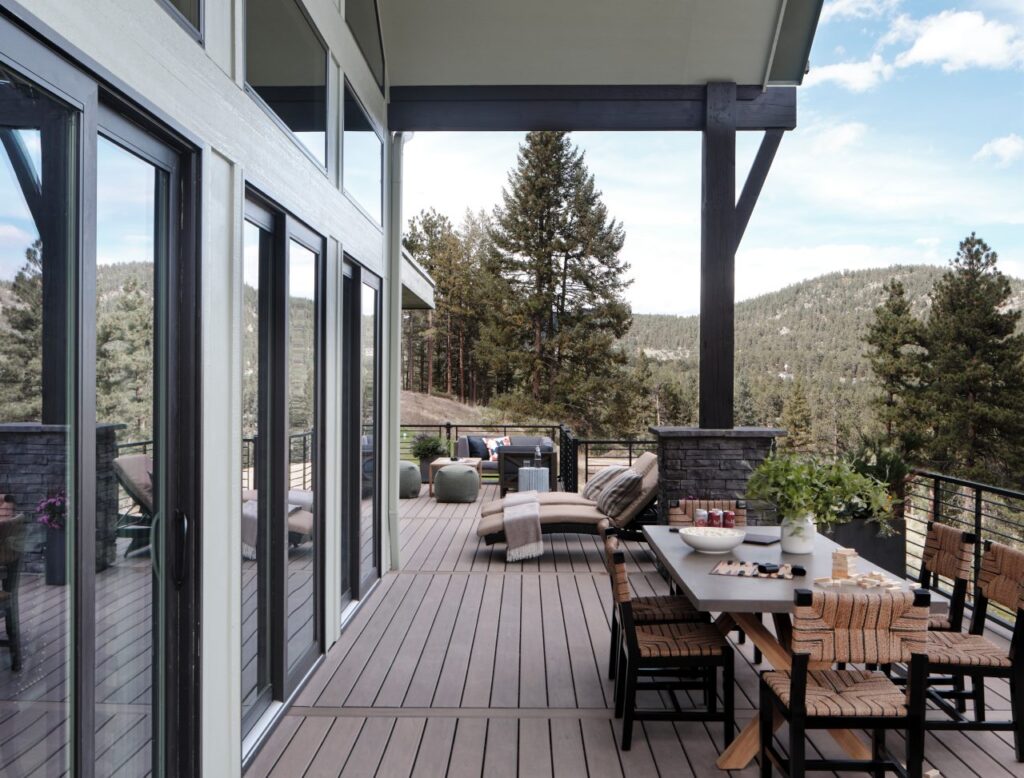 Here's a modern deck that connects multiple spaces to allow easy access and a flowing aesthetic. The earthy color palette honors the surrounding forest and mountain vistas, while dark red window and door frames draw the eye, eliciting a sense of welcome-home warmth.
5. Stunning Triple-Decker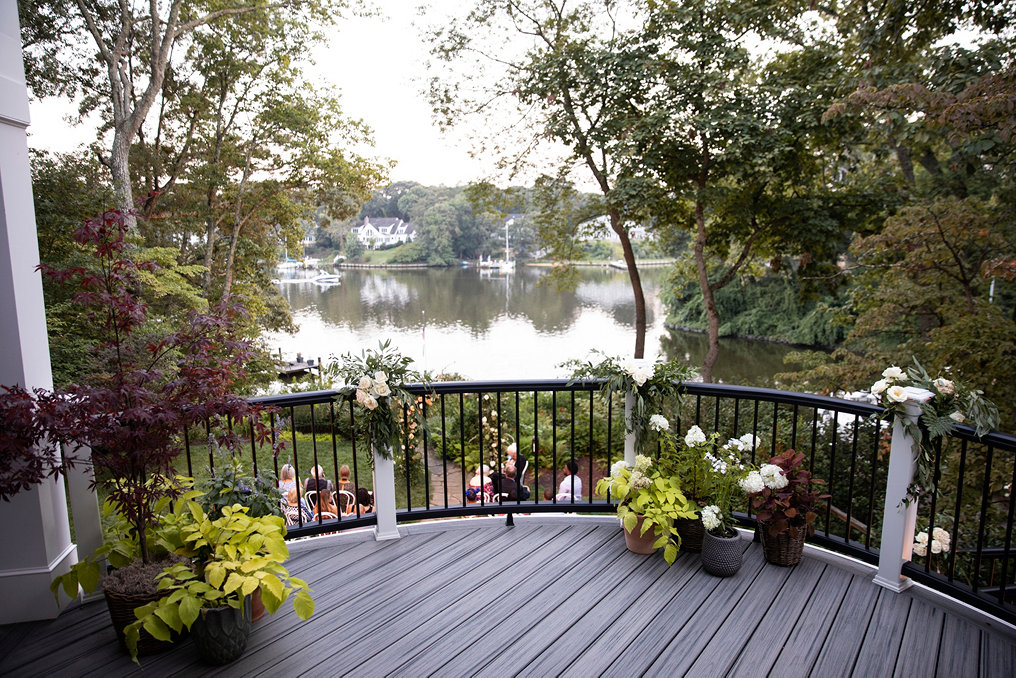 Hidden amidst the hickories on the banks of the Magothy River is a magnificent home with an impressive three-story outdoor deck. The ground-level floor features a stone patio with deck spaces above it—all sharing a cool, clean aesthetic with touches of whimsy in the rounded railings and curved staircases. The palette is subdued shades of grey, which allows nature to add pops of color.
6. Multilevel Deck with Stairs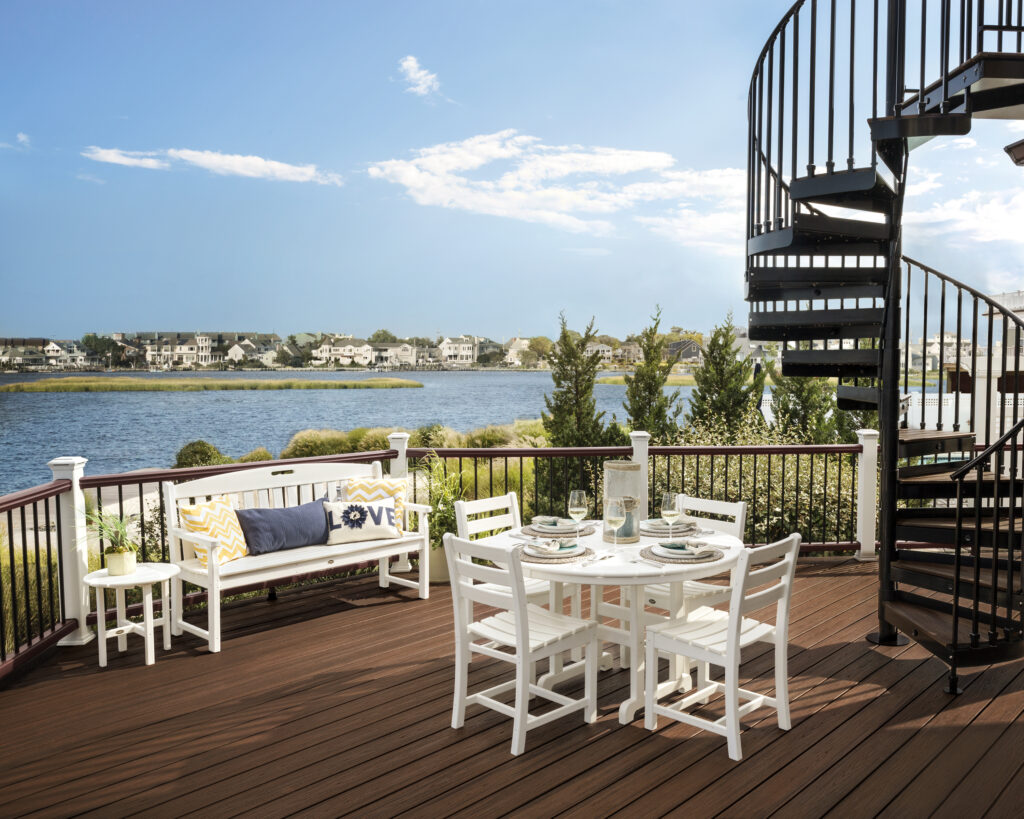 If you're looking for deck steps ideas, enjoy the view of this spiraling staircase that connects the lower and upper deck areas of this oceanside home. The stair's charcoal and chocolate colors complement the lighter decking and railing shades and make our Monterey Bay dining set and Yacht Club Bench (in Classic White) stand out.
7. Checkered Deck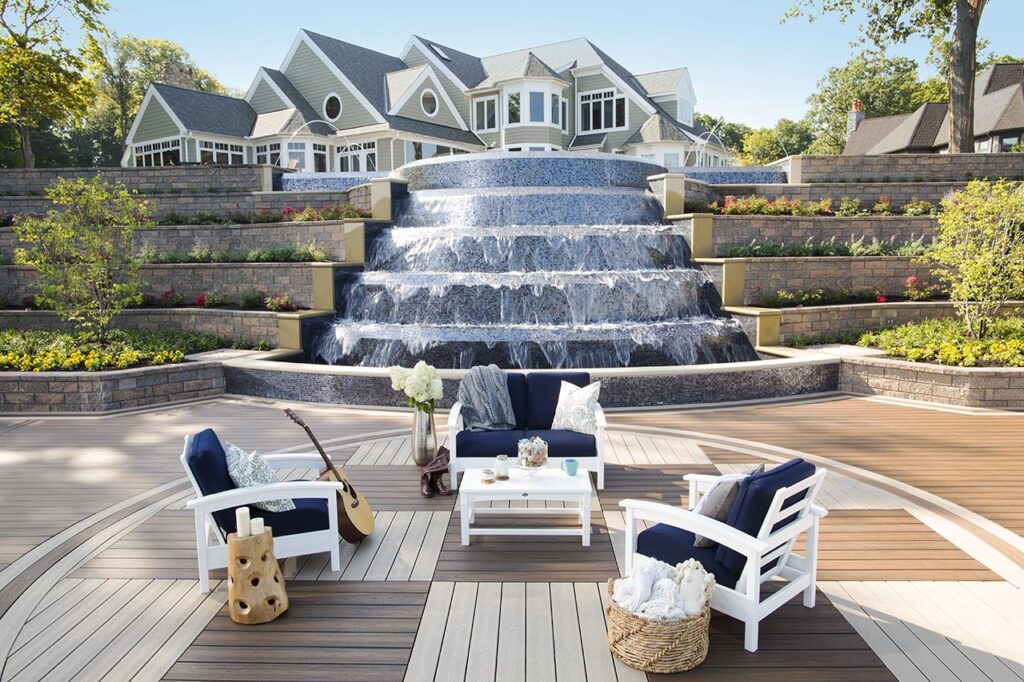 One of the more ambitious composite wood deck ideas we found, this large outdoor space has a checkered circle built from two types of Trex Transcend® decking. The circle doubles as a design feature and a helipad.
8. Colorful Deck with Glass Railings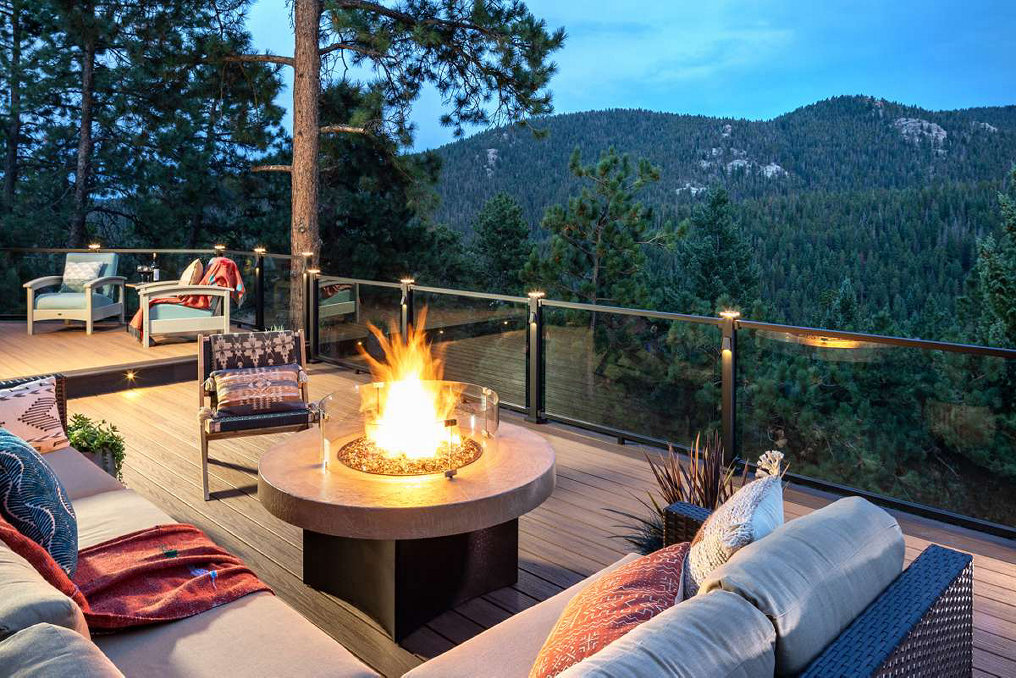 Here's an outdoor space that honors Colorful Colorado's nature-made palette. A bevy of warm and cool shades are artfully displayed on the decking, decor, and a beautiful blend of styles from various Trex Outdoor Furniture collections. Along the second-story, glass-paneled railings offer unencumbered views of the tree-topped mountains. You'll become so immersed in the scenery that you won't know where the deck ends and nature begins.
9. Raised Deck with Pergola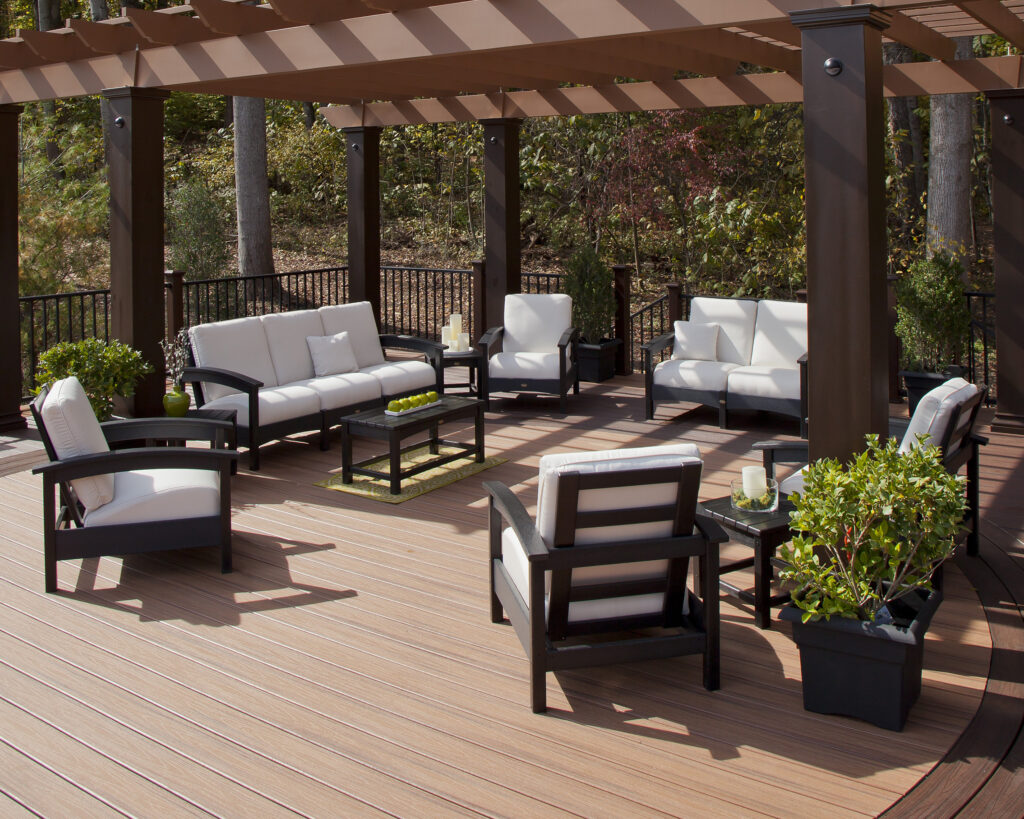 A little shade is welcome on those extra-sunny days, and this raised deck features a pretty pergola presiding over a large outdoor area filled with furniture from our Rockport Collection. The pergola's cinnamon-colored lattice and dark chocolate columns coordinate with the decking shades and the seating's creamy cushions, creating a warm and cohesive look.
10. Rooftop Deck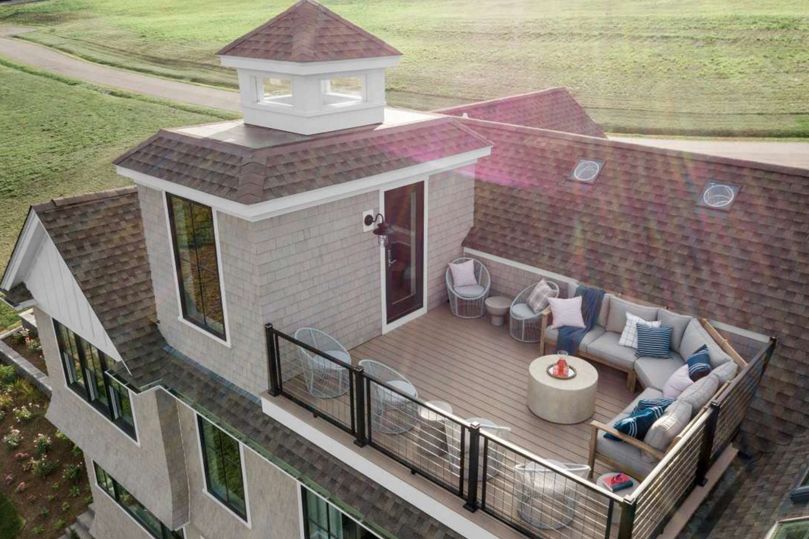 Why limit your dream deck to the sides of your home when it can go on top? Look at the layout of HGTV Dream Home 2021. This Cape Cod-style house features multiple spaces, but the most impressive is the lofty deck crowning the residence's roof. Securely ensconced by railings that don't impede the views, this rooftop deck is ideal for entertaining. Other than comfortable and durable furniture, you won't need much decor when you have a starlit sky overhead.
11. Multi-Purpose Deck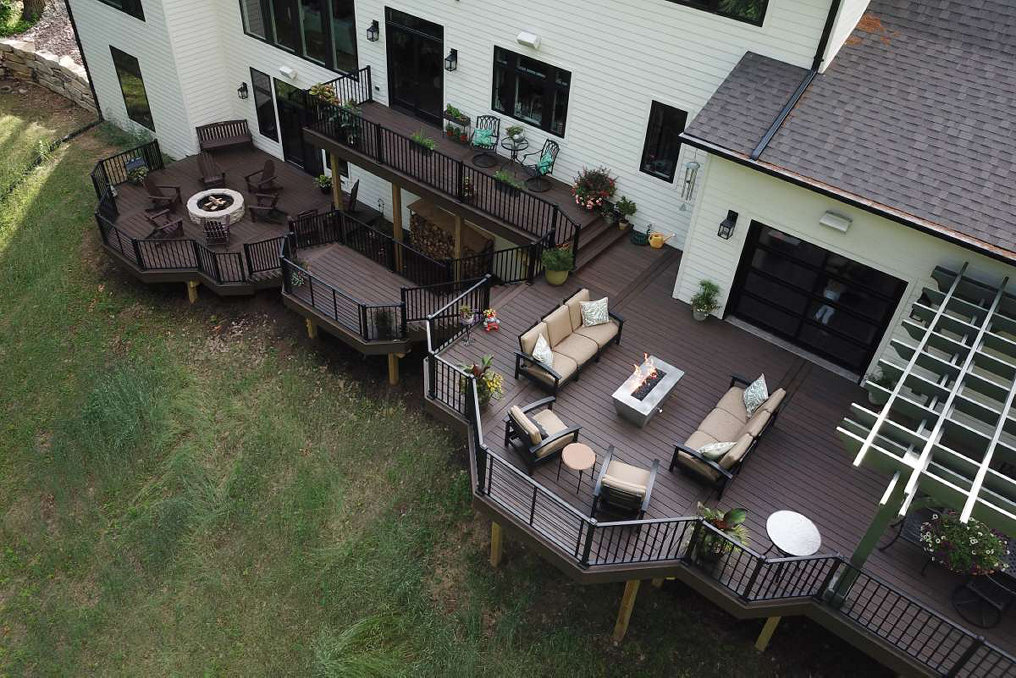 If you find any excuse to get outside in the fresh air, you should consider creating a deck that can serve your family in different ways. Take this deck layout: It's clearly divided into multiple spaces that allow the homeowners to entertain, dine, and relax. Plus, the design bucks tradition with angled borders instead of 90-degree corners.
12. Small Deck, Big Style
No matter if you're looking for a front deck idea for small houses or inspiration for your upcoming balcony upgrade, know you can still create an outdoor living space that has plenty of wow factor. Choosing lighter colors for the decking and railings is a good idea as it makes the space look larger, and compact furniture and wall decor are great for small spaces. You could even forgo the railing (only if it's safe to do so) for an open feel.
13. A Deck From Another Decade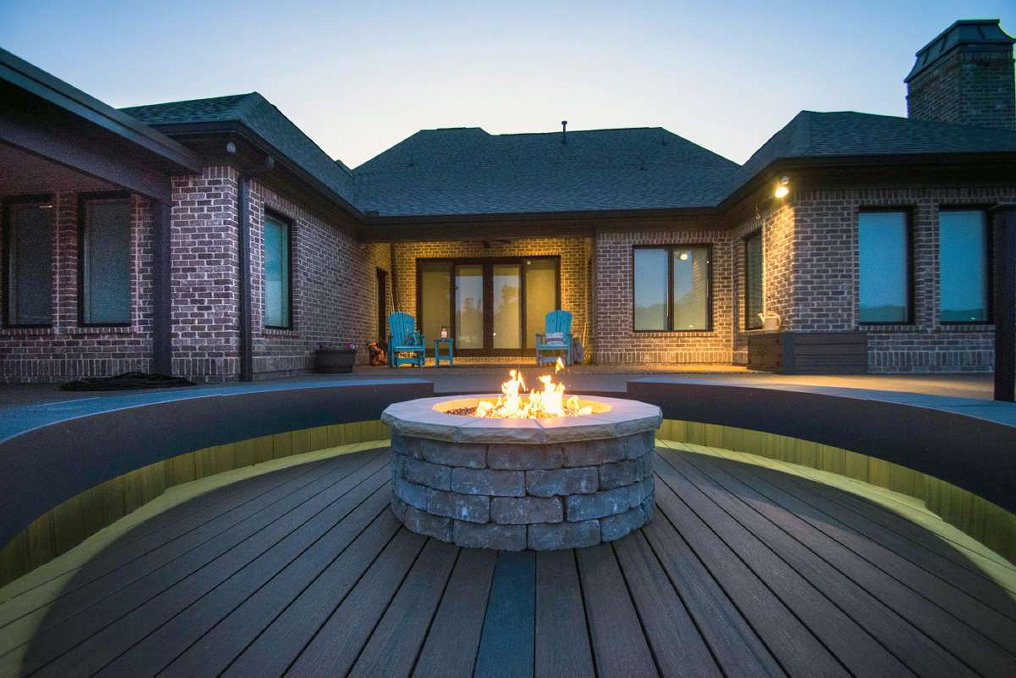 Travel back in time with this 1970s-inspired deck design. The look pays tribute to the sunken living rooms that were popular during that decade with a round, recessed fire pit area. Added intrigue comes from the decking that was laid in different directions—proof that details really do make the difference.
14. Deck with Built-in Features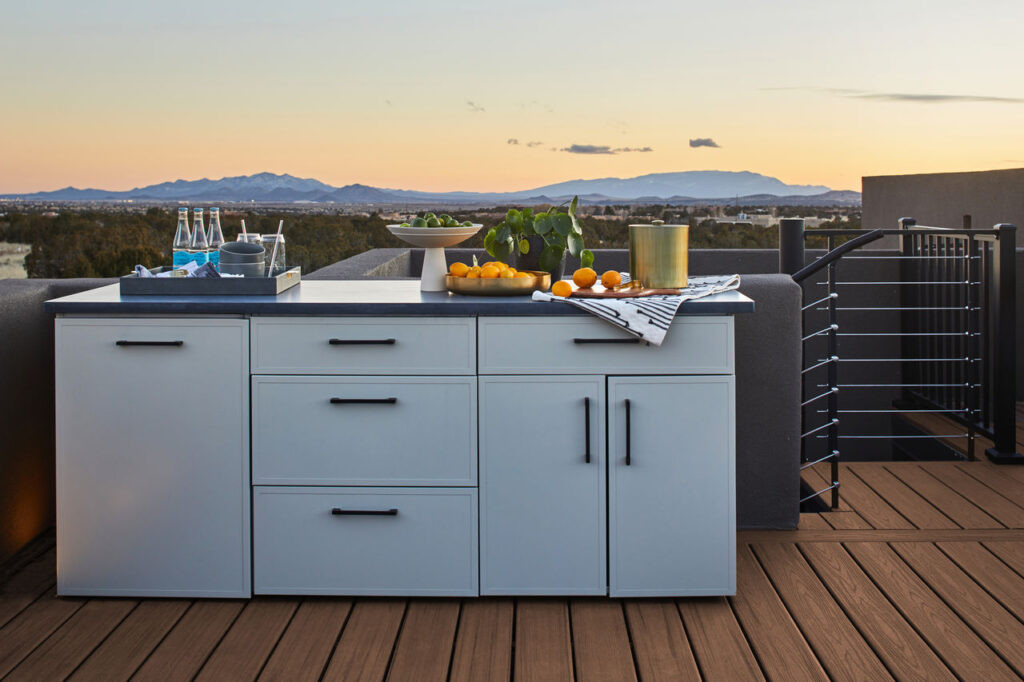 There's more to a deck than the floor. You can add built-in features like a bar, benches, or storage. It's a great way to save space, and be made from the same lumber used in the deck itself. It's a clever idea for those working with limited square footage or who want a seamless look in their outdoor space.
---
FAQs
How do you style a backyard deck?
Here's a list of ways you can style your backyard deck:
Build a pergola.
Add pots of plants.
Unroll and outdoor rug.
Incorporate durable deck furniture.
Use outdoor pillows to add color and comfort.
Pop open an umbrella for additional shade and color.
Add a fresh coat of paint to your wooden deck.
Install outdoor lighting.
What is the easiest deck to build?
On-grade decks are the easiest to build. These simple yet sturdy designs don't require railings or steps, and they're built just above the ground. An on-grade deck is ideal for a small backyard and a budget-conscious homeowner.
Does a deck increase property value?
A backyard deck can increase your home's property value. Well-designed deck spaces are appealing to homebuyers because they're one less feature for them to build, and they can imagine themselves enjoying these areas with their families.