When you pick up a shelter magazine or browse Pinterest or Instagram for home ideas, you probably see photo after photo of homes with press-worthy front porches. After all, what's more picturesque and iconic than a classic front porch?
Not only does a porch hint at a slower pace of life and that nostalgia of simpler days, porches also set the tone for your home, creating a warm and inviting entrance. They're a place from which to wave to neighbors, sit and visit for a spell, or just watch the world pass by.
Plus, your porch expands your home's living space footprint. Whether it's a large covered front porch or a smaller screened-in back porch, you can make any size space appealing and use it to enjoy the outdoors.
Here are a few outdoor porch ideas and furniture considerations based on your square footage:
---
How Much Space Does Your Porch Have?
Is your porch the size of a postage stamp with just enough room for a small chair and a plant? Maybe space is no issue, thanks to that wraparound porch that spans the entire width of your home.
Small or large, your outdoor porch serves as a welcoming entryway into your home, while adding more livable space. Whether it's on the back of your home or the front, your porch area is the perfect opportunity for you to set the tone for the rest of your home.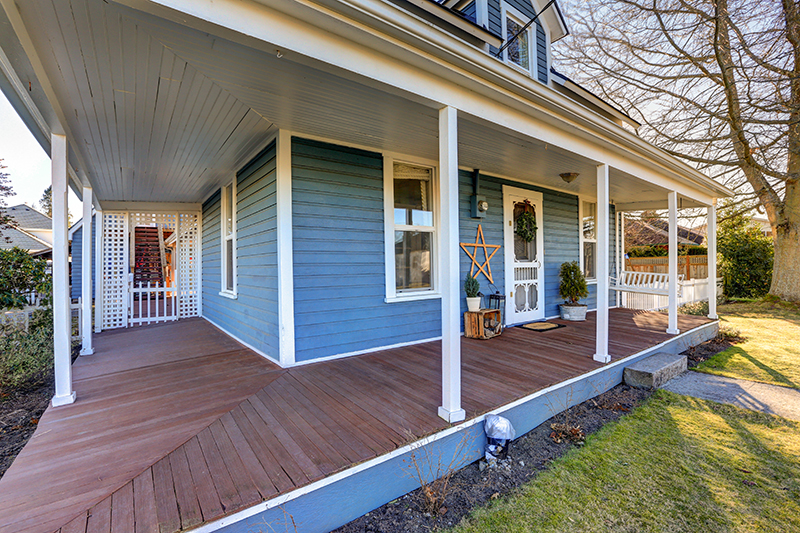 ---
What Spaces Can You Create on a Porch?
Whether you have a small, large, or medium-size space, keep these porch ideas in mind:
Plan it Out — Take inventory of your porch's square footage and shape. A broad rectangular, screened-in front porch, for instance, is a great opportunity to create a cohesive living space, with sections of seating on either end. That small, stoop-like porch may simply benefit from two tall planters on either side of the door. A wraparound porch might have plenty of space for a small dining area, a seating area, and a swing.
Think Zones — When it comes to planning, treat your outdoor porch like you would any interior room. If space is no issue, create different "rooms" along the porch — a seating area and a small dining area, for instance.
Find Furniture That Fits — Don't overwhelm a small porch with too-large outdoor furniture. Look for streamlined pieces that don't look bulky, and play up smaller round tables that add better flow to the porch. If space is no issue, consider the comfort and style a sofa and two club chairs lend to your porch.
Add Balance — The often rectangular shape of a porch lends itself to symmetry. Rather than cluttering a space with furniture, make sure to balance the porch. You might put a glider on one side of the space and two comfortable chairs at the other end. Keep plants symmetrical, too. Sets of planters on either side of the porch entrance add visual balance.
Consider Cushions & Pillows — Make any seating spaces on your porch cozy with the addition of cushions and throws. Aside from adding comfort to the space, cushions and throw pillows are great ways to introduce a little color into your outdoor space and reflect the tone you'd like to set as visitors enter your home.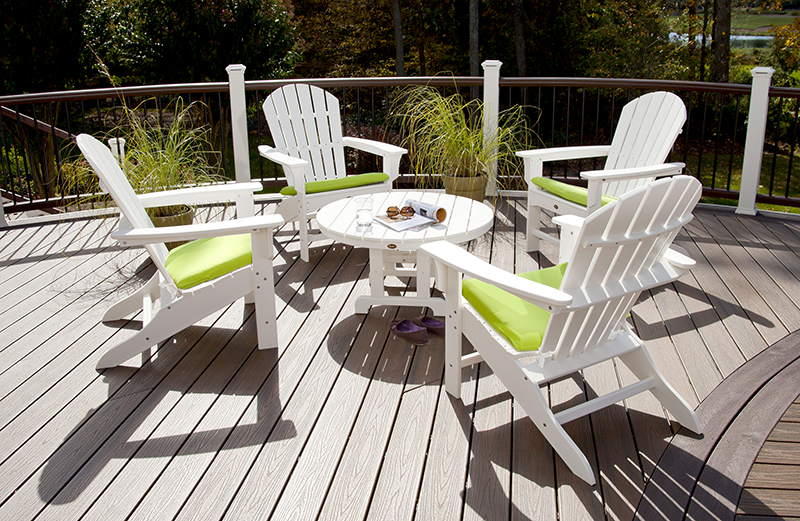 Light it Up — Does your porch have a single wall light that's pretty dim? Your light fixture probably isn't the correct scale for your home. An easy rule of thumb is adding a light fixture that's about 1/5 the height and length of the door.
Fan Out — If your porch is large enough to have seating, consider adding a fan for those warmer months. Not only do ceiling fans help with airflow, mosquitoes and other pests generally stay away from them.
---
Ideal Furniture Pieces for a Porch
Depending on your space, here are a few pieces you should incorporate into your front outdoor porch arrangement: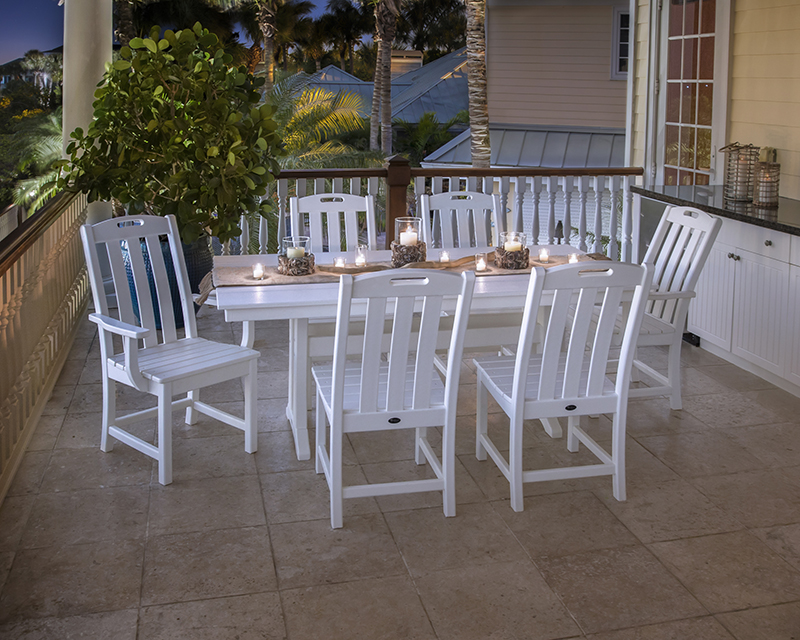 ---
Different Porch Layout Ideas
Here are a few outdoor porch ideas for small and large spaces:
Small Porch Space Ideas
Add a pair of Adirondack chairs with throw pillows and a side table. Place a plant or lantern on the table as an easy accent piece.
Suspend a classic porch swing or bed swing to your space.
Want a little privacy? Consider hanging outdoor curtains for both shade and the prying eyes of neighbors.
Add one comfortable club chair and a small ottoman or occasional table.
Layer a slightly larger rug under your front doormat for a designer look.
Create an intimate dining space on that small back porch with a bar-height table and chairs.
Position a classic pair of rocking chairs facing out so you can observe the comings and goings of the neighborhood.
Give your space height by simply adding two planters with tall plants or trees. Citrus trees, for instance, look lovely any time of year, particularly during winter when they burst with orange and yellow fruits.
Tuck a space-saving settee onto one side of your porch with a coffee table and a set of garden benches.
Want to grow all the things on your porch but just don't have the space? Plant up! Attach planters to the outside wall, create a vertical garden, use a window box, or add a shelf with planters on it.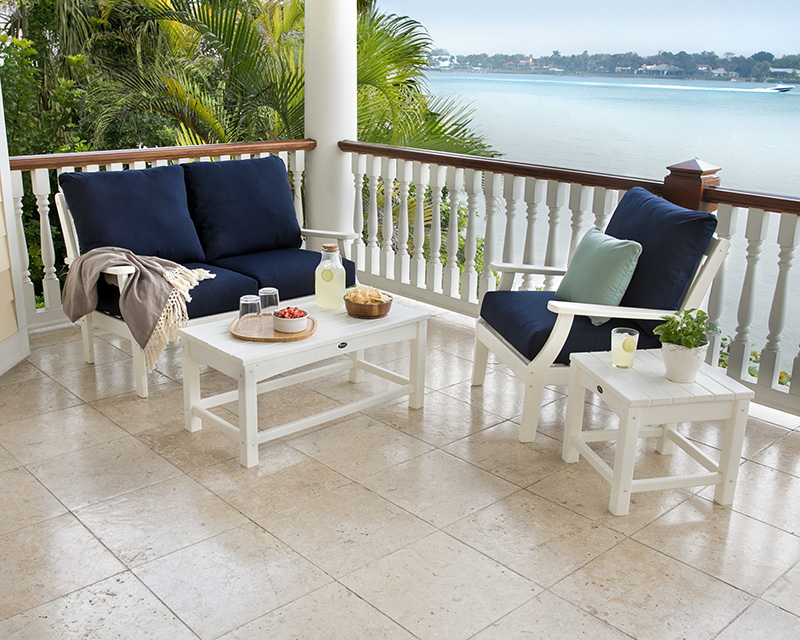 Medium or Large Porch Space Ideas
Create an outdoor kitchen space on one end of your covered porch, add a dining table in the middle, and layout a living space at the other end for the ultimate entertainment.
That wraparound porch is the perfect opportunity to create discrete spaces. Add a pair of Adirondack chairs with a small side table near the front door area. Give the far end of the porch two club chairs and a coffee table. In the space that wraps around the porch, suspend a swing or a small dining table for your morning cup of coffee.
If you have a large porch, keep it simple by adding two sets of rockers to either side of your front door.
Make a casual living room space with a porch swing bed, a coffee table, and two club chairs.
If space is no issue, turn your outdoor porch area into a full-size outdoor dining room. Add a buffet against the wall to place food and a chandelier hanging from the ceiling.
Position a sectional to face the wall of your home. Set up a movie night for the whole family with a projector, a large coffee table so everyone can put up their feet during movies under the stars, and a basket of blankets in the corner so everyone can cozy up on the sectional together.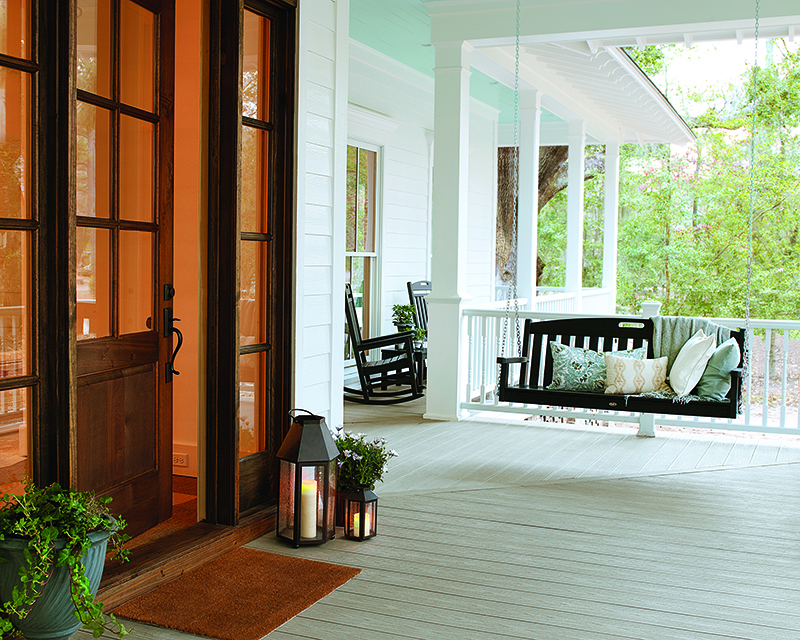 ---
Even if you don't have a traditional porch, you can use these ideas on your patio or deck. Set the tone for your home, and create a Pinterest-worthy outdoor porch space you can use year-round.