Originally Published on September 21, 2021. Last Updated on December 8, 2021.
Water sparkles as the sun warms the day, its light reflecting off the crystalline blue of the pool. Whether you're going for a daily dip or just lounging poolside, few things match the pleasures of enjoying a summer day spent outside by the water.
And while perfecting your butterfly stroke or floating on a raft offers the perfect way to cool off, relaxing or dining near the pool is delightful, too. Whether you're relaxing, hosting a dinner, or just drip-drying after your daily laps, you'll want to select the right outdoor seating. Here are a few pool deck furniture ideas you can incorporate into your pool space:
---
What Furniture Types Are Best for a Pool Deck?
When it comes to pool deck furniture types on your deck or patio near the pool, consider the following:
Purpose — How do you plan to use your pool deck? Do you anticipate plenty of poolside lounging or entertaining? If so, you may want comfy chairs or a small loveseat and a coffee table. Is the space only going to be used for your family to throw towels down and dry off? Choose something functional like chaise lounge chairs or dining chairs that can withstand soggy towels and soaked kids. If you plan on plenty of poolside suppers, select the right-size dining table and chairs for the pool area.
Space — How much space do you have around the pool? If your pool deck is relatively small, maximize your space with furniture that fits in the area. For outdoor dining on a small pool deck, add a bar-height table and chairs for its slimmer profile. If you're creating an outdoor living space near your pool, choose a settee and swap out that coffee table in favor of a smaller conversation or side table. If space is no issue, enjoy adding in all the outdoor furnishings and elements on your wish list.
Seating — Once you pick the purpose of your space you can determine how to plan out the seating around your pool. It may be three chaise lounges facing the pool, a ring of Adirondack chairs set around that outdoor fireplace near the pool, or even a large dining space with a long table and chairs placed on the patio between the pool and the outdoor kitchen.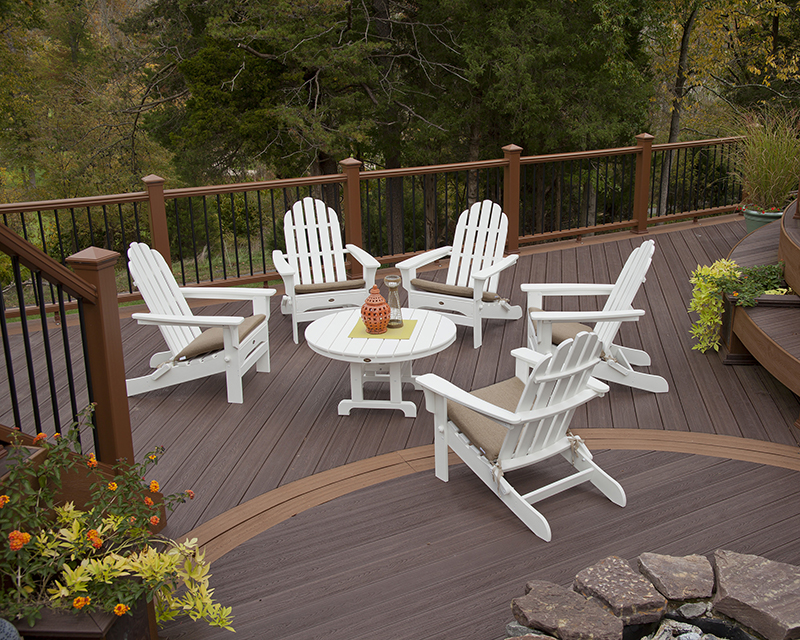 Storage — Anyone with a pool knows the maintenance that comes from owning one. Even if you have a pool company that regularly cleans and adds chemicals to your pool, you still likely have an arsenal of pool-related items. When planning out your pool space, make sure you have storage for those pool toys, chemicals, testing kits, skimmers, and covers.
---
What Material Type Is Best for Your Pool Deck Furniture?
As you know, not all outdoor furniture is created equally in terms of quality or construction. Here's a look at some common pool deck furniture materials and fabrics:
Wood — If you love wood furniture and want to add it to your pool deck for a classic aesthetic, make sure you know what type of wood furniture you're purchasing. You'll want to select hardy, treated woods designed to last season after season. Look for woods like cedar, teak, and white oak — all of which are more resistant to rot and moisture than other woods out there. To keep any wood looking new season after season, consider sealing the furniture at least once a year and moving it to storage during the winter.

Wicker — The classic weave of wicker is beautiful, but wicker does require more cleaning than, say a traditional wood piece, given its pattern. Make sure you regularly clean the crevices of the wicker, using both a vacuum and a toothbrush to get out any dirt and debris so the wicker won't begin to mildew or rot. For more resilient wicker, consider a synthetic or resin version that better resists the fading from harsh sunlight and doesn't break down as quickly as traditional wicker.
Wrought Iron — Wrought iron and other materials like aluminum, steel, and metal can withstand the chlorinated or saline environments of a pool area. Sturdy and long-lasting, wrought iron and other metals do fall prey to rust, so gently brushing away any corrosion and touching up spots where paint has chipped away is crucial to keeping these pieces in good shape.

HDPE — Outdoor furniture made using high-density polyethylene (HDPE) plastic is a win-win for any poolside scenario. When you purchase pieces made with recycled materials, you're keeping plastics out of the ocean or landfill, and you're getting a material that requires very little in the way of maintenance and upkeep. Other than inspecting the hardware to keep rust or corrosion at bay, furniture made from HDPE plastic fits the bill of easy-to-care-for poolside pieces. 

---
Different Furniture Arrangements for Pool Decks
Your patio or deck space will dictate the furniture arrangement around your pool. Here are a few ideas to get you started:
For the ultimate lounging experience, there's nothing better than a pair or a trio of chaise lounge chairs. Position them to look out over the pool, and add a side table between each to set down a drink, a bottle of sunscreen, or a book.
Did you know that you can create a spring and summertime living space right by your pool? Arrange a small settee, two club chairs, and a coffee table or occasional table by the pool. Rather than angling everything toward a TV or mantel as you would inside, position the vignette toward the water.
When the weather is warm, nothing is better than dining al fresco. Enjoy delicious fare outdoors in the evening, watching as the sun sinks below the horizon and the lights in and around your pool provide peak ambiance. Place your dining table and chairs alongside your pool.
Create a resort-style backyard oasis by adding a fire pit to your pool patio. While the kids launch cannonballs into the water, you can arrange four to six Adirondack or rocking chairs circling a round fire pit and enjoy the gentle crackling and warmth of the fire.
---
Pool Deck Accessories & Other Considerations
The right furnishings are essential for your pool space, but go the extra mile with outdoor accessories that take your pieces to a luxurious level and a few protocols to keep everyone safe near the water.
Cushions & Pillows: You'll want to linger longer poolside when your chaise or chair has comfortable cushioning. Bolster your outdoor sofa's comfort with throw pillows. Just make sure you choose cushioning and fabrics suitable for outdoor use.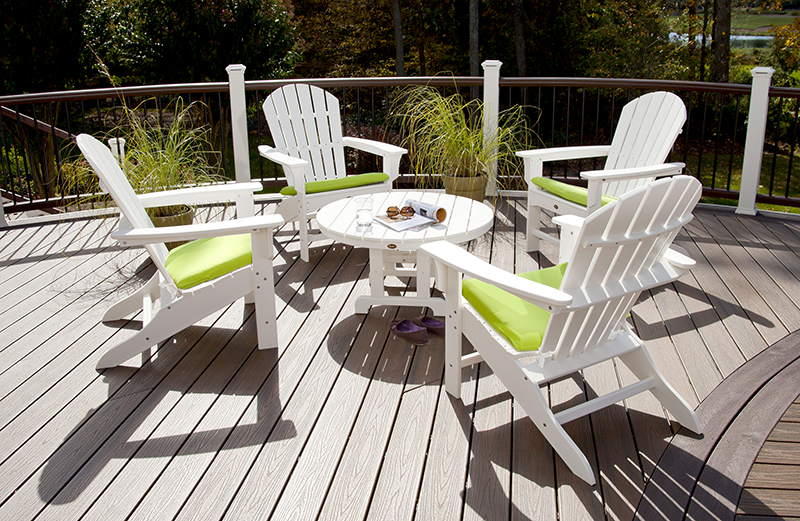 Umbrellas: Shade yourself and your guests from the hot sun and UV rays by adding a patio umbrella over a dining table or lounge space.
Store It: Winter and fall bring leaves, snow, and other debris to your pool area. If you know you won't be using your deck or patio space, get the most life out of your furniture and accessories by storing them somewhere safe when they're not in regular use.
Safety. Pool ownership is a big responsibility. Make sure you check with local ordinances on safety measures. Many places, for instance, require a fence around the pool or your yard. If you have young kids or host them at your pool, make sure you have safety precautions in place.
---
A pool brings plenty of warm-weather fun to any home. With the right outdoor pool deck furniture, you can fully enjoy your pool space.