Originally Published on May 7, 2021. Last Updated on May 7, 2021.
People have been cooking outside since the beginning of time. From those earliest cave dwellers to the pioneers and beyond, the tradition of outdoor cooking has gone from necessity to entertainment. And, over the last several decades, as outdoor furniture has become better designed (and much more comfortable), and as manufacturers and designers have showcased al fresco cooking, the outdoor kitchen has become increasingly popular.
Whether it's a simple barbecue grill and a picnic table or a full-fledged space with all the appliances you need, the outdoor kitchen can be as simple or as ornate as you (and your budget) would like.
Thinking about creating or expanding your outdoor cooking area and need some inspiration and advice? Here's our essential guide to creating the outdoor kitchen of your dreams, complete with the outdoor kitchen furniture to match.
---
Cooking Devices
The whole purpose of your outdoor kitchen space is to churn out delicious meals. A few cooking devices to consider adding include:
Grill — Your outdoor grill likely will be the focal point of your outdoor kitchen. Built-in gas grills are the most popular choices, but you can talk to your contractor about alternative charcoal options and smokers, too.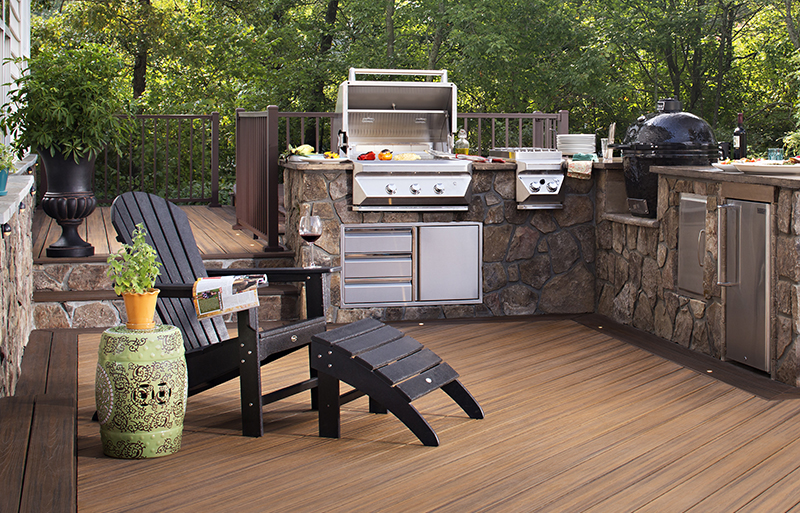 Side Stove Burners — Let your barbecue sauce simmer while your meat smokes on the grill. A side burner lets you get your main course and your sides cooked at the same time.
Griddle — Whether you get a built-in griddle or a removable piece retrofitted for the top of your grill, a griddle allows you to cook up a delicious breakfast outdoors, toast those hamburger and hot dog buns, or flip some seriously good grilled cheese.
Pizza Oven — Have an Italian night at home, and impress your guests with a wood-fired pizza oven built into your outdoor kitchen setup. The pizza oven is sure to impress those younger picky eaters, too.
Conventional Oven — Once you get a nice sear on that steak, you may want to finish it off in the oven. Rather than bringing a smoking-hot pan inside, consider an outdoor oven. As an added bonus, using your outdoor oven won't contribute more heat to your indoor kitchen.
Vent Hood — Where does all that smoke and grease go while you're cooking? Well, the smoke can dissipate in the air, but the grease will linger. Make sure your cooking space has adequate ventilation, including vent panels around your appliances and a vent hood above the grill.
---
Sink & Counter Space
Prep those garden-fresh veggies without bringing them in the house. Wash your hands after you touch that raw chicken. Fill a pot with water before you set it on the outdoor stove burner. A sink is a must-have in any outdoor kitchen. Whether it's a small-basin sink or something larger will depend on your needs and the amount of space you have.
If you're putting custom countertops in your outdoor kitchen, look for low-maintenance options that handle winter and summer changes in outdoor temperature. Concrete, stone, and tile countertops are all great options, and they provide resistance to cooking grease, corrosion, and moisture.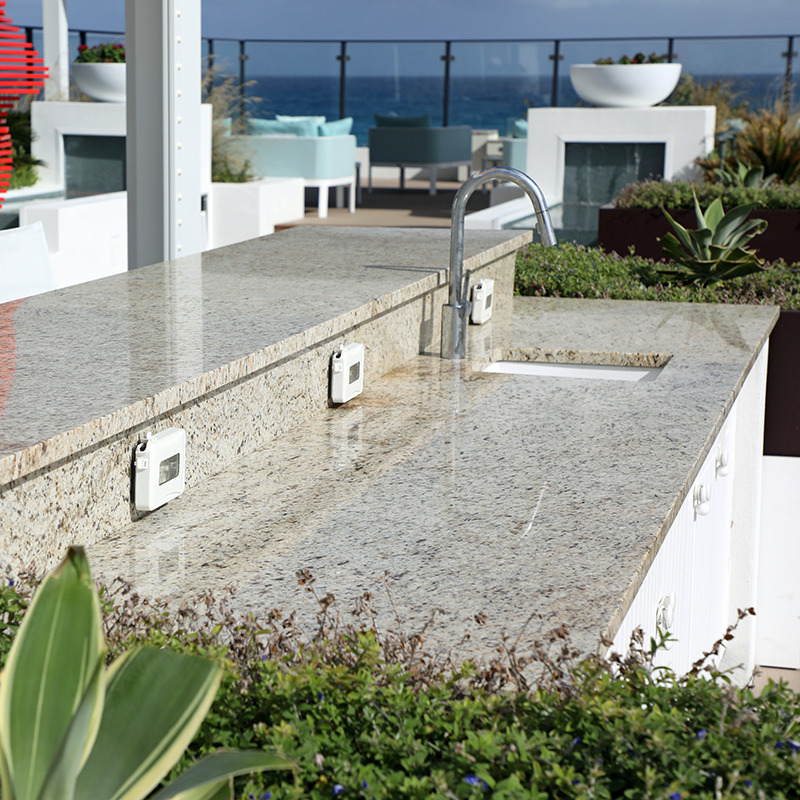 ---
The Dining Set
You've grilled your meats, sautéed your veggies, and mixed up some impressive cocktails. Now it's time to showcase your culinary creations by setting them out on a table.
A good rule of thumb when selecting a dining table and chairs is to match your table to the number of guests you plan to serve. If you're anticipating everyday meals to serve your family of five or six, choose a rectangular table with dining chairs. Regularly host extended family and friends for football-watching parties? Go with a longer table, and add some benches for extra seating. Is dining at your place a more intimate experience with just two of you sharing hors d'oeuvres and a glass of wine on the patio? Try a bistro-style setting or bar-height table.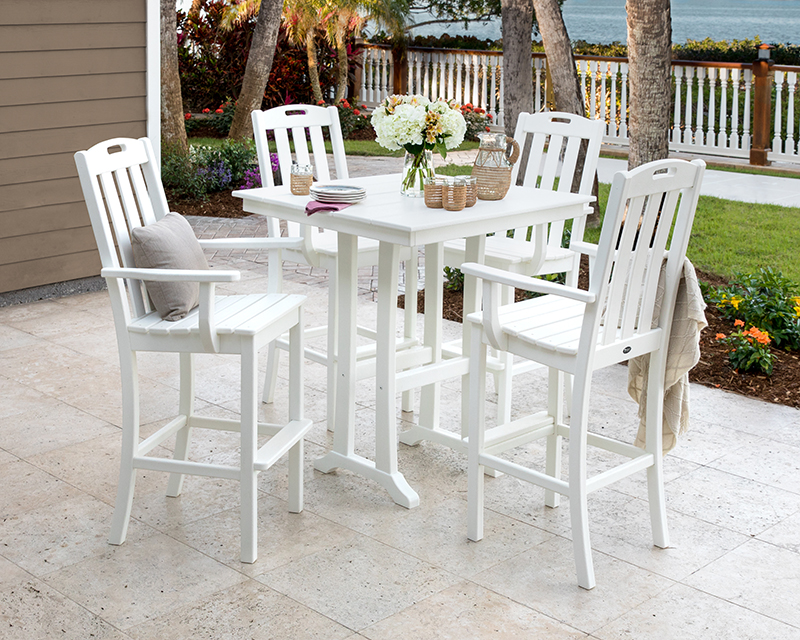 ---
Cabinets & Refrigerators
Fridge — Some prefer a full-size outdoor fridge; others simply need a mini-fridge to just store the essentials. If you're looking for something to store all your cold beer, hard seltzers, and poolside snacks, consider a larger fridge. If you hold more formal get-togethers with sit-down dinners, an additional wine fridge in your outdoor kitchen space may be a good fit.
Drawer & Cabinet Space — How will you use your outdoor kitchen space, how often, and where is it located? Answering those three questions will determine how you plan out your cabinet and drawer space. If you want to store all your outdoor cooking utensils in your drawers, make sure you have enough room. Need extra cabinets for those big pots and pans that regularly feed a crowd? Plan accordingly. Is your outdoor kitchen space in a wet area? You may want to consider storing those spices in waterproof containers or indoors.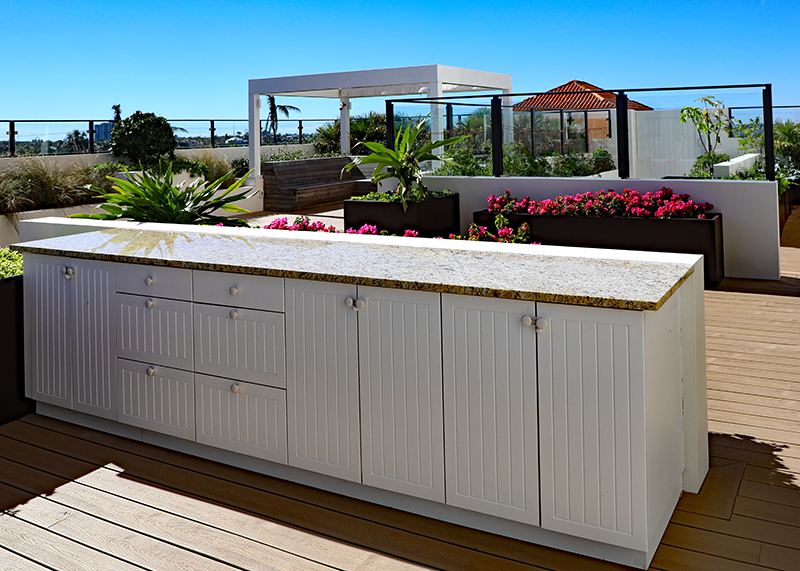 Trash — Trash bins aren't beautiful, but every space needs one. A trashcan in your outdoor kitchen makes cleanup easier and more accessible. If you don't like the look of a plastic bin in your outdoor kitchen, consider a built-in drawer dedicated to your trashcan.
Other Storage — It's not enough to have roomy cabinets if you don't have an organizational plan. If you're storing spices and seasonings, make sure you have a spice rack. Plenty of pot lids? Get a lid rack to better organize. Clear plastic bins and pull-out drawers in the cabinets allow you to easily take inventory of what you have and what you need to add to your grocery list.
---
Outdoor Dining Considerations
Keep your cool when dining outdoors by adding a few comforts to your space and your outdoor kitchen furniture.
Heat it Up — Space heaters or a fire pit can help ensure guests are comfortable even on chillier days.
… Or Cool it Down — You know that the middle of summer can be hot, hot, hot. Encourage diners to linger longer with cold salads, icy drinks, an umbrella, or maybe a ceiling fan to circulate air. If you really want to get fancy, add a few misters to the area.
Bug Resistance — Flies in the food and mosquitoes swarming is no good. Before an event at your home, make sure to keep bugs at bay. Tiki torches, citronella candles or plants, bug zappers, or sprays will all do the trick.
Lighting — When the sun goes down but the party's not over, make sure you have the right lighting for your space. Consider an outdoor chandelier over the dining table, string up lights, add lamps to the space, or build lights into your patio.
Rugs — A rug warms up the space, making it inviting and adding texture to the outdoor kitchen area and under a dining table. Plus, you can simply hose an outdoor rug off after dinner to keep it looking good as new.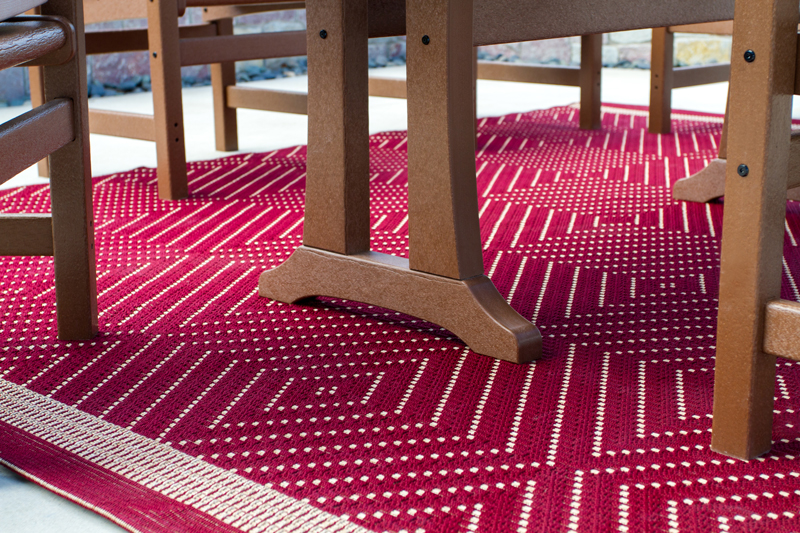 Comfortable Chairs — There's nothing worse than sitting down for a three-course dinner in a chair that hurts your back. Keep guests comfortable by adding cushions or pillows to the back so they can settle in for a long meal and delicious conversation.
---
Weather Conditions
If you live in Florida or Texas, you probably spend a good portion of the year outdoors thanks to the warmer (and sometimes unbearably humid) climate. However, if you live in Upstate New York, Wisconsin, or New England, more than likely you're parked inside during most of late fall and winter. While anyone, anywhere can enjoy an outdoor kitchen space, you do need to take into consideration your climate, local weather, and its impact on the material choices you use in your space. When your space isn't in use, make sure you winterize your outdoor kitchen, covering anything prone to corrosion and preparing surfaces for changes in temperature.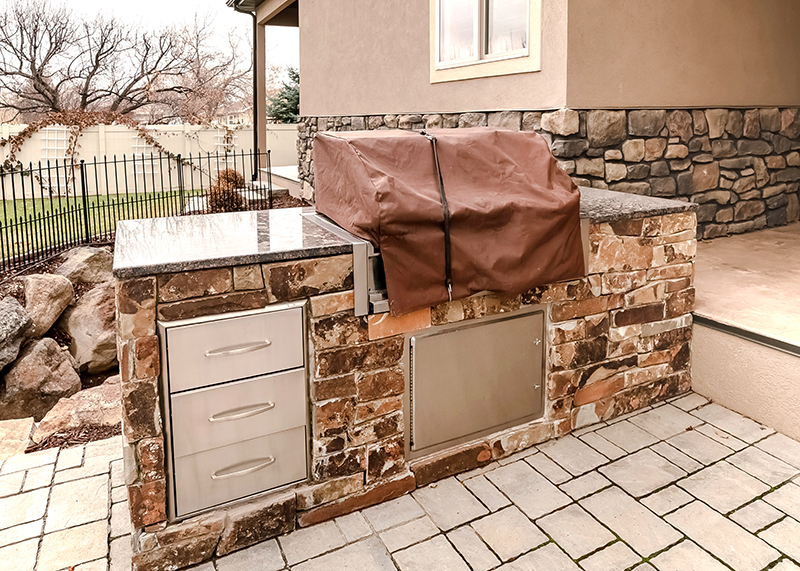 ---
Enjoy the flavors of a meal and the simple pleasures of gathering with a well-constructed space and the right outdoor kitchen furniture!