Originally Published on January 22, 2020. Last Updated on July 28, 2020.
The scent of smoldering charcoal wafts through the air while family and friends gather on the deck, eagerly awaiting the homemade burgers and roasted corn that are sizzling to perfection. It's true – nothing brings people together like a buzzing backyard barbecue. While your outdoor deck might be the perfect spot for alfresco entertaining, it is not always the safest place for smoking summer-time favorites like savory sausages and shrimp skewers.
According to the National Fire Protection Association, an average of 10,200 house fires were caused by outdoor grills each year between 2013 and 2017. However, by taking a few safety precautions and investing in quality equipment, you can keep your cookout from going up in smoke.
We've cooked up this guide for safely grilling on your deck.
---
Precautions for Protecting You and Your Deck
Whether you're cooking with gas or charcoal, you'll want to take every measure necessary to ensure a successful cookout. Although grilling is relatively safe, pay special attention to the grill and surrounding areas, especially on wooden decks due to its flammable nature and tendencies to stain.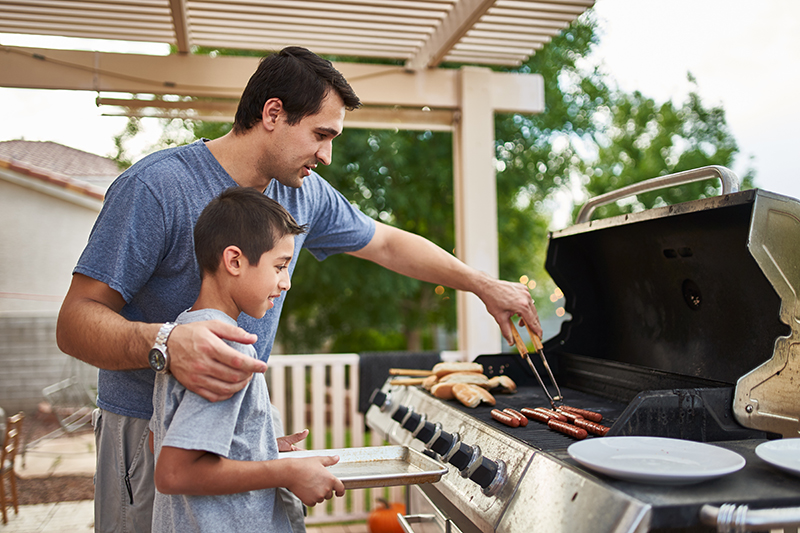 ---
Watch for Wind
A breezy afternoon may seem like the perfect time to gather around your 3-piece bar set and enjoy a cookout on your deck. Because windy conditions can increase your chances of stray sparks, keep your grill at least 5 feet from any walls or banisters and monitor the wind's direction before opening the lid.
If your deck is nestled underneath a canopy of trees, take additional cautions when barbecuing on gusty evenings. The grill should be positioned in an open area and free from any overhanging branches, vines or bushes. Even if your lawn is well-manicured, be sure to have a fire extinguisher nearby just in case wandering leaves come in contact with the open flame.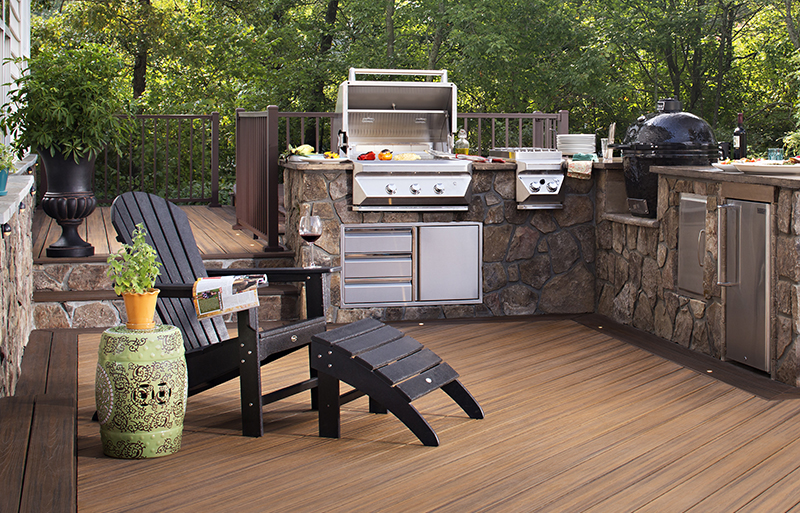 ---
Spot the Spills
When hosting a summertime shindig on your deck, be wary of dripping grease and free-falling food. Although they pose no immediate threat to you or your guests, grease and food residue are nearly impossible to remove from wooden decks and typically require a new coat of paint or varnish to mask blemishes.
If your family is known for frequently spilling the (baked) beans, consider installing composite decking. Unlike natural wood, composite lumber is low maintenance and stain-resistant. Simply remove any excess spillage and wipe the area with a damp cloth for a no-fuss cleanup. Whether it's splattered ketchup or grease from a leaky drip pan, accidents happen. Composite decking ensures a streamlined cleanup so you can get back to entertaining with your outdoor dining set.
---
Safety Equipment
When cooking with fire, it's always best to play it safe. Before lighting charcoal briquettes, keep your family and deck protected from stray flames by adding a few grilling gadgets such as:
Grill Mats — Protect your deck from burning embers and stubborn grease stains by placing a grill mat under the pit. Look for a durable mat that is heavy enough to withstand wind and extends a few inches past the perimeter of your grill.
Drip Pans — When firing up fattier cuts or grilling at a high temperature for a short period of time, place a drip pan beneath the meat and on top of the coals. A drip pan will catch any trickling grease, making cleanups easier. It will also prevent any hazardous flareups.
Safety Gates — Nothing brings people together like a weekend barbecue by the pool. However, when children and pets are in attendance, it's important to keep curious hands and paws out of harm's way. Enclose the grill with a safety gate. Add a rocking chair set and chest of ice-cold beers within that gate for the ultimate adults-only oasis.
High-Quality Grill Brushes — Cheap cleaning brushes are prone to shedding, leaving sharp slivers of steel behind on the surface of your grill. Make sure you're eating meat, not metal, by investing in a well-crafted stainless steel cleaning brush. Accidental ingestion of these shreds can cause cuts in your mouth or harmful damage to your digestive system. After brushing the grate, wipe down all cooking surfaces to catch any stray fibers.
Because these cooking tools can be relatively inexpensive, people make the mistake of opting for the cheapest option or bypassing them completely. This is not an area where you should cut costs. Adding quality equipment to your arsenal of grilling utensils is the first step to enjoying a flame-free cookout.
---
Safe Setups for Deck Furniture
The Rockport Club 6 Piece Deep Seating Conversation Set is the perfect addition for entertaining on your deck. If you are planning to grill on the deck as well, you will need to keep the perimeters of your cooking station clear so your guests and furniture are protected from any stray flames. As a general rule of thumb, position your outdoor lounge, market umbrellas and dining set at least 10 feet from the grill.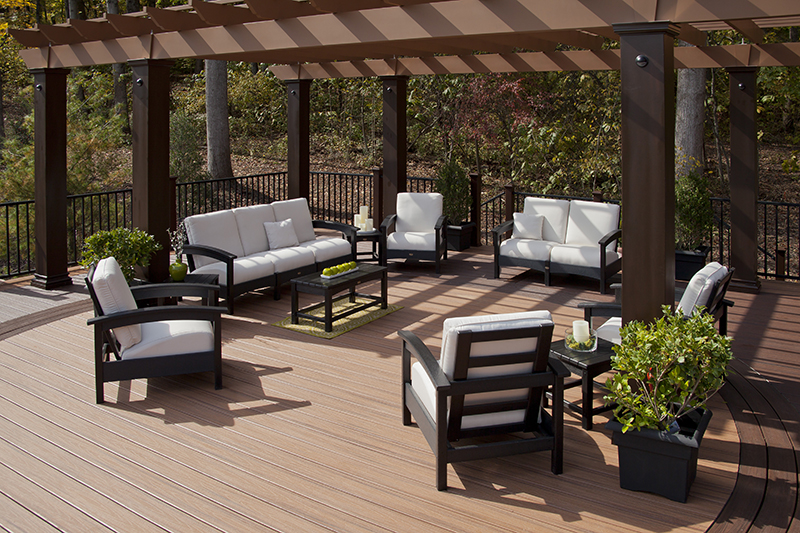 The last thing you want after a long day by the grill is a plate of patties on the ground because you've bumped into a poorly placed planter. Ensure there is an unobstructed path from the grill to the dining table to safely and quickly deliver the grilled goods to your guests. Dress your deck with our Yacht Club 9-Piece Farmhouse Side Chair Dining Set, offering plenty of elbow room and space for the fresh-squeezed lemonade, patties, buns, and all the fixings. A few seat cushions made with high-performance fabric are the finishing touch your deck needs, making your outdoor space the life of the party.
Hamburger or hot dog? Charcoal or natural gas? Natural wood decking or HDPE composite lumber? Whether you're a grill master or a barbecue novice, you're faced with several choices when grilling on your outdoor deck. However, when cooking with an open flame, taking the proper precautions should never be in question.