Originally Published on January 24, 2020. Last Updated on April 1, 2022.
You finally purchased a new outdoor dining table and a stylish deep-seating set to adorn your home's deck. Your deck will be a hub where you and your loved ones will make memories that last a lifetime. Take your outdoor décor to the next level by adding greenery and cozy accessories like an outdoor rug. An area rug on your deck will transform this space into an outdoor haven.
---
Benefits of an Outdoor Rug
Outdoor rugs offer not only fashionable flair but are also functional. There are many benefits of an outdoor area rug, including: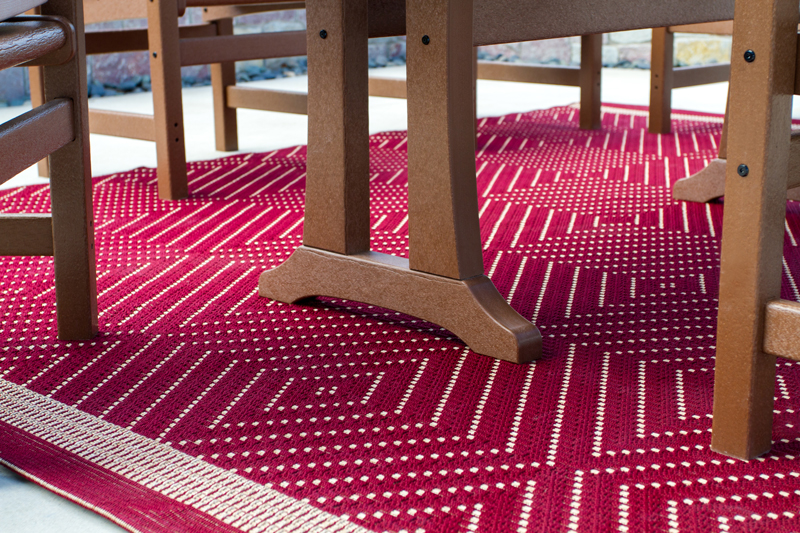 Dividing Your Space into Separate "Rooms" — An outdoor rug on your deck creates a stimulating focal point, drawing the eye toward the patio furniture that surrounds it. Visually, it splits your deck into designated areas, separating the lounge area from the dining space.
Added Style Personality — Functionality aside, an outdoor rug adds a fun personal touch to the design of your space. Available in an array of colors, patterns, and sizes, outdoor area rugs are often paired to suit any style preference.
Protects the Deck — If you plan to enjoy meals alfresco, you'll pull chairs out from underneath the dining table often. Adding a large outdoor rug beneath your dining set could prevent sliding chairs from leaving harsh marks on your deck. Luckily, decks built with HDPE lumber are not prone to scratches or chipping.
---
Recommended Material for Outdoor Rugs
You've carefully chosen HDPE lumber for your deck and outdoor furniture for its low maintenance, weather-resistant properties. Your outdoor rug should have the same durable traits as it anchors together all the elements of your space. Before you make a purchase, review the rug fabric we recommend to complete the look of your space.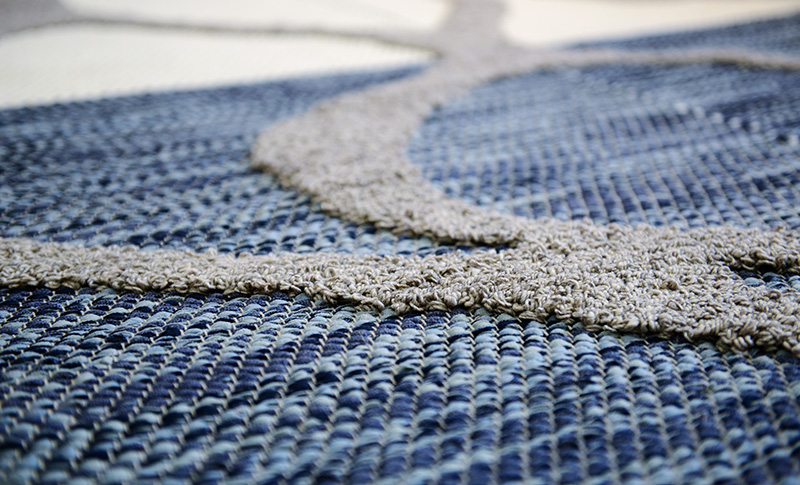 Natural Fibers
Bamboo, sisal, hemp, and seagrass are just a few eco-friendly materials used to make natural fiber outdoor rugs. These sustainable rugs are ideal for those who love soaking up the sun with bare feet because it feels soft to the touch. Although these rugs offer a luxurious ambiance to outdoor space, they are susceptible to fading and mildew.
---
How to Style an Outdoor Rug
Rugs can make your deck appear larger than it is. Because an outdoor rug should be the anchor of your outdoor space, center it in the middle of your living area. Make sure that the outdoor rug is placed at least 12 inches from the railing of your deck to create an open, airy feeling.
If your deck is lacking a pop of color, a vibrant outdoor rug beneath your dining set can seamlessly brighten the space. Let the colors of your home's interior flow out to the exterior by choosing a rug in a similar palette. The matching colors will tie in all the elements of your home, creating one cohesive look.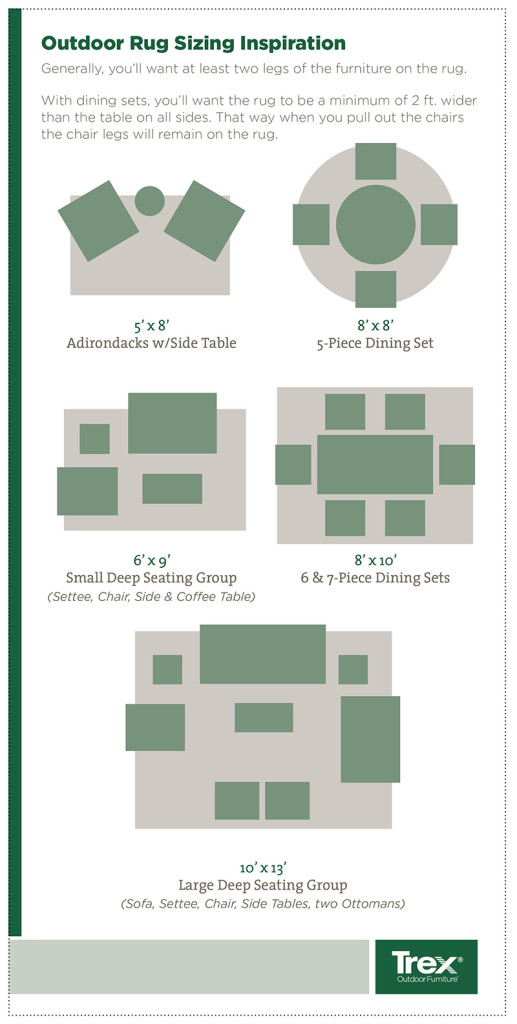 Whether you're looking for a patterned tapestry to make a statement or a subtle way to expand your open-air living room, an outdoor area rug is a perfect way to add comfort and color to any Trex® Outdoor Furniture set.