Originally Published on September 21, 2016. Last Updated on March 19, 2020.
What's more romantic than the soft glow of lights twinkling overhead while dining al fresco—wine in your glass, a savory meal, and the warmth of friends gathered around a table?
Give your outdoor space a special ambience by adding strings of lights to your exterior decor.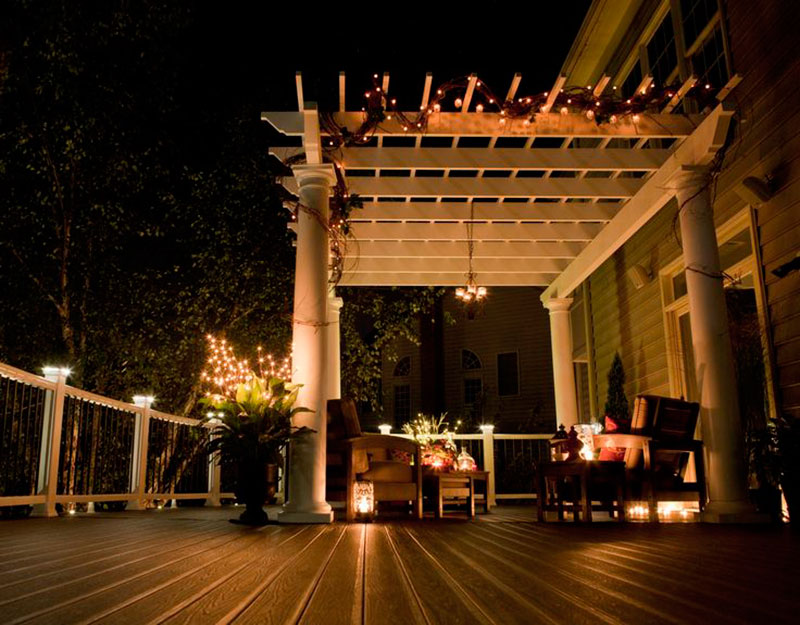 Think your space is too small? Think again. The beauty of outdoor lighting is you can attach it anywhere.
Apartment balcony railings are perfect for winding lights around for extra glow.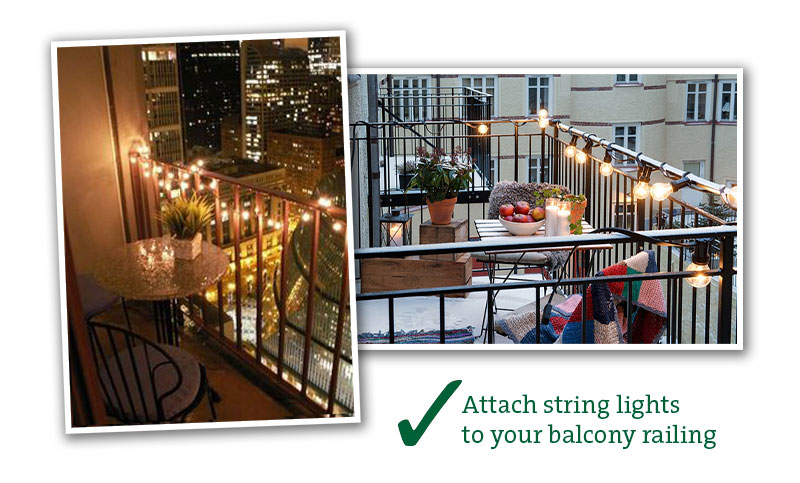 Drape the strings over tree limbs in your front or backyard or suspend the lights on hooks affixed to your home's exterior.
Attach lights to your home by adding eye hooks to your porch's overhang and thread your light cord through. Or, try stapling lighting to the underside of a deck or porch ceiling with a heavy-duty staple gun.
If you have a pergola, you can wind lighting around a pergola, or train a string of patio lights up a pair of trellises.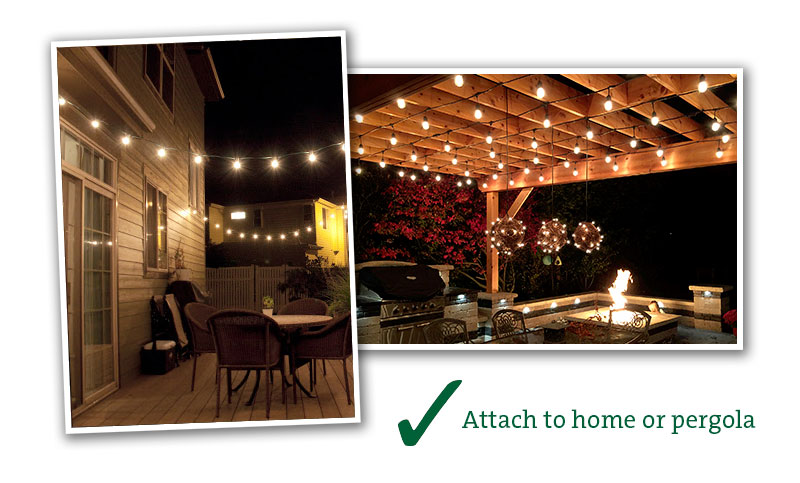 For a unique look, you could even suspend a metal hoop (or spray-painted hula hoop) from the ceiling of your outdoor living area and wrap lights around it for a DIY-style chandelier. If you like the look of the chandeliers we featured below, check out The Project Table (bottom-left photo) and Sarah with an H (bottom-right) to learn how to make your own!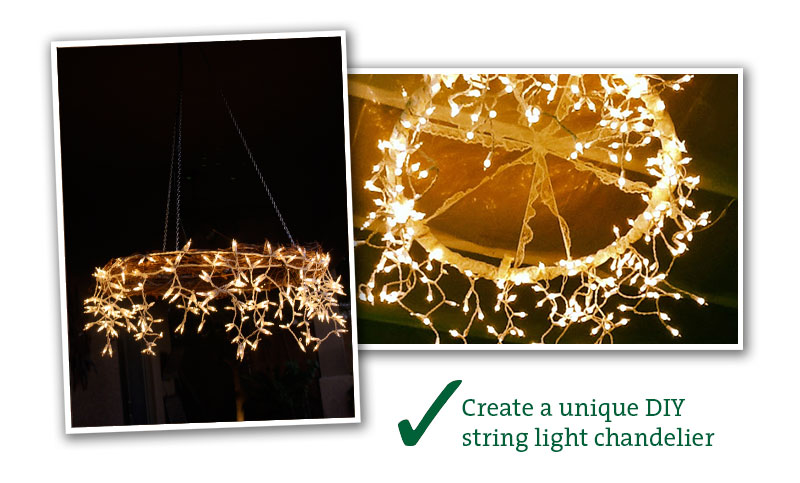 In years past, outdoor lighting meant gaudy Christmas lights, a thick plastic rope of lighting, or flimsy retro Tiki lanterns. Today, though, the options are limitless, elegant, and allow you to create your own oasis right in your garden.
Here's a roundup of some of our favorite string lights for patio decorating.
---
Country Chic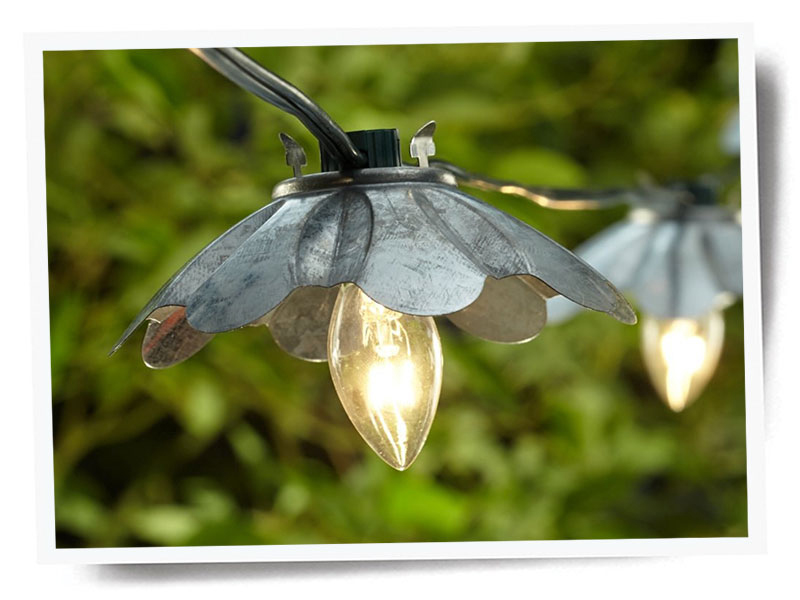 A fan of Chip and Joanna Gaines—HGTV's "Fixer Upper" duo? Add a bit of rustic farmhouse charm to your outdoor living area with galvanized metal string lights. Metal hoods shield the 5-watt candelabra bulbs from rain and snow while evoking a unique brand of pure country charm.
---
Under the Sea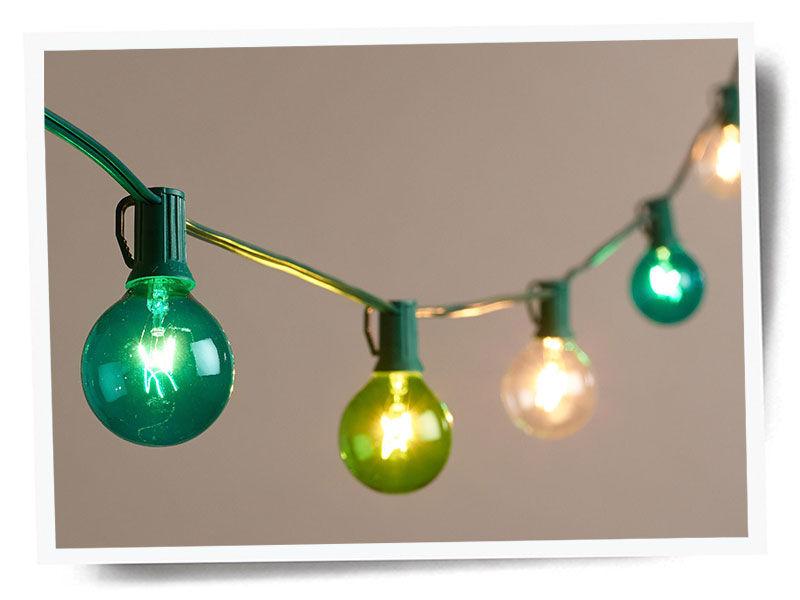 World Market's Seaside Colored Bulb String Lights shimmer in warm blues, greens, and whites. Whether you wet your feet in the Pacific Ocean, dip your toes in the frigid waters off Cape Cod, or walk the beach along the Gulf of Mexico, these ocean-inspired lights add a seaside atmosphere to your outdoor gathering.
---
Starry, Starry Night
Copper wire studded with small dots of LED bulbs add subtle lighting and atmosphere to a garden party. Weave the TaoTronics Starry String Lights among the trees with the easily bendable wire. The warm, twinkling lights are perfect for winter, designed to withstand snowy weather.
---
Scenes from an Italian Cafe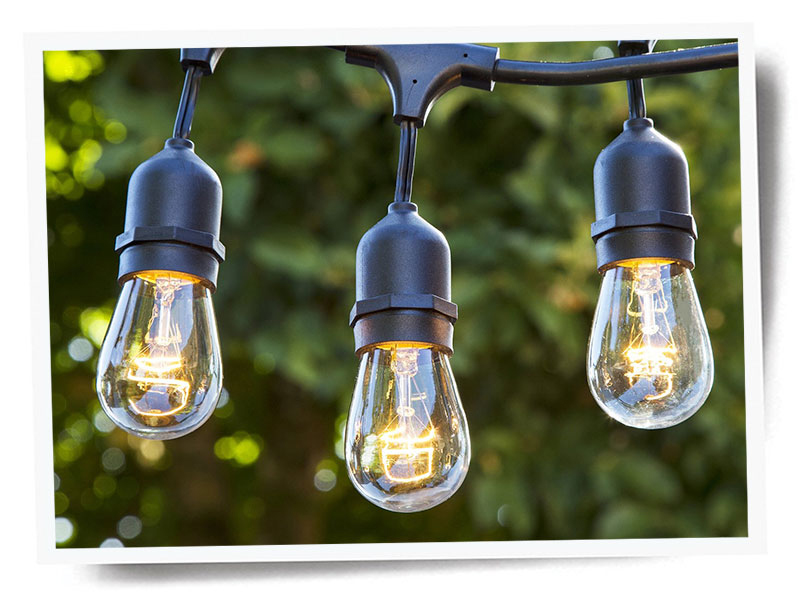 Thomas Edison was onto something when he invented the lightbulb. We love the eponymous Edison bulbs, which showcase the delicate filament within. While the bulbs don't last as long as other string light bulbs, you can't put a price on the unique aesthetic they create. Proxy Lighting's black wiring, paired with dropped sockets and oblong bulbs, make for a perennial favorite.
---
Stars Made of Tin
These Threshold Solar Metal Star String Lights feature a string of LEDs encased in metal stars and include a separate solar panel with stake. Since you won't have to plug them in, the lights are a perfect way to add a little ambiance to a garden or grouping of shrubs.
---
White Is Just Right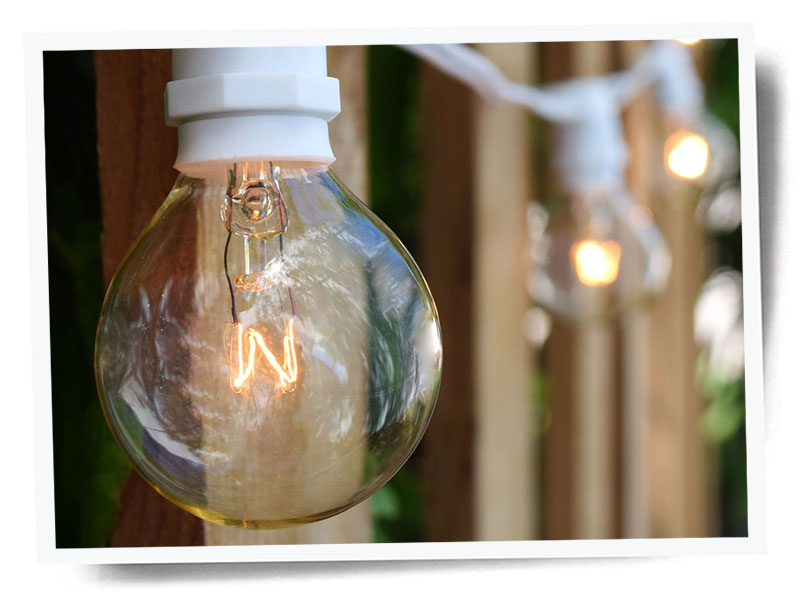 Commercial string lights are heavy-duty and designed to withstand just about any weather. Ooga Lights' Candelabra Base Cafe/Bistro Lights feature a clean white wire strand with sockets for globe-style bulbs. They're the perfect complement to any outdoor setting, whether you're creating a dining space or adding them to the underside of your deck.
---
Go ahead, purchase a strand or two, and light up the night with string lights.
Featured image courtesy. Additional images: Balcony Lights | Drape Lights | Suspend Lights | Lights suspended from home | Outdoor Pergola