Originally Published on August 4, 2016. Last Updated on July 28, 2020.
We're calling it now: This summer is the perfect time to get out in your backyard. Even with schools closed, events canceled, and curbside service only at your favorite eateries, there's one thing not canceled: the outdoors. Now, more than ever is the time to connect with nature, relish the cool breezes, wave hello to your neighbors (from a 6-foot distance, of course), and enjoy the warm sunshine.
And while you're hanging out in your backyard, why not spruce it up so you actually want to be outside? Here are a few of our favorite backyard design trends that are hot for summer 2020.
---
Create Indoor Style in Your Outdoor Space
Backyard trends come and go. From compact wrought iron dining sets to tubular metal and vinyl seating, the outdoor style has greatly evolved over the decades, thanks to outdoor furniture companies' commitment to better, more sustainable materials that hold up year after year while offering style, practicality, and comfort.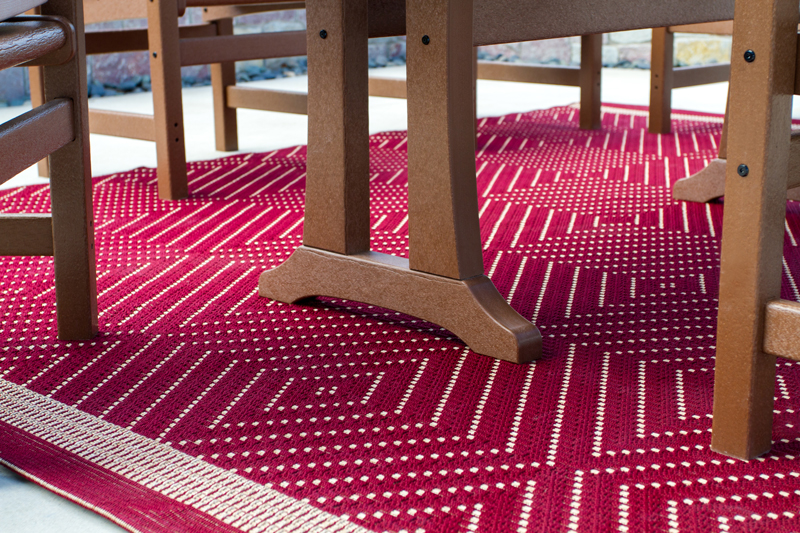 Whether your outdoor space is a postage-stamp-sized loft balcony in the middle of the city, a grand outdoor slate patio, or a midsized suburban lawn, you can still go big on indoor style in your outdoor space. What does that mean, exactly? When you pull together a living area inside your home, you focus on cozy textures with throws, pillows, and rugs. You add a warm glow with strategically placed lamps and maybe some candles. Side tables and a coffee table are places to incorporate accessories and to set down a book, a glass of iced tea, or your morning coffee.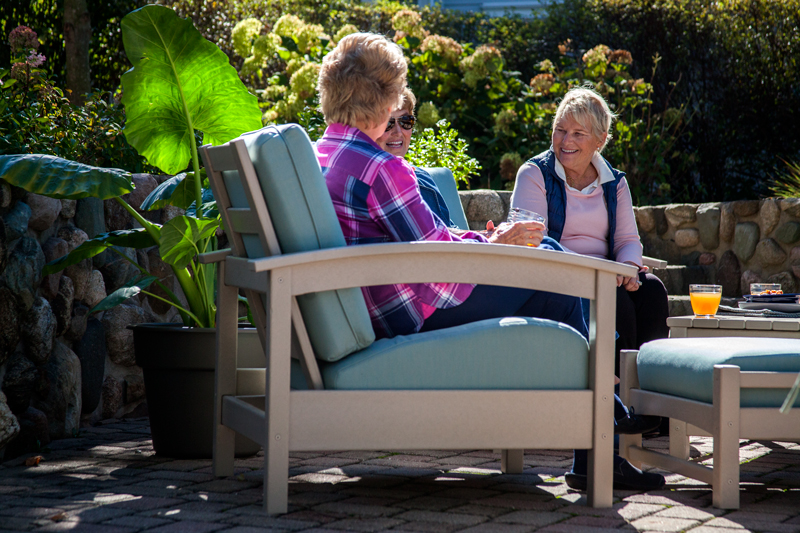 Take the same approach in your outdoor "room." Position a pair of Adirondack chairs and a sofa around a coffee table to create a conversational seating area. Add a side table with an outdoor lamp or lantern. Create texture by setting a rug underfoot and adding throw pillows to the sofa. Warmer summer weather means more meals outdoors. Whether you want to host a dinner party for 10 or an intimate meal for two, select a dining set that fits your space and your goals.
---
Play the Gracious Host or Hostess
Whether you're entertaining guests or just your family, we love the idea of creating a bar space from which to serve, whether it's chilled cocktails and mocktails or a citrusy summer salad and grilled meat. For more compact backyard spaces, a small bar cart or even a planting bench can serve as a bar or a buffet, allowing you to set out all the accouterments for cocktail hour or a sumptuous feast.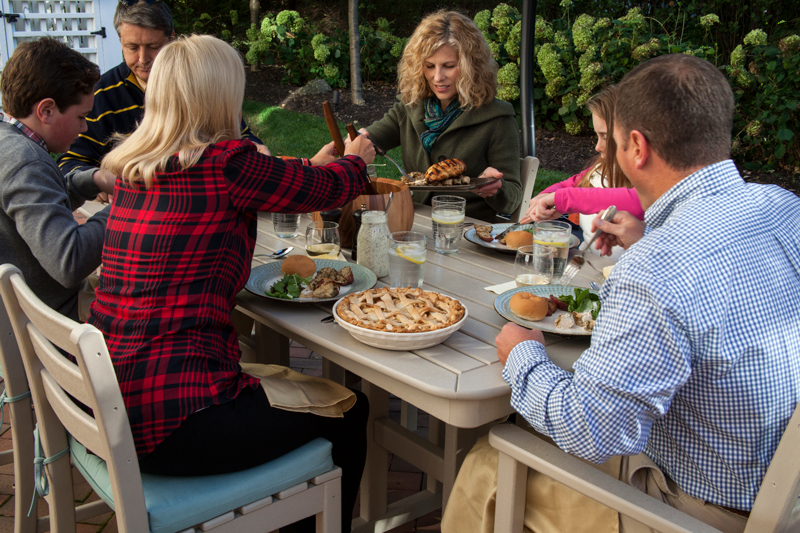 While in the fall we tend toward heavier, filling meals to keep us warm, summer is all about easy, breezy drinks and super-simple suppers. Think teas and lemonades with a twist — infused with rosemary or lavender. Go for light and fruity cocktails — mimosas, Pimm's cups, mojitos, and spritzers. Finger sandwiches, charcuterie boards, and colorful salads are always on the backyard menu, too. Guests can sip drinks and nibble appetizers from the comfort of bar-height tables and chairs. Check out our outdoor bar set guide to determine the right height for your space.
---
Go for Blue
Classics are classics for a reason. They transcend the trends that come and go. And in a year brimming with uncertainty, it's fitting that Pantone's color of the year is Classic Blue.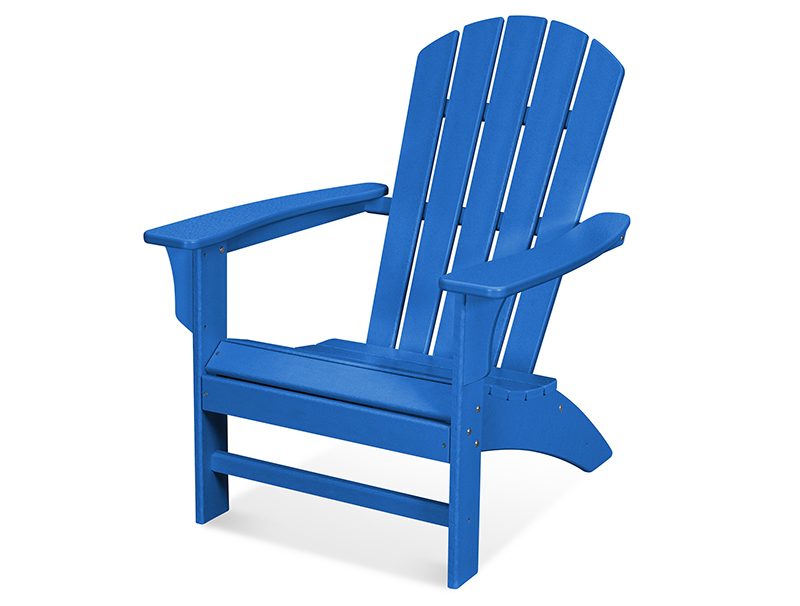 The color is familiar, calming, dependable, and timeless, a reliable choice for this era of uncertainty. Classic Blue pairs perfectly with ultramodern modular pieces as it does with that vintage wicker you inherited from your grandmother's porch. The color can transport you from the beaches of the South of France to a Greek island with sparkling blue water — all while never leaving your own backyard.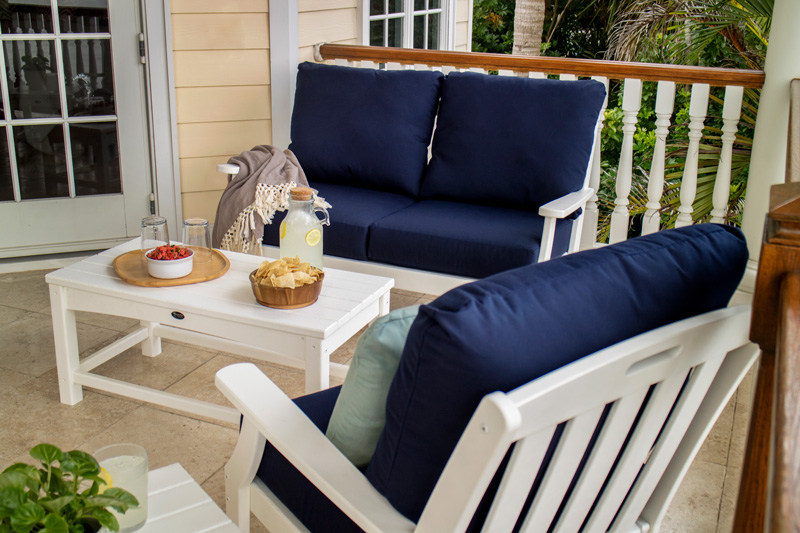 To get that Classic Blue look, try blue-and-white striped cushions, mixing and matching with navy throw pillows. Or, top your table with a blue umbrella for a little bit of shade and a whole lot of chic.
---
Plant a Garden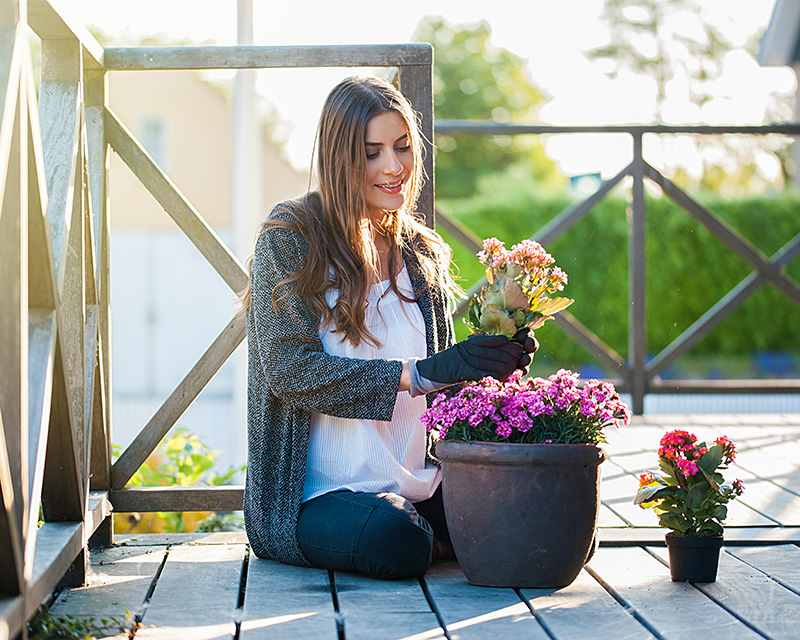 You may have a little extra time at home this summer. So whether you're looking for a hobby, want to try your hand at your own personal victory garden, or just need to enliven the outdoor spaces around your home, gardens come in all sizes and shapes. If you don't want to dig up your lawn and create your own beds, start small. Add colorful annuals to planter boxes. Build or purchase a small garden frame, and create a raised bed of vegetables. Pot herbs on your deck. Or even buy a ready-made planter full of annuals or ferns at your local gardening center. Here are a few of our quick-and-easy (and deck-friendly!) summer garden ideas to get you started.
---
Go a Little Boho
"Unconventional" and "artistic" are two words befitting of the boho trend. When it comes to backyard spaces, boho means more natural, rustic materials and finishes mixed with unexpected outdoor accessories. The popular resin-wicker egg chair that every designer influencer suddenly seems to own is a prime example of boho style.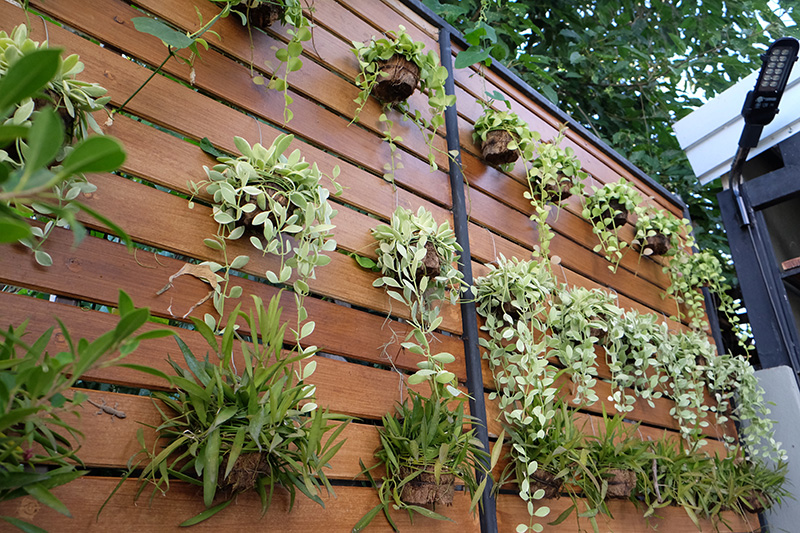 If you want to add a little boho to your backyard space, think unfussy, eclectic, and collected. Introduce a piece of vintage furniture or a unique knick-knack in with your newer pieces — an old, chippy coffee table, a pair of old shutters against a wall, moss-covered pots, Morrocan-style lanterns. Don't forget to incorporate some natural elements into your backyard space, too — ferns, green plants, a planter full of succulents, seashells, or driftwood.
---
Pop in Prints & Color
Sure, Classic Blue is beautiful, and we love a good neutral palette. But don't forget to incorporate vibrant infusions of color into your space for a little extra visual interest. If you're not quite ready to add bright red or teal Adirondack chairs to your front porch, think more subtle color. Cushions and pillows come in a variety of lively fabrics, prints, textures, and styles.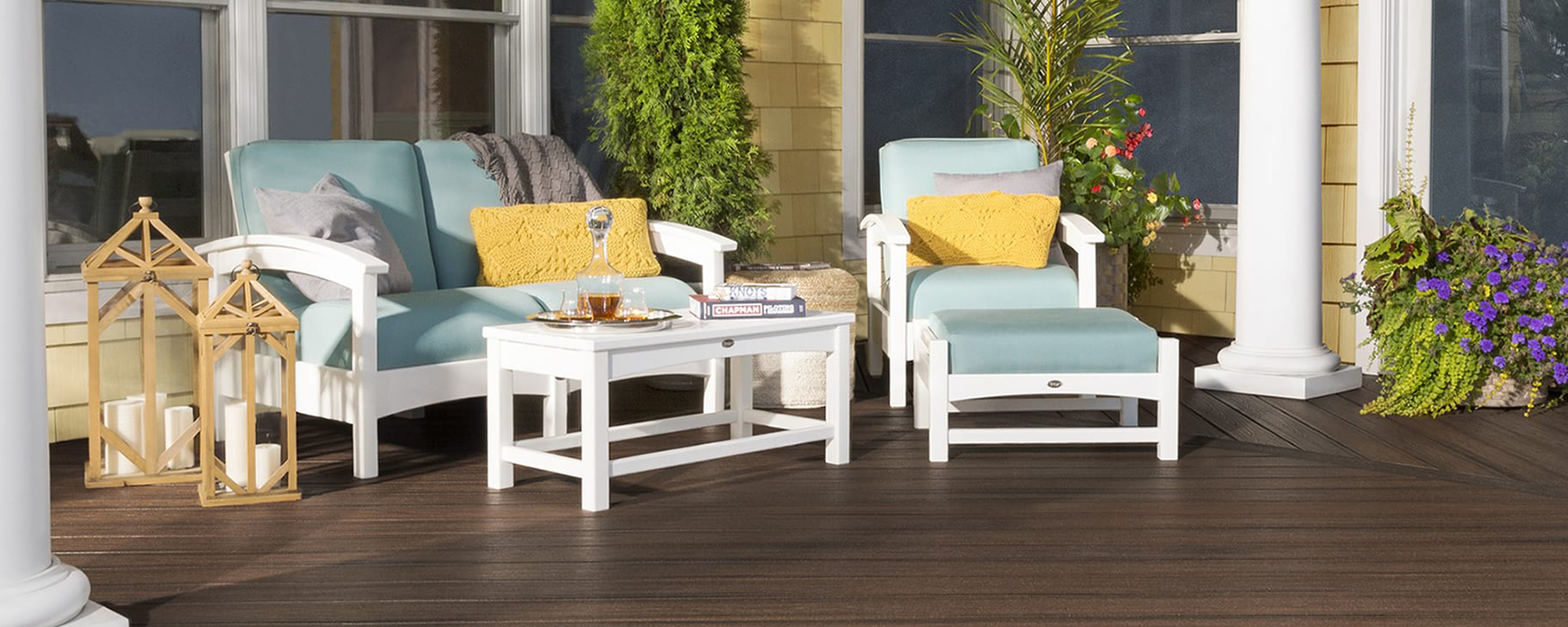 Add floral-printed pillows to your porch rocking chairs or swing, echoing the colors of the spring and summer blooms in your backyard. Introduce a swirl of color in an otherwise neutral outdoor rug. Don't be afraid to position an art canvas with bold hues above your outdoor fireplace. Or start even simpler by planting colorful flowers in and around your backyard.
---
Grill on Your Fire Pit
Grilling — particularly in the summer — is always on-trend. If you haven't, why not try your hand at cooking over your firepit this season? Whether you have a built-in outdoor kitchen or a freestanding barbecue pit, you can take the same grilling principles and cook those thick ribeyes over a crackling fire. Simply lay down a grate, and get those coals extra hot. When you're done with the main course, skewer some marshmallows to make your own s'mores dessert.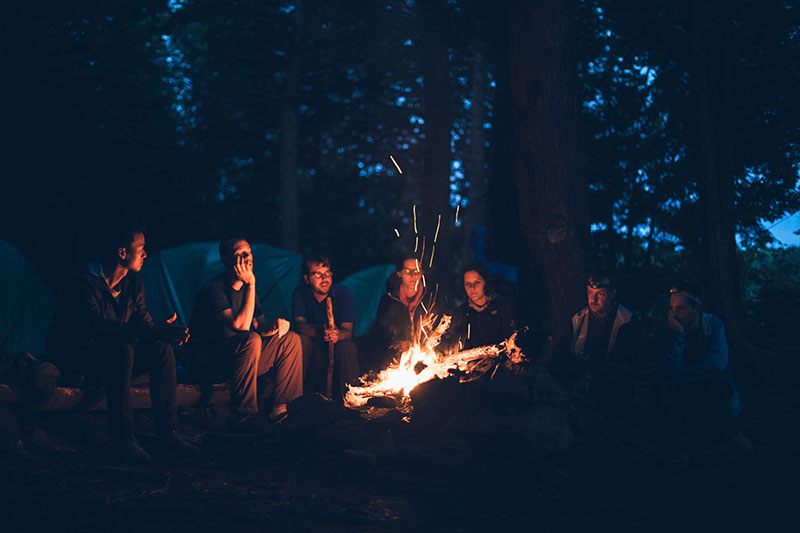 Feeling crafty while you're practicing social distancing? Try your hand at building your own backyard firepit. We've got all the steps you need to create your own.
---
Illuminate Your Backyard
While a firepit will certainly do the trick when it comes to adding light to your backyard, there's also something magical about incorporating twinkle lights into your space when the sunsets. While bistro lights with glass bulbs are beautiful when strung above a patio, you can add lighting to any size backyard.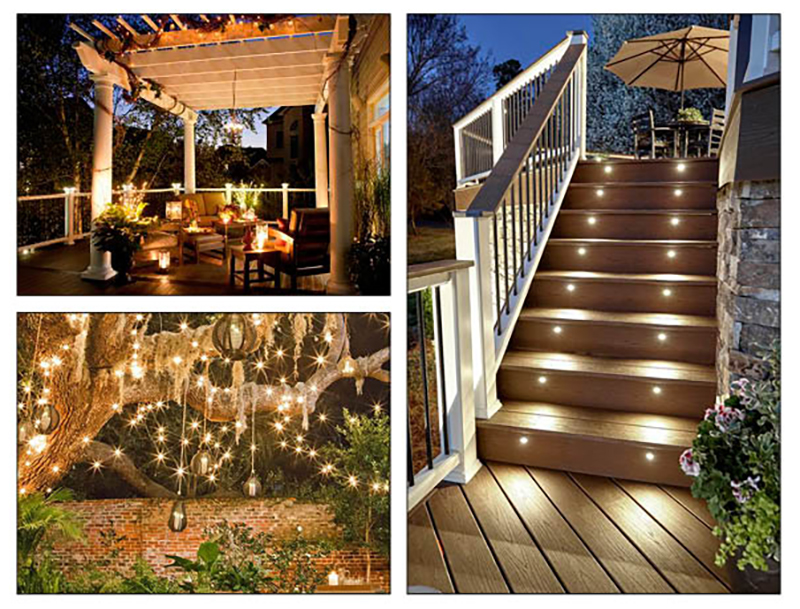 In addition to string lights, think functional lighting features that showcase your landscaping or garden, lanterns that line a walkway, or task lighting in your outdoor kitchen. Suspend a small outdoor chandelier above your dining table, set outdoor lamps on your side tables, and illuminate railings and steps with LED lights. In addition to providing plenty of ambiances, lighting up your backyard allows you to entertain well into the evening.
---
The summer of 2020 may be one for the history books, but by incorporating a few of these design trends into your backyard, you'll want to spend more time than ever relishing the peacefulness of being outside.