In this "everyone glued to their smartphone screens" world, we all need a good dose of sunlight every now and again. Don't have a backyard? No problem. At Trex® Outdoor Furniture,™ we want to get you outside year-round whether your outdoor space is a small balcony in the middle of New York City, a large deck in Santa Barbara, California, or a 4-foot-wide front porch in Charleston, South Carolina.
No matter the scale, here are a few of our top tips for creating your own outdoor sanctuary.
---
Choose Your Furniture Wisely
Embrace the small space. You don't need to have a dining table and a seating area crammed onto a small terrace. Decide how you plan to use your space and then sketch it out.
For a small balcony: If you don't plan on doing much entertaining, stick with the basics. A comfortable chair, like the Trex® Outdoor Furniture™ Rockport Club Chair, will do the trick for an after-work cocktail with the help of a Rockport Club Side Table.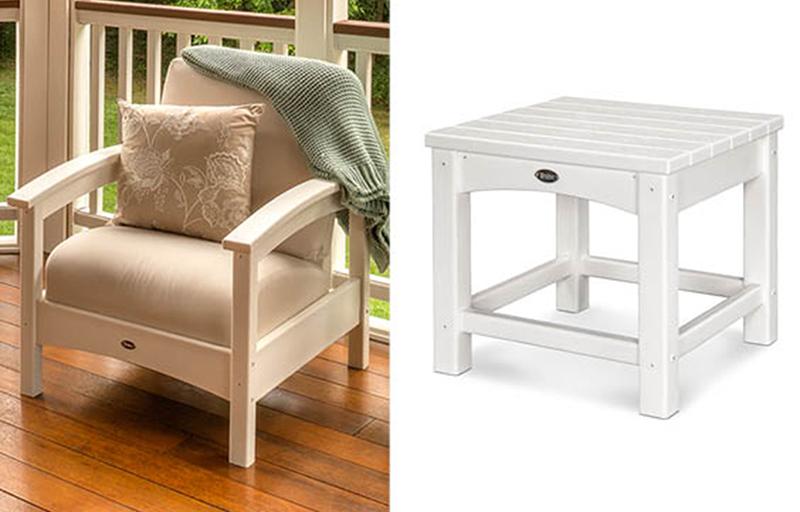 For a front porch: Think comfortable chairs, a cushioned bench, or a porch swing. You want something that neatly complements your home's exterior. The Yacht Club Collection features a classic yet stylish porch swing in addition to rocking chairs and benches. As with all Trex Outdoor Furniture, each piece allows you to customize the frame finish as well as the cushion color.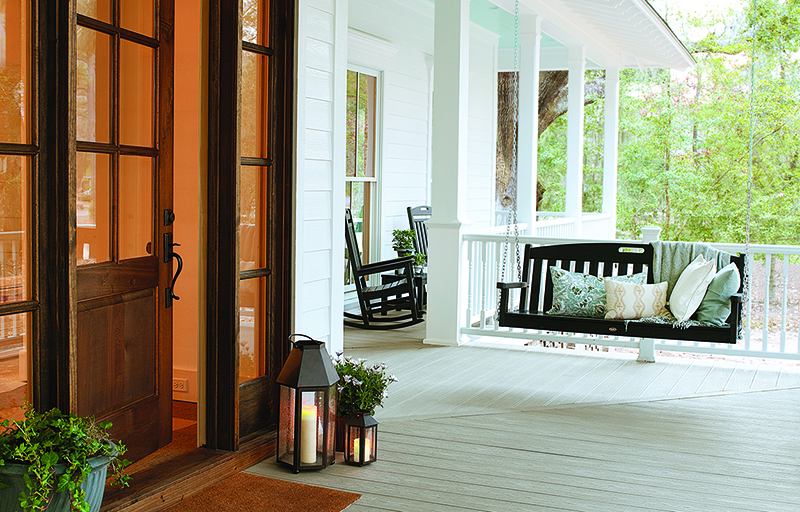 ---
Make it Comfortable
The goal of outdoor living is to treat it as an extension of your home. So make the space as homey as you would your indoor den.
Add in a rug or runner — something to protect your feet from a hot deck or cold slate patio. Pier 1 has some colorful rugs in all shapes and sizes!
Cushion your seats with durable cushions covered in all-weather performance, which we feature in a rainbow of colors and classic patterns. While all Trex® Outdoor Furniture™ pieces are comfortable as is, adding a little extra padding never hurts.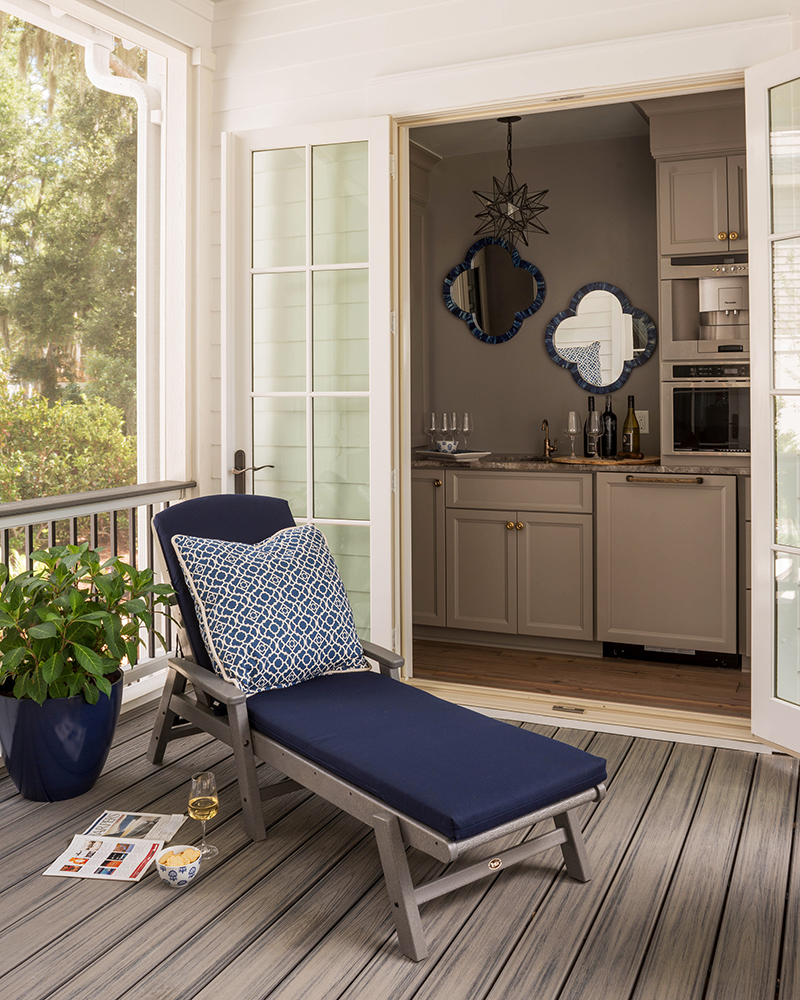 Throw in some pillows. To add a little more cushioning or even just help prop up your favorite novel, add some pillows to your sitting area. They take up little room, and they're a great way to infuse your space with bright color, interesting texture, and visual pattern.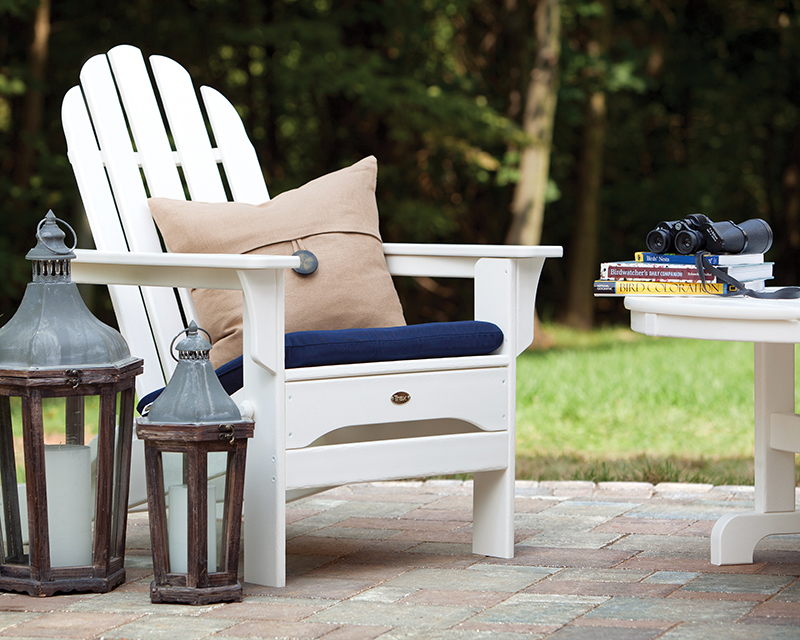 Add a fan. Ceiling fans on a porch or tabletop fans on a patio help circulate the air to keep you a little cooler. If it's cold out and you have the space, add in a small outdoor heater or chiminea.
Beat the bugs with natural repellents like citronella candles and torches or electronic zappers set up around your patio or porch space. Be sure to empty any stagnant water sources — pots, watering cans, and anything that stays wet after a rain — to cut down on mosquito breeding spots. Or if you have it in your budget, screen off your porch or patio.
---
Close it Off
For a cozy, private feel away from the prying eyes of your neighbors, "wall off" your outdoor space as much as you can without making the space feel confined.
For a front porch: Plant fast-growing shrubs or trees in front, if possible, to afford you either full or semi-privacy. Leyland cypress grows especially fast, but something like boxwood or azalea bushes make attractive semi-private areas, creating a low wall to provide some separation.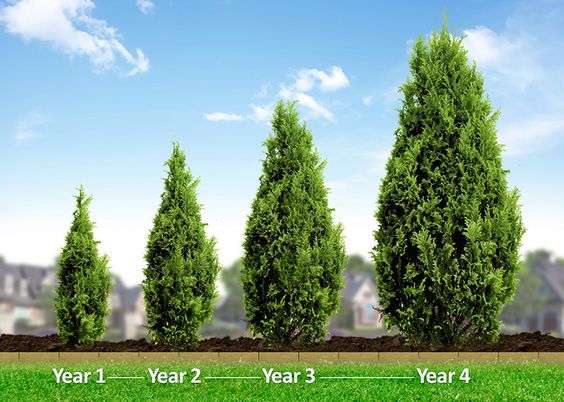 For your deck or balcony: Employ your pots or planters to do the work for you. Planters work great for adding in taller plants like bamboo or a small ornamental shrub. Heavenly bamboo (which is not actually bamboo, but nandina domestica) fits the bill nicely as a hardy, attractive semi-evergreen. Also, consider grasses like bluestem and switchgrass to provide height. You can also add small wooden or composite trellises into your pots and train roses or ivy to climb them.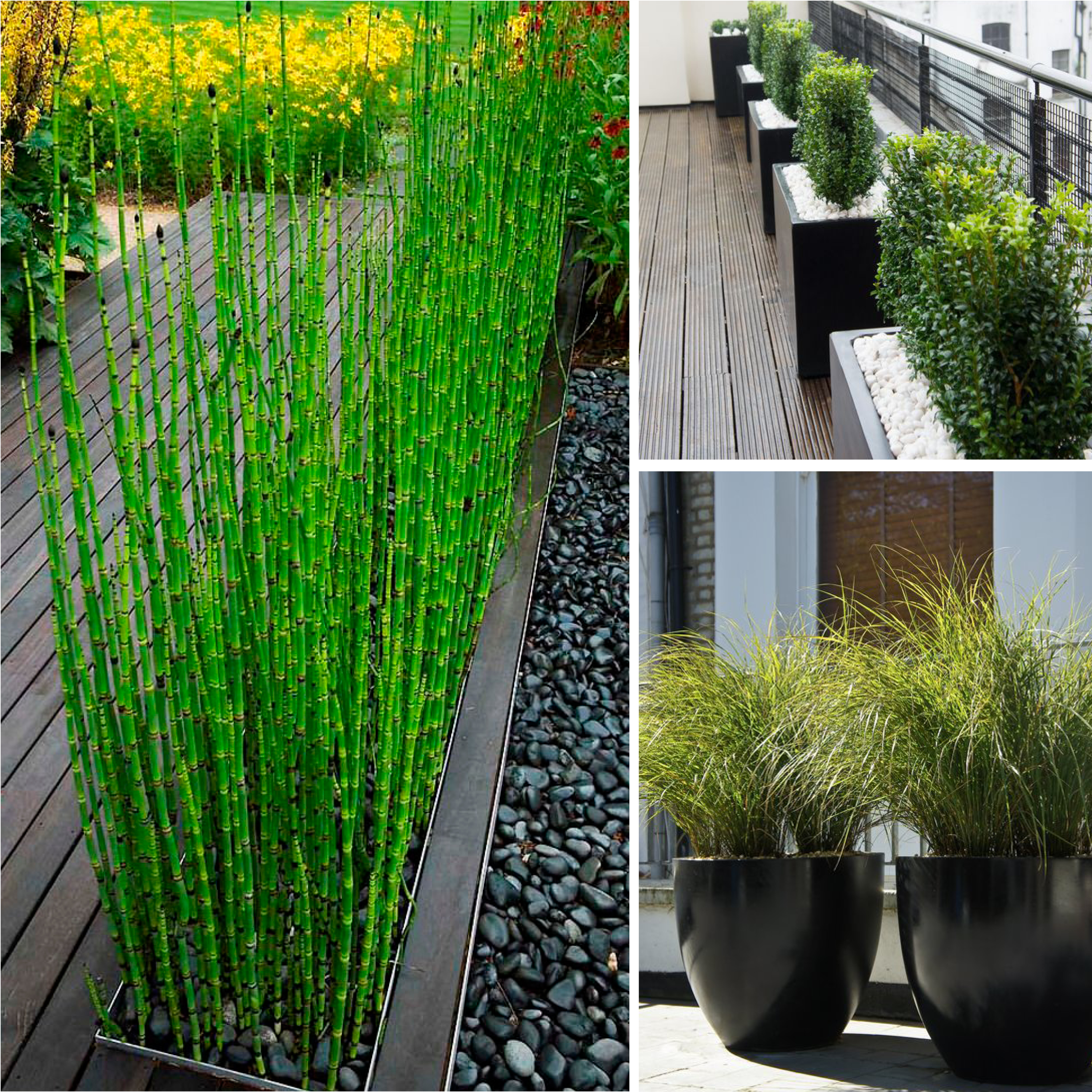 Make some shade: If you're also looking to duck away from direct sun, and if space and budget allow, you may want to add a canopy, sunshade, or pergola to help cut the glare and beat the heat. Check out these plants that are great for creating shade on your pergola.
Add Curtains: To add privacy without the plants, put some curtains or shades up around your outdoor living space. You can customize them to match your furniture and decor.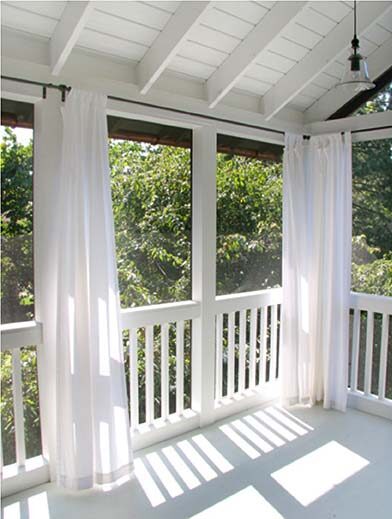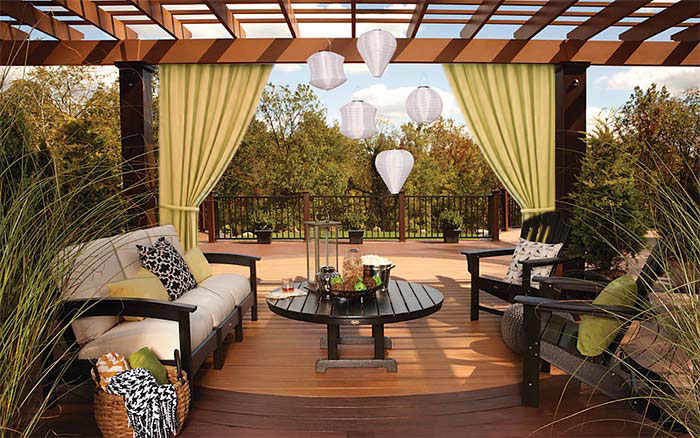 For more privacy ideas, check out our recent Backyard Privacy Tips.
---
Illuminate It
If you have the space, add a small outdoor lamp or a pair of lamps. String up cafe lights, or set a grouping of LED candles or lanterns on your coffee table. Multiple light sources are key for staying on your patio past dark and for ambiance.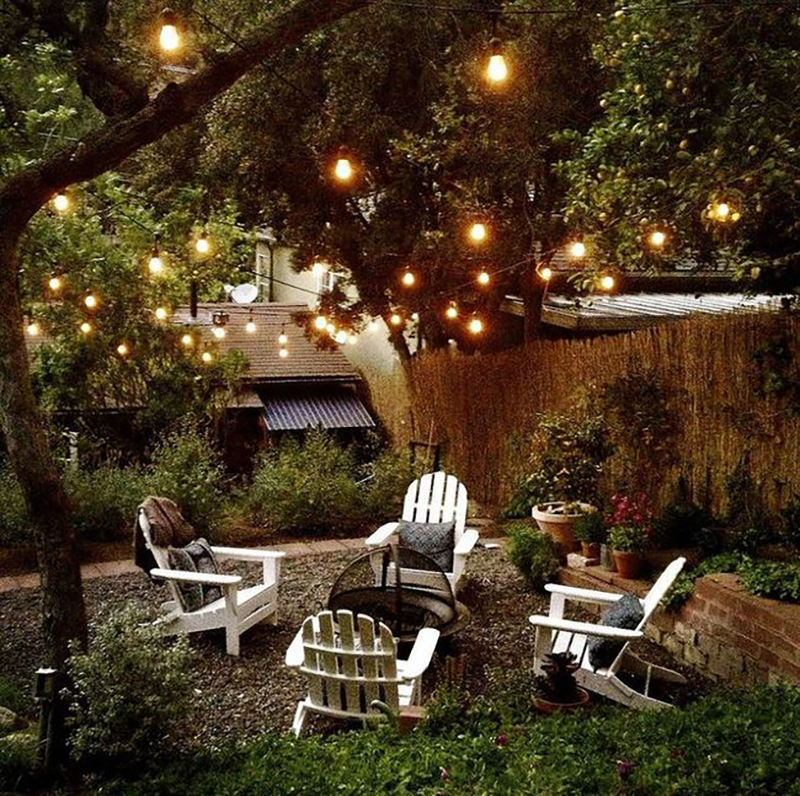 Need more lighting ideas? The Garden Glove has a few more creative ways to light up your backyard.
While a mansion with verdant, rolling property would be nice, rest assured that you can still create a serene outdoor living space with a little enthusiasm and Trex® Outdoor Furniture™ tips.
Tell us about your space! What makes your outdoor area the coziest spot in your home?
---
Sources: Privacy Plants | Porch Curtains
Blog Post Updated June 21, 2021