When it comes to creating an outdoor space that sets you apart from the sea of matching patio sets, there are endless ways to make your backyard a standout against your neighbors. Here are a few ways you can use Trex Outdoor Furniture to create an interesting, eclectic space that feels less matchy-matchy but just as pulled together in your own personal oasis of style.
---
Pull in Some Pattern
We love pairing Trex Outdoor Furniture with rugs in bright, splashy patterns. Try kilim-style or Jaipur rugs with their elaborate patterns and bold primary colors.
Pillows are the easiest, lowest cost way to introduce a pop of pattern into a space. Make sure you purchase pillows suitable for outdoor use (think Sunbrella fabric-covered pillows). Rather than buying, say, five pillows in one or two colors, don't be afraid to mix and match the patterns, textures, and colors for plenty of visual interest.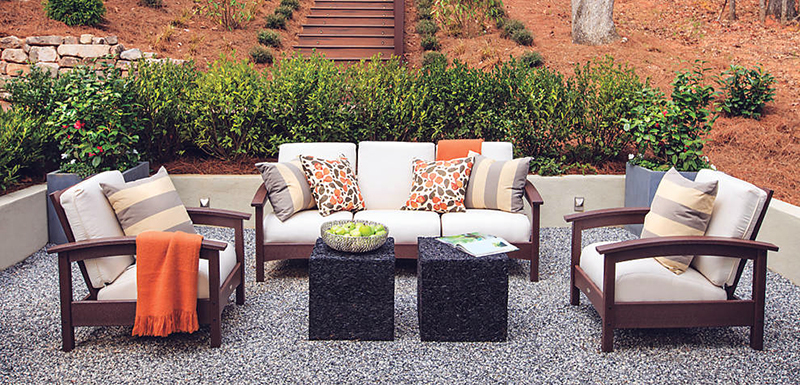 Another way to add some pattern—and some extra seating—is adding outdoor poufs. Most online furniture retailers carry weatherproof poufs in a variety of colorful patterns and shapes.
---
Mix up Your Pieces
Change it up a little. Just because Trex Outdoor Furniture offers full sets doesn't mean you have to buy everything that matches. We design all our pieces to complement one another, so don't be afraid to mix and match. Pair our Parsons Dining Table, finished in Satin Silver aluminum frame and Spiced Rum tabletop, with Surf City Lounge Chairs with Stepping Stone-colored slats and a Textured Bronze frame. Or, pair two Cape Cod Adirondacks together with a Rockport Sofa, shown below (the Cape Cod Conversation Table doubles as a great coffee table too!).

Include a conversation starter. That copper Moroccan-style piece catch your eye at a flea market or estate sale? Add it into your outdoor furniture collection.
Pair on-trend with antique. Can't let go of your grandmother's metal teal glider or her set of white wicker rockers? Position the glider across from a Trex Outdoor Furniture Rockport Settee. Or arrange the rockers on either side of a Rockport Club Side Table in the deep, rich Rainforest Canopy green.
---
Add in Accessories
"Eclectic" suggests a lived-in feel with pieces added in over time. So add some personal touches to your outdoor space.
1 : Add a grouping of mismatched silver or mercury glass candle holders to your Rockport Club Coffee Table.
2: On a side table, place a shallow bowl filled with seashells or smooth stones you've collected on the beach.
3: Use unconventional containers as planters—a jade plant in an antique cracker tin; rosemary, basil, and tarragon planted in an old Coca-Cola crate; wildflowers growing in a weathered galvanized tub.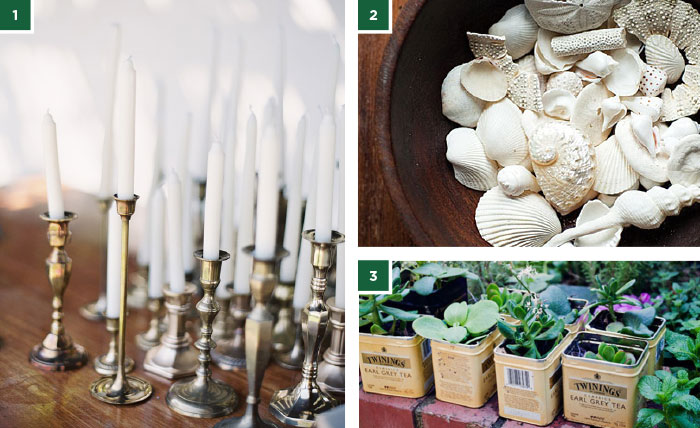 4: If your patio is set beneath a tree, string up cafe lights for extra ambiance or even mason jars with tea lights. Have a balcony with a porch? An old chandelier wired up for extra light or holding candles adds a funky vibe.

5: Decorate your outdoor space with nature.
Fill a vase with branches from your yard (you could even add touches of copper and gold like Poppytalk did here)
Set a piece of coral or driftwood on a dining table
Use a cut-down tree stump as a side table
Use pine boughs from your yard as a table centerpiece
Fill containers with those pesky hickory nuts that litter your patio each fall
6: Make antique doors, which you can pick up at flea markets, yard sales, and thrift stores, into outdoor privacy screens.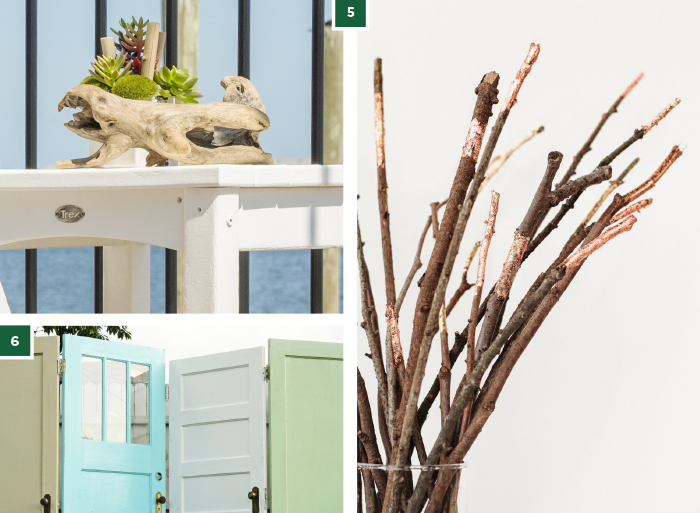 ---
Think Texture and Color
Bright blooms are the best way to naturally infuse an outdoor space with color. Hang some bougainvilleas from the eaves of your porch. Plant free-flowing shrubs around your space—think loropetalum or spirea, both slow-growing colorful shrubs that you can easily prune.
Layer rugs in varying textures. Take that kilim rug and overlap it with a seagrass or jute rug to create a homey feel.
Don't match your cushion and pillow colors. Just as you can mix up your Trex Outdoor Furniture collections, think the same for fabrics. For instance, if you have a Yacht Club 7-Piece Dining Set, order Sunbrella® cushions for the chairs in several colors—Canvas Navy for a few and Canvas Tangerine for the remainder. Top off the whole ensemble with our 9-foot Tilt Umbrella in Canvas Spa.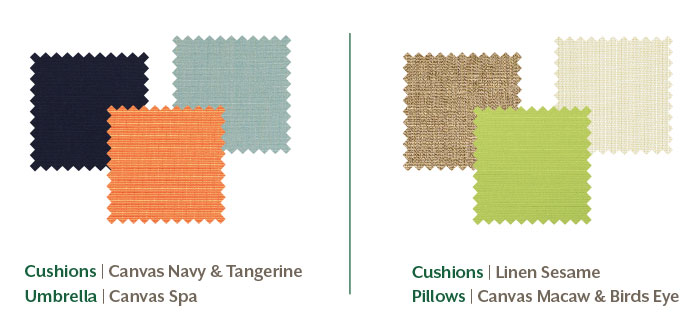 If you're laying a patio or constructing a deck, consider changing up the traditional layout. Have your construction team lay your composite decking, for instance, in a herringbone pattern. For a brick patio, consider laying the bricks in a spiral-shaped formation to add texture and visual interest.
We're always curious how you're decorating your outdoor space. Let us know if you have any other tips for achieving an eclectic look and standing out from your neighbors. Happy decorating!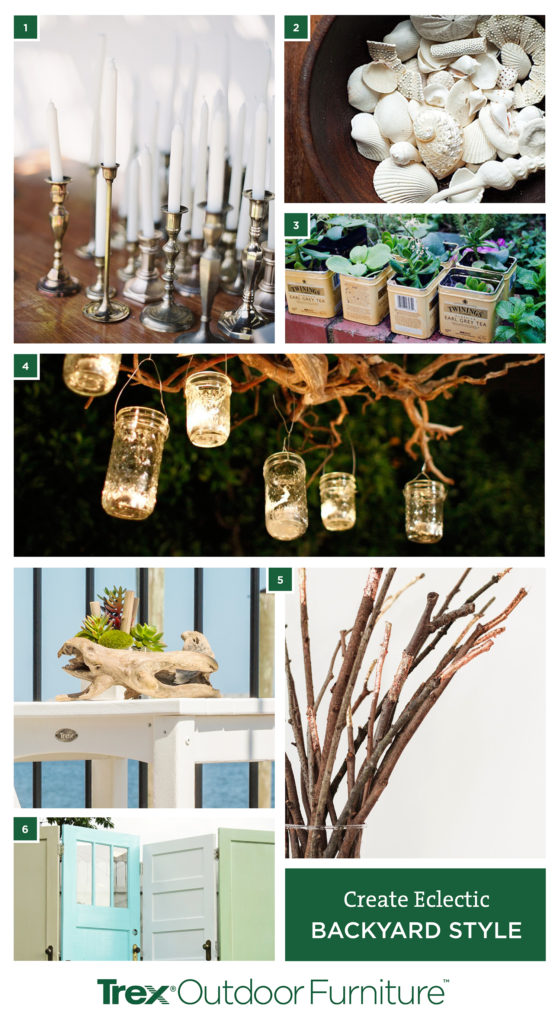 Sources: Seashells | Vintage Candlesticks | Herbs | Mason Jar Lights | Copper/Gold Foil Branches | Driftwood | Privacy Screen