When I step out onto my backyard deck, I can see into all the surrounding yards. That's the downside of living in a hilly area; my deck sits about nine feet off the ground — way above my six-foot privacy fence. Thus, I'm privy to all my neighbors' habits — the woman who drinks her coffee while smoking a cigarette across the fence, the elderly Hindu man to the right who says his morning prayers on his deck, the large black lab who barks like crazy diagonally adjacent.
My neighbors to the left, however, are partially obscured. They've cleverly planted fast-growing trees, which, over the past eight years, have tripled in height, providing some measure of privacy. Like me, plenty of you call the suburbs home, with houses squeezed onto half-acre lots. But whether you live in a single-family home, a loft in the middle of the city, or an apartment building with a small balcony, there are plenty of ways to create privacy on your property; and you don't have to live on five acres in the country to get the serenity you seek.
Follow our tips for creating more peace and privacy in your backyard.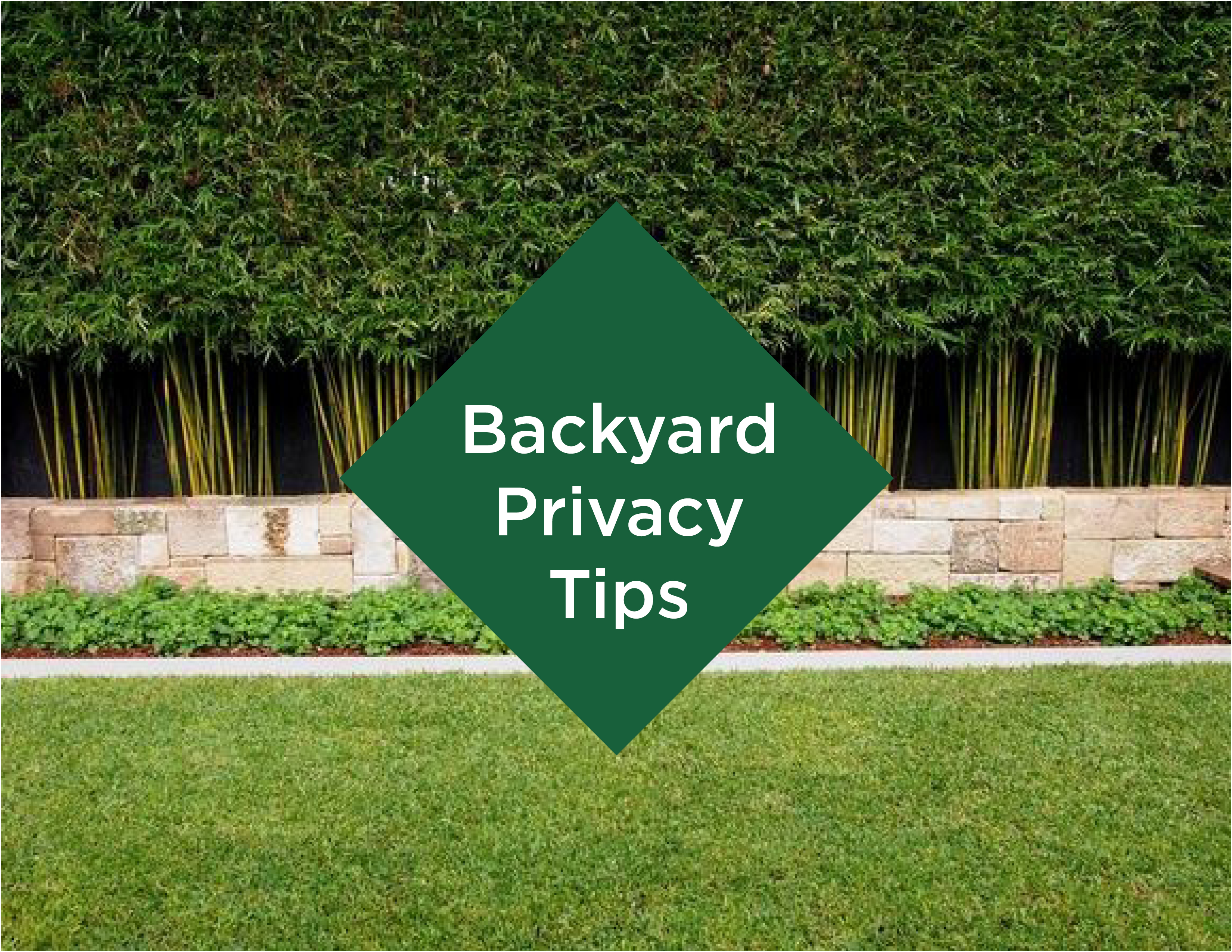 ---
Put 'Em in Pots
You can plant bamboo or other ornamental trees or small shrubs in large glazed pots and place them strategically along the back deck. Sleek square planters are great containers for bamboos, and the clean, geometric design of the Pyramid Planter lends itself to ornamental grasses like switchgrass, Miscanthus, big bluestem, or Ravenna grass.
---
Go with Fast-Growing
Planting trees or hedges is probably the most obvious thing to do, and depending on the amount of backyard real estate you have, it may or may not be a viable solution. One of the most popular privacy trees is the Leyland Cypress. The hardy evergreen can grow up to 3 feet per year and reach a whopping 35 to 40 feet in height over its lifespan.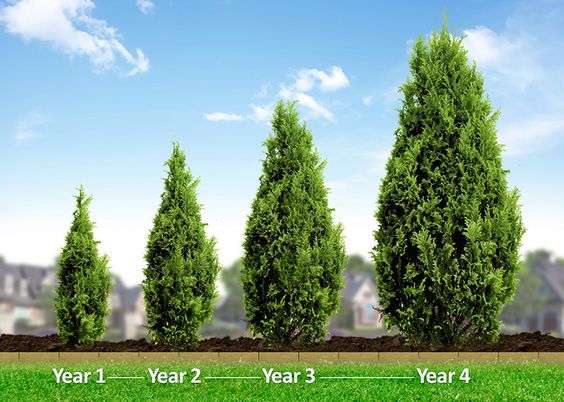 Other fast-growing trees and shrubs we love (and also grow well in a wide swath of growing zones):
Holly varieties, like the Sky Pencil, American, Oak Leaf, and Nellie Stevens.
Juniper, like Wichita Blue and Spartan.
Wax myrtle.
Canadian hemlock.
Dawn redwood.
Other cypress, like Murray and Italian.
Willow hybrid, which can grow six feet each year.
Each of these hedges and trees can shoot up several feet each year; most are pretty hardy and can even tolerate poor soils. Keep in mind, however, that "fast-growing" means you need to make sure you plant far enough away from your home's foundation to avoid structural damage from roots. Another consideration is the size. As the Leyland Cypress grows taller, it also spreads out quite a bit in width — from 10 to 15 feet — so make sure you account for the extra space before you plant and allow sufficient spacing between trees.
---
Shut 'Em Out
If you're living in an apartment or townhome, your "yard" may consist of little more than a balcony or postage-stamp-sized slab of concrete. No worries. If you're looking for a way to gain a little privacy in your outdoor space, head over to your local home supply store.
Shutters and wooden doors are a great way to add a little quirkiness to your space while creating a solid privacy screen so you can sip a glass of wine on your patio in peace. Take three or four shutters or doors and hinge them together to form a folding screen. If you'd like to move them around from time to time, place them on casters and voila! You have a rolling privacy screen.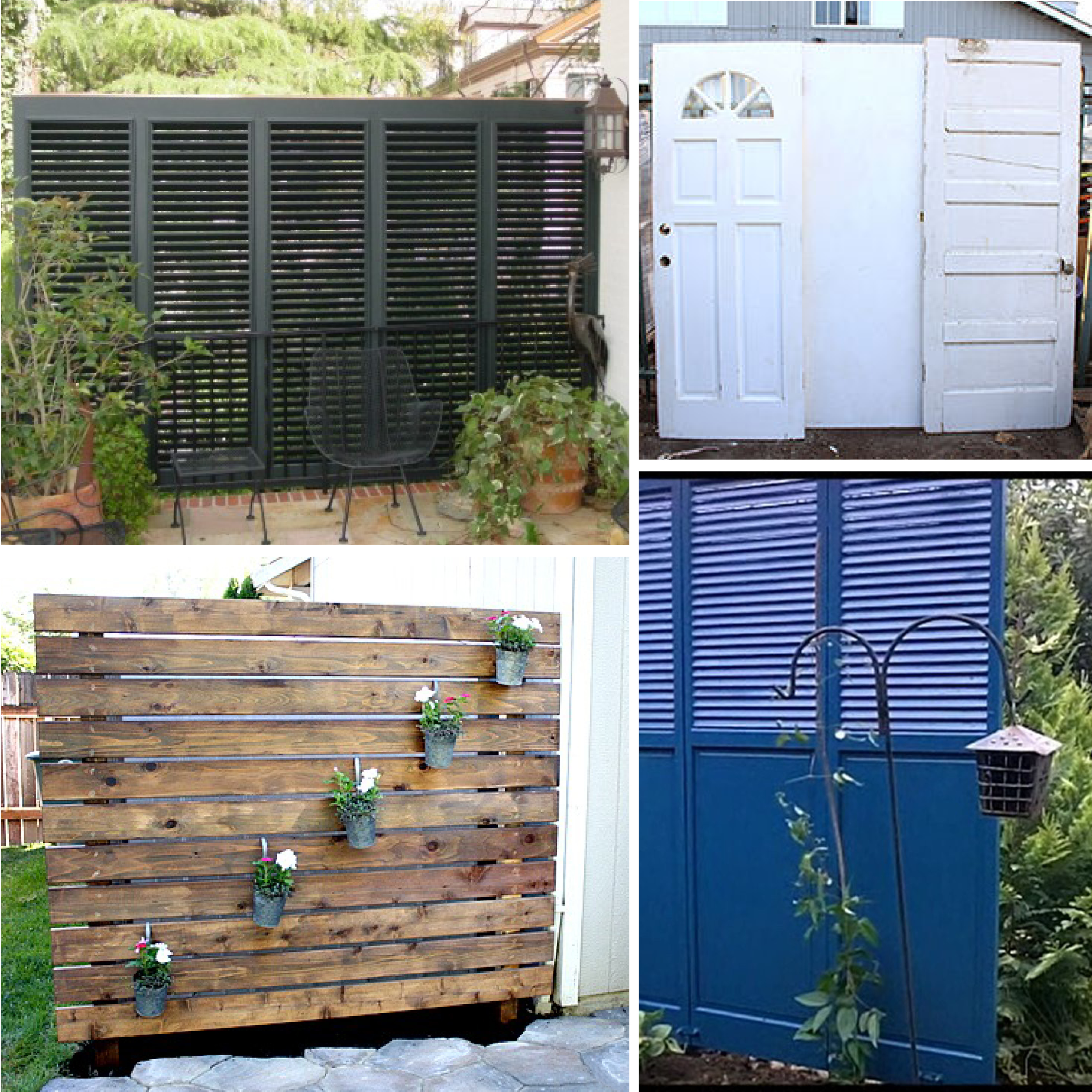 And it doesn't have to be new. In fact, we love the look of vintage doors with chippy paint hinged together. You can source these from salvage yards, Habitat for Humanity's ReStore retail stores, or your local thrift store. Dress them up by attaching hooks for plants or stringing lights across the doors or shutters for additional character and some ambient lighting at night.
---
Climb on Up
Don't discount the idea of some kind of trellis attached to your deck. There are all kinds of different patterns and materials—from composite wood to wrought iron. Choose a trellis that suits your needs. If you only have a small portion of your condo's balcony to shield, consider a trellis in a pot. If you have more space that needs privacy, a large custom-made trellis may be the way to go. Since my back deck gets all-day sun, I'd choose a creeping rose to train up the trellis for additional screening and a pop of color.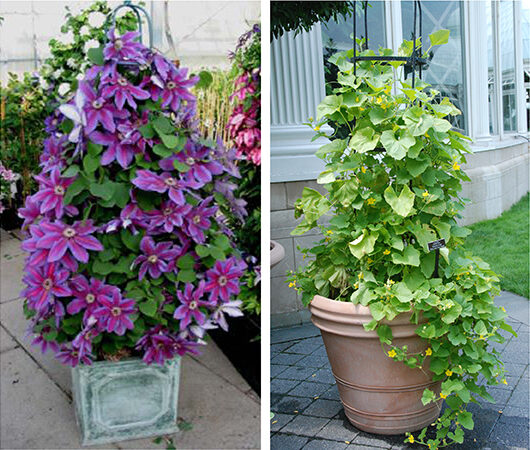 ---
Conceal with Curtains and Shades
This last option works well if you have a pergola, an overhang, or a porch. Consider adding privacy curtains or shades to your outdoor space.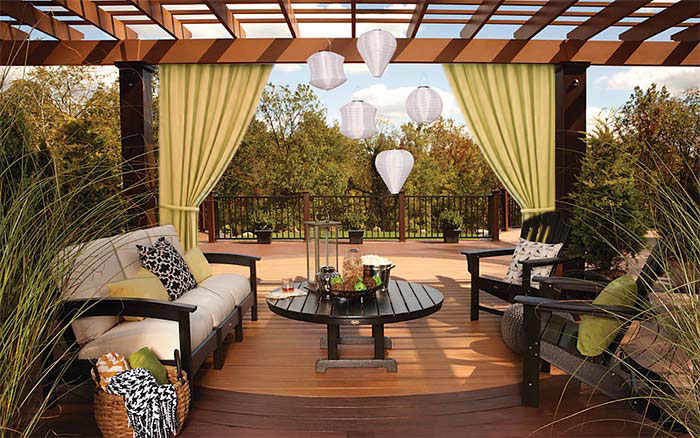 You can use a curtain rod or piece of pipe, or if you have a small space like an apartment balcony, you may even be able to use an extra-long tension curtain rod or shower rod. If you live in an area with lots of direct sun on your porch or persistently breezy conditions, consider installing shades from the porch ceilings that fasten at the base.
These fabric walls will shield you from the sun and provide a luxurious sanctuary. Choose fabric as simple as sailcloth or painter's canvas drop cloths, or go with outdoor curtain fabric found online or at your local fabric store.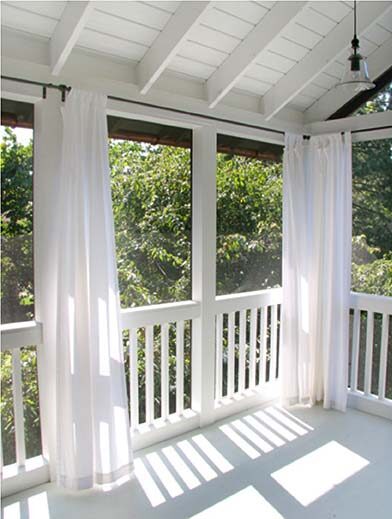 ---
Sources: Privacy Hedge  |  Horsetail Reed  |  Add'l plants in pots  |  Evergreen growth chart  |  How to Grow Flowering Vines  |  Trellis vines 3  |  Porch Curtains
Blog Post Updated June 22, 2021