Adirondack chairs have long been symbols of rest and relaxation. Browse our wide selection of all-weather Adirondack chairs to find one that meets your style and comfort needs perfectly.
Yacht Club

2 Adirondack Chairs + Round Side Table

Yacht Club

2 Adirondack Chairs + Round Side Table

Yacht Club

2 Adirondack Chairs + Round Side Table
Why Trex Outdoor Furniture?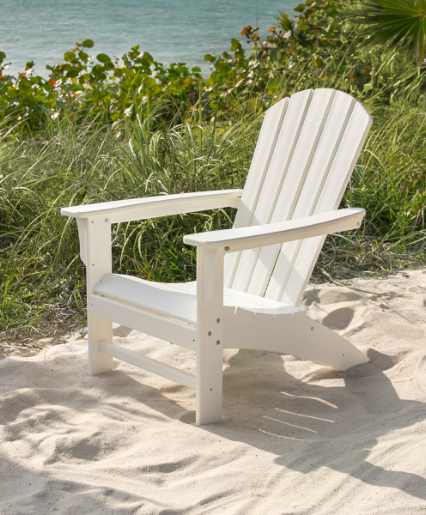 Trex Outdoor Furniture all-weather Adirondack chairs are the perfect combination of eye-catching style and unmatched comfort. Able to fit into a variety of outdoor settings, our versatile, weather-resistant Adirondack chairs meet varying design styles and provide exceptional relaxation season after season. Front porches, poolsides, beachfronts, and back decks all transform into gorgeous outdoor retreats when our Adirondacks are added to the setting.
We ergonomically engineer our outdoor Adirondack chairs so you can kick back and truly relax. The combination of a slightly slanted low-slung seat, wide armrests situated at the perfect height, and a slatted back make our Adirondack chairs comfortable and durable choices for any outdoor seating.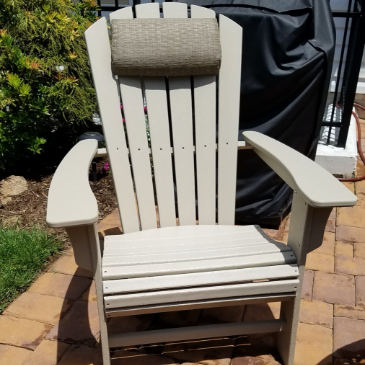 "We purchased two of the yacht club curveback adirondack chairs in the sand color and love them! They were easy to assemble and are very comfortable - a great fit around our fire table. The weight is great - no tipping in the high winds we get in the spring. We had a problem with one leg, and customer service was the best. They shipped a replacement leg within two days. We could not be happier with our chairs."
Adirondack Chair FAQs
Can Trex Adirondack chairs be left outside during the winter months?
Yes! Our Adirondack chairs are built to live outdoors. Genuine POLYWOOD lumber makes up the frames of all of our durable Adirondack chairs, which allows them to handle winter weather and other harsh outdoor elements.
Are Trex Adirondack chairs comfortable?
We believe our Adirondack chairs are quite comfortable, but we know that everyone has different ideas about what the definition of "comfort" is. For those who want to
accentuate their relaxation experience on our Adirondacks, we offer coordinating outdoor cushions that can be securely tied to the chairs.
... Read More
What is the weight capacity for Trex Adirondack chairs?
Each of our Adirondacks is run through a variety of tests to comply with ASTM standards. Our Adirondack chairs are weight tested up to 400 pounds, although many products can withstand much more.
How much do Trex Adirondack chairs weigh?
The weight of our Adirondack chairs varies based on each one's individual size and shape, but they average between 30 and 50 pounds each.
Features of Trex Adirondack Chairs

Weatherproof
Our weather-proof Adirondack chairs can handle the harsh outdoor elements in a variety of climates.

Low Maintenance
There's no need to ever waterproof, stain, or paint our Adirondack chairs, which leaves you with more time to relax in them.

Made In the USA
We proudly build all of our furniture right here in the USA at our Indiana and North Carolina campuses.

20-Year Warranty
Each of our all-weather Adirondack chairs is backed by a 20-year lumber warranty!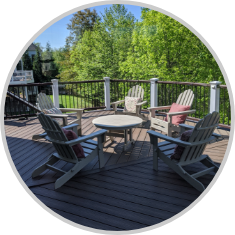 "We love our new chairs and table. They were easy to put together and are very sturdy. We would definitely recommend this product!"
Adirondack Chair Styles & Types
Adirondack Chair Colors
Add personality to your outdoor space with one of our colorful Adirondack chairs. We offer our Adirondack chairs in a variety of vivid colors that will easily coordinate with your outdoor décor. From vibrant red to relaxed teak, our Adirondack chair colors are sure to please the eye.
How to Enjoy Your Adirondack Chairs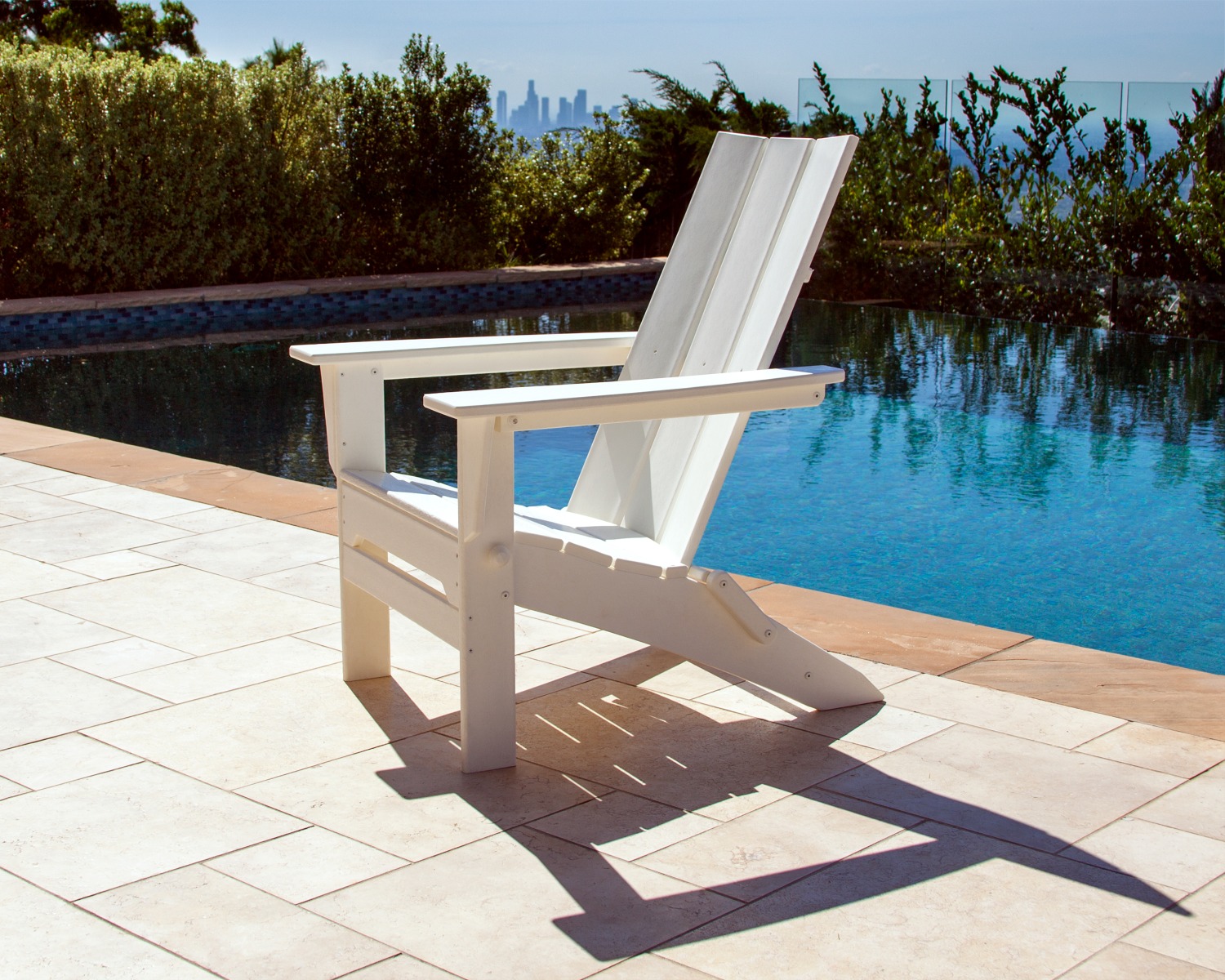 By the Pool
Dreaming of poolside relaxation? Make your dream a reality by placing a few of our Adirondacks on the patio or deck that surrounds your pool. The Yacht Club Adirondack Chair would look splendid sitting by your pool.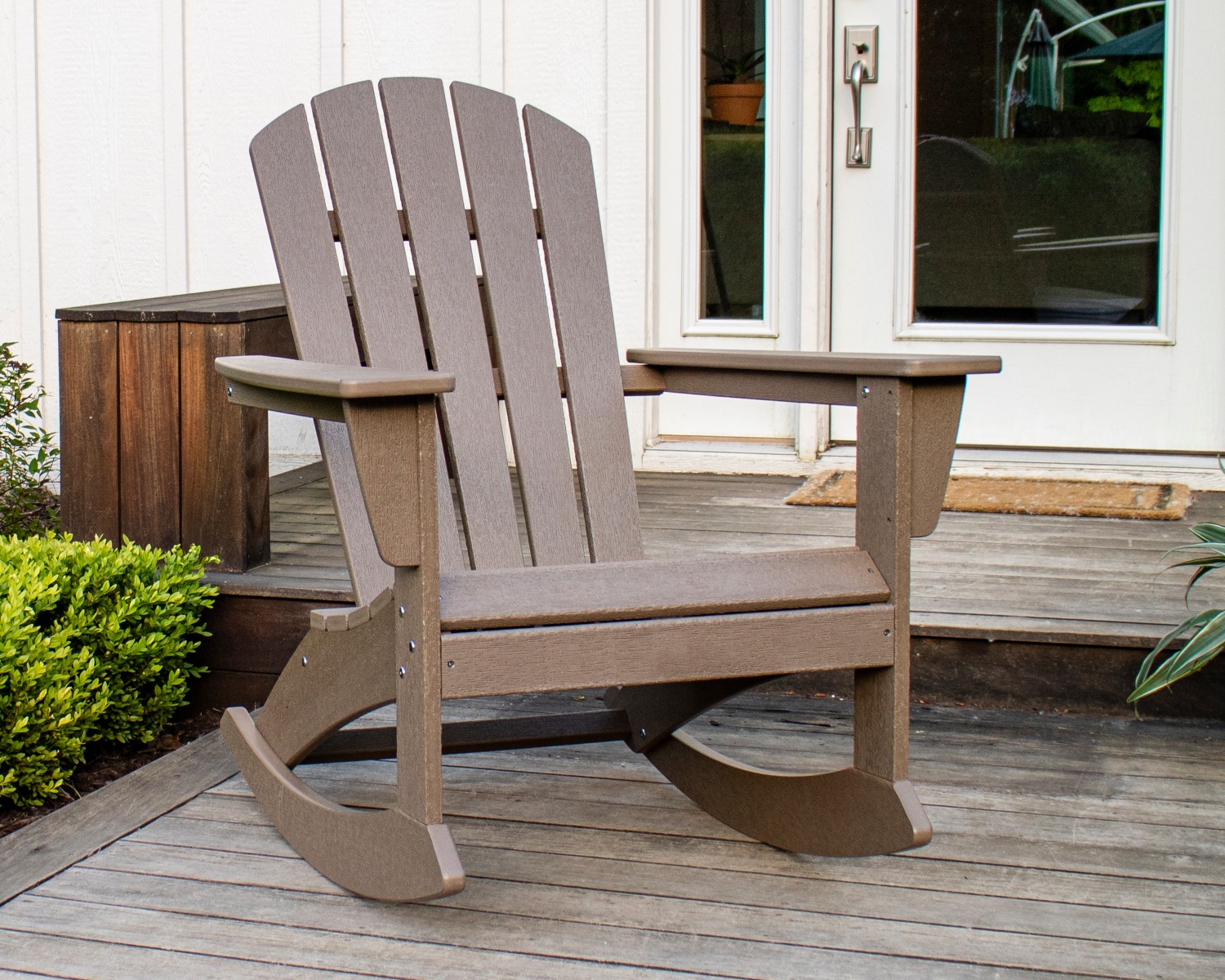 On Your Front Porch
Make your front porch a stylish setting for social calls with an attractive and comfortable Adirondack chair. The Cape Cod Ultimate Adirondack can give your loved ones full-body comfort thanks to its hideaway ottoman.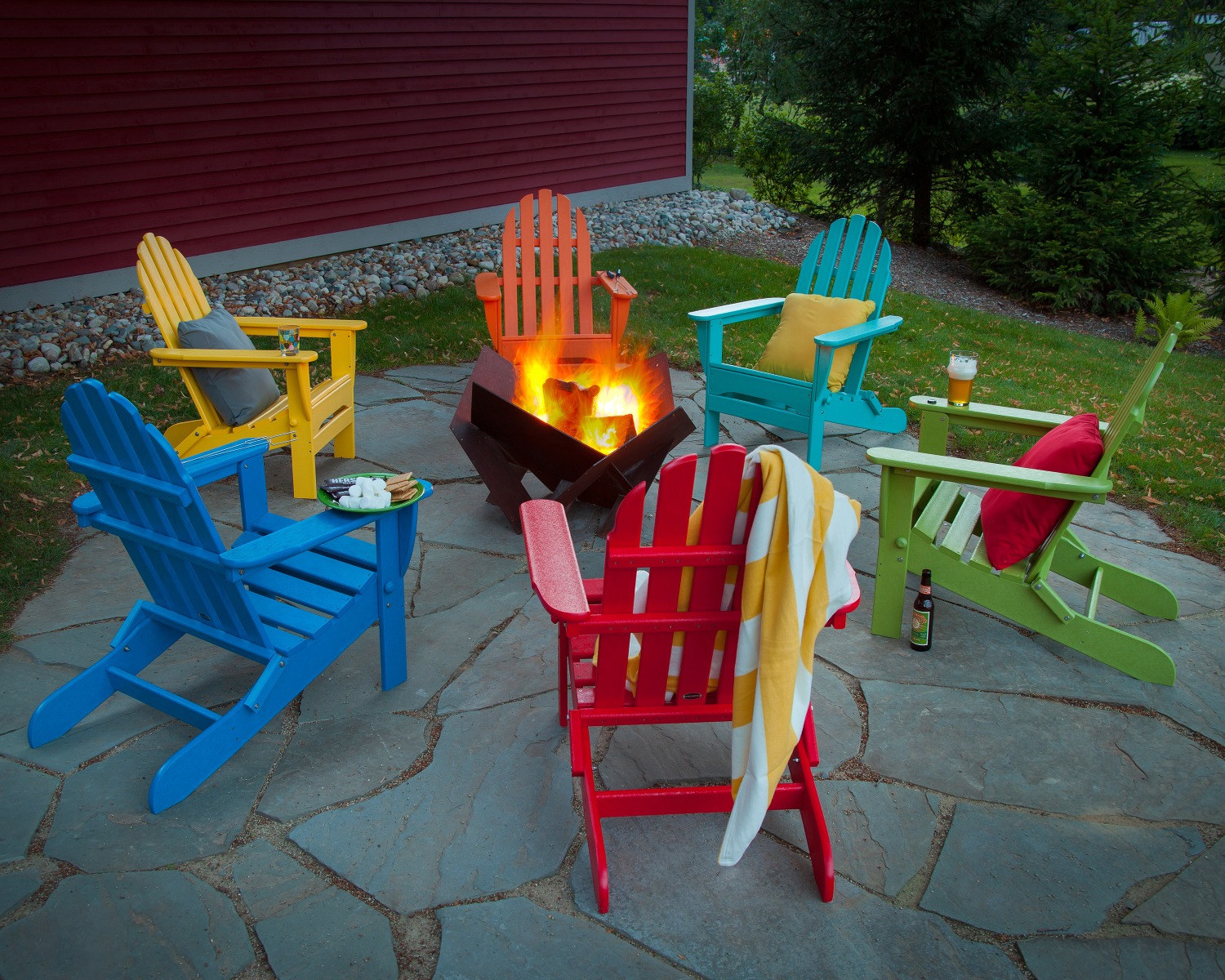 Around the Fire Pit
It doesn't get much better than getting comfortable with loved ones around the fire. Place a few Yacht Club Curveback Adirondack Chairs around a fire pit table in your backyard to create a relaxing space for your family.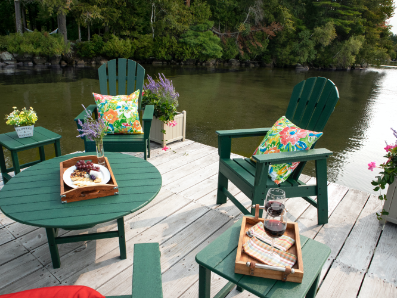 On Your Deck
An Adirondack chair for your deck (or a few) can transform it into a relaxing retreat for your family. The Yacht Club Shellback 5-Piece Adirondack Conversation Group can meet everyone's comfort needs and make your outdoor space look fabulous.
Outdoor Table Reviews
We love a good review! Check out what other customers are saying below: