Originally Published on March 6, 2019. Last Updated on May 11, 2023.
Outdoor experiences are better when shared. To create an already great foundation for when friends and family arrive, you'll want seating that can accommodate everyone comfortably. 
Swings and gliders add a new dimension to traditional outdoor seating, providing a soothing motion that will have little ones laughing and furry friends snoozing with equal enjoyment. For a no-frills seating option, budget-friendly benches make space for multiple people and can be easily moved around. 
But deciding which swing, bench, or glider works for your space can be a challenge. To de-stress your shopping experience, use our guide to help determine which outdoor seating option is best.
---
Jump to Section
Step 1: Is an Outdoor Bench, Swing, or Glider Best for You?
Step 2: Determine How Much Space You Have
Step 3: Choose the Right Materials
Step 4: Choose the Right Style
Step 5: Choose the Right Color
Step 6: Accessorize
---
Step 1: Is an Outdoor Bench, Swing, or Glider Best for You?
Mull over the following questions and let your answers decide if these seats will suit your lifestyle. 
Use:

Will a bench, swing, or glider fit the planned usage for your deck?

Space:

Swings and gliders need extra room to move. Is your deck large enough to accommodate?

Cost:

Will the added expense fit your budget?

Architecture:

Does your space have the structural support for a swing?

Installation:

Do you want to put in the extra work to hang a swing?
Benches: Pros and Cons
Pros
Benches are more affordable than swings and gliders.

There's a broader range of bench length options.

Benches are ideal for cozy spaces and walkways, ensuring smooth traffic flow.
Cons
A bench's stationary design doesn't offer the relaxing movement of a swing or glider.
Swings: Pros and Cons
Pros
Studies show that a swing's swaying motion

reduces stress

.

You can exercise your legs by pushing the swing back and forth.
Cons
Swings must be affixed to ceiling joists or freestanding frames for solid support.

This seat needs ample space to move as intended.
Outdoor Gliders: Pros and Cons
Pros
Gliders work on just about any outdoor space.

They require less room to move than a porch swing.
Cons
Gliders need extra room in front and behind to move freely.

A glider's fixed base and extra components make it heavier.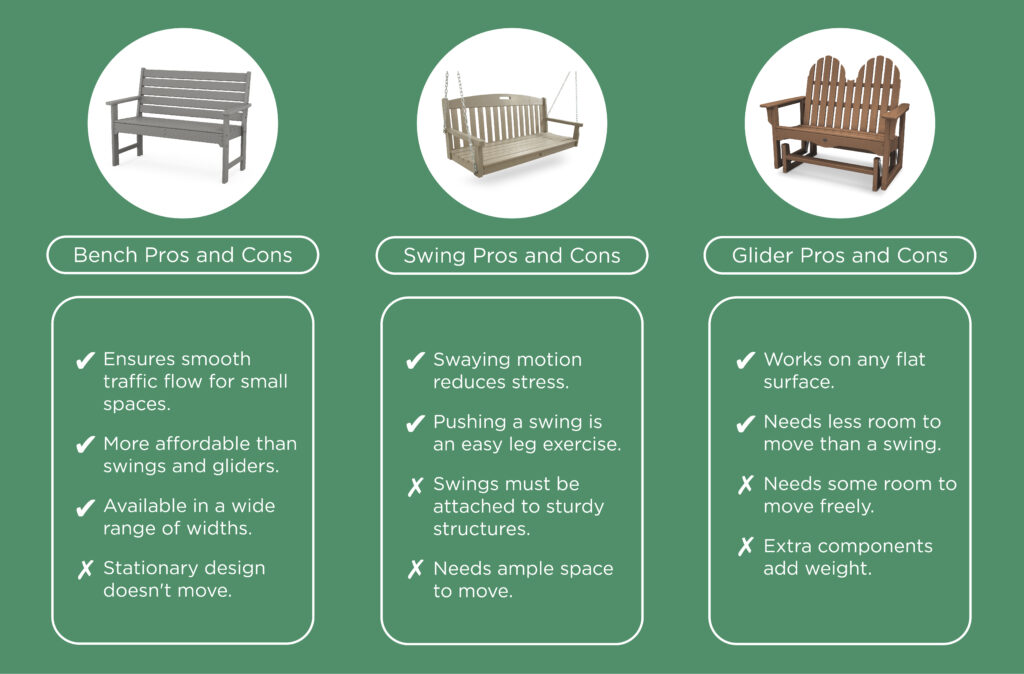 ---
Step 2: Determine How Much Space You Have
It's best practice to measure your outdoor area before committing to a furniture purchase. Follow these easy instructions to find those dimensions.
Supplies needed
Pencil

Graph paper

Measuring tape
Instructions
Step 1. Make a rough sketch of your deck on a piece of graph paper.
Step 2. Draw and label stair openings and structural features like doors, columns, and windows.
Step 3. Measure all sides of your deck from edge to edge, and record the dimension on your sketch.
Step 4. Measure the widths and lengths of structural features and write them down on the drawing.
Step 5. If you have stairs, measure the height from the ground to the top step and the length from the back of the staircase to the front of the bottom step. 
Keep the finished sketch on hand when you start shopping. Companies will include furniture dimensions on their product pages, and when you find something you like, you can quickly reference your drawing to see if your chosen bench, swing, or glider will fit.
Do You Have Space for a Swing or Glider?
Swings and gliders need extra room so they won't bump into anything while moving. 
Swings
A swing needs 3–4 feet of clearance to both the front and back and 12–14 inches of open space on either side.
EXAMPLE: The Yacht Club 60″ Swing is 60 inches wide and 24 inches deep. You'll need a space at least 7 feet wide and 8 feet deep.

Gliders
We recommend 2 feet to both the front and back and 12–14 inches of open space on either side.
EXAMPLE: The Cape Cod Adirondack 48″ Glider is 48 inches wide and 28 inches deep. You'll need a space at least 6 feet wide and 8 feet deep to accommodate this seat.

---
Step 3: Choose the Right Materials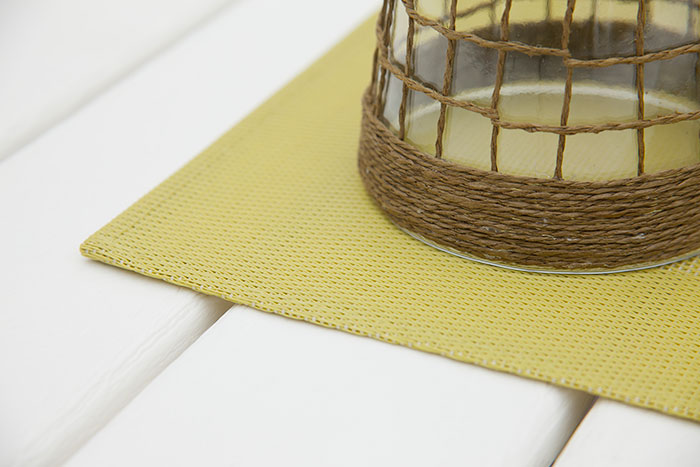 High-quality outdoor furniture can handle repeat use, bad weather, and harsh elements—and look good while doing it.
With this in mind, look for products built from durable, weatherproof materials that offer comfort and support you can count on for the long haul. Here's a list of popular furniture materials with points to consider for each.
High-Density Polyethylene (HDPE) Lumber
HDPE is a highly durable plastic used to build furniture and other outdoor structures like fencing and playground equipment. It can be left outside year-round without cracking, splitting, rotting, peeling, or fading. Maintenance is minimal, and the material is available in a wide variety of attractive colors. 
Softwoods
Pine and other softwoods are appealing because they're affordable. However, most softwoods don't age well outside and dent, crack, and scratch easily. You'll need to regularly refinish softwood furniture to keep it protected.
Hardwoods
Hardwoods like teak are a sturdier option than softwoods and can last for years. Because of this, they are also more expensive. Hardwood furniture is resilient and durable but must be restained and revarnished semi-regularly.
Aluminum
Aluminum is rising in popularity as a material choice for outdoor furniture because it is durable yet lightweight, so you can move the furniture around easily. Aluminum is easy to maintain and is resistant to many aging and damaging effects of weather exposure. But aluminum is vulnerable to wind gusts due to its lightweight quality.
Wrought Iron
Wrought iron's elegant appearance makes it a popular choice for patio furniture. The material is wind-resistant because it's on the heavy side, but that also makes it tough to move around. Additionally, wrought iron is prone to rust if it's not regularly maintained. 
---
Step 4: Choose the Right Style
From one-person perches to spacious three-seaters, we stock styles in multiple sizes to meet your family's needs. 
Single Seat
Whether you need one-on-one time with a good book or like to start your day in quiet meditation, our glider chairs fit all your solo sojourns. 
48″ Two-Person Seat
A 48-inch swing, glider, or bench fits well into smaller areas and offers seating space for two or extra room for one to stretch out.
60″ Three-Person Seat
If you have a large deck, a bigger family, or like to stretch out for naps, consider a 60-inch bench or swing that holds up to three people. 
---
Step 5: Choose the Right Color
Let your deck's layout and palette guide what color your new bench, swing, or glider should be. If you have a warm-toned deck studded with pots of bright flowers, complement that with green, tan, or dark brown seating. Consider white or beige furniture if your deck sees full sun for hours daily, as these colors don't retain as much heat as darker hues.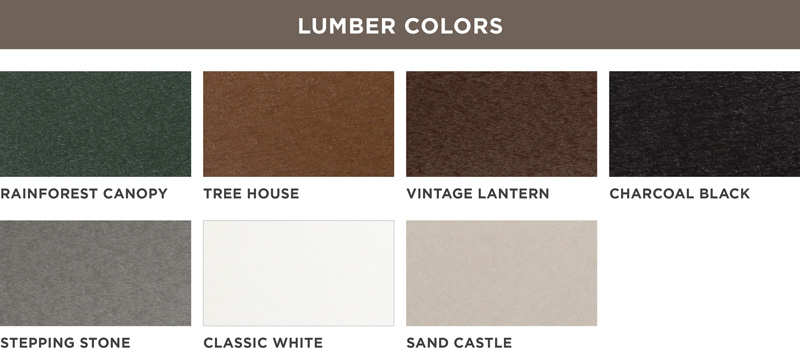 ---
Step 6: Accessorize
The right accessories can completely refresh the overall feel of a space and make your new seating even more comfortable. Add energy with vibrantly colored accent pillows and umbrellas, or set a soothing tone with cushions and outdoor-friendly rugs in muted hues. 
Plus, you can switch accessories as the seasons change or whenever you want to update the look of your bench, swing, or glider.