No matter where you go you're likely to find farmhouse style decor. From shiplap to wooden signs, farmhouse style can range from traditional and rustic to a more modern farmhouse aesthetic. Here at Trex Outdoor Furniture, we've embraced the farmhouse trend with a variety of timeless outdoor dining table designs so you can easily extend your indoor farmhouse style to your outdoor space.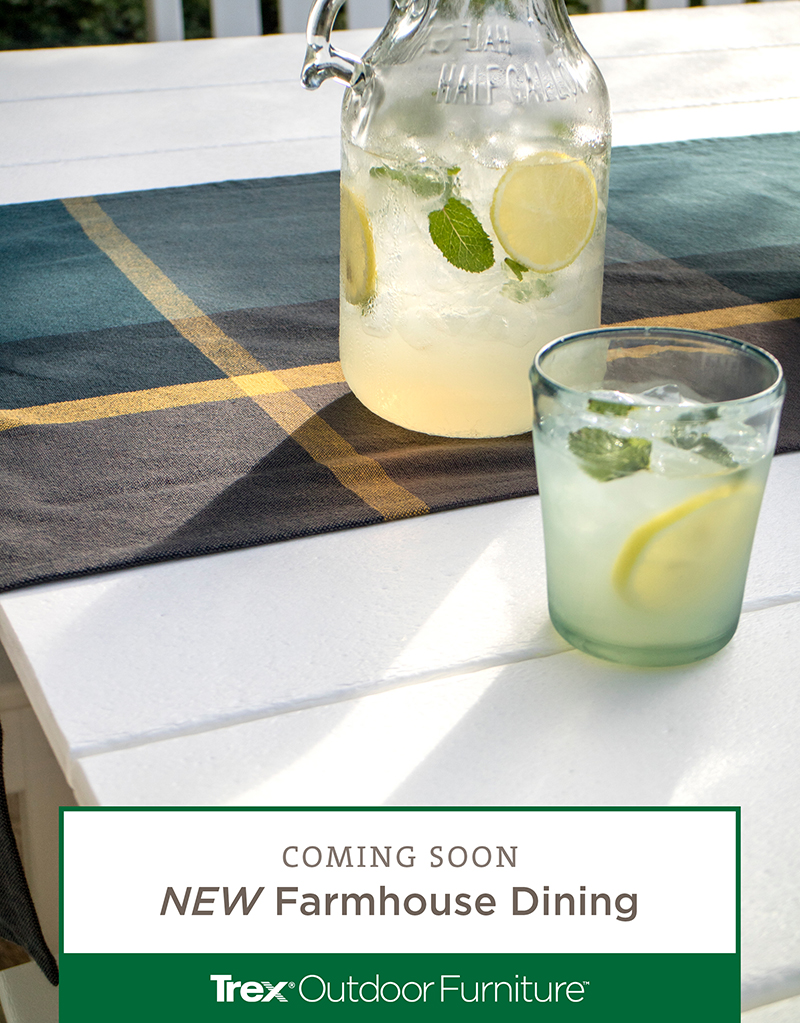 ---
First: Choose the Right Height
Finding the right farmhouse outdoor dining set for your space begins with considering how you'll use the furniture in your space. Different heights provide contrasting dining experiences while the size of the table determines how many guests you'll be able to entertain. Luckily we've broken down the height options to help you choose the perfect outdoor farmhouse table for your unique space.
Three Height Options

Dining height – You're probably most familiar with standard dining height tables (i.e. your average dining table). They're the most popular and widely available—from patio tables to a casual breakfast table or a formal dining table set. Anyone can pull up a chair, your feet touch the floor, and they're handicap-accessible.
Counter height – Designed as a gathering spot in the kitchen, for food preparation, or as a place for guests to converse, the more casual counter height tables work well in small areas because their greater height makes the space seem roomier.
Bar height – When you imagine a pub, with its tall tables and stools set right off the bar, you're thinking of a bar height table. They feature small tabletops and they're a bit taller than a counter height table.
For more information about table height, take a look at Get the Height Right, our detailed blog outlining dining, counter, and bar table options.
Table Size
The size of your space will be the biggest factor in choosing the right table. If your patio is smaller, opt for a more intimate dining experience with the Yacht Club 5-Piece Farmhouse Arm Chair Dining Set. If space isn't an issue, the Yacht Club 9-Piece Farmhouse Side Chair Bar Set will offer hours to entertain friends and family for years to come.

Seating
With the expanded Yacht Club Collection, we've created two new dining chair options to pair with our outdoor farmhouse tables. Both Yacht Club dining chairs will be available in all three heights and the back support features a relaxed arch for comfort. Choosing between an arm chair or side chair really comes down to personal preference.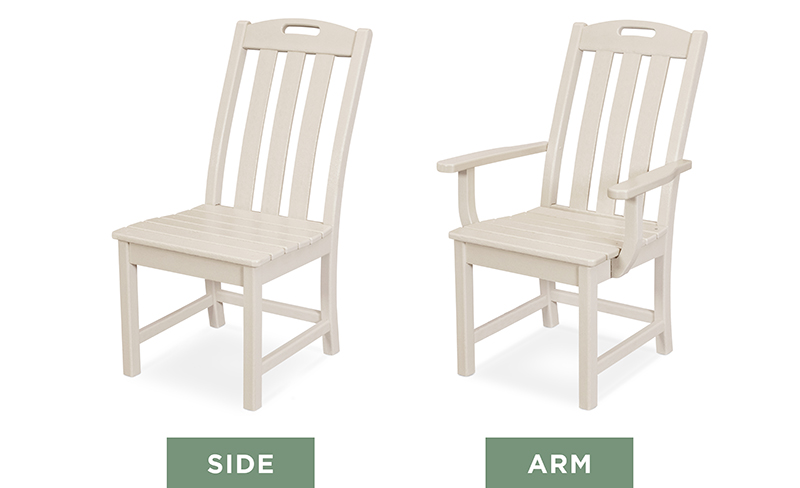 ---
Lumber
Our Yacht Club outdoor farmhouse dining sets are constructed with durable high-density polyethylene (HDPE) lumber and are available in any of our traditional lumber colors.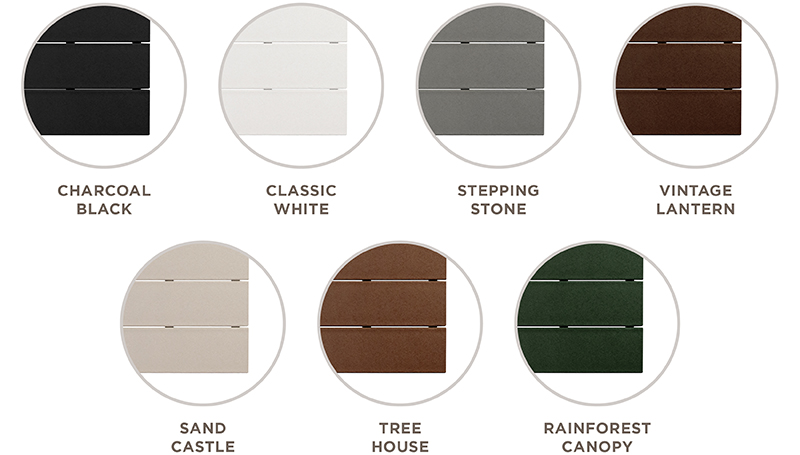 High-density polyethylene (HDPE) lumber is an extremely durable plastic used to craft furniture designed to last a lifetime. HDPE is a medium weight material yet it's extremely resilient against all types of weather, including wind, rain, snow, and long-term sun exposure. At Trex Outdoor Furniture our goal is to provide customers with pieces they won't have to replace but can enjoy with friends and family for many years to come.
---
Coming Soon!
Stay tuned for the launch of our new Farmhouse inspired dining sets — a versatile design perfect for any outdoor space.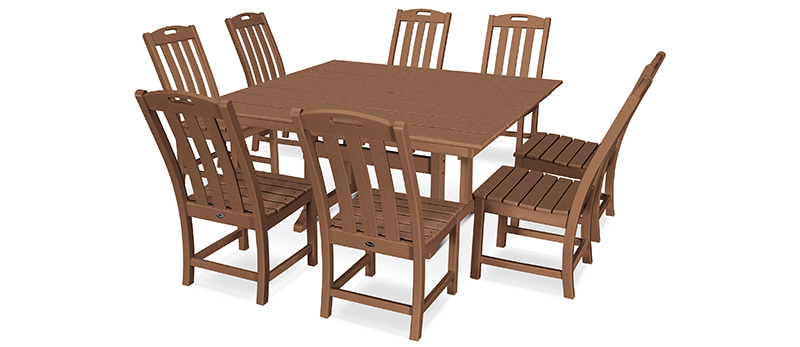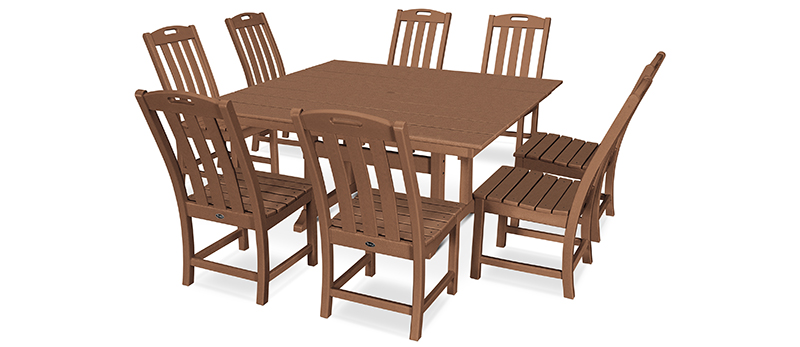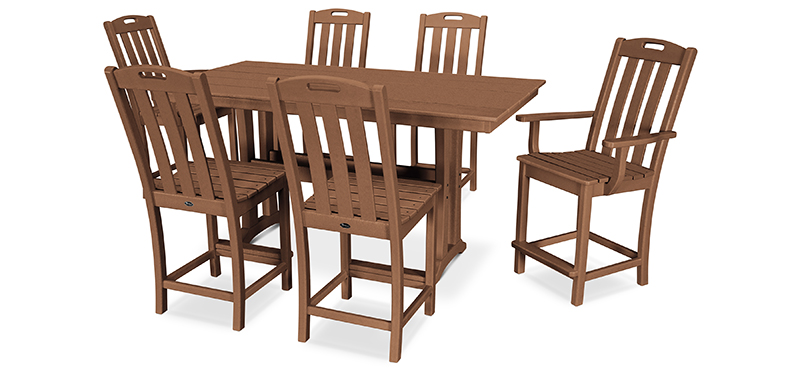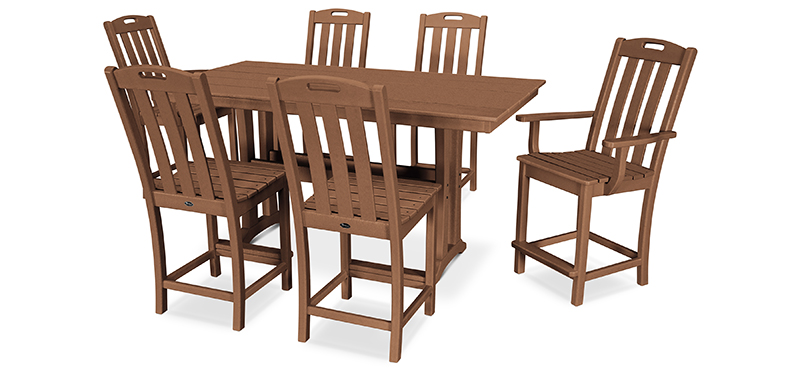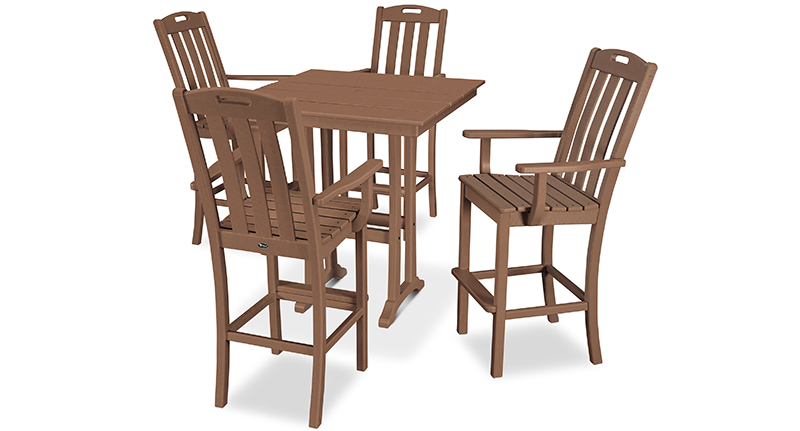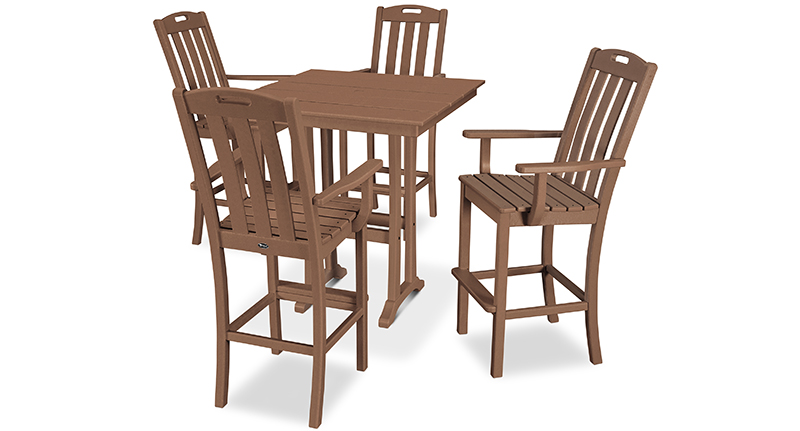 ---