Originally Published on February 10, 2016. Last Updated on December 17, 2020.
Walk into any furniture store—indoors or outdoors—and suddenly you need to make a bunch of decisions. Things you didn't necessarily think to consider: whether you like a softer or firmer cushion, what size table you need to accommodate your family and fit into a certain space, what height stools you need for your counter or bar.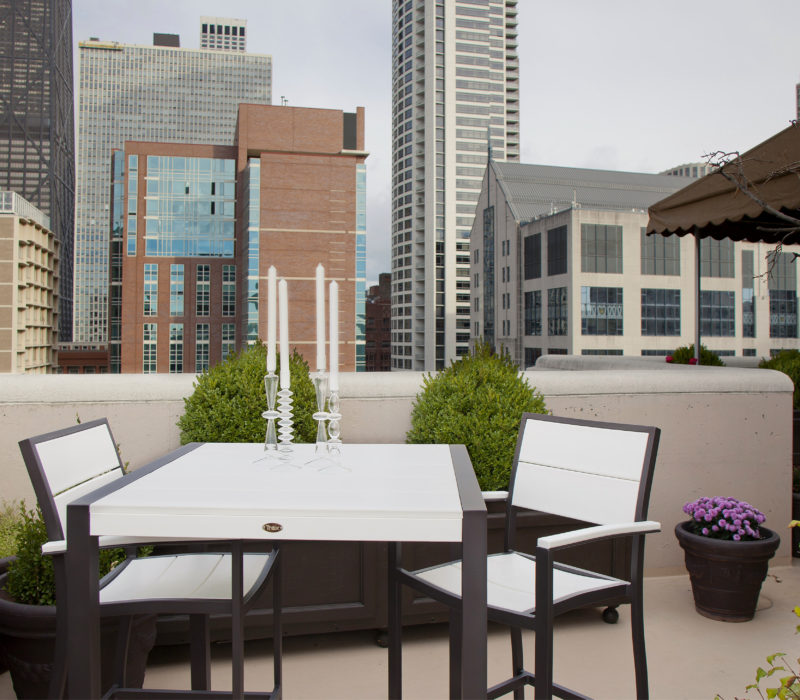 The latter conundrum—bar-height versus counter-height chairs and stools—tends to cause plenty of confusion among even the most experienced home shoppers. Fortunately, we at Trex® Outdoor Furniture™ can help demystify bar versus counter stools and make the process of choosing the right height for your patio or outdoor living space as simple and painless as possible.
---
What are the different heights of tables to choose from?
There are three. Yes, three: bar height tables, counter height tables, and standard dining height tables.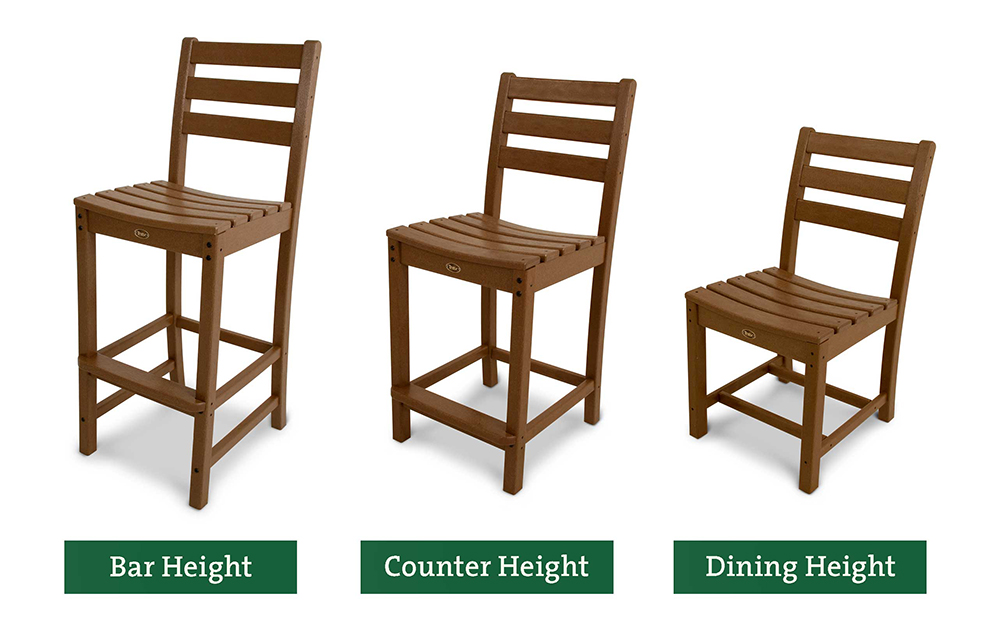 So what's the difference?
Dining height

– You're probably most familiar with standard dining height tables (i.e. your average dining table). They're the most popular and widely available—from patio tables to a casual breakfast table or a formal dining table set. Anyone can pull up a chair, your feet touch the floor, and they're handicap-accessible.

Counter height

– Designed as a gathering spot in the kitchen, for food preparation, or as a place for guests to converse, the more casual counter height tables work well in small areas because their greater height makes the space seem more roomy.

Bar height

– When you imagine a pub, with its tall tables and stools set right off the bar, you're thinking of a bar height table. They feature small tabletops and they're a bit taller than a counter height table.
---
Trex® Outdoor Furniture™ Styles and Sizes Comparison
Five of our collections offer dining-height side and arm chairs, while three of our collections offer bar-height, counter-height, and dining-height side arm chairs. Narrow down your selection by comparing these collections:
Yacht Club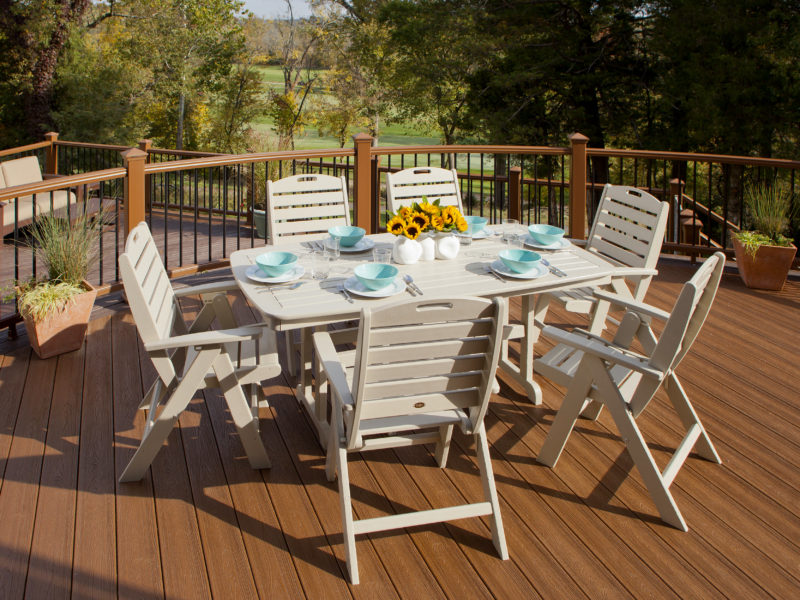 This collection's marine-inspired clean, straight lines are available in dining-height only. The unique headboard and durable design add a gravity to your waterfront style.
The seat height for the dining-height armchairs is 17 inches, and the dining tables measure 29 inches tall.
Surf City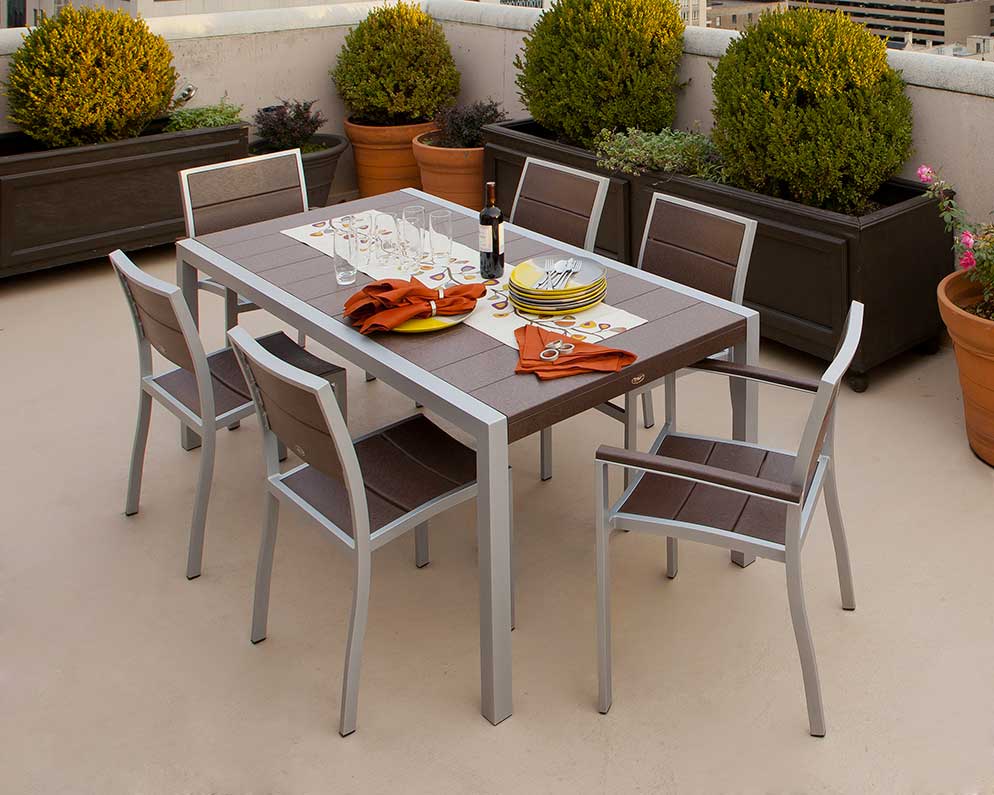 The powder-coated aluminum frames and durable HDPE lumber are the perfect blend of modern sophistication and timeless comfort, making Surf City chairs ideal for decks, patios, and outdoor spaces with contemporary designs.
The Surf City dining-height chairs feature a seat 17.25 inches off the ground.

Counter-height chairs in this collection have a seat height measuring 25 inches.

The seat height for the bar-height side and arm chairs is 30 inches.
Monterey Bay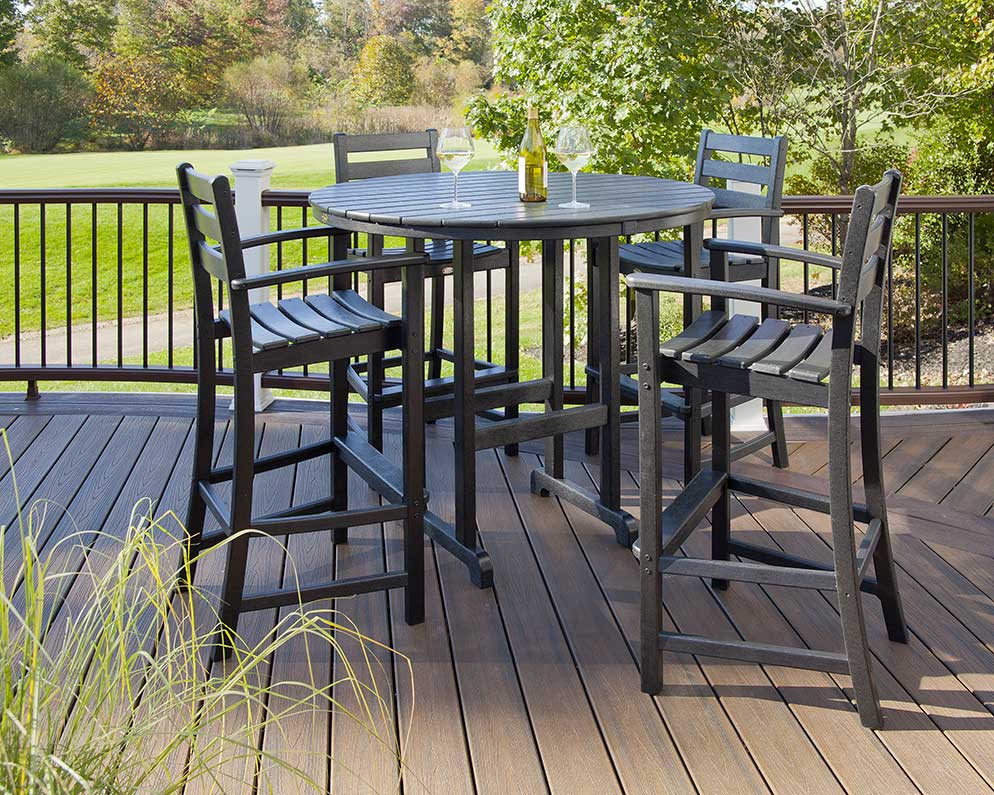 Inspired by the laid back design of the homes along California's coastline, the chairs in the Monterey Bay collection are a reliable choice for casual outdoor entertainment.
Dining-height chairs measure 17 inches from ground to seat.

Counter-height chairs have a seat height measuring 24.13 inches.

Bar-height chair seats in this collection measure 30.13 inches off the ground.
Cape Cod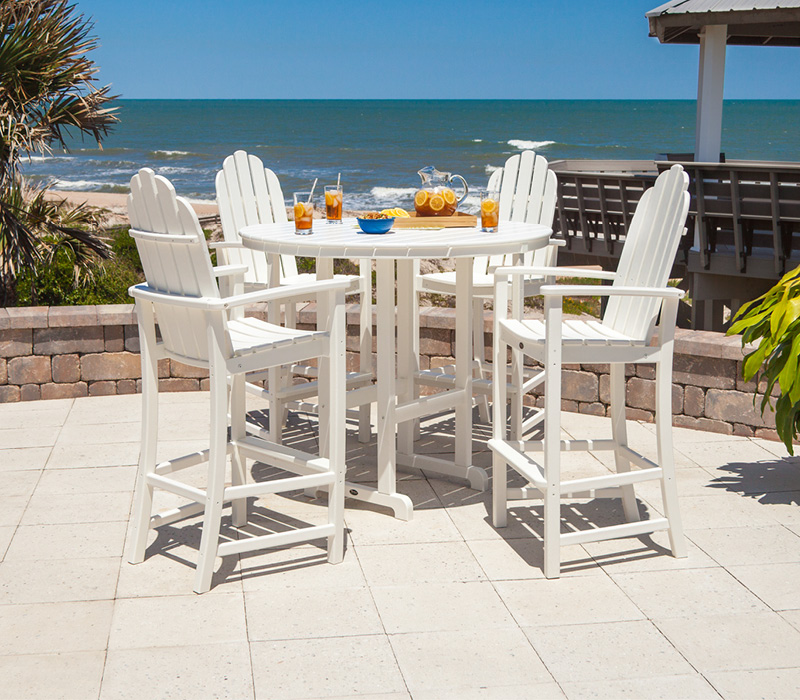 Bring a New England flair to your outdoor seating – each chair in the Cape Cod collection is constructed with the classic Adirondack slatted design.
The seat height for the dining-height arm chair is 17 inches.

The counter-height Adirondack arm chair measures 24.25 inches from ground to seat.

Bar-height arm chairs in this collection have a seat height of 30.25 inches.
---
FAQs
How much space should I leave between the height of the seat and the bottom of the table?
The most important question! In general, you'll want to leave about 9 to 13 inches from the seat of the stool or chair to the underside of the table. That ensures maximum comfort when you pull up to the table, even allowing you or your guests to cross your legs and slide in and out of the chair comfortably. So, using the above measurements, for a counter-height table you would want the table to be around 35 inches tall for adequate space.
How tall are the three sizes of tables?
A bar-height table generally measures in the 40- to 42-inch height range. A counter-height table runs about 34 to 36 inches tall, and standard dining-height tables range from 28 to 30 inches tall.
How do I choose chairs or stools for the counter and bar-height tables?
For a bar-height table, such as those in our Monterey Bay, Cape Cod, and Surf City collections, choose 28- to 33-inch-tall bar stools or chairs. For a counter-height table, you'll want 24- to 27-inch-tall stools or chairs. In contrast, a standard dining table chair measures anywhere from 16 to 19 inches from the floor to the top of the seat. As you can see in the above section the seat heights for all of our chairs fall within these ranges. Again, just look for a gap of 9 to 13 inches between the table height and chair seat height.
I'm worried about ordering stools that are either too tall or too short. How can I ensure the stools I choose are a good fit for an existing table?
It's not too difficult! If you're not sure, get out a measuring tape and use the above guidelines to double-check before your buy. If you buy stools or chairs that have a seat more than 13 inches from the table your chairs will be too short to use properly.
Any other considerations I should keep in mind before purchasing bar stools?
Always choose a stool with a footrest. We design all our stools with footrests, so your feet can rest comfortably and not dangle in the air. Also, when you measure for an existing counter-height or bar-height table, if choosing stools with arms, make sure to account those arms in the height. Finally, to avoid overcrowding at the table try and leave about 24 inches between chairs.
---
Sidebar Chart:
Download and print our 'Quick Guide Before You Shop'