Originally Published on February 22, 2016. Last Updated on June 21, 2021.
Your patio serves as an extension of your home. And to make that space more inviting, you don't have to launch a full-scale remodel. At Trex® Outdoor Furniture™, we want to get you outside and keep you outside in stylish comfort. Here are some of our best tips for refreshing and repurposing your outdoor space for year-round living.
---
Create a Sense of Enclosure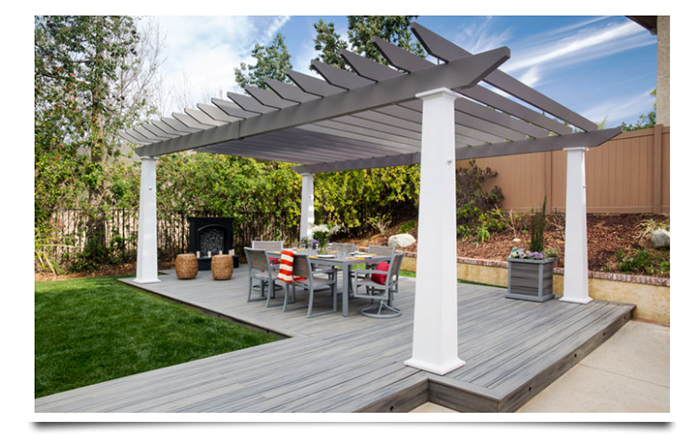 Whether you plan your outdoor space on a deck, patio, near the pool area, or right in the middle of your yard, create a semi-enclosed space for a cozy, private feel. Some things we recommend to make the space feel a little homier:
"Wall" off an area with pots or planters.
If you have a deck, add some height with trellises.
Off a patio, you might plant a fast-growing tree, such as a Leyland cypress, for privacy.
Line one side of the area with benches or a small arbor. Use one 68-inch-long Surf City 68″ Bench, or pair it with a second bench to create a clean boundary.
Create an overhead enclosure with a Trex® Pergola™.
---
Plan Your Furniture Layout
It helps to create dedicated areas within your outdoor space. If you have a large deck, for example, you may want to add a bar table (like our Monterey Bay Round 48-Inch Bar Table) and bar-height chairs in one corner, a seating area with a bench and coffee table in another, and a third area for grilling.
---
Warm Up the Space with a Rug
If an overhang or porch roof covers your outdoor living space, your rug choices can range from indoor/outdoor woven nylon to indoor wool rugs… provided they won't take on rain. If your space lacks covering, choose a durable outdoor rug or overlap several outdoor rugs to add a pop of color and tie the space together.
Don't know how to choose a rug size? The rule of thumb is to determine rug size based on your furniture configuration. In general, aim to have at least two of the furniture's legs on the rug, rather than allowing your furniture to simply flank the rug's borders.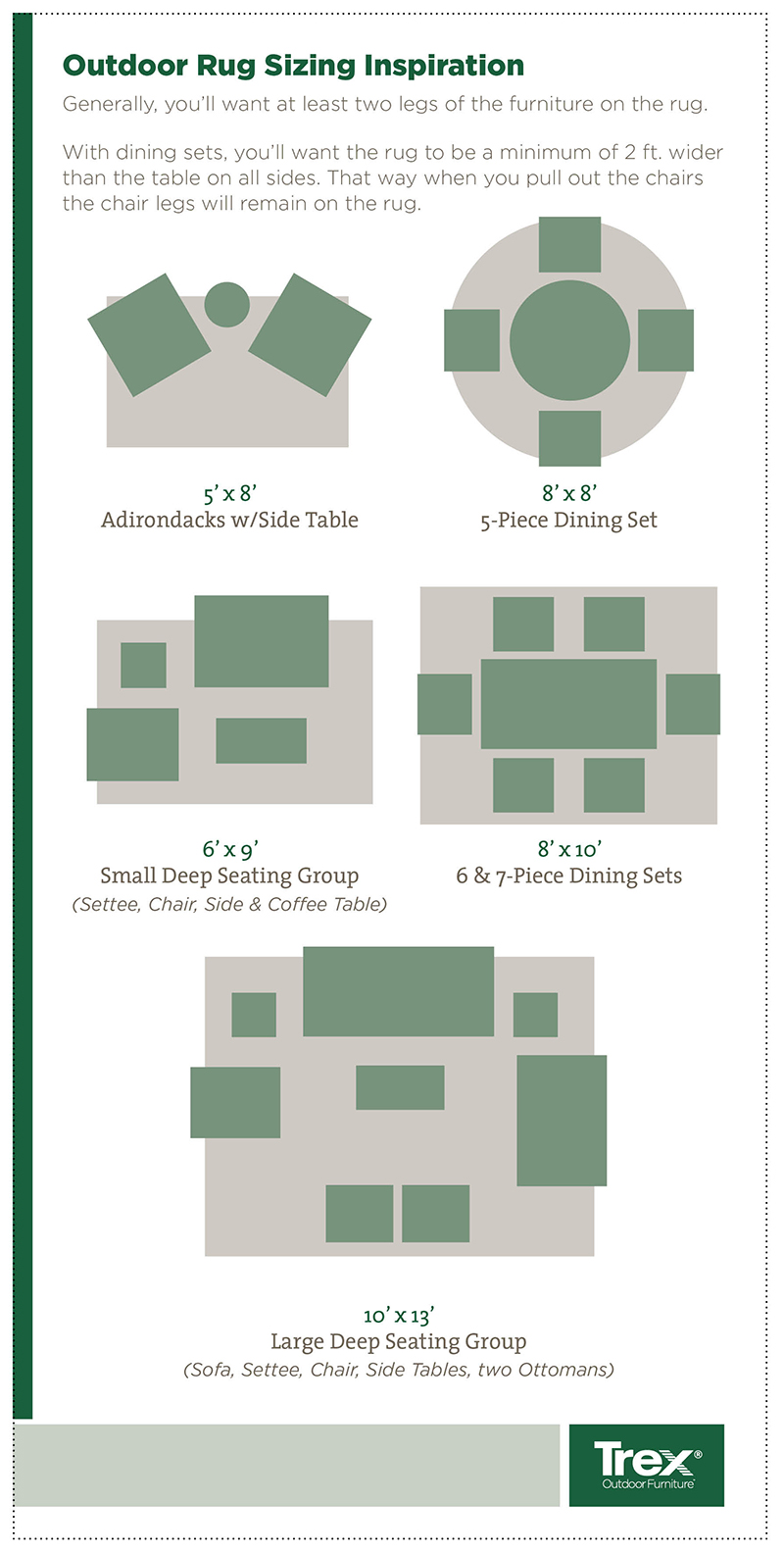 ---
Lighting
Don't rely on your house floodlights. Just as you should eschew overhead lighting in your house, we recommend mixing it up with outdoor lamps, lanterns, and strands of outdoor lights strung up for a soft-glowing ambiance.
---
Pillows and Cushions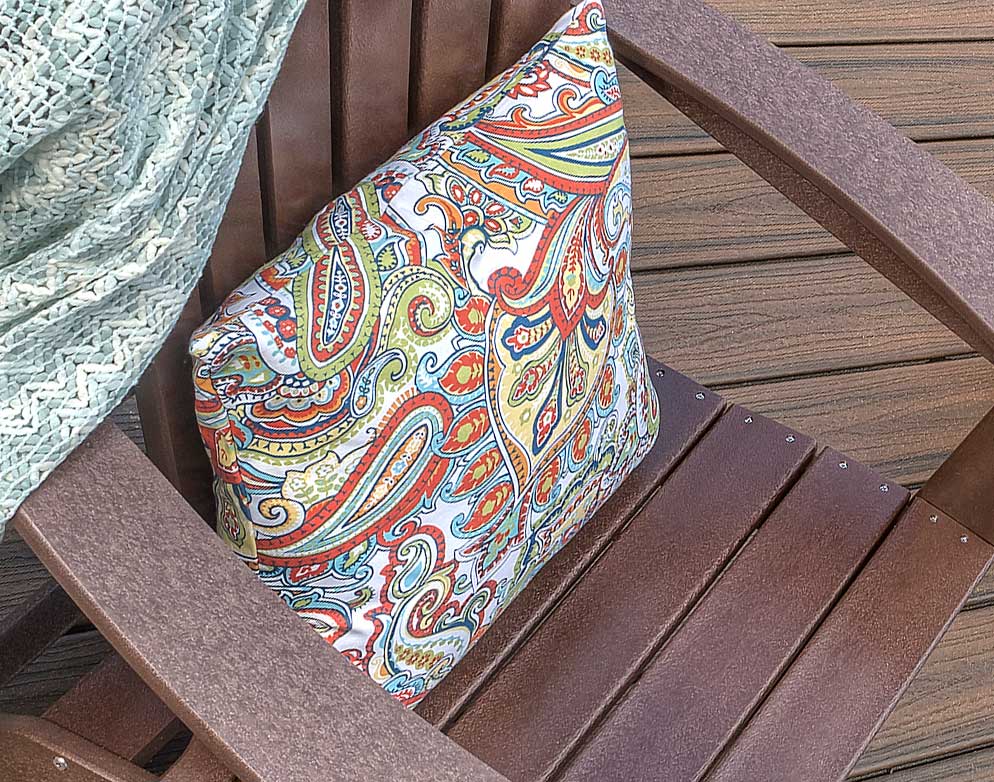 Pillows and cushions provide the most cost-effective way to infuse texture and color into a space while offering extra comfort and back support. Check out the Trex® Outdoor Furniture™ line cushions covered in all-weather performance fabric to add stylish comfort to your outdoor living space. Our line of products offer durable materials that wick away moisture and are as easy to keep clean as our furniture.
---
Add in Accessories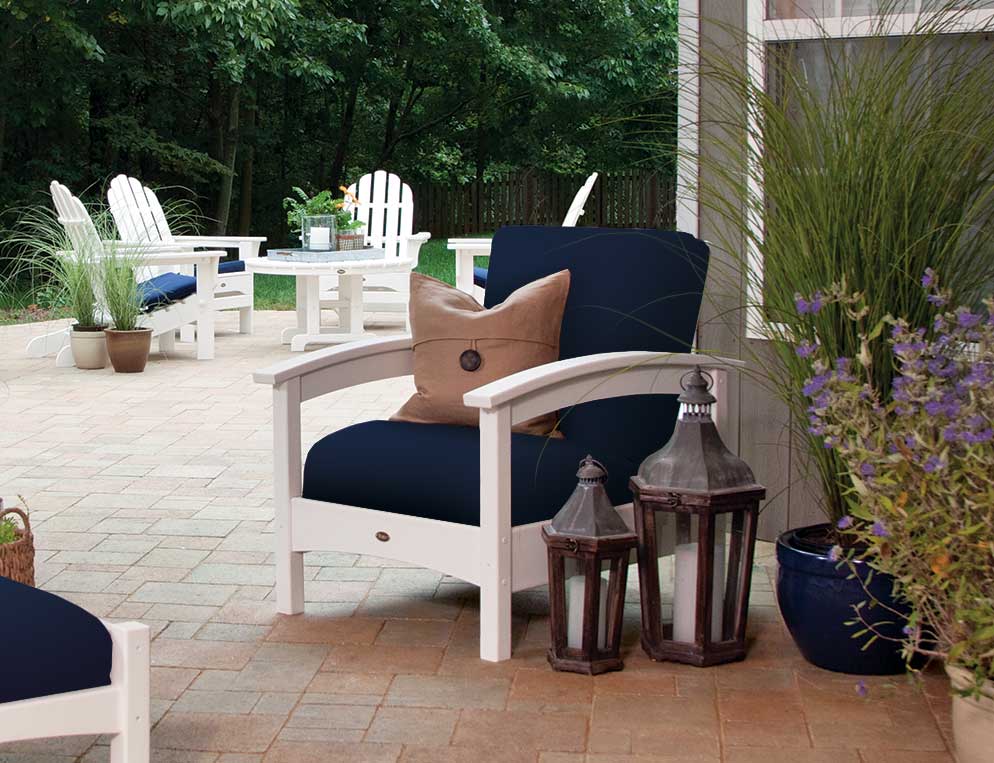 You decorate your mantel and hang pictures on the walls of your home inside, so why not apply the same techniques to an outdoor space? We love wall hangings — from mirrors that reflect back the outdoors to specially designed canvases designed to handle weather — as a way to inject visual interest into the space you create.
The addition of small potted plants, a variety of candleholders in different heights, small iron statues and figurines all can add a homey feel to space, making it feel less cookie-cutter and more personalized. Add pops of color with planters potted with colorful, seasonal flowers or herbs.
---
Heat Your Space
When it's cold, the last thing you want to do is head outside. But add a heat source to cut the chill, and you'll never want to come in. Big heat lamps are an easy and relatively inexpensive solution, as are small portable industrial space heaters which you can move around.
If you don't have an outdoor fireplace, everyone from home improvement stores to online retailers sell outdoor fire pits and chimineas in a variety of styles and finishes.
If you have a pergola or an overhang, consider threading curtains or large swaths of fabric around the space to create a warmer enclosure.
---
Beat the Bugs
When warmer weather calls, the insects come out in earnest. And, let's face it, mosquitoes and flies can have you running indoors. Consider a variety of defenses against the pests. Establish a perimeter of tiki torches filled with citronella, which add ambiance as well as barrier protection. A variety of bug zappers, like DynaTrap or Thermacell, work surprisingly well and are also cost-effective solutions.
You can also plant your way to fewer bugs with mosquito repellent flowers such as citronella geraniums, mums, and marigolds.

As another option, you can call the pros. National companies, like Mosquito Joe, offer guaranteed 21-day sprays to beat back ticks, mosquitoes, and fleas. Choose between a chemical spray or a greener, organic option.
---
Keep Cool
The summer sun can be hot. To beat the heat and protect your skin from sun overexposure, an umbrella can provide respite over a dining area or set between two Adirondack chairs. The Trex® Outdoor Furniture™ 9-foot Tilt Umbrella is available in a variety of canopy colors and a sturdy aluminum base.
For additional full or partial shade, also consider canopies or a pergola. And if your outdoor living space falls under a covered area or porch, be sure to add in ceiling fans to help circulate air, and keep bugs away.
Blog Post Updated June 21, 2021