Dress your outdoor coffee tables and end tables in style by adding accessories that showcase your home's personality. You can do this whether the tables reside on your porch, the middle of your garden, or even inside.
We're big on bringing the indoors out, so here are our Pinterest-worthy picks for stylish tablescapes for any season.
---
The Perfect Formula
UK blogger Kimberly Duran, of Swoon Worthy, deconstructs a coffee table vignette for a perfectly balanced vignette. She recommends adding:
Something with height
Something living
Something quirky
A candle
A tray
Something personal
A stack of books
You can use that rule to mix and match pieces as we'll show you below. We'll also show you some of our favorite accessories picks for your outdoor end and coffee tables.
---
Add a Tray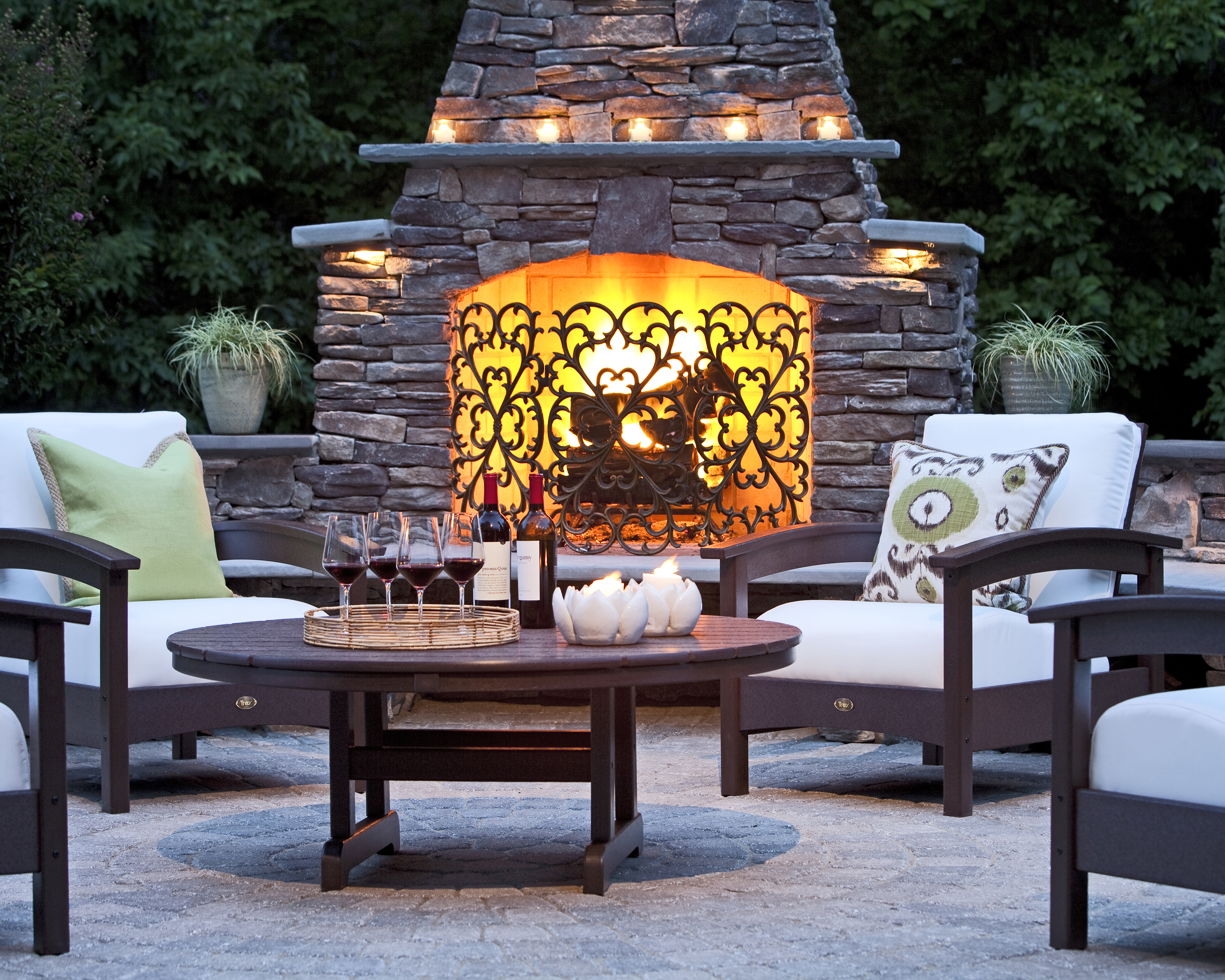 The Trex® Outdoor Furniture™ coffee and end table collections provide minimalist, clean space. Pick out a tray to layer onto the tabletop. Not only does it add extra style, it visually breaks up the space. Plus, a tray on the end or coffee table allows you to carry beverages, books, and accessories indoors when you're finished entertaining.
---
Our picks for trays include:

---
Group Candles and Lanterns
At Trex® Outdoor Furniture™, we're always about adding ambiance and warmth with lighting, whether it's romantic string lighting overhead or side-table lamps.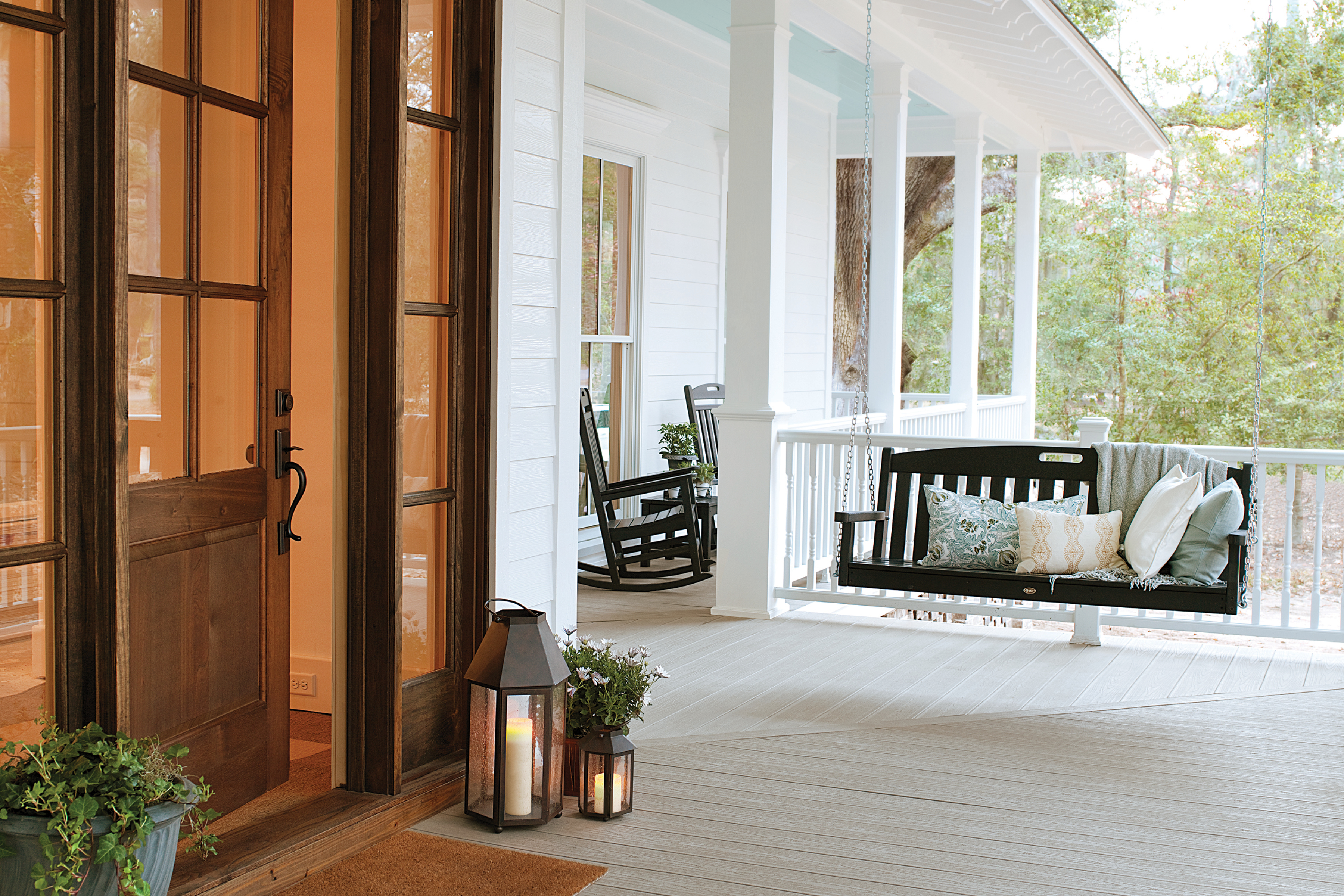 Arrange a grouping of mismatched vintage candlesticks across a coffee table. Use different styles and sizes of silver candlesticks or mercury glass candlesticks.
Set different sizes of white pillar candles atop a tray, either by themselves or set in different-height glass vases.
Add a lantern or a grouping of different lanterns. Pottery Barn's Bristol Lanterns add a beachy vibe to your space.
---
Make Natural Arrangements
While we love to bring the indoors out, we also love to keep the outdoors … well, out. Add some nature-inspired decor to your end tables.
Accessorize your coffee table with a glass terrarium or a bell jar. Purchase either at any online retailer and most garden shops. You can buy a traditional all-glass dome or add a geometric-style terrarium for additional visual interest. Add in anything from ferns to succulents, air plants, and mosses.
Go simple with small terra cotta pots and easy-to-keep-alive succulents. We love jade plants for their ease of growth and full, leafy look. For a more eclectic vibe, pot them in a vintage tea tin or pie plate.
Place a bowl of pinecones on any tabletop for fall or winter.
Collect branches from your yard and arrange in a glass hurricane vase. Stabilize them by filling the vase's base with acorns or small river stones. Do the same with fallen tree branches, dried berry plants (like winterberry, and magnolia, holly), or evergreen boughs.
Collect fragments of driftwood and interesting shells, or stones softened by the sea. Fill a jar, bowl, or tray with white beach stones (a la the movie "Something's Gotta Give"), seashells, or the driftwood.
Fill a tall vase with lemons or other small citrus fruit.
Arrange a silver-polished bowl with bright green Granny Smith apples.
Add flowers to the table—whether you're tucking formal flower arrangements into crystal-cut vases or stuffing a Mason jar with hydrangeas from your front yard … or Black-Eyed Susans and Queen Anne's Lace off the side of the road.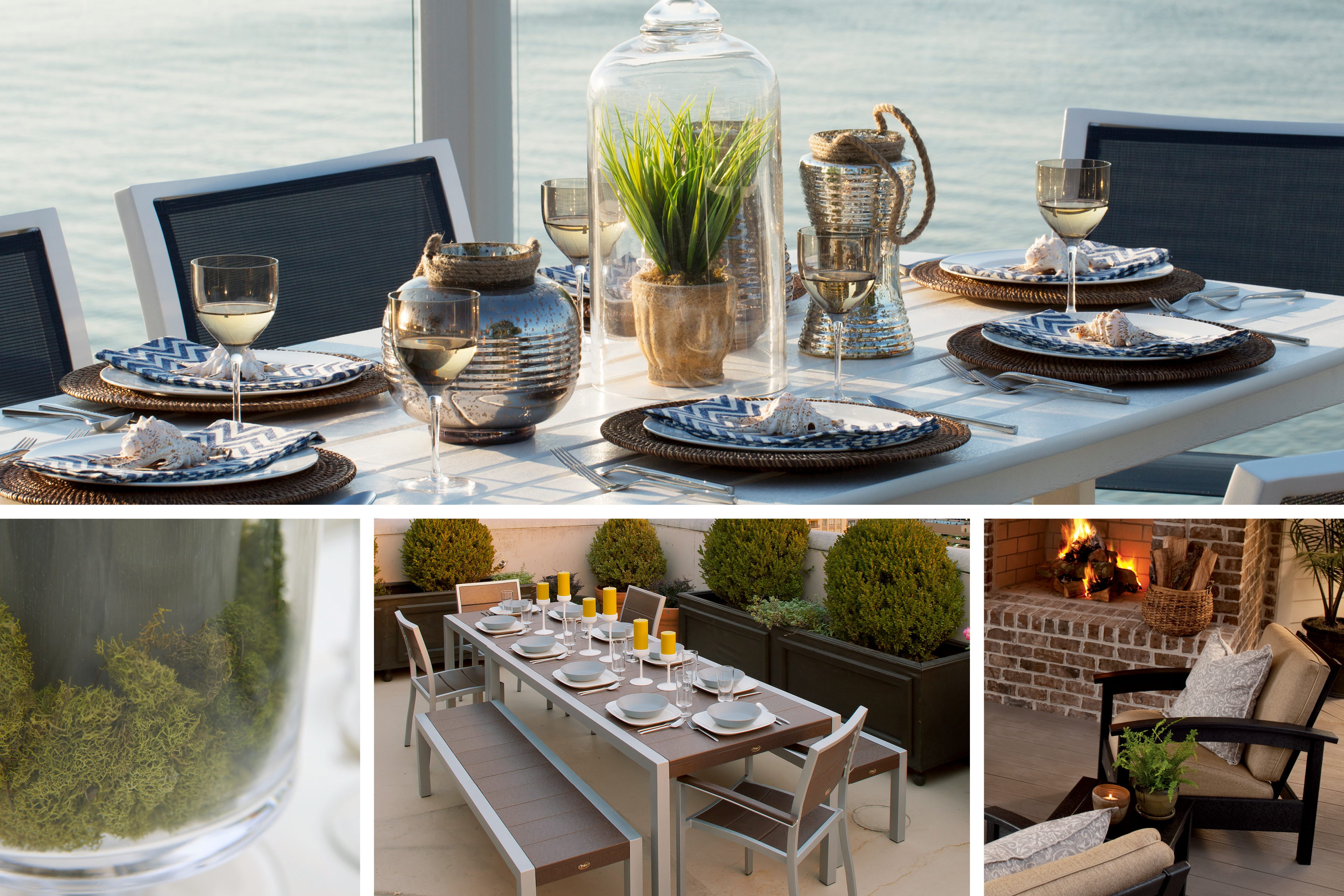 ---
Books & Knick Knacks
Yes, we know these ideas are for outdoor tabletops, but that doesn't mean while you're outside you can't stack books on your tables; just be sure to protect them from the elements. Books add height, color, and symmetry to a tabletop. Top them with knick knacks for increased visual interest and balance.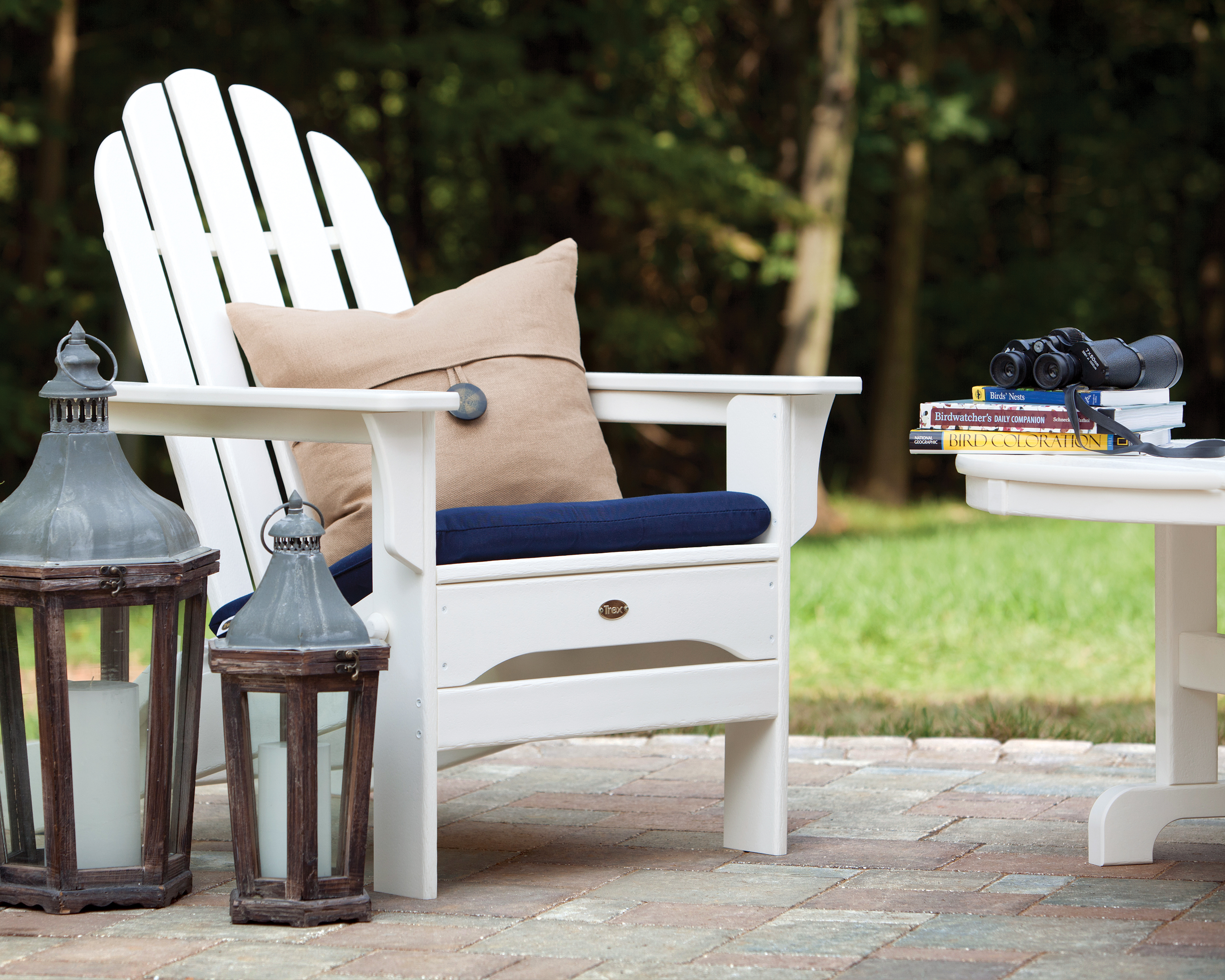 Group books of similar color and size in a stack. We love rifling through books at thrift stores and estate sales to find books with beautiful covers.
Include lamps on end tables for extra lighting, like this Egress Outdoor Table Lamp finished in a natural slate geometric base.
Add one or more of these ideas to your outdoor tables and you're well on your way to creating a unique patio aesthetic.