Ah, spring. That time of year when the days last a little longer, the trees begin to bud, and the weather warms. It's also the perfect time to fully embrace being outside. Gather around your outdoor dining table and enjoy a sumptuous spring feast or barbecue. Perch on your porch and take advantage of the beautiful weather. Kick back and curl up with a good book on the back deck. 
But now's the time to start transitioning your patio space so you can enjoy more spring and summer days outdoors lounging by the pool, firing up the grill, or enjoying an outdoor meal. Here are just a few tips to help you get your patio furniture and outdoor entertaining area in tip-top shape for those warmer months. 
---
Clean Off Your Patio 
We say patio, but any outdoor space you have — whether it's a deck, apartment balcony, outdoor kitchen, or screened-in porch — can probably use a little post-winter TLC.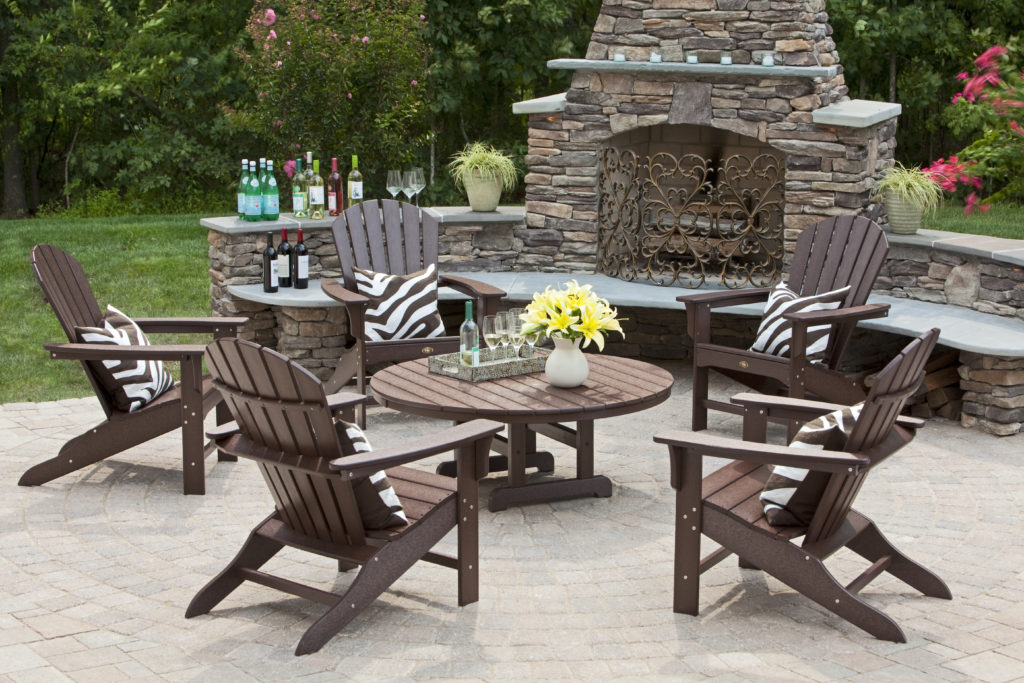 Remove Debris 
Leaves, sticks, and dirt hang around long after the cold winter months. Start by sweeping or blowing the area to remove as much as possible. For hard-to-reach places like between deck boards, use a putty knife to work fallen acorns or twigs out.
Wash Your Patio

 
Is your brick patio dull from dirt? Is mildew growing in between your slate tiles? Is your deck still slick in spots?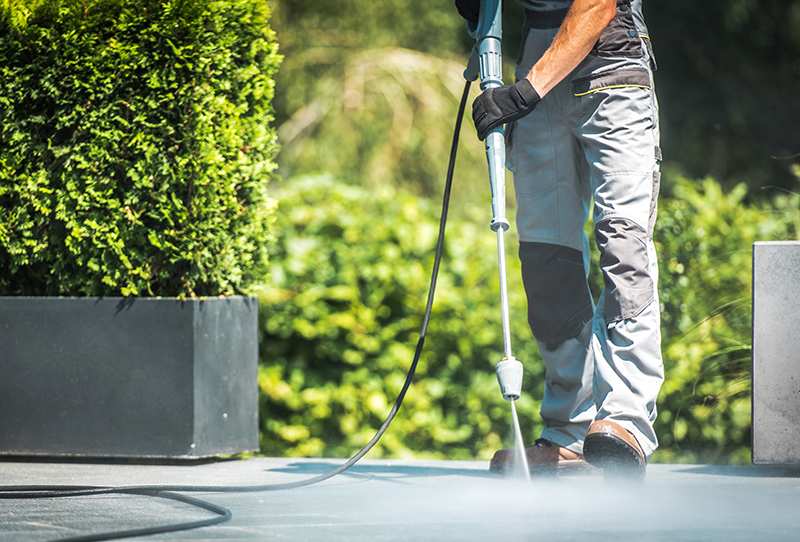 To clean wooden decks, use a mixture of water and oxalic acid according to the oxalic manufacturer's instructions. 

For concrete or natural stone patios, do a first clean with a hose, mild detergent (use a ratio of 10 parts water to 1 part detergent), and scrub brush. 

For moss and mildew residue on a stone surface, add a cup of bleach to the mix.

Always check the recommendations for your patio's surface before cleaning.
Check Your Patio Condition

 
Look for little details like nails sticking up on your deck, cracks in the stone edging around your patio, or loose mortar around your outdoor grill. Walk around the area and make any repairs now to avoid headaches later. If your deck or stone requires resealing, check that task off your to-do list before spring. Follow the manufacturer's recommendations for temperature and dryness before applying sealant.
---
Clean Your Patio Furniture
Did you store some of your patio furniture in the garage during the winter, or did you leave some outside? Regardless, both need minimal cleaning whether you take them out of storage or uncover them.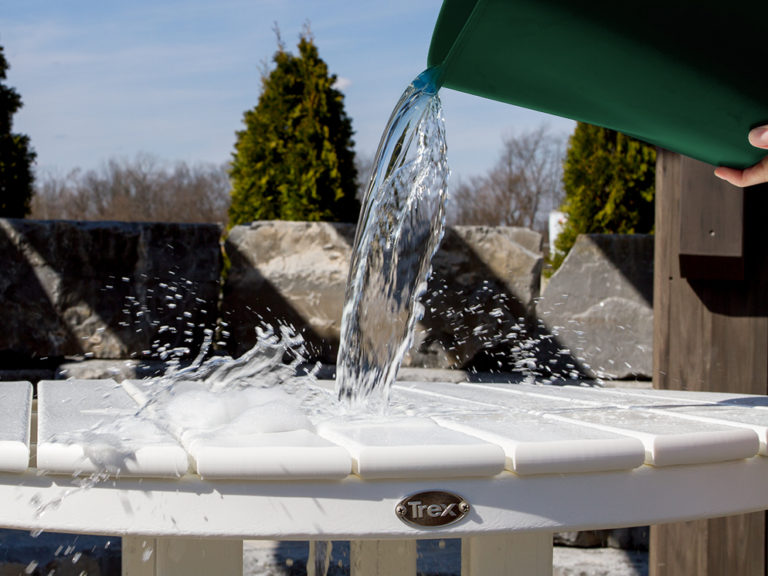 Metal Furniture 
Clean patio furniture with a pressure washer that doesn't exceed 1,500 psi (about the pressure of a car wash), scrubbing gently as needed.

Inspect patio furniture for rust, particularly around the hardware. If you do find rust, gently slough it off with a soft-bristle brush, and soap and water. 

Apply color-appropriate touch-up paint to rusted areas.
Wood Furniture 
To care for wood patio furniture, you'll want to hose it down with a pressure sprayer to loosen grime in the wood grain. 

After the furniture dries, use an oil-based soap and a brush to remove additional dirt. Sand rough areas of the wood furniture as needed. 

If you're resealing the wood, following manufacturer recommendations. 
Trex® Outdoor Furniture™
Made with genuine POLYWOOD® lumber

Simply use a soft-bristle brush, water, and mild detergent to loosen grime from the furniture grooves. 

For a deeper clean, you can use a 1/3 bleach and 2/3 water solution. 

Use the high-pressure power washer for tough stains. Just ensure your pressure doesn't exceed 1,500 psi.
Glass Furniture 
Make that glass-top dining table shine like the top of the Chrysler Building using a commercial glass cleaner, vinegar, or just plain old water. 

Clean with an old rag or paper towel for a streak-free, fiber-free finish. 
Furniture Upholstery 
Whether you left your cushions indoors or outside, it's time to get them spring-ready. 
To remove any dirt or debris, use a soft-bristle brush, mild soap, and water.

For

chocolate stains, get 1/4 cup dishwashing liquid and 1/2 cup hydrogen peroxide per one gallon of water. 
Other Areas to Clean
Now's the time to give your home's exterior a good scrub. While you're at it, wash those windows. Also make sure your backyard fence, any trellises, gardening borders, and other patio features are in good shape. 
---
Refresh and Rearrange Your Patio Space
As we roll into a new decade and a new season there's no better time than the present to refresh your current patio furniture layout and your patio space.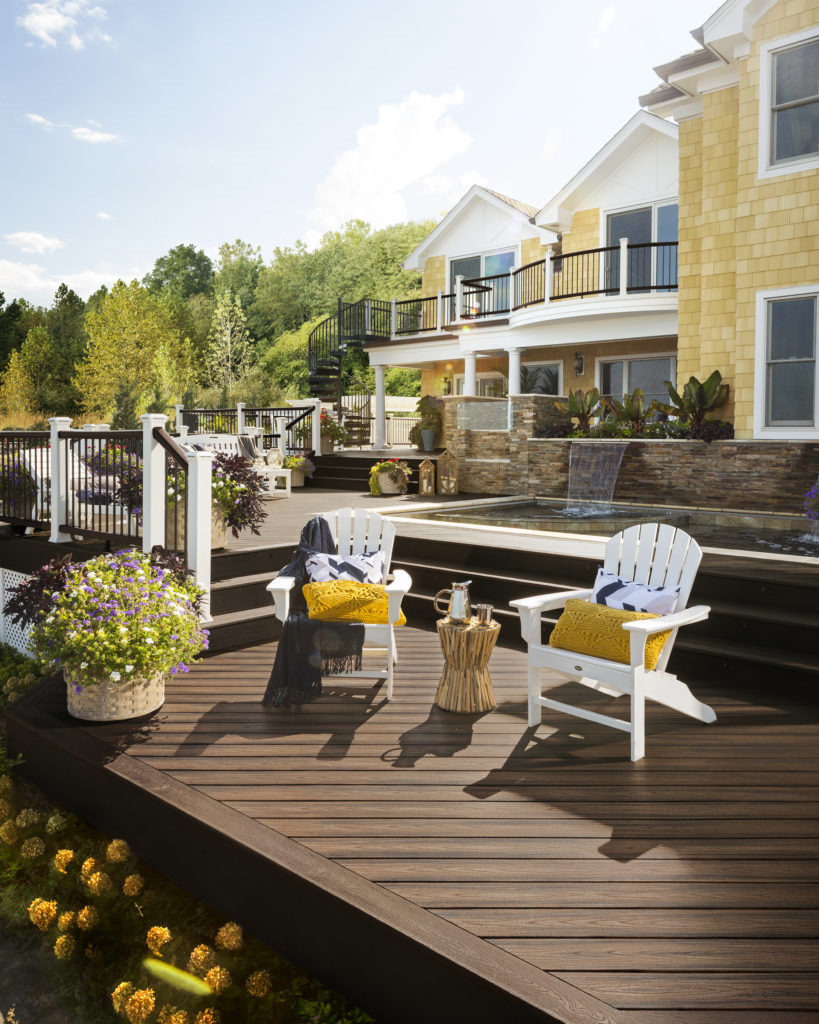 Change Things Up
You'd be surprised at the impact changing things up a bit can make. Switch the positioning of your outdoor sofa. Break up a vignette of chairs. Consider layering rugs, or changing the angle of your rug, for enhanced visual interest. Swap out your throw pillows in favor of bolder, brighter hues and fun, textured patterns.
Out with the Old
What's outdated or just plain worn out? If your outdoor cushions have been around longer than the last few presidential administrations, it's probably time to replace them with newer, more comfortable options in modern or classic patterns. 
Think Accessories and Privacy 
Now is also the time to add ambient elements to your outdoor area. Think of the space as an extension of your indoor living area. Don't be afraid to add artwork to your screened-in porch. Is your back patio open to the neighbors? It's probably time to add a small privacy screen or outdoor curtains to your pergola. 
Add Ambiance
With warmer, sunnier months ahead, make sure to create a shady spot. A large umbrella over a dining set makes al fresco meals more inviting, while a canopy over a conversation set keeps the sun away from that beach read you're trying to finish. Planning on sitting out after dusk? Outdoor lamps add plenty of warmth, and cafe' or string lights are always a good idea to create a romantic mood.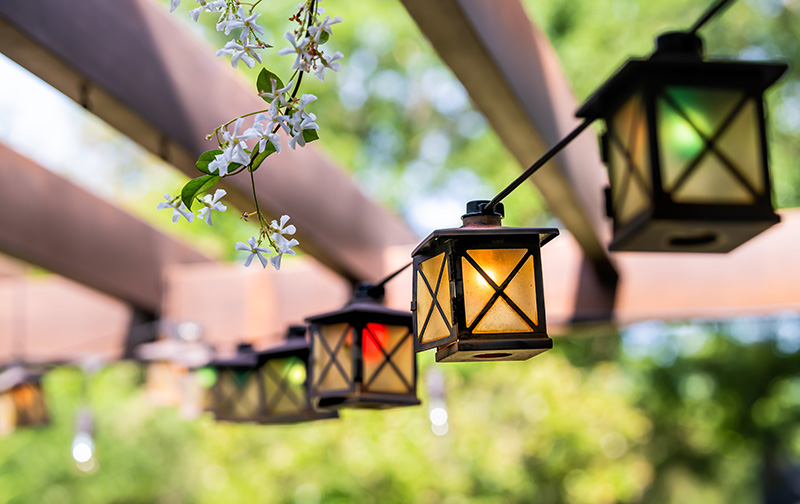 ---
Put Out Plants
It may not quite be time to start your spring planting, but you can plan (and plant) accordingly. Add new glazed pots to your outdoor space. Spruce up your patio with window boxes perfect for herbs and colorful blooms. Add vases or small terrariums to your outdoor side tables. Place planters around your seating area.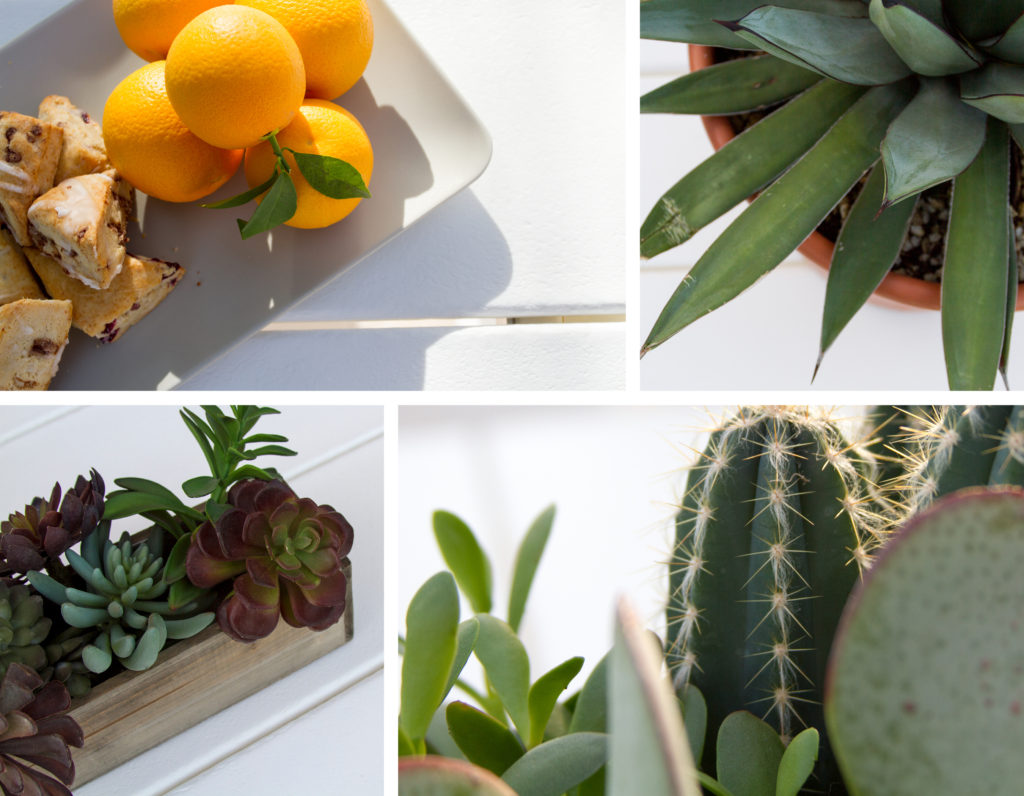 And if you haven't started prepping your beds yet, now is definitely the time to start. Pull any old weeds, prune dead plants, and set up your soil for success by boosting its fertility with compost material or fertilizer. 
---
Sure, you've got to do a little spring cleaning on the front end. But once you've freshened up your outdoor patio space, when spring is finally here to stay you'll be able to sit back, relax, and enjoy the freedom that comes from days of longer light and warmer weather.
Blog Post Updated June 22, 2021