There's the faintest hint of a chill in the air; reds, oranges, and yellows begin creeping into the trees; and football season is back.
Ahhh, fall…
It's also that time when pumpkin spice lattes are socially acceptable, when leather boots and jackets come out in full force, and plaid clothing and sweaters are pulled from storage.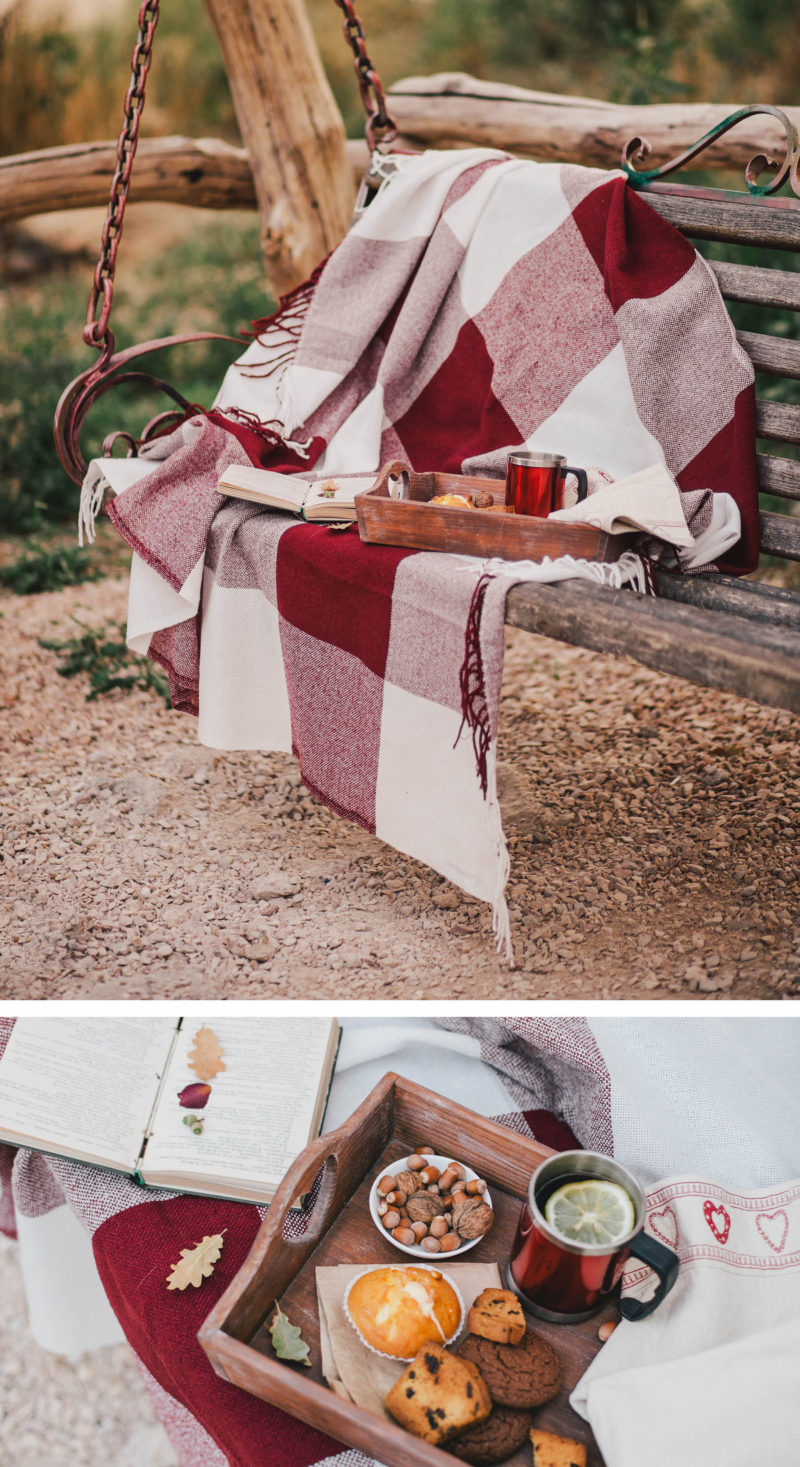 Writer F. Scott Fitzgerald once poignantly wrote that "life starts all over again when it gets crisp in the fall." All things pumpkin aside, autumn is the perfect time between that too-hot and too-cold weather to really enjoy being outdoors.
To help you transition from summer to fall here are some of our top tips for entertaining throughout the fall season.
---
Fall Color Palette
Take a cue from the trees. Warm golds, spicy oranges, muted reds, rich browns. All these autumnal colors come back again and again in the fall.
An easy way to incorporate these fall colors into your furnishings is to swap out your dining chairs' cushions. In addition to cushions and pillows, pumpkin-colored candles, cranberry-hued tablecloths, and velvety brown throws are also easy ways to add autumnal color to your outdoor space.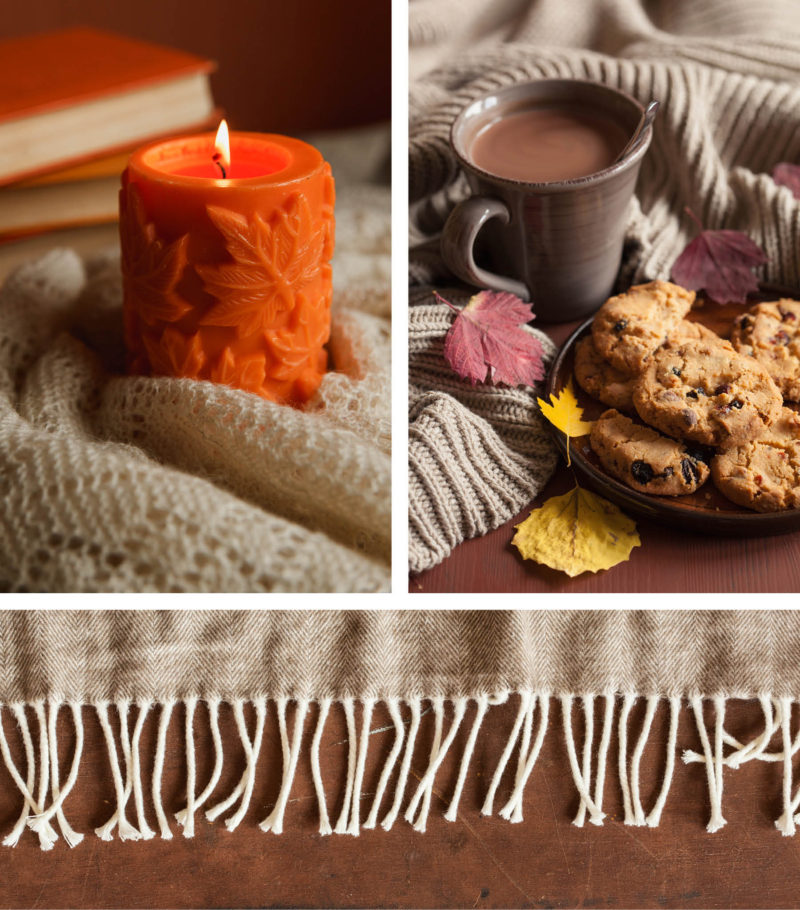 ---
Make it Cozy
Whether you're throwing a party for two or 20, ensure the comfort of your guests. Offer warm throws to help cut the chill. Light up your patio space with heat lamps or plenty of ambient lighting. Group candles together to create a cozy aesthetic. Or provide a fire pit somewhere in your yard. (If you're feeling particularly handy, you can build our do-it-yourself fire pit.)
Also, check out our previous post on other ways to take off the chill.
---
Plan Your Space
Sure, you'll want to scoot that furniture in to ensure easier conversation, so set up those seating arrangements ahead of time. Think Adirondack chairs ringing the fire pit, a pair of Club chairs facing an outdoor fireplace, a set of rockers situated across from a settee. Encourage guests to relax and enjoy visiting with one another. And always keep extra seating on hand so unexpected guests can pull up a chair too!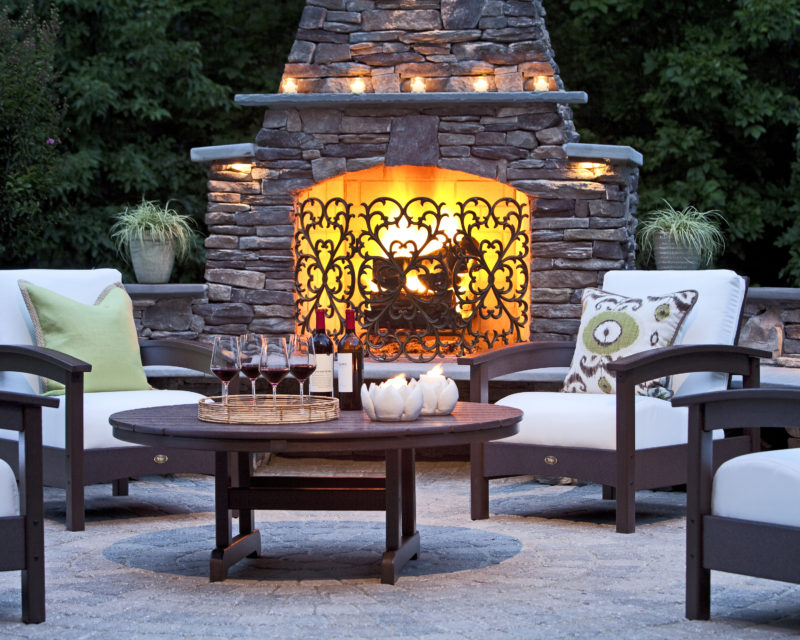 ---
Create a Fall Menu
Whether that means barbecued chicken on the grill or simply light snacks, do a little planning on the front end of your fall get-together. If you're hosting a football party, think easy nibbles guests can pick up to eat. Or serve wine paired with cheeses and a charcuterie board. Cooking for 30? A crockpot of soup or chili is sure to fill everyone up. Remember: You don't have to go all out with a fancy four-course meal to throw a successful outdoor fall gathering.
---
Have Drinks on Hand
Sure, adult beverages are one way to warm up a gathering. If you're serving alcohol, consider serving a signature cocktail to keep things simple. If you're planning a kids' event, make sure you have plenty of warm and cold drinks on hand — hot chocolate, juice, punch, water — for both children and their adult counterparts.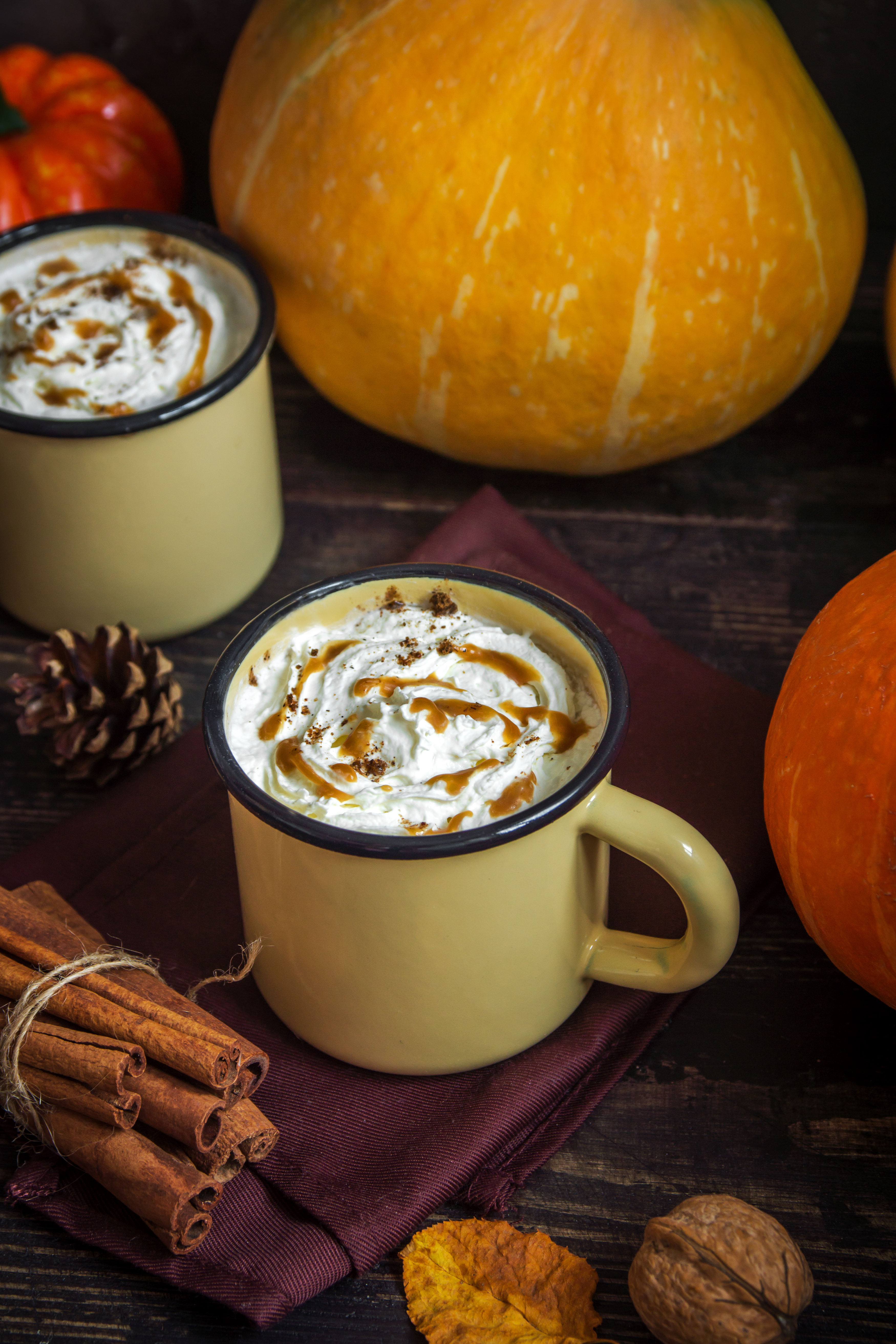 ---
Set the Mood with Music
There's nothing we love more than a good fall playlist to add ambiance to a gathering. Whether you're hosting Thanksgiving and want classical and jazz tunes or you're blaring your alma mater's fight song over your outdoor speakers, let guests mingle to the sounds of fall in the background.
---
Plan Activities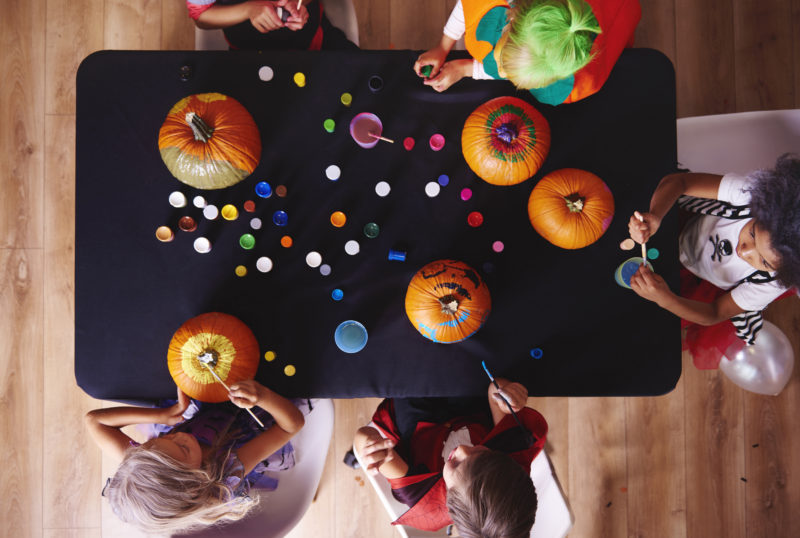 A kids' Halloween party? Let them paint pumpkins or send them on a fall scavenger hunt. A football party? Make sure you have a sports package on TV and enough space for all to cheer (or boo the opposing team). A formal Thanksgiving feast? Consider placing cards and pens at each place setting so guests can write what they're thankful for. The sky's the limit when planning activities for your gathering.
---
Use the Elements to Decorate
Pumpkins and gourds, pine branches, fallen boughs, acorns, chestnuts. Take a page from nature and use those elements to decorate your outdoor space. Place pine boughs in a vase to use as a centerpiece. Embellish the area around doors with potted mums or set out a cornucopia of gourds on a side table.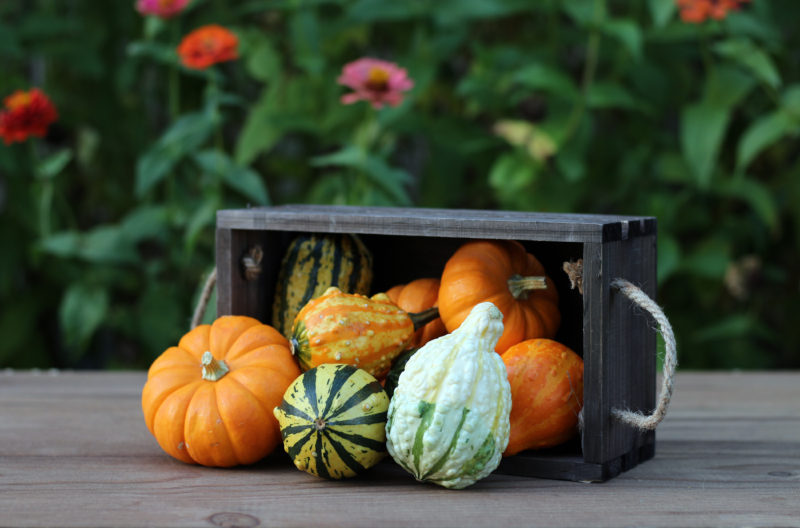 Scatter acorns along a table's center for a natural look. Scout your yard for beautiful, natural fall elements to incorporate into your space.
---
Don't Forget the Dessert
What's better than a fall meal? An array of desserts — pumpkin creme brûlée, sweet potato pies, cranberry turnovers; or just old-fashioned Halloween candy. Guests always love a sweet ending to a meal. And, even if your desserts are all store-bought your guests will be impressed.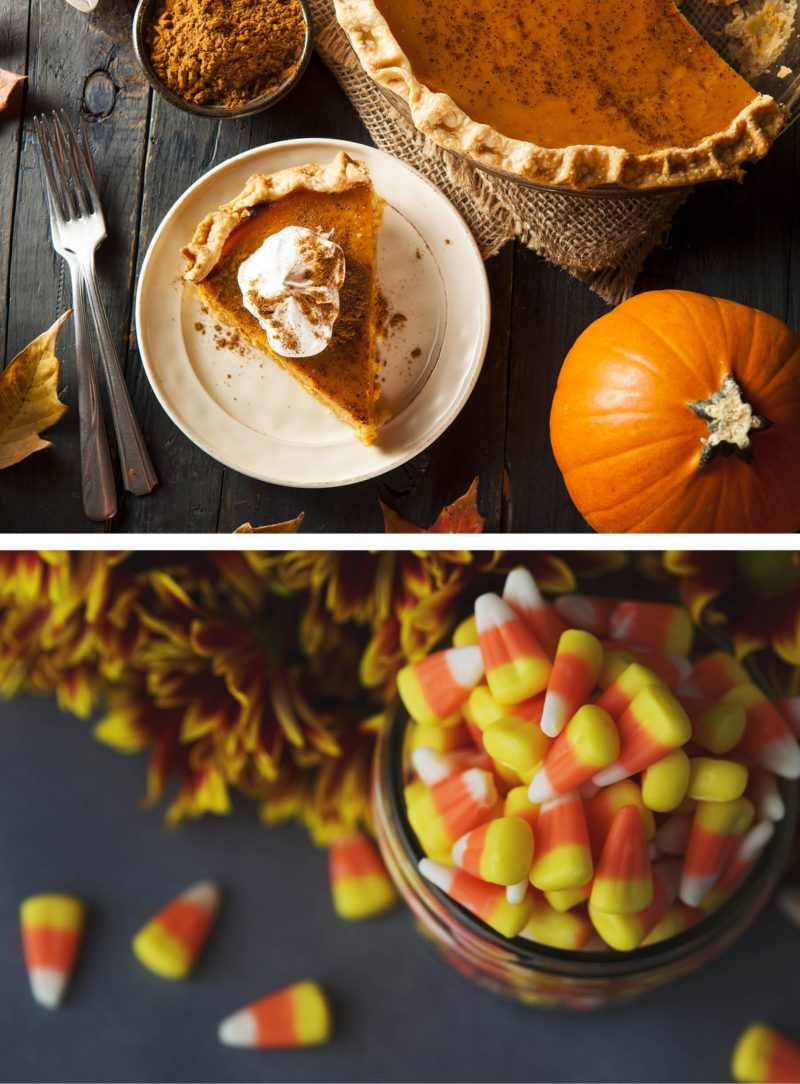 We're always looking for ways to extend outdoor living. Let us know how you entertain in the fall!
Blog Post Updated June 21, 2021