Originally Published on September 13, 2017. Last Updated on October 21, 2020.
You've been waiting for this season all year long—that time for tailgates, making sure you've ordered the right sports package on TV, and donning your team colors. Whether you cheer for the blue and gold, the crimson and white, the blue and orange, or any other color… show your team spirit loud and proud with outdoor entertainment for football season (well, maybe not too loud, so the neighbors don't complain).
Looking for some winning ideas to throw a football party? We've got you covered. Whether you've staked out your spot near the stadium for the weekend or you're just throwing a party in your backyard, we've got all the tips and entertaining ideas for before kickoff even begins.
Plan Out Your Viewing Area
If you know anything about football season at all, it's that access to a television (or several TVs) is non-negotiable. With SEC teams at least, it's frowned upon to even schedule a wedding or any event that doesn't have TVs during your team's game.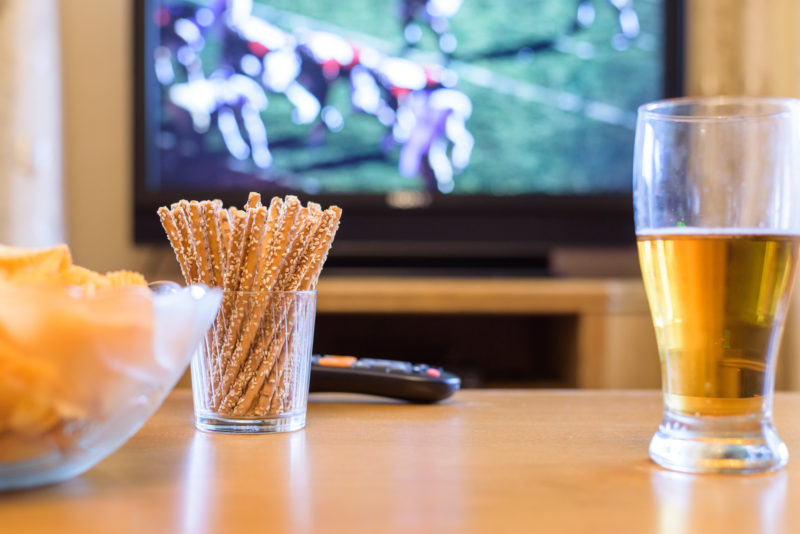 Just make sure you have TVs set up indoors and out, so no one misses a play. For outdoor entertainment, we love setting out club chairs and settees so guests can recline in comfort. Make sure you also offer coffee tables, side tables, and occasional tables, so viewers can easily set down a drink or a plate of food … without taking their eyes off the screen.
Decide on Your Food
Have fun with your football party. If you're rooting for the LSU Tigers, go with a Louisiana gumbo or jambalaya—both foods that you can make to conveniently feed an army. Cheering for the Green Bay Packers? Set out your brats and cheese curds.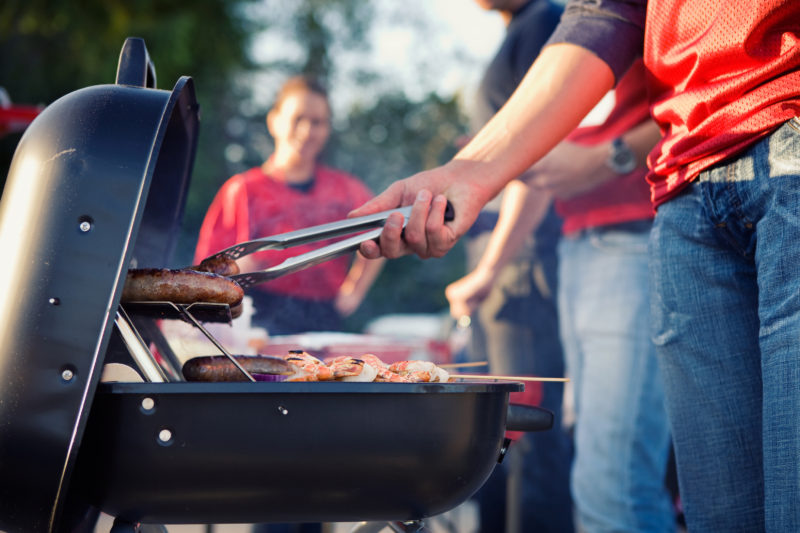 You also can't go wrong with ubiquitous tailgate favorites. Think a tray of sandwiches, chicken wings, dips and chips, nachos, or chili. Set food out buffet style so guests can graze throughout the game. You can even make the party a potluck and have everyone bring a dish.

Want to get fancy and football-themed? Check out this Chocolate Chip Cheesecake Ball from Belle of the Kitchen. And, for an easier than easy sweet dessert, consider these DIY Ice Cream Football Sandwiches from The Celebration Shoppe.
Make Sure Your Guests Hydrate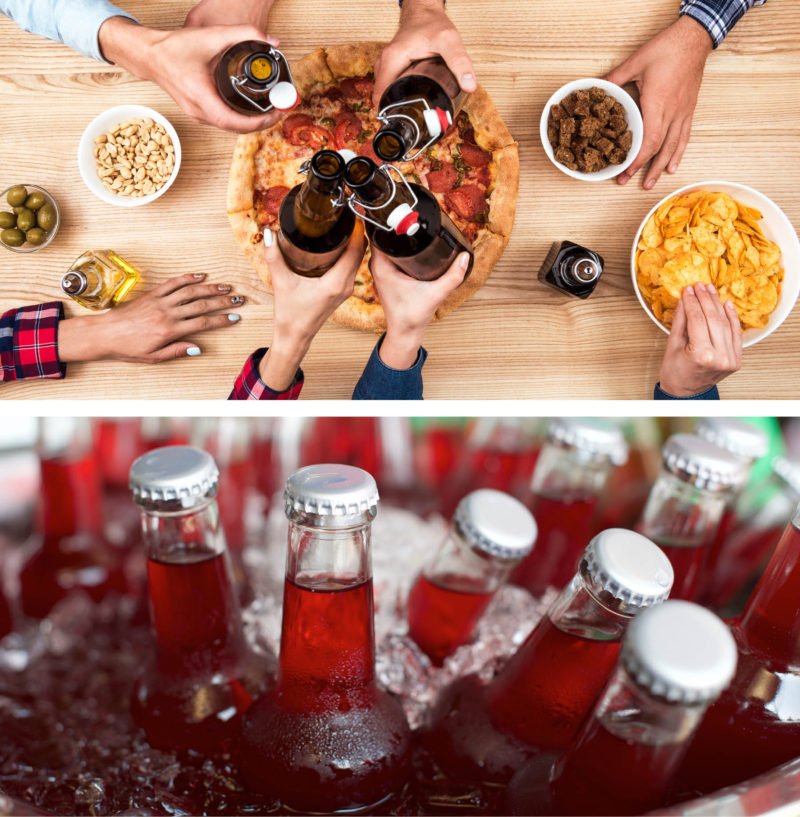 Sure, we all think of a cooler of cold beer when we talk football. Make sure you offer a variety of drinks for those designated drivers and nondrinkers as well. Sodas, waters, lemonades … even coffee … are great ideas to have on hand to ensure your favorite fans get home safely.
Set the Mood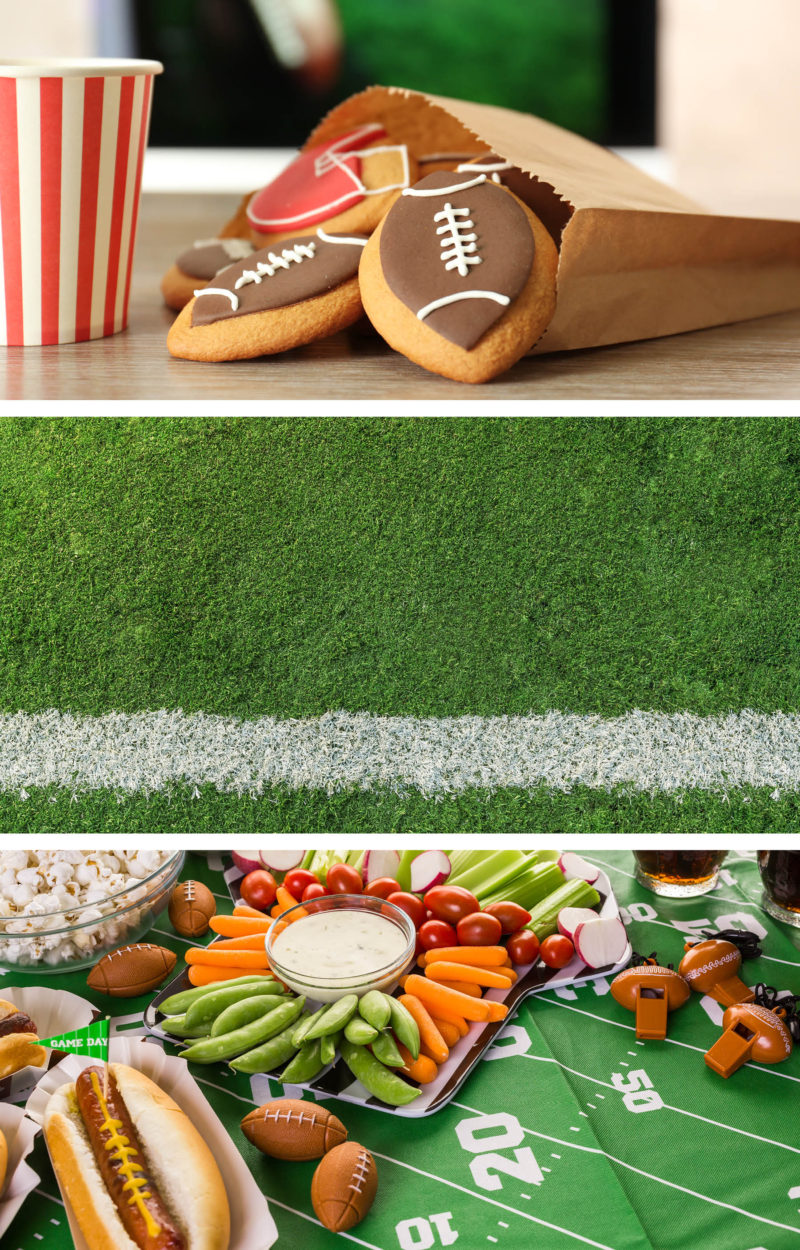 You can use plastic tablecloths, but why not take it just a few steps farther and make a football-themed buffet table? This version from Practically Functional employs the use of a Cricut cutting machine to create numbers. You could even skip the numbers and just go with the green felt tablecloth and white strips of tape for the yard lines. Even easier: Grab a length of brown butcher paper and a permanent marker to draw plays on a makeshift table covering.
As long as all parties involved are rooting for the same team, decorate with streamers, banners, balloons and other items in team colors.
Offer Other Entertainment
Let's be honest, not everyone is as die hard as you are. Chances are the little ones will watch some of the game and then want to do something else. Set up a series of outdoor activities to keep their attention. Cornhole boards are an easy game for kids. Check out our roundup of old-fashioned family lawn games here.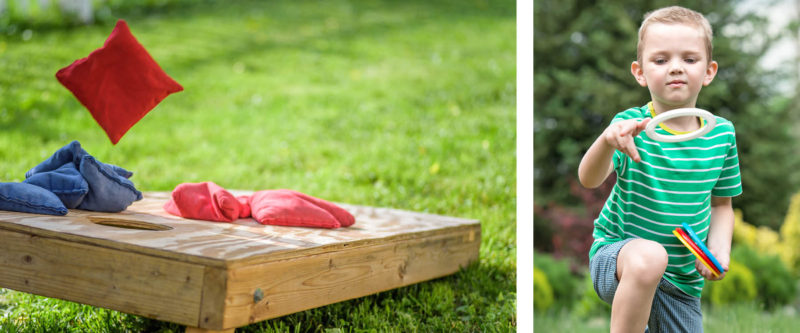 Whether or not your team is the winner, just remember it's all about gathering together with your friends and family, sharing in the touchdowns and commiserating over missed passes. No matter how you plan your outdoor football party, enjoy the experience.