Originally Published on February 19, 2021. Last Updated on February 24, 2021.
How big is your outdoor space? If you live in the middle of the city, you may have a small patio or a narrow strip of yard. As an apartment dweller, you might be limited to a small porch or balcony. Your coastal home may feature stunning views from your small deck.
Small outdoor spaces are rife with big opportunities. A more limited outdoor area allows you to distill down what you want to get out of your space and will determine how you plan and the type of furniture you'll need.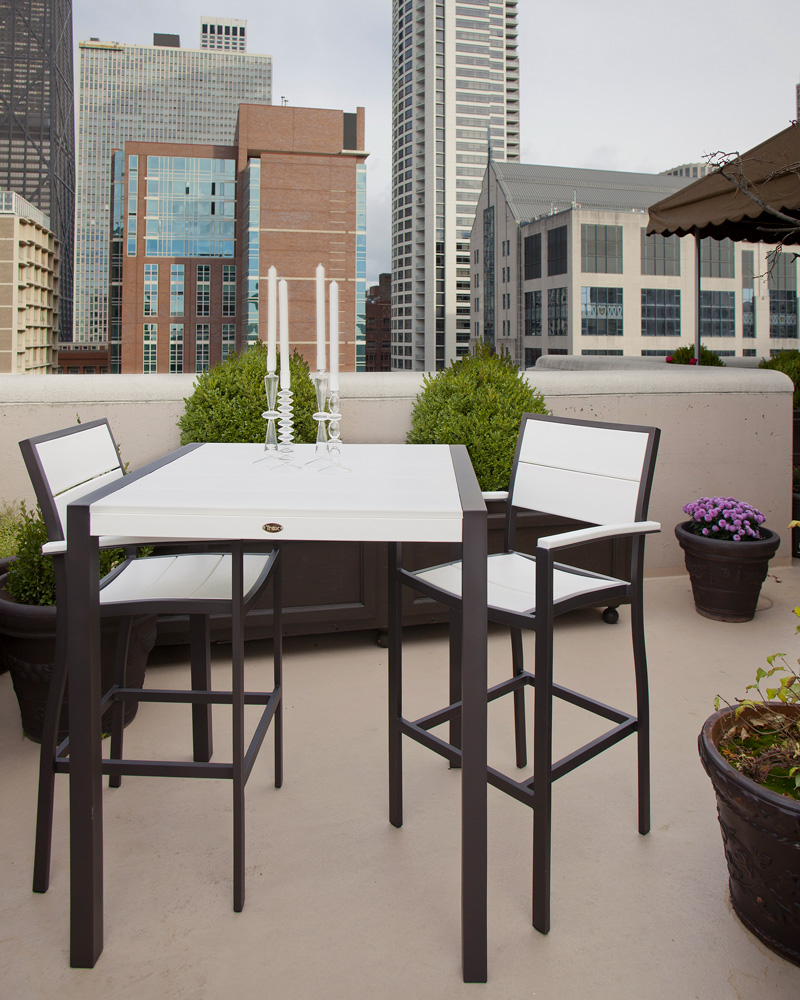 Here's everything you need to know about small outdoor spaces, how to arrange them, and ideas for making them every bit as impactful as a large patio or yard.
---
Types of Spaces You Can Create in Small Outdoor Areas
How do you plan to use your outdoor space? Are you looking to create a functional play area for your little ones? Want an oasis of relaxation? Are you the consummate gardener looking for a cohesive spot to fuel all your green thumb dreams? Maybe you just want a small outdoor dining space to gather with family or a few friends.
Think of your outdoor area as an extension of your home's square footage. Even an 8-x-8-foot area gives you enough room to design something spectacular. No matter what purpose you want to achieve, here are some good rules of thumb to get started when planning:
Pick Dual-Purpose Pieces — Smaller spaces call for furnishings that can do double duty. Add a bench for seating that also has storage for the kids' toys. If you want an outdoor dining space, add a small buffet in the corner to serve food, and use it to pot plants and store outdoor gear when you're not using it for dining. Ottomans are a great versatile piece. Not only do they add a place to prop up feet, but they can also serve as extra seating and offer (depending on the ottoman you get) storage space, too. A side table can take the place of a coffee table, easily set to the side when you need it out of the way.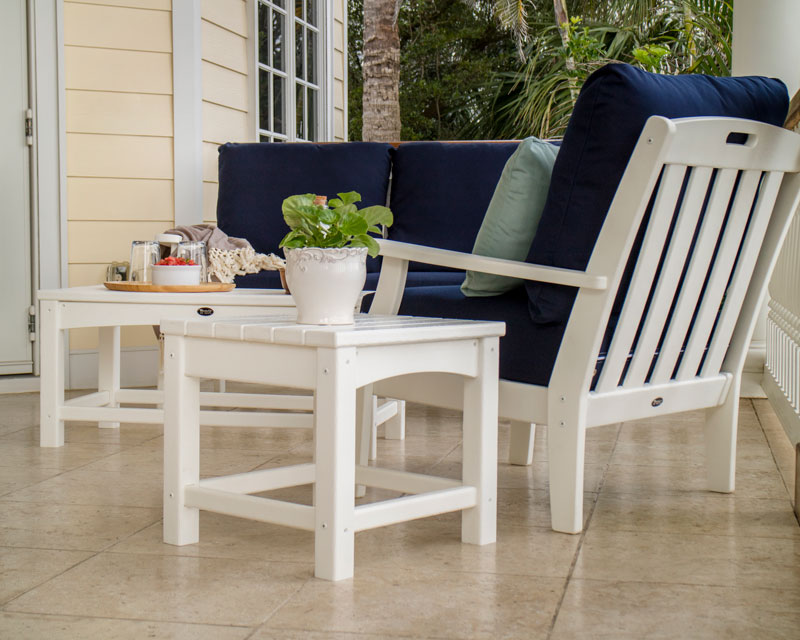 Think Vertically — Your space may be horizontally challenged, but don't despair! That wall space on your home or fencing also provides an opportunity to get creative. Add planters with tall grasses or ornamental trees to make your space feel cozy and to add a little privacy, too. Want that herb garden you always dreamed of? Get vertical planters or window boxes, and attach them to a wall or fence.
Build from the Ground Up — When planning your outdoor space, take a look at the ground. Do you have a muddy spot in your grass? Has that deck seen better days? Concrete patio giving you the blahs? Don't discredit the impact of updating the ground or floor beneath you. A coat of paint, stenciling, or a sealer can have a big impact on a plain grey concrete slab. Seeding a soupy spot in the yard or adding gravel and pavers can cut down on the maintenance and mud. A good cleaning and sealing may be all you need to refresh your deck boards.
Embrace the Edges — Whereas a larger space allows you to move away from the perimeter of your deck or patio, a smaller space provides opportunity to keep the furniture around the edges. Adding a sofa against a wall, for instance, promotes better foot traffic in your small outdoor space and gives you more working room. If your goal is to dine outdoors, you can even create bar-style dining by placing a long rectangular table against a wall or fence with counter- or bar-height chairs.
---
Furniture Arrangements for Small Outdoor Spaces
Outdoor Living Space
There's nothing like turning your patio, deck, or small yard into an outdoor living area. Even limited real estate can be transformed into a cozy conversational area.
Line your small deck with storage benches. Top them with cushions and pillows. Add a coffee table or two small ottomans in the center.
Position a loveseat or settee against a wall, and add side tables on either end.
Line two comfortable club chairs against the wall of your home's small balcony, and place a conversation table between the chairs.
Hang a swing from the ceiling of your small porch. Suspended in the air, a swing gives the illusion of more space.
Use a fire pit as a focal point. If you have a round fire pit, place two to four Adirondack chairs around the pit for casual dinners, late-night conversation, and marshmallow roasts.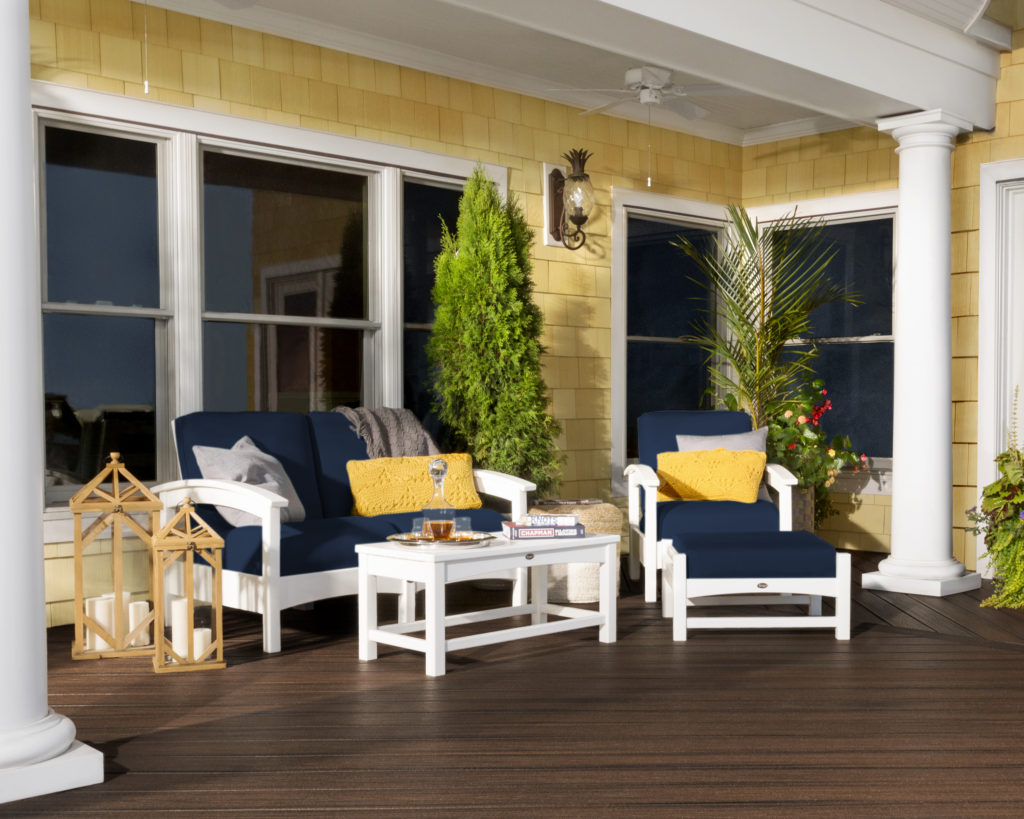 Outdoor Dining Space
Turn your small space into an elegant outdoor dining room, perfect for easy entertaining, particularly in the more temperate months.
Add a bistro table with two to four chairs for appetizers and cocktails. If you have the room, a grill is always a great idea, too.
Add a bar-height table with chairs. A bar cart, small buffet, or even potting bench along a wall or fence allows you to set out food and drinks rather than running back and forth into the house.
For regular meals, add a dining table that will accommodate your family. Center the table in the space, making sure you still have room to move around the table.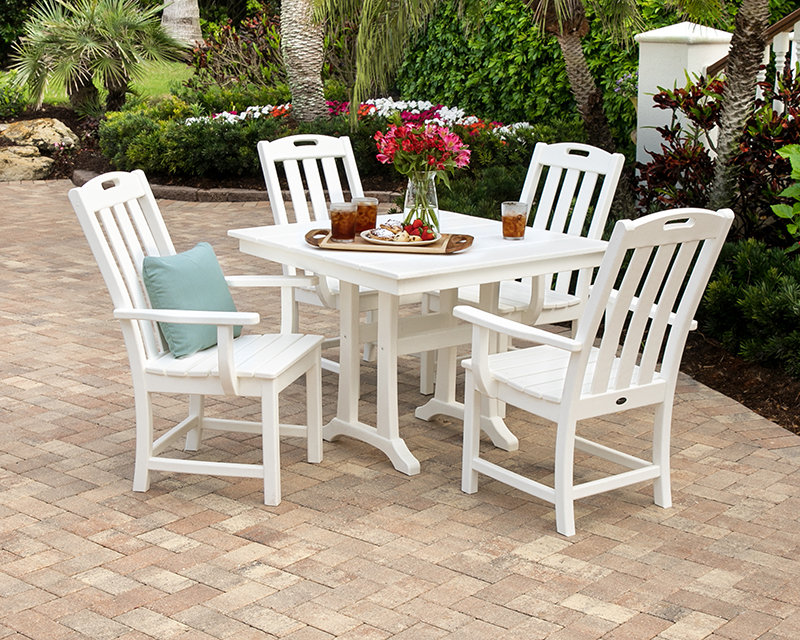 Outdoor Hobby Space
A play area for the kids, a gardener's oasis, or a place to lounge? Get creative with the endless possibilities.
Set up an outdoor playhouse against a wall. Add a storage bench against the house to stash all those outdoor toys.
Even if you don't have room for a small shed, you can set up a gardening bench along the perimeter of your space. If you don't have the room, a table in the center of the space that does double-duty as a dining area will also work.
For a place to drink your coffee, relax in nature, or get some vitamin D, a chaise lounge or pair of chaises with an umbrella for shade and a side table give you the right type of space.
---
Decorating a Small Space
Want to make your space feel bigger, or just cozier? Here are a few tips for decorating even the smallest of spaces.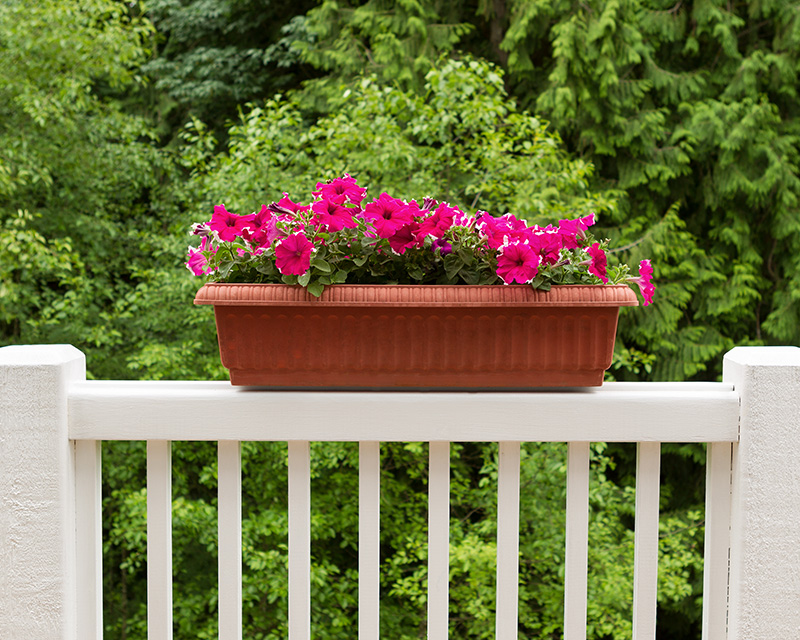 Add a Mirror — This light-reflecting piece looks good hanging on a wall of your home. Or choose mirrored accent pieces for your space. A small mirrored side table or other reflective surface adds a polished feel to the space. If you don't want a mirrored option, a glass tabletop makes a space feel less cluttered, too.
Plant in Containers — Even those with a black thumb can keep potted plants alive with a little sun and water. Large ferns set in planters are perfect for those shady areas, and they look good in a wrought-iron footed planter. Colorful seasonal blooms set on a table give even the smallest spaces vibrancy. Succulents are an easy, low-maintenance plant to pot and set on a coffee table or as a centerpiece on a dining table.
Consider Privacy — Make that backyard space feel cozy and private by using a few tips and tricks. If you already have a fence but you'd like it to afford you less of a view of your neighbor's yard, consider making the fence taller by adding a trellis or other privacy piece to the top. Just makes sure to check with your homeowners' association or local ordinances first. Curtains, umbrellas, and even large shutters or privacy screens are other easy ways to shade your space and keep you out of view.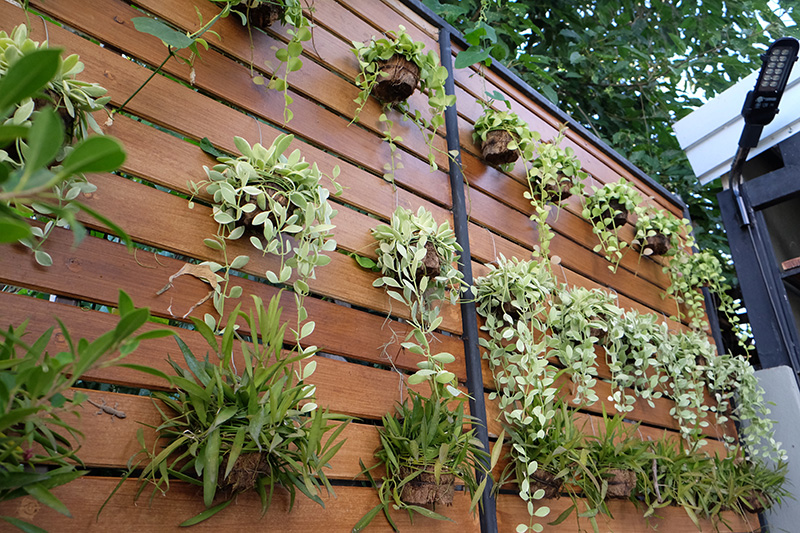 Keep it Simple with Accessories — Rather than making a space feel cluttered, opt for practical knickknacks and accessories. Pillows add a pop of color, anyone can use them while relaxing outdoors, and they're not cluttering a surface. An outdoor lamp allows you to use the space in the evening, and it looks nice on a table. A rug introduces texture, color, and comfort underfoot.
---
These tips can help you maximize your minimal outdoor space and enjoy being outside doing what you love.