Do you know what your patio furniture is made of?
At Trex® Outdoor Furniture™, we craft each of our designs using all-weather, genuine POLYWOOD® lumber. We do this to ensure your furnishings will tolerate harsh winter weather. But chances are, some of your outdoor furniture pieces aren't exactly made for melting snow and ice.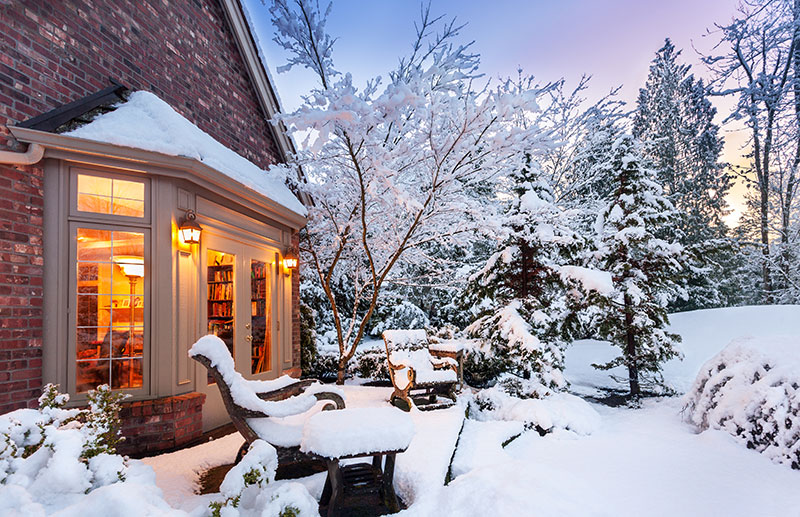 Before you pull your coats out of the closet, make sure you know what can stay outside, and what you should bring inside.
---
Take Inventory
Look at what's outside. Do you have aluminum chairs around a wooden table on your patio or wrought iron plant stands on the porch? Some materials are tougher than others, and each has different requirements in terms of care and maintenance.
Store wicker inside, away from the cold.
Ensure you've touched up any rust on your steel or iron outdoor pieces. This helps prevent rust.
Bring in stone tables. Depending on the type of stone tabletops you have, you'll probably want to store stone inside during the winter. Ice and water can seep in, causing the stone to crack.
Consider applying waterproof coatings to aluminum, or follow the recommended manufacturer's care.
Stay wood smart. Wood is hardy, so you can leave seasoned wood in the elements year-round, sans cover. In fact, a cover increases the chances of trapped moisture, which invites in mildew and mold.
---
Protect What You Have
Outdoor furniture is an investment. You regularly clean your indoor sofa (right?), so treat your outdoor furniture with the same level of care.
Regularly clean outdoor cushions and throw pillows. Brush off loose dirt, spray on a mild soap and water cleaning solution, and then use a soft-bristle brush to clean. Once the solution soaks into the fabric, rinse off soapy residue and air dry.
Clean all your patio furnishings so you go into winter with dirt- and debris-free pieces. For wood furniture, a diluted solution of Murphy's Oil Soap and water, along with a bristled brush, helps coax out grime before it becomes a problem. In fact, most pieces, especially composite furniture, require little more than a mild soap, water, and a soft brush. For tougher stains or to remove fungi, use a solution of one-third bleach and two-thirds water.
Visually inspect all furniture for any problems, especially around hardware areas. Trex® Outdoor Furniture™ uses stainless steel hardware to minimize corrosion, but salt, ice, and snow can hasten spots of rust, so scrub with a soft-bristled brush to loosen any rust forming, and apply appliance touch up paint in the appropriate color.
Seal stone and oil wood surfaces as necessary. As mentioned above, it's best to bring in stone tabletops, but sealing according to the manufacturer's instructions may head off small fractures. Woods like teak will maintain their natural color longer when oiled.
Seal any metal furniture. Automobile wax can help metal better weather the winter. Apply according to instructions on the wax container. Take care to avoid applying on a cold day or in direct sunlight.
---
Cover It

While our furniture won't rot, crack, or splinter —even in bitingly cold conditions — consider adding furniture covers to maximize the already long life of your pieces. Covering them on the patio keeps leaves, acorns, water, and other debris from dropping onto your chairs and tables, plus you'll have less to clean off come spring. You can find these in most stores that offer outdoor furnishings, online, or in-home improvement retailers, and you can often find the custom fit you need despite the brand of furniture.
To select patio furniture coverings, simply measure the dimensions. Covermates, available on Amazon and at The Cover Store, offers a wide range of fits for pieces as big as sofas and as small as end tables. Breathable, weather-resistant cover materials withstand tearing, fading, and molding. The Cover Store also features water-resistant coverings with drawcords and buckle straps to help keep them securely in place.
---
Know When to Put Away
Of course, some things are best put away when not in use. If you don't plan on any outdoor dining come the first snowfall, store your furniture in a garage, workshop, storage closet, or another place out of the elements. Even then, we recommend a furniture cover to keep dust and dirt from settling.
You know the old cliché: An ounce of prevention is worth a pound of cure. But if you take good care of your outdoor furniture now, come spring and summer you'll be thankful you put in a little extra effort.
Blog Post Updated June 4, 2021