Transform your outdoor space into a welcoming retreat with Trex® Outdoor Furniture™ outdoor rocking chairs. We've designed a variety of composite rocking chairs that will fit in any setting and provide the comfort and style you deserve.
Why Trex Outdoor Furniture?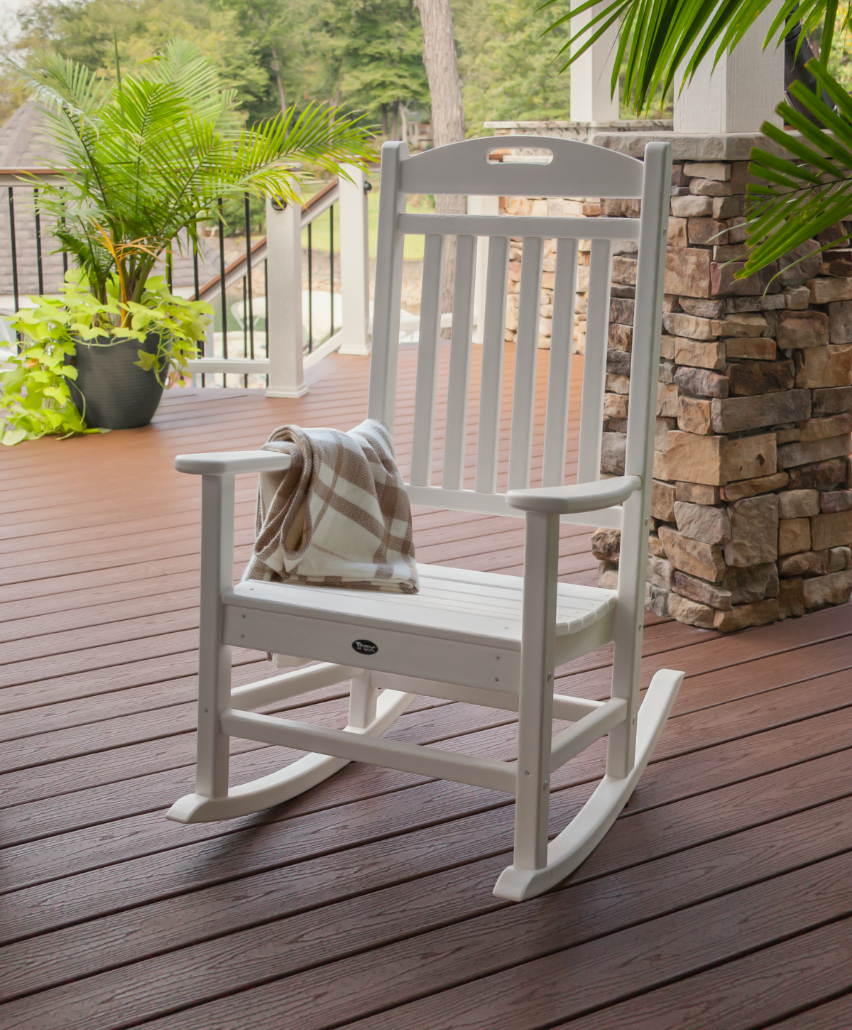 At Trex Outdoor Furniture, we believe that comfort, style, and durability can co-exist. This is proven with every outdoor rocking chair we create. Our outdoor rocking chairs are unmatched in quality and craftsmanship thanks to the time and effort our team puts into the design and creation of each piece, as well as the sustainable HDPE lumber that we use to construct our beautiful outdoor furniture.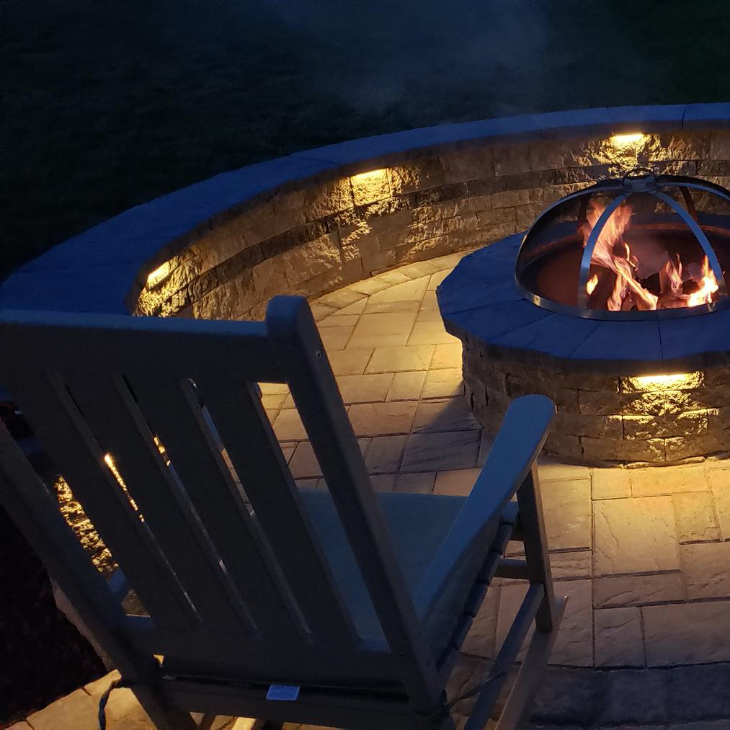 "We purchased these rocking chairs for evenings sitting around the fire pit. The chairs are very comfortable and relaxing for all ages. I would recommend these rocking chairs as the perfect chair for that special time you enjoy relaxing."
Features of Trex Rocking Chairs

Weatherproof
Our all-weather rocking chairs are made from strong material that allows them to withstand harsh weather and environmental stressors such as blizzards, heavy winds and rain, humidity, salt spray, and more.

Low Maintenance
Our outdoor rocking chairs require very little upkeep, never needing to be painted, stained, or waterproofed. They're also not prone to chipping, peeling, rotting, or cracking.

Made In the USA
We proudly back our heavy-duty outdoor rocking chairs with a 20-year warranty as each one is constructed from durable HDPE lumber right here in the USA, and able to withstand harsh outdoor elements.

20-Year Warranty
Each of our all-weather Adirondack chairs is backed by a 20-year lumber warranty!
The History of Rocking Chairs
Rocking chairs have a long and interesting history. They were invented in North America in the 18th century with the original intention of being used outdoors, but the question of who invented the rocking chair has yet to be answered. The concept of the rocking chair was inspired by rocking horses and rocking cradles, and different people and groups — such as the Shakers, Sam Maloof, Michael Thonet, and the P & P Chair Company — have created unique designs of rocking chairs that are easily recognizable to this day.
Rocking Chair FAQs
What are Trex Outdoor Furniture rocking chairs made from?
We construct our outdoor rocking chairs from genuine POLYWOOD lumber, a durable material that's made using recycled ocean-bound and landfill-bound HDPE plastics.
Can Trex Outdoor Furniture rocking chairs be left outside during the winter?
Yes! Our rocking chairs and rocking chair sets can handle intense weather conditions so you can leave them outside all year long and not have to worry about them getting damaged.
How should I clean my outdoor rocking chair?
The only tools you need are a soft-bristle brush and a bucket of soapy water. Give your rocking chair a gentle scrub and then rinse with clean water. Let the rocking chair air dry or use a towel to remove excess water.
Are Trex Outdoor Furniture outdoor rocking chairs comfortable?
We believe so, but if you want unbiased opinions then feel free to read the many positive reviews that our customers leave for us on the individual product pages for our outdoor rocking chairs.
Do the colors of Trex Outdoor Furniture outdoor rocking chairs fade overtime?
No, we use UV-inhibited pigment systems to keep the color of our outdoor furniture protected so it will remain bright and vibrant year after year.
Outdoor Rocking Chair Colors
We proudly offer our outdoor rocking chairs in a variety of beautiful colors. During the creation process for our HDPE lumber, colorant and UV-inhibited pigment systems are blended in with the recycled ocean-bound and landfill-bound plastic mixture, allowing the color to fill each piece of lumber from the inside out. This means that your white outdoor rocking chair will stay bright and your black outdoor rocking chair will remain bold for years to come.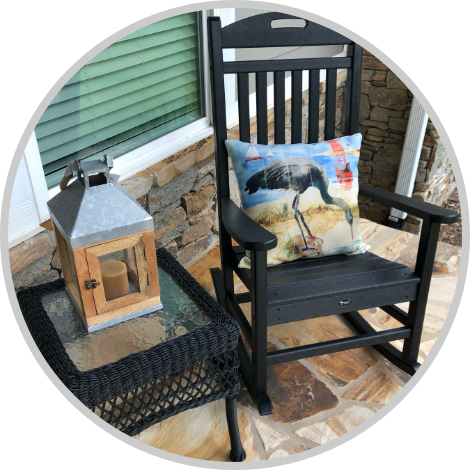 "Great product ! Very easy to assemble. Just don't tighten all the screws til they are all in place, Looks great on my porch, replacement for wood rockers which needed continued painting."
Where to Enjoy Your Rocking Chairs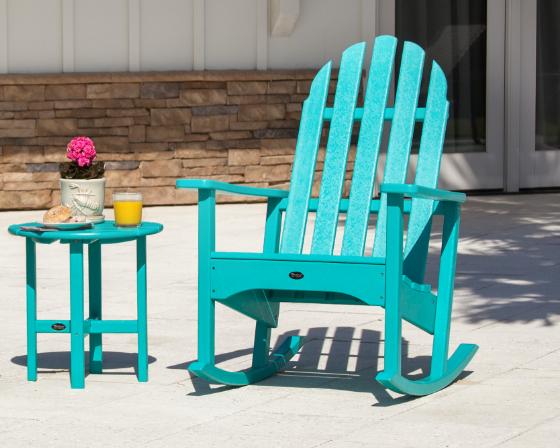 On the Patio
Patio rocking chairs can make patios of any shape and size feel comfortable and cozy. Place a few outdoor patio rockers together so family and friends can relax in your outdoor space.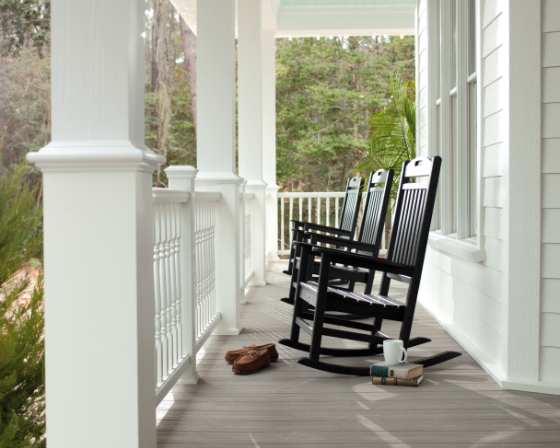 On the Porch
Porch rocking chairs are what come to mind first when you think about front porch living. Friends and neighbors feel more comfortable and welcome when there are front porch rocking chairs to relax in.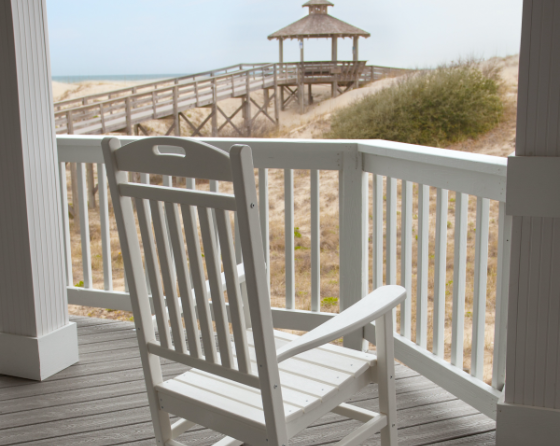 By the Water
Our outdoor rocking chairs fit perfectly in spaces that overlook the lake or ocean. The smooth rocking motion of our rockers emulates the ebb and flow of the waves so you can move in time with them while you relax on your deck or patio.
Under a Tree
Placing a rocking lawn chair under that large shade tree in your backyard will give you a peaceful spot to unwind. Add a few more rocking chairs so loved ones can enjoy the experience with you.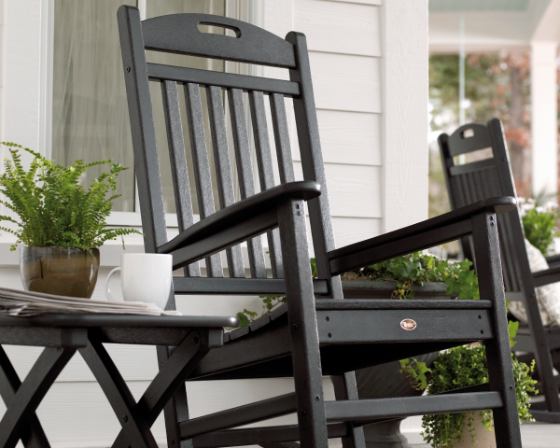 By the Campfire
Share stories with your children and grandchildren by the light of the fire while you sit comfortably in an outdoor rocking chair.
Popular Types of Outdoor Rockers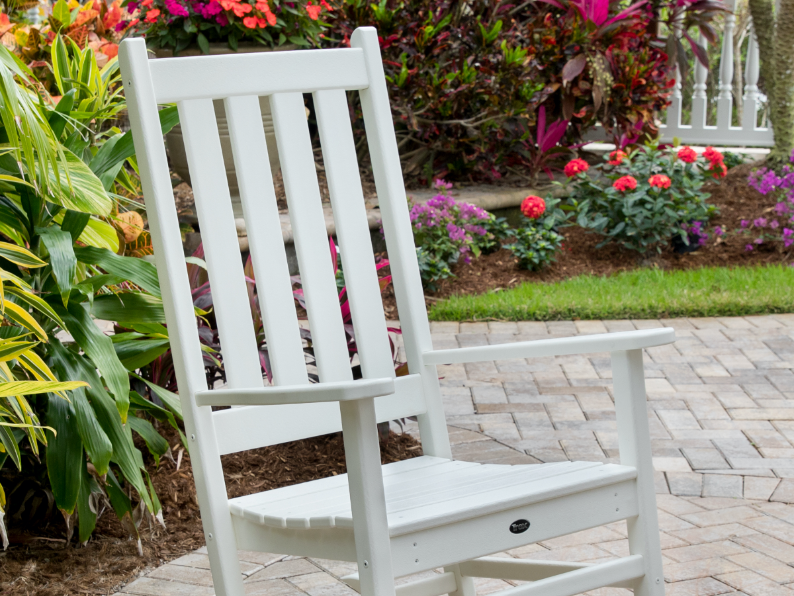 Modern Outdoor Rocking Chair
If clean lines and minimalist design speak to you, a modern outdoor rocking chair would suit your tastes. The Cape Cod Porch Rocking Chair leans more toward the contemporary, so you can add that modern feel you're looking for to your outdoor space.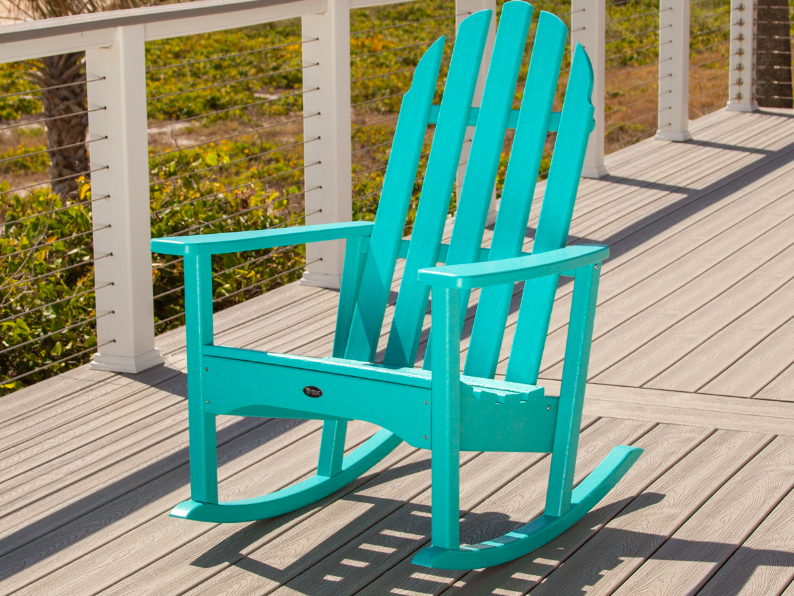 Adirondack Rocking Chair
You can have the best of both worlds with an Adirondack rocking chair such as the Cape Cod Adirondack Rocking Chair. The laid-back seat of an Adirondack paired with the curved runners of a rocking chair makes for an incredibly comfortable experience.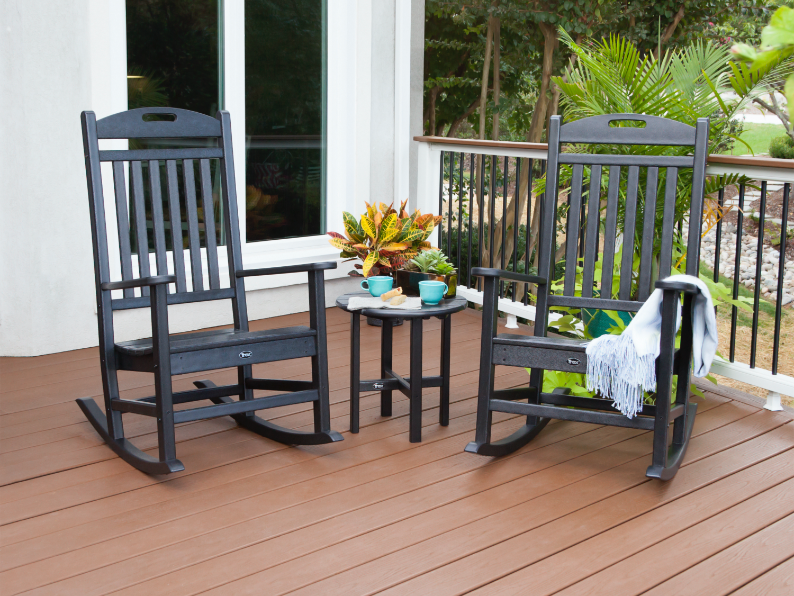 Outdoor Rocking Chair Set
Share a moment with someone special in your outdoor space with an outdoor rocking chair set. The Yacht Club Rocker 3-Piece Set is just what you need with its two matching rockers and a coordinating side table.
Rocking Chair Reviews
We love a good review! Check out what other customers are saying below: