Originally Published on January 23, 2019. Last Updated on August 28, 2023.
A bench may be the logical choice for garden-side seating, and a rocking chair will complete a picturesque front porch. But for unrivaled comfort and relaxation, few styles can match the casual elegance of a chaise lounge.
Good furniture is an investment that will last for years, so it's a good idea to be selective when choosing a chaise lounge. This may seem daunting since so many options are available—but it doesn't have to be. We've streamlined the process in our shopping guide so you can confidently and quickly purchase a new lounger.
---
Jump To Section
Step 1: Is an Outdoor Chaise Right for You?
Step 2: Determine How Much Space You Have
Step 3: Choose the Right Materials
Step 4: Choose the Right Style
Step 5: Choose the Right Color
Step 6: Accessorize
---
Step 1: Is an Outdoor Chaise Right for You?
Let's delve into the features of chaises so you can decide whether this lounge option is a good fit for your lifestyle.
Functionality
As their name suggests, chaise lounges are designed for reclining and relaxing all day long. They're excellent choices for stretching out in solitude since one chaise holds one person, or they can be grouped together for social sessions. Typically the backs are adjustable, so you can choose the level of recline that fits the situation, from sitting up to read to lying flat for catnaps.
Where to Use an Outdoor Lounger
The purpose of a chaise lounge is to allow you to stretch out fully and comfortably recline. It's expansive by design, so it doesn't suit snug spaces. A chaise lounge is most at home on spacious decks, poolside settings, or related roomy areas.
Chaise Lounge Pros 
Chaises sit low to the ground, so they won't interrupt your sightlines and can be styled in front of focal points like water features, architectural accent walls, etc.

If you're working with limited living space, a chaise lounge can make the room seem larger. A low-key lounge chair in the center of the room will appear more graceful than a bulky sofa since the former has less visual impact.

If your space has an irregular shape, a chaise could fit in a way other seats don't. Their depth-centric designs give them a versatile advantage over wide-set sofas and benches as they'll work in long, narrow areas

and

expansive spaces.
Chaise Lounge Cons
Chaise lounges may be versatile, but they don't fit everywhere. Since they're meant to offer full-body comfort, chaises won't work in snug spaces.

High-quality outdoor chaise lounges are not only large, but they're also heavy, so you may need assistance when moving them. However, there are wheeled options that make maneuvering easy.

---
Step 2: Determine How Much Space You Have
Chaise lounges need plenty of clearance on all sides. It's recommended to place a chaise at least three feet away from the edge of your pool and have two to three feet of space on either side so guests have plenty of room to stand, sit, and walk around the furniture.
To determine the square footage needed for a chaise lounge, measure the length and width of the room in feet and subtract six from those figures. The final dimensions define the maximum amount of space you have to work with.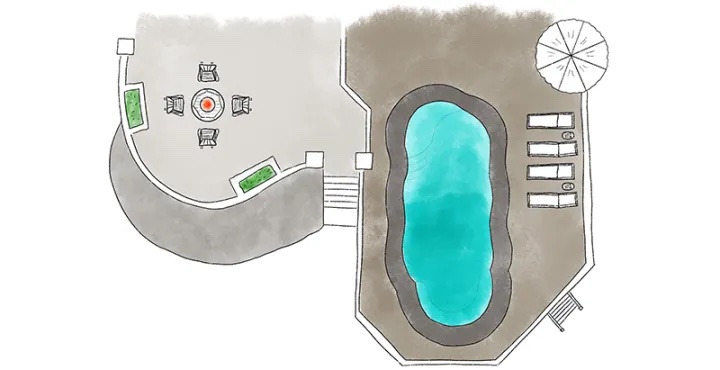 ---
Step 3: Choose the Right Materials
Chaise lounges are built using various materials, from hardwood to wicker and beyond. 
Softwoods
Softwoods are in abundant supply and inexpensive, making them tempting choices for outdoor furniture. However, this type of wood doesn't handle outdoor elements well and can fall victim to pests, fading, and water damage if it's not regularly refinished. 
Hardwoods
Hardwoods are stronger than softwoods, and they're sought after for their beauty and durability. But these woods grow very slowly, making the materials rare and ultimately more expensive. A hardwood chaise lounge won't need much upkeep other than the occasional cleaning and application of a protective finish, but you will need help moving this hefty seat because hardwoods are very heavy.
High-Density Polyethylene (HDPE) Lumber
HDPE is a highly durable plastic used to construct various outdoor items such as fencing, decking, and furniture. It's weatherproof, corrosion-proof, and extremely easy to clean. The cost of HDPE is on the higher side, but the long-lasting nature of the material is reflected in the price.
Natural Wicker
Wicker is a lovely weaving technique used to create furniture, baskets, lampshades, and other decor. However, wicker furniture is delicate, needing continuous maintenance and cleaning to stave off the elements. Additionally, this featherweight weave is easily pushed around by strong winds—not ideal for outdoor living.
Synthetic Wicker
Resin wicker is woven just like its natural cousin, but the materials are man-made (think HDPE, nylon, etc.). This material is much more durable and resistant to pests and moisture, but it still requires continuous cleaning and upkeep. It's also lightweight like natural wicker, so moving it is easy, but strong wind gusts can blow furniture right off your deck.
---
Step 4: Choose the Right Style
The next step on your shopping journey is choosing the right style for your space.
---
Step 5: Choose the Right Color
A chaise lounge lets you sink into comfort. Keep this in mind when browsing the available color options so you can pick a hue that lets your lounge chair seamlessly settle into its surroundings. 
Dark greens and browns fit warm-toned decks with tall trees spearing overhead. If your deck surrounds a pool, cool neutrals that flow with the water, such as white or grey, are ideal choices. Black is a chic color that's also highly versatile in home design.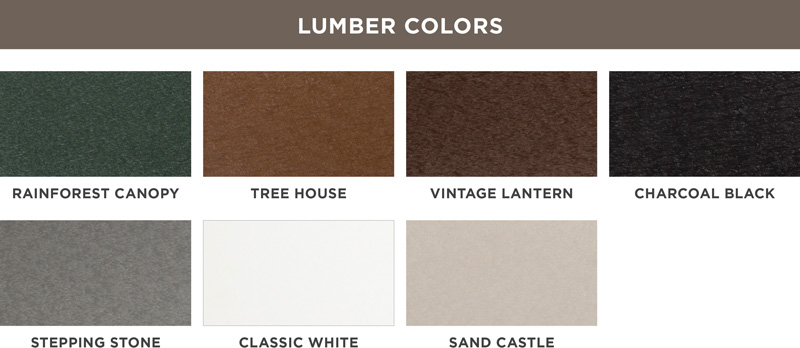 ---
Step 6: Accessorize
To customize your look, layer on a chaise cushion and pillows in fade- and moisture-resistant fabrics. The added color and comfort are easy on the eyes and the body.