'Tis the season to stay cozy and warm! And what better way to warm up your insides than with a few piping-hot beverages?
Whether you're hosting friends and family at your home for the holidays, or you're just wanting a single cup of comfort, here's a roundup of some of our favorite hot holiday drinks (both alcoholic and non-alcoholic)… with a twist.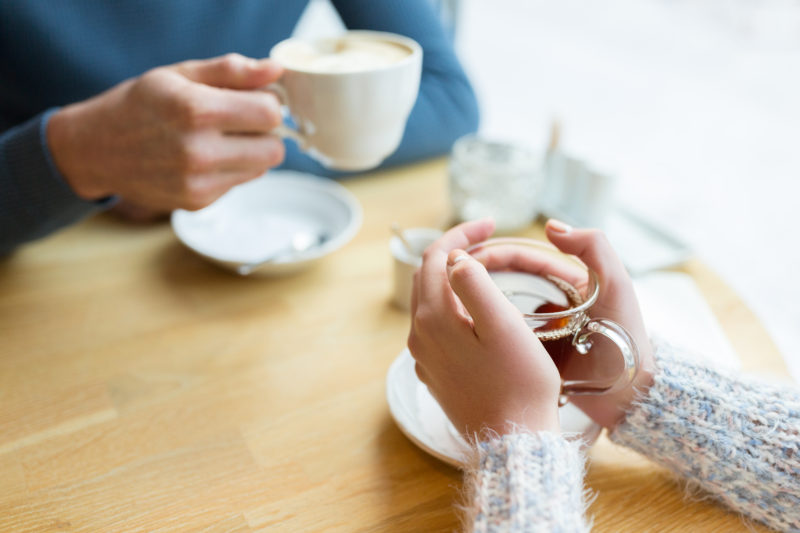 ---
The White Nun
You've heard of a White Russian — the White Russian's perhaps holier-than-thou cousin, the White Nun, is a heated-up version that replaces the vodka with brandy and a hot coffee-cream mixture.
We feel certain that this Saveur recipe, created by San Francisco bartender Isaac Shumway, would even pass muster with the biggest White Russian connoisseur, The Big Lebowski's The Dude.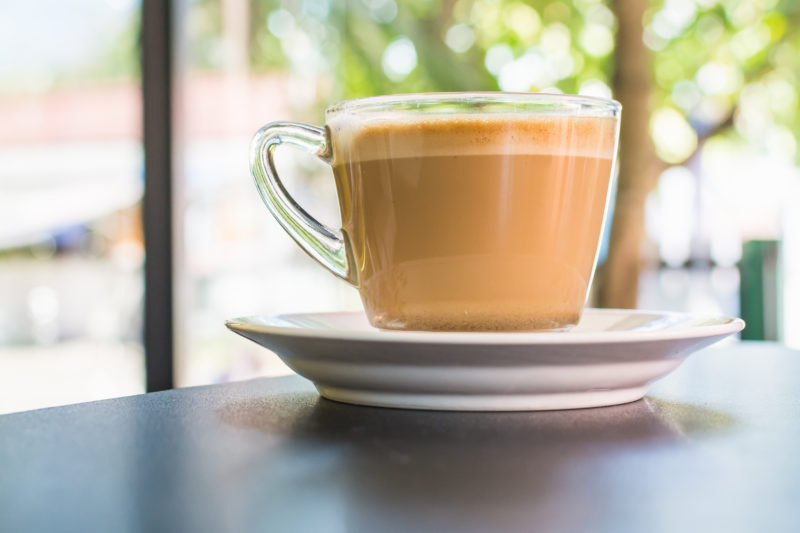 Ingredients:
1 oz heavy cream

3

⁄

4

oz whole milk

1 tsp.

coffee syrup

1 oz coffee liqueur

3

⁄

4

oz brandy
Bring ¾ ounces heavy cream, whole milk, and coffee syrup to a simmer in a 1-quart saucepan; remove from heat. Add coffee liqueur and brandy; pour into a mug. Add ¼-ounce cream to pan; whisk over medium until frothy. Pour over drink.
---
Oatmeal Cream Pie
Seeking something rich, frothy, and downright decadent? Hit all those notes with the Oatmeal Cream Pie drink, which will make you forget all about its Little Debbie cookie counterpart. This Midwest Living recipe is perfect to stick in the slow cooker. Either serve as is or mix 1 to 2 tablespoons of Irish cream liqueur into each cup.
Ingredients:
4 cups half-and-half or light cream

4 cups oat milk* or almond milk

¾ cup packed brown sugar

1½  teaspoons pumpkin pie spice

¼ cup butter, cut up

1 vanilla bean

4 egg yolks, beaten

1½  cups sweetened whipped cream

4 oatmeal, sugar, or shortbread cookies, crumbled

1 to 2 tablespoons Irish cream liqueur, if desired
In a 3½- or 4-quart slow cooker, whisk together half-and-half, oat milk, brown sugar, and pumpkin pie spice, until sugar is dissolved. Add butter. Using a small sharp knife, split vanilla bean in half lengthwise, and scrape the seeds into the cooker; add the pod too. Cover; cook on low for 4 to 5 hours, whisking once or twice if possible.
Remove vanilla bean pods; discard. Gradually whisk about 2 cups of the hot drink into egg yolks in a medium bowl. Whisk egg yolk mixture into the drink in the cooker. Serve topped with whipped cream and crumbled cookies.
---
The Hotty Shotty
Hot chocolate with … tequila? Surprisingly delicious! This recipe comes from Hornitos Tequila. Kick it up a notch with some chili powder and whipped cream for an unexpected treat.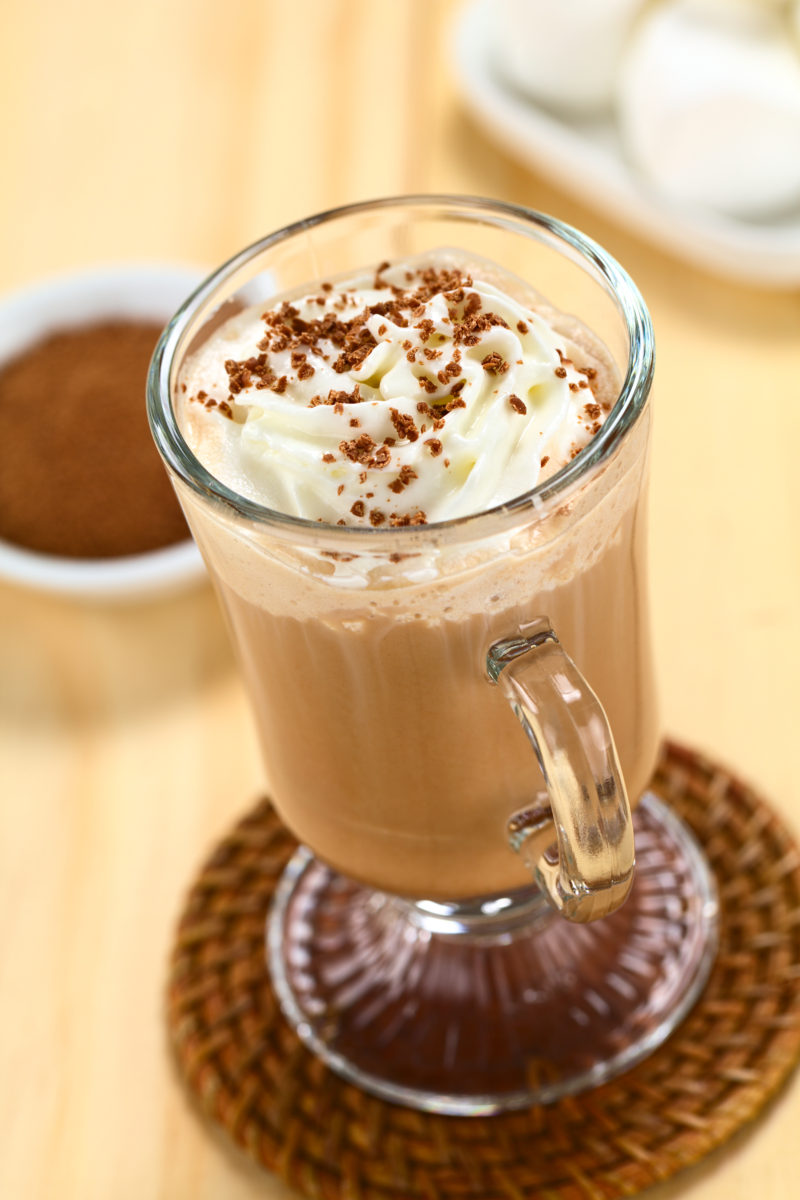 Ingredients:
4 oz Hot chocolate

Garnish: Whipped cream and chili powder
Add the tequila and hot chocolate to a half-pint glass. Garnish with a dollop of whipped cream and a dash of chili powder.
---
Hendricks Hot Gin Punch
Who says fruit punch is just for kids? This boozy drink features orange slices, lemon, pineapple, and plenty of gin — which makes for a delicious grown-up libation. Pair with cookies or finger foods for a well-rounded adult snack.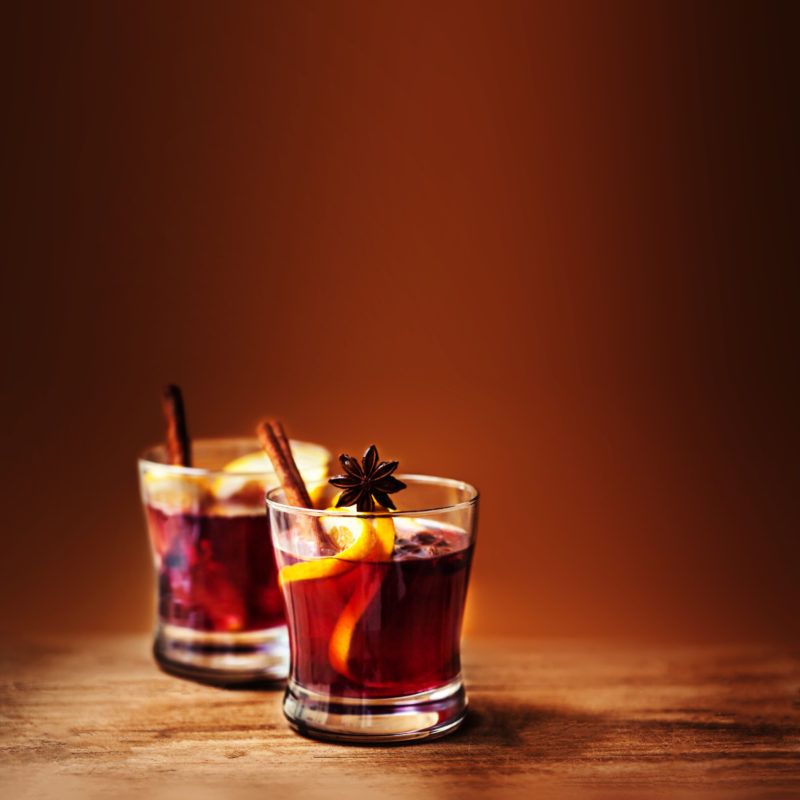 Ingredients:
24 oz 

Hendrick's Gin




24 oz Madeira wine

6 Lemon twists

1 Orange slice

3 chunks pineapple

3 oz Honey

1 oz Fresh lemon juice

3 Cloves

1 pinch Ground nutmeg

1 tsp. Ground cinnamon

1 tsp. Brown sugar

Orange slice and cloves for garnish
Add all the ingredients to a large saucepan, and simmer over low heat for about 20 minutes. To serve, pour the hot mixture into a punch bowl or teapot, and garnish with orange slices studded with cloves.
---
Butterbeer

Harry Potter fans, rejoice! Hot butterbeer is here. And this recipe from the Tiptoe Fairy promises a sumptuous, filling treat for young and old with its blend of cream soda, butter, and milk.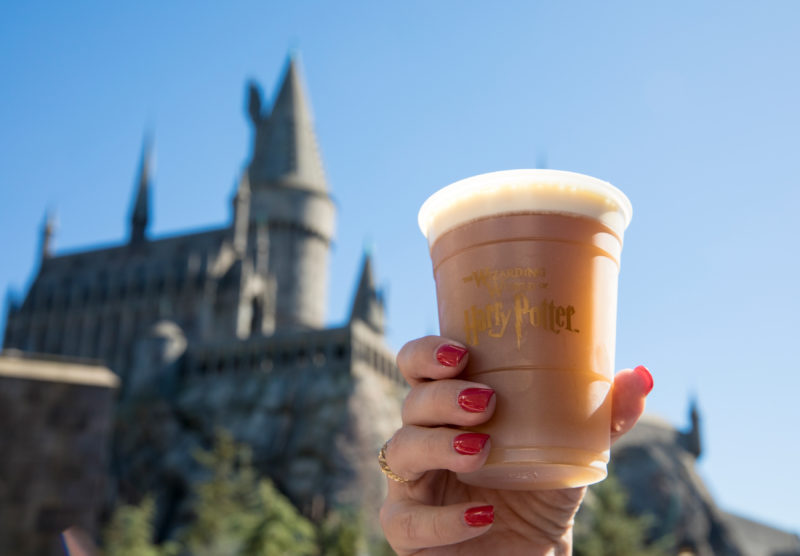 Ingredients:
2 cups milk

¼ cup butter

1/4  cup brown sugar

2-3 tablespoons hot butterscotch topping

1 cup cream soda
Combine milk, butter, and brown sugar, and whisk together. Heat in the microwave for 3 minutes. Stir and heat for an additional 3 to 4 minutes until milk is foaming. Remove from microwave and whisk together until the butter is well mixed in and sugar is completely dissolved. Heat hot butterscotch topping for 30 seconds.
Then stir 2 tablespoons of hot butterscotch into the milk mixture until completely dissolved. Next add in 1 cup of cream soda and mix well. Top with Hot Butterscotch Whipped Cream.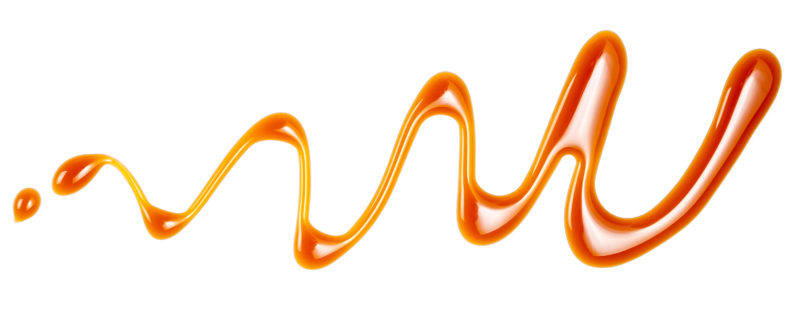 ---
Matcha Milk
Are you a green tea fan? Shape magazine offers this foamy, creamy matcha latte, which, with almond milk and agave syrup, is also a pretty healthy drink option.
Ingredients:
1 tbsp. matcha powder

1 c. hot almond milk

1 tsp. agave syrup (or other sweetener)

1 tsp. vanilla extract

Cinnamon or nutmeg, if desired
Blend matcha powder with milk. Stir in agave syrup and vanilla extract. Sprinkle with cinnamon or nutmeg if desired.
---
Over the Weather Cocktail
No matter what the weather brings, this cocktail, created by Gabriel Orta, of the Living Room in Miami, Florida, and published on Delish, combines winter spices, hot rum, and herbaceous rosemary for a unique taste.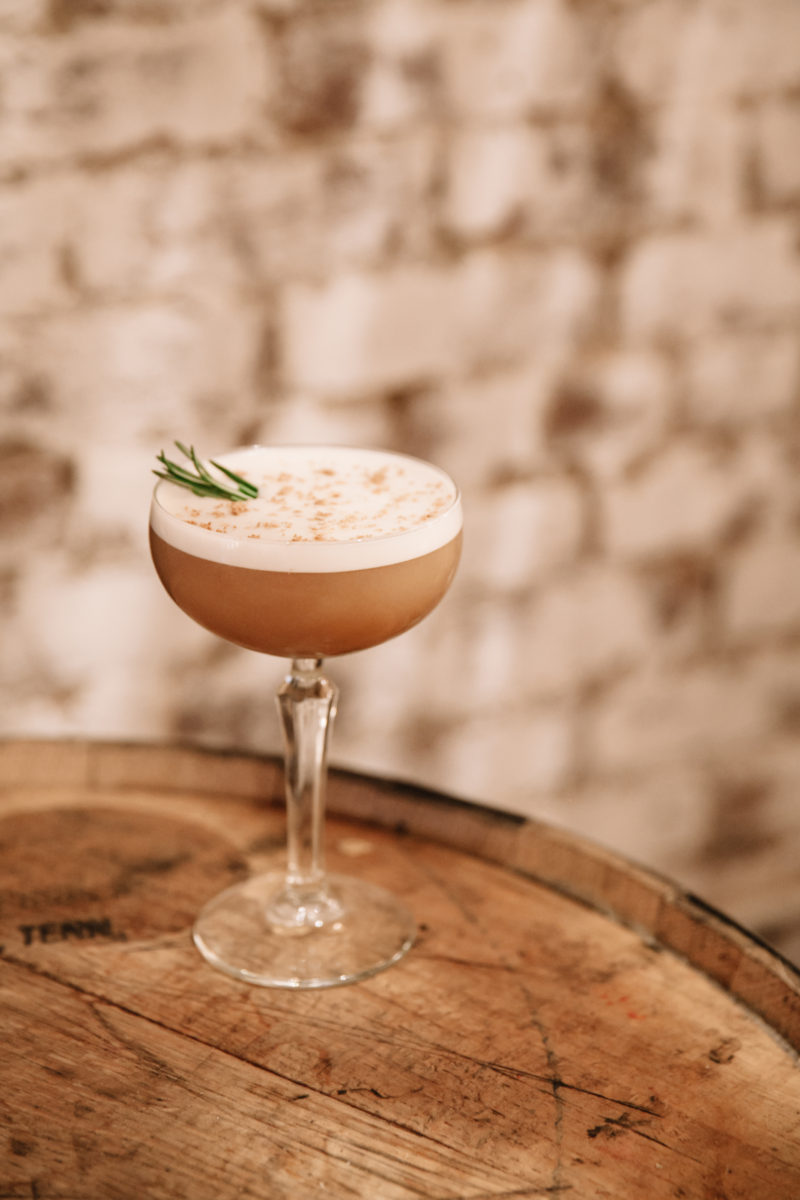 Ingredients:
2 oz. Dark rum

2 oz. Boiling water

1 oz. Ginger syrup

1 Rosemary sprig

2 Orange peels

2 dashes Cinnamon bitters

Rosemary

Star anise
Add ingredients to a mixing glass; stir gently. Pour all ingredients into a glass, and garnish with rosemary and star anise. Serve while hot.
---
Ginger Latte
Sure peppermint is all the rage at the coffee shops right now, but why not try a fresh ginger latte that provides a crisp taste of winter? This three-ingredient latte from The Minimalist Baker blends almond milk, fresh ginger, and cane sugar for a spicy seasonal drink.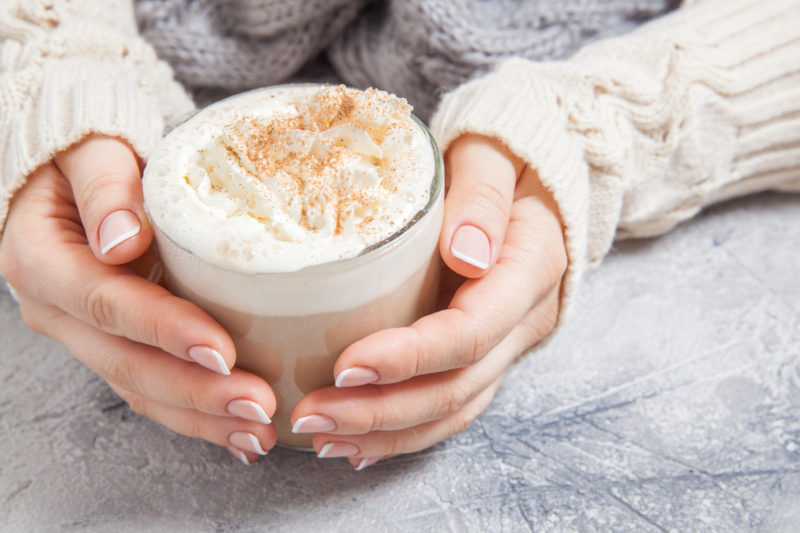 Ingredients:
For the Ginger Syrup:
1½  cups filtered water

1 cup organic cane sugar (or sub granulated or raw)

1 cup roughly chopped fresh ginger (1 large knob)
For the Latte:
1½ to 2 Tbsp ginger syrup

1¼  cups unsweetened plain almond milk

Optional: ginger tea, ginger powder or cinnamon (or other spices) for topping
To make the ginger syrup, bring the water, sugar, and ginger to a boil, and stir to dissolve sugar. Then reduce heat to a low simmer and continue cooking for 45 minutes. Strain through a fine-mesh strainer into a bottle or jar for easy storage.
To make the ginger latte, heat almond milk in a saucepan or in a mug in the microwave. Then add 1 to 2 Tbsp ginger syrup. Taste and adjust sweetness as needed. For even more ginger flavor, first, steep a ginger tea packet in your almond milk for 3 to 5 minutes before adding syrup. Sprinkle with a little ginger powder, cinnamon or any other preferred spices, and serve.
Ginger syrup should keep in the fridge for up to a month.
---
Cardamom Coffee
Add a unique spin to your favorite coffee with the Indian staple, cardamom. This easy recipe from MyRecipes.com involves the simmered spice for a caffeinated winter kick.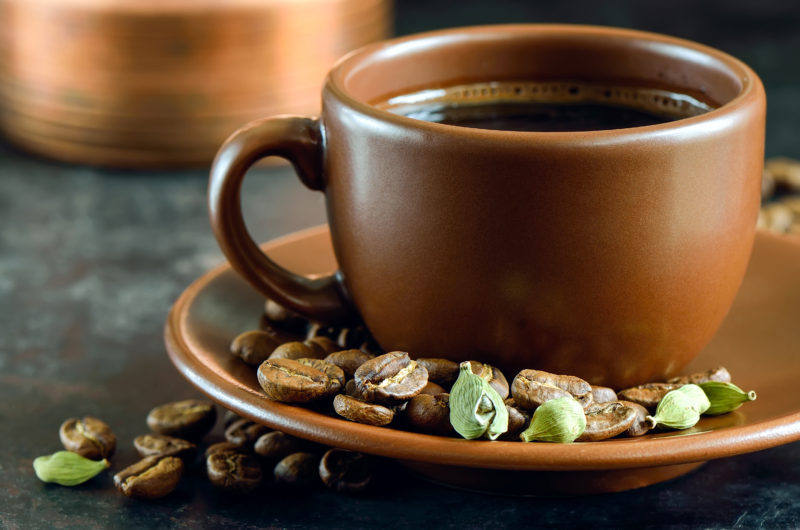 Ingredients:
Seeds from 1 cardamom pod, crushed

3/4  cup low-fat milk

3 tablespoons finely ground coffee

Sugar
Simmer cardamom seeds and milk in a small saucepan over medium-low heat for about 5 minutes, stirring occasionally. Heat 2/3  cup water almost to boiling. Put ground coffee in a drip cone set on a large mug. Pour water over grounds. Strain milk into coffee. Stir in sugar if you like.
---
Tea & Hot Cider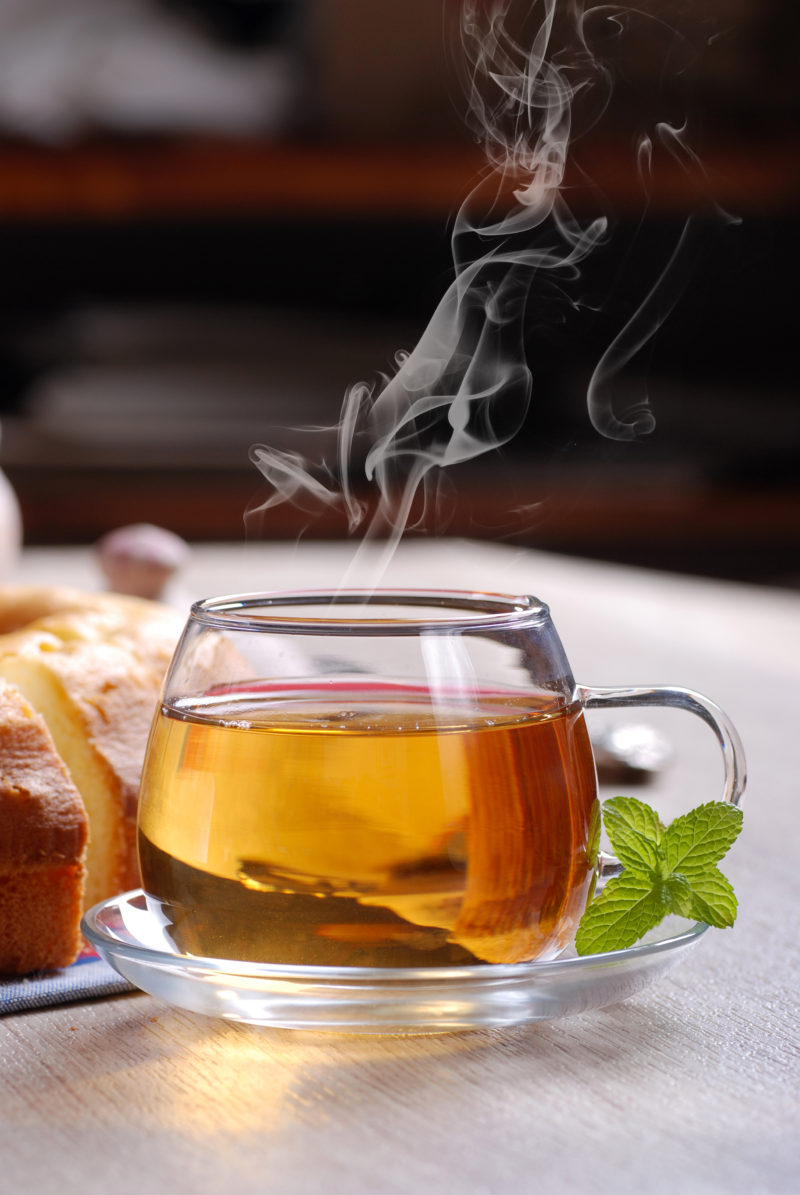 For a richer teatime experience, simply swap out the water for hot cider in your morning cup. Earl Grey tempered with sweet apple cider is especially good! Bonus: You don't even need a recipe! We got the idea from Martha Stewart (the queen of good ideas).
Got any warm holiday beverages that you enjoy during the season? Let us know in the comments!