Spring flowers get all the good press—those bursts of fiery magenta, vibrant oranges, and crimson reds. But just because blooming season comes to a close doesn't mean you can't decorate your outdoor space with colorful potted arrangements and stunning tabletop centerpieces. If you're looking for flowers and plants to create your own patio winter wonderland, look no farther than our winter plant and flower guide.
---
Potted Plants
Fall means football. You have your flat screen mounted to the wall of your outdoor kitchen, and your neighbors and friends have a standing invite to cheer on your favorite team. In winter there are holiday gatherings aplenty.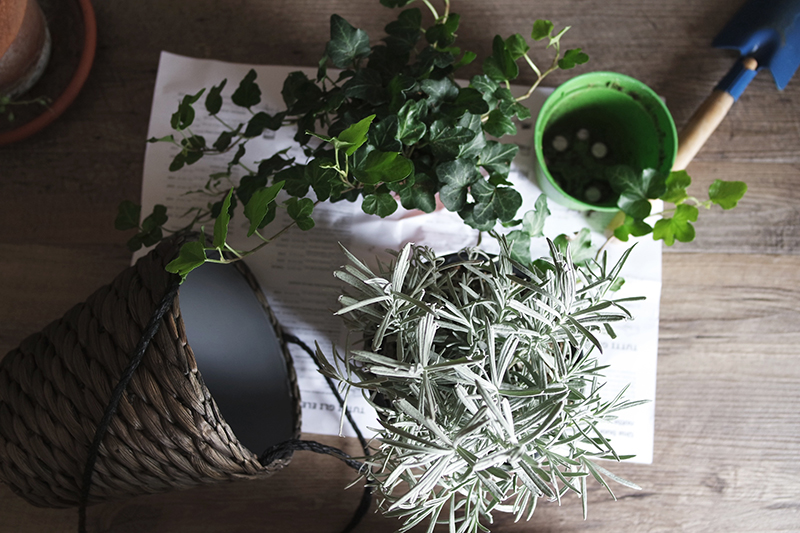 Add to the season of cheer with potted plants for centerpieces, framing your patio, flanking either side of your front door, or simply decorating your second-story balcony.
Here are ideas to fill those containers with seasonal color. While any style pot will do, we recommend the Trex® Outdoor Furniture™ Cube 24″ Planter 3-Board. The sleek aluminum frame coupled with Trex Transcend deck boards make for a tasteful touch. Place one in the center of your table, or group two or three together to frame the edge of your outdoor kitchen.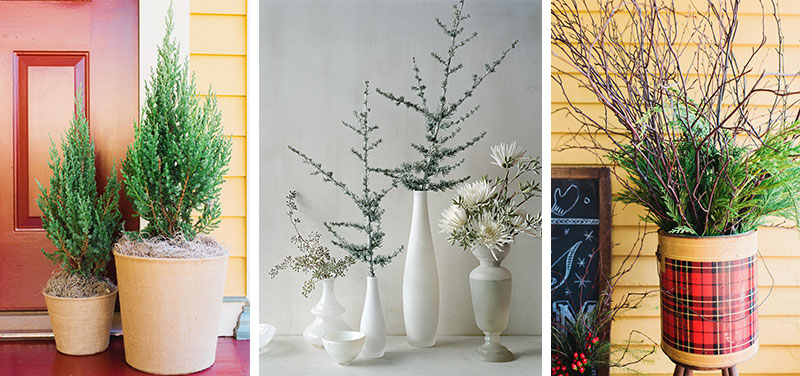 Give your containers some color. We love the purplish red hue of curly Redbor kale, paired with Adam's needle and Golden mop falsecypress.
Showcase your blues, whites, and greens. Fill a planter with simple cold-hardy varieties like 'Emerald Gaiety' Euonymus, liriope, and juniper. Juniperus procumbens 'Nana,' for instance, stays low to the ground (no more than a foot high) but has a far, rambling reach, and can spread as much as 6 feet.
Add fragrant winter-hardy herbs. Rich purple sage and rosemary go together beautifully, both in cooking and in centerpieces.
Keep it simple. Stumped on what to pot? Choose one variety and stick with it. A bright green waxy-leaved camellia bush potted on a deck. Or citrus trees in containers—lemons, oranges or other cold-hardy varieties. Just make sure you bring them in or cover them if you're going to get a really good freeze.
Rules of Thumb for Keeping Those Winter Potted Plants Alive:
Select hardy plants. We recommend going at least two zones colder than your USDA Hardiness Zone.
Make sure you use a container or pot that drains well and is weather-resistant. The Trex® Outdoor Furniture™ planters won't rot, crack, splinter, or fade—even during harsh winters.
Plant prior to a hard freeze to ensure your plants acclimate post-planting.
Follow plant recommendations for amount of sun, frequency of watering, and timing of fertilizer.
---
Do-It-Yourself Arrangements and Centerpieces
If your thumb is more black than green, you can put together stunning centerpieces that perfectly complement your Trex® Outdoor Furniture™ Surf City Collection Dining Table or your Rockport Club outdoor coffee table.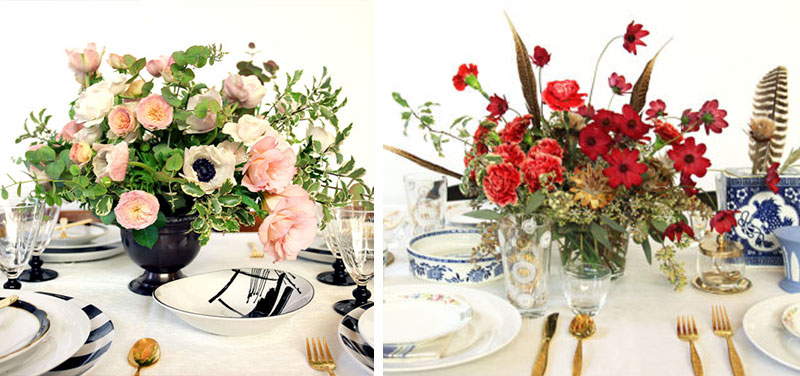 You don't have to be a florist to pull together a floral arrangement. We love the simplicity of one type of flower or a spray of berries grouped together as much as we love something more formal and ornate.
Line three pots of crimson Amaryllis along the center of a dining table.
Arrange tall glass vases of pussy willow, with boughs of fir or pine draped across the center of the table like a runner.
Fill a pewter bowl with paperwhites set on a coffee table.
Tuck white roses into a glass vase, interspersed with juniper sprigs, magnolia leaves, and holly.
Here's a guide to some of our favorite blooms and plants for winter. If you're planting in containers, check with your local nursery to make sure you select plants suitable to your area of the country.
Winter Container Plants
'Elegantissima' redtwig dogwood
'Ivory Tower' Japanese holly
'Golden Sword' yucca
Japanese pieris
Southern magnolia
Japanese cedar
Lawson falsecypress
Variegated vinca vine
'Bressingham Ruby' bergenia
'Caramel' heuchera
'Winter Red' winterberry
'Green Mountain' boxwood
Pansies
Ice Dance' Japanese sedge
Angelina' sedum
'Snow Angel' heuchera
Juniper
In-season winter blooms to add to your centerpiece:
Amaryllis
Ranunculus
Gerbera Daisy
Roses
Carnation
Tulip
Gardenia
Narcissus Paperwhite
Orchid
Oriental Hybrid Lily
Star of Bethlehem
Stephanotis
Anemone
Camellias
Casablanca Lilies
Forget-me-nots
Jasmine
Poinsettias
Hypericum berries
Lacy sprigs of arborvitae
Red berries
Holly
Pussy willow branches
Bare twigs
Pinecones
Mistletoe